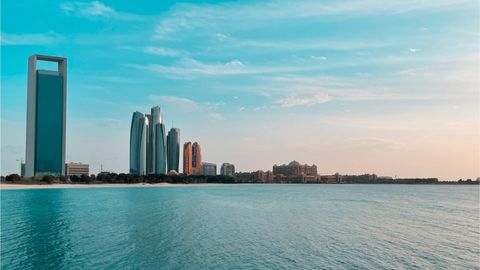 Considering alone the luxurious skyline of UAE's creatively evolving capital city, Abu Dhabi, it is arduous to believe that it was a simple fishing village, just a few decades ago. All shukran (thanks in Arabic) to the discovery of oil fields and the vision of the late UAE's founding father, Sheikh Zayed.
Interestingly, over the last few years, like its neighbour Dubai, it too has become an enthralling magnet for visitors and expats and it surely knows how to be everyone's favourite, be it young or old. "I keep travelling to different parts of the globe almost every week and I have to say that Abu Dhabi has become a world stage. It is so diverse that you end up comparing it with many other world cities," says Alexander George, a cabin crew member of Etihad Airways from Romania, who has been calling Abu Dhabi home for the last five years. "It has picked up the best ideas from everywhere and hence it engages all."
Some even label it as the 'Manhattan of the Middle East', noticing the way it is nestled on an island, 250 metres from the mainland and surrounded by scores of islands known for many attractions, which can't be covered within a few days. But here's an itinerary, which unfolds best and the unique experiences, which can keep your Abu Dhabi travels fuelled with excitement. And, remember, there's a lot more to experience than its too famous Ferrari World, Grand Mosque or even the Louvre!
The best things to do in Abu Dhabi for the perfect Middle-Eastern vacation
Best time to visit Abu Dhabi enthrals tourists throughout the year. If the summer heat is a concern, October to March would be friendly for you. Desert Safaris are more common then. During winter months, especially in November and December, festivals rule and desert sports are also a big draw. However, in peak summer months, June to September, hotel rates stay dropped with the fall in the tourist rush and it's a great time to enjoy the fruits of indoor experiences, from shopping malls to theme parks and museums.
Best fun thing to do: Gold Cappuccino You may have often shopped gold and of course, adored wearing it but how about eating it or say drinking it? After all, Abu Dhabi's most celebrated Emirates Palace Hotel, which became an overnight star ever since it opened doors in 2005, has been proudly serving cappuccino sprinkled with 23 K gold flakes for the last many years. Served with a piece of macron and a date, it is one of the most photographed beverages in the region. If coffee doesn't excite you much, they also serve their homemade ice cream and chocolate coated with gold. Fear not, the gold flakes instantly melt away in the mouth and are believed to be good for health. And they don't disturb the expected flavours.
The hotel, located along the Corniche, the famous waterfront, is managed by Mandarin Oriental, which also offers an hour-long guided tour that ends with one of the free Palace treats: chocolate cake, hot chocolate and a gold cappuccino. Of all, gold cappuccino is chosen the most and we will label it as the 'best pick'. The tour is currently priced at AED 150 (INR 3353) per person. Advance bookings are recommended. Wondering about the price of the famed cappuccino otherwise? It was AED 60 (INR 1341).
Book your stay at Emirates Palace Mandarin Oriental, Abu Dhabi via Booking.com
Book your stay at Emirates Palace Mandarin Oriental, Abu Dhabi via Agoda.com
Best free thing to do: Explore the souks
Strolling through one of the souks – the traditional shopping bazaars is truly an opportunity to turn local for free. Even if you don't shop, window shopping will silently take you on a different journey. But if you get lured to buy something, remember you could also bargain. They are littered on every corner, some also away from the city centre.
Start with Central Souk, connected to the World Trade Centre, where one can buy locally sourced spices, dried herbs, antique lamps, coffee pots, old fashioned perfumes, dry fruits, especially endless variety in dates, rugs and much more. Souk Al Zafarana in Al Ain is another gem. Mina Zayed port also has many to explore. Fish Souk for instance, where hustle and bustle begins as early as 3 am, beginning with sorting of the fresh catch from the Arabian waters, and there are live fish kitchens as well.
There's also one for carpets alone, presenting creativity from all over the Middle East and you could even get them shipped home. If exotic fruits are always on your mind, Al Mina Souk is for you, where fruits and vegetables arrive from across the world. Whichever souk you choose, the many smells of food, the Arabic conversations, and the hustle among shoppers and sellers will surely be overwhelming. Some stalls may also welcome you with coffee (Gahwa) and dates. The souks open early and close late at night.
Shop the best travel experiences here
Best thing to do at night: Catch the phases of the moon Post the sunset, the domes of the globally famous and centrally located Sheikh Zayed Grand Mosque are beautifully lit to reflect the current phase of the moon, which with marching days, changes – repeating the cycle: dim to bright and bright to dim. More than 20 light towers take care of the process and involve a large team. For most locals and their guests, it's an after-dinner beguiling treat for the eyes. Inside, more than 40,000 worshippers can pray at once on the world's largest hand–knotted carpet, covering 5,700 square metres.
There's no fee to enter this mosque but pre-booking is required. When it comes to your dress here, follow the locals –the body should be well covered. There are wheelchairs for the elderly and club cars for all visitors, which pick up visitors from the parking and drop them at the tour start points. One thing more: complimentary tours are also offered at the start of every hour.
Best thing to do for couples: Private yachts
From the many waterfronts of the capital, ferries daily take a group of visitors for sightseeing tours, which is one of the beautiful ways to experience Abu Dhabi's skyline and its surroundings but couples can also book luxury yachts and other boats exclusively for themselves, especially while the sun is about to bid adieu. It may remind you of several Bollywood movies, chiefly their romantic songs. There are all options to keep the romance brewing from dinner service to several surprise ideas for proposals as well. Hotel concierge desks have collaborations with several boat companies, many of which also offer pick-and-drop facilities from the hotels. One can even book them directly at short notice.
Book your stay at Four Seasons Hotel Abu Dhabi at Al Maryah Island via Booking.com
Book your stay at Four Seasons Hotel Abu Dhabi at Al Maryah Island via Agoda.com
Best thing to do with family and kids: A date with falcons Do reserve time for the falcons, which is more than special to the Middle East –their national bird, and that too at the Abu Dhabi Falcon Hospital, the largest in the world. This hospital, daily offers a guided tour of two hours each in English, which rolls out the history of falconry and the life of falcons in today's world. There will be opportunities to see them being treated, followed by a visit to the aviary, where the Emirati guide will help to take the best shots with them, besides many other close encounters. There's also a museum dedicated to them with rare pictures and tales. (Timings: Monday to Thursday: 10 am and 2 pm; Friday and Sunday: 10 am (Ages 5-9: AED 60 (INR 1341); 10 and above AED 170 (INR 3800); below 5 free; groups can request their language of choice other than English too).
Best thing to do at Yas Island: Thrill of theme parks Not just children but even elders would love being on this island since it is peppered with exhilarating theme parks, from Warner Brothers and Ferrari to water and underwater sea world, for which special deals are also available, commencing from AED 345 (INR 7713) to AED 675 (INR 15,091), which stay valid for several days, simply because you can't experience everything in a day. Don't forget the Formula Rosa, the world's fastest rollercoaster, which zooms 240 km/hr at the Ferrari World. Yas Island is rightly called the 'entertainment island' since it is inundated with infinite nightclubs, concert venues and an array of quaint restaurants, cafes and one of the largest shopping malls.
Best thing to do for your birthday: High tea with a view The place we choose matters for any kind of celebration, so why not celebrate it high above this UAE city? Just head to the Observation Deck (simply called Observation Deck at 300) of the Etihad Tower, which stands 300 metres above the ground, where you can enjoy the quintessential Afternoon Tea with British and Arabic delicacies. Part of the Conrad Hotel, one of Hilton's top-notch luxury brands, the views from here are clearly fabulous, presenting the nearby iconic Abu Dhabi landmarks, such as the Emirates Palace Hotel, the skyline and the large open sea.
24-hour advance booking is advised, served between 2 pm and 6 pm, with the last order at 5:30 pm and is priced at AED 260 (INR 5812) per person. Within the same price, the staff adds a touch of birthday to the delicacies. Other ala carte orders are taken from 12 pm to 7:30 pm. If you want to up the excitement further, you can also opt for helicopter rides!
Best thing to do for history lovers: Heritage Village Take yourself to the Emirates Heritage Village where you will understand the traditional life in the desert, especially how it was before UAE turned modern. Located minutes away from the city centre on the Marine Mall Island, which opened in 2001, one comes across the old world souk, a mosque and a camp with animals which showcases how families once lived.
One can also catch artisans making pottery, weaving and spinning yarn; women indulged in embroidery work and discover many unique art pieces, which can even be bought from its souvenir shop. The village that has free entry opens daily. Alternatively, if you want to experience the history and vision for UAE's future, through a light and sound show, the royal palace – Qasr Al Watan is the place to be, exactly at 8:15 pm. It's a 30-minute show and the price starts from AED 25 (INR 558). For those below 18, it starts at AED 12 (INR 268).
Best thing to do for adventure seekers: Desert Safaris When in the UAE, it has to be in the desert, which is a day trip ritual. From Abu Dhabi, the biggest attraction for it is in Al Gharbia, located southwest of it as it is home to the largest desert spread in the world, called the 'Empty Quarter.' The drive takes about 2-3 hours but going there is worth the time as one can be part of endless adrenaline-fuelled adventures: dune bashing, sand boarding, riding a motorbike and so much more.
The safaris also include light activities like the falcon show, camel riding during the sunrise or sunset, and Emirati dinner under the open sky. On one edge of this Empty Quarter is its famous corner called Liwa dotted with villages and it has become a hotbed for festivals. Don't forget your sports shoes at the hotel for the day in the desert. Prices fluctuate every month but they do start at least from AED 150 (INR 3353) onwards.
Best thing to do in summer: Indoor adventures Besides many outdoor adventures on the water and in the desert, an adventure hub called CLYMB on Yas Island has birthed indoor skydiving making it the world's largest skydiving chamber, where you can fly up to 104 feet high and do rock climbing 138 feet high. Both have also made it to the Guinness Book World Record, for providing such an experience indoor, which opened at the end of 2019. One gets assisted by experts, where five years old are also their customers. Families can even book time slots. Isn't it a great way to save oneself from the heat outside? Prices begin from AED 235 (5254).
Book your stay at Conrad Abu Dhabi Etihad Towers via Booking.com
Book your stay at Conrad Abu Dhabi Etihad Towers via Agoda.com
(Hero and feature image credit: Imtiyaz Ali/Unsplash)
All currency conversions were done at the time of writing
Related: The Best Times To Visit Dubai For Beautiful Weather, Lower Prices, And Fewer Crowds
Frequently Asked Questions (FAQs)
Question: What are the don'ts in Abu Dhabi?
Answer: At religious places, heads should be covered. Do not take photographs of locals without their permission. Rude gestures or abusive words aren't accepted at public places. Couples are advised to avoid scenes of romance on the streets as common in many other parts of the world.
Question: What is the budget required for a five day trip to Abu Dhabi?
Answer: During summer and fall months, for four nights and five days, many travel agents commonly offer package deals for INR 1 lakh, including stay in a five star. This does not include flights. There are options to buy packages from the official website of Abu Dhabi tourism visitadbudhabi.ae website too.
Question: Which are the best beaches in Abu Dhabi?
Answer: Abu Dhabi is flooded with beaches. Most free beaches are however on the Corniche waterfront. But there are beach clubs too, owned by hotels that line the water, where you will have luxurious sun loungers and non-stop food and beverage service. Those not staying with them can pay to enter.
Question: Can children remain engaged at the Louvre Abu Dhabi?
Answer: It also has a children's museum within it and hence their interest is catered. Moreover, most galleries are very engaging, considering many unique sculptures, which can keep different age groups engrossed.
Question: Is there a cruise ship port in Abu Dhabi?
Answer: Yes, many cruise ships pass through the Zayed Port of Abu Dhabi, which can take you all over the Middle East, covering many destinations such as Dubai, Muscat, Doha and more. Most offer week –long trips.
Question: Are there vegetarian restaurants in Abu Dhabi?
Answer: Yes, there are many, from food courts of the shopping malls to the ones on the streets in the downtown. Due to rise in the vegan and vegetarianism, even restaurants which serve non-vegetarian meals, have vegetarian and vegan options now.
Question: What is Emirati cuisine like?
Answer: The best experiences of it are in the souks but there are restaurants in the hotels too dedicated to it, including at the Emirates Palace Hotel. Emirati meals consists meat of camels, goats, chicken and local fish and the dishes are flavoured with spices like turmeric, saffron, cardamom and cinnamon.
Question: Which are the best hotels in Abu Dhabi?
Answer: In one word, endless! Other than Emirates Palace, there are many other stunning hotels, such as the Ritz Carlton, Four Seasons, Fairmont and also those which are budget friendly like the Holiday Inn, many of which promise views of the Grand Mosque too. Kids also have the opportunity to stay at first ever Warner Brothers Hotel (Curio Collection by Hilton) on the Yas Island. There are resorts even in the middle of desert.
Written By