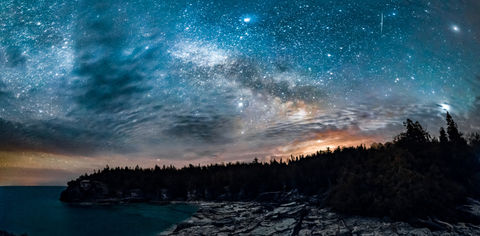 Valles Caldera National Preserve in the Jemez Mountains of northern New Mexico is making headlines worldwide over. The Preserve has recently earned the title of being an International Dark Sky Park. By Kumar Shree
The International Dark Sky Places (IDSP) Programme founded in 2001 has certified the Valles Caldera National Preserve as an International Dark Sky Park, recently. The IDSP Programme encourages parks, protected areas, and global communities to preserve and protect dark sites.
View this post on Instagram
They use several public education schemes and responsible lighting policies to preserve the night skies and enhance the visitor experience. Many times, astronomy-based interpretive programming also helps in creating better experiences for visitors.
The IDSP Programme has recently marked Valles Caldera National Preserve in Mexico as a designated International Dark Sky Park. This preserve is now an identified area for witnessing unobstructed views of the night sky. It will now be possible to witness the Milky Way, star constellations, meteor showers, and even other planets from this spot.
As reported by the International Dark Sky Association (IDSA), Executive Director of IDSP Ruskin Hartley said, "We are very excited about today's announcement… This designation demonstrates the commitment that Valles Caldera National Preserve has made to protecting the night, and we commend their efforts."
View this post on Instagram
With the new certification, the 13.7-mile-wide Valles Caldera now joins the list of over 100 other locations that already have the certificate. As reported by IDSA, Superintendent of IDSP Jorge Silva–Bañuelos said, "The night sky has inspired countless humans to dream, invent, and explore. With this certification, we are committed to preserving our night skies and sharing all that we can learn from them with our surrounding communities and visitors to Valles Caldera."
Related: Mexico's Acapulco Beach Lit Up With Beautiful Neon-Blue Waves

Written By