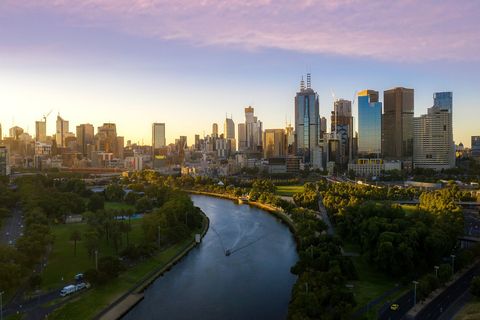 While Australian's southernmost mainland city seems understated on its surface, visitors quickly learn there are layers of passion, hard work, and history behind every aspect of Melbourne — Australia's cultural capital. By
Situated on the Yarra River as it flows into Port Phillip Bay, Melbourne and its population of five million inhabit a land that has been lived on by Aboriginal Australians for more than 40,000 years.
After British settlement in the early 1800s, the wealth produced from the nearby gold rush of the mid-19th century funded the development of much of the city you see today. Magnificent Victorian-era buildings such as Parliament House, The Princess Theatre, and The Block Arcade remain as vibrant today as when they first opened, and compete for attention with the striking geometric newcomers that dot the cityscape.
From the Victorian era emerged the city's Hoddle Grid, a layout that created the many laneways now famous for their street art, and alleys that hide world-class restaurants, bars, and boutiques.
You'll notice that Melburnians have a lot of obsessions, most notably coffee, sport, and food. This is great for visitors, as it results in a city that constantly strives for the best. It's evident in the espresso-scented laneways, as baristas grind for that perfect espresso; or in the thousands of flavour combinations that come out of kitchens that encompass cuisines from around the globe, thanks to the city's proud multicultural heritage. And it can be heard coming from the hallowed Melbourne Cricket Ground when a 1,00,000-strong crowd packs "The G" for a game of Aussie Rules.
Beyond the arts and all these interests that could keep one endlessly entertained, there is the landscape itself — a mixture of grand parks, impressive gardens and beautiful seasides, all of which make Melbourne a must on any Australian itinerary.
Time Zone
Australian Eastern Standard Time (UTC+10 hours)
Best Time to Go
Melbourne's temperate climate means visitors can comfortably sightsee year-round. Major sporting events (Australian Open, F1 Grand Prix) and festivals take place mainly in the warmer months, between November and March. Much of the city's action moves indoors as days become cooler, but Melburnians adapt to their winter well, switching out sun umbrellas for patio heaters at outdoor cafes and rooftop bars. Melbourne weather has a reputation for occasionally having "four seasons in one day," which should be kept in mind when packing for your trip here.
Things to Know
Currency: Australian Dollar
(Check the current exchange rate)
Language: English*
*Visitors will quickly learn that Australians use a lot of slang in their everyday language, often shortening frequently-used words (i.e. arvo for afternoon, avo for avocado).
Many common words are also different to their USA equivalent. Some handy examples:
Elevator = lift
Sidewalk = footpath
Trash can = bin
Cell phone = mobile
Cookie = biscuit
Chicken = chook
Liquor store = bottle shop
Flip-flops = thongs
Swimsuit = bathers
Sweater = jumper
Calling Code: +61
Capital City: Canberra
Tipping is uncommon in Australia. While never expected, it's also seen as inoffensive, should you wish to offer a tip. Exceptional service at a restaurant is an example of a situation in which a tip would happily be accepted.
Australians drive on the left side of the road. People here also keep to the left when walking on the sidewalk or standing on an escalator.
How to Get Around
A relatively flat city, much of Melbourne's sites and attractions can be reached easily on foot—many within walking distance of one another. Public transit is ample within inner Melbourne, and the city's iconic trams are easy to find. Taxis and ride-share options are also readily available.
Tram: The City Circle line is free and a great way to move around the Central Business District (CBD). 24 routes cover more than 160 miles of track. With the exception of the City Circle, you'll need a myki card to ride a tram, and across all other public transit services.
Train: Melbourne's Metro train system includes an underground City Loop, which encompasses the CBD. There are 17 train lines that branch out from the City Loop, which reach further than the tram network, and can often be faster than a tram if journeying more than a couple of miles.
Bus: Your myki will come in handy if you find yourself in need of a bus. While trains and trams access most attractions, buses will come in handy for less accessible parts of town.
Taxi: 13cabs and Silver Top are the two main accredited taxi operators in Melbourne. You can hail them, phone or book using their respective apps.
Ride-share: Uber and Ola are popular ride-share options in Melbourne. Another is Shebah, an all-women service.
Best Hotels
Best Restaurants
Things to Do
Best Shopping
Neighbourhoods to Know
CBD: The CBD (Central Business District) is Melbourne's easy-to-navigate centre, with its grid layout encompassed by the free City Circle tram. You'll find many of the city's iconic landmarks here: The State Library of Victoria, Flinders Street Station, Parliament House, and St Paul's Cathedral are standouts; along with historic and lovingly-maintained historic arcades. This is where the city's famous laneways reside, home to scores of tucked-away restaurants, bars, and boutiques. The Bourke Street Mall and Swanston Street are both closed to local traffic — but watch out for trams! Plenty of shopping is to be found around here. Chinatown, on Little Bourke Street, is steeped in history and delicious cuisine, and has formed an intrinsic part of Melbourne since the mid-1800s. Lined with stately London Plane trees, Collins Street has a distinct European vibe. Its east end is where you'll find designer boutiques such as Louis Vuitton, Gucci and Versace, along with Her Majesty's Theatre.
Southbank: The spire of Melbourne's Arts Centre acts as a beacon for the city's arts precinct on the south side of the Yarra River: The Australian Ballet, Melbourne Symphony Orchestra, Melbourne Theatre Company, and Opera Australia all call this institution home. The Malthouse Theatre, Melbourne Recital Centre, and Southbank Theatre are also nearby, all notable for their striking architecture as much as the creativity produced inside. The NGV International can also be found in this area, while along the riverbank itself you'll find restaurants, bars, and Crown casino.
St Kilda: Famous for its pier, palm trees, and penguins, this beachside suburb is abuzz on the water and off. Kite-surfing, jet-skiing, and fishing are all popular activities here, but nothing beats the relaxing simplicity in a walk along St Kilda Beach's tree-lined promenade, where nearby attractions include St Kilda Sea Baths, the historic St Kilda Pier, Luna Park amusement park, or one of the many seaside cafes, restaurants, and bars. Acland, Carlyle, and Fitzroy Streets are popular spots for food and shopping; after the sun sets, they are great places for live music, dancing, and nightlife.
Carlton: Head to Lygon Street in this inner-north neighbourhood and you'll find Melbourne's Little Italy. Enjoy one of the many Italian restaurants here, or grab a sweet treat from famed pasticceria Brunetti. There are also more than a few gelateria to take your pick from here, too. The nearby Carlton Gardens are beautiful at any time of the year, and is where you will find Melbourne Museum and the World Heritage-listed Royal Exhibition Building.
Weather
Summer: December-February
Melbourne's summers are typically hot and dry, but keep in mind the city's reputation for occasionally having "four seasons in one day." Averages can be deceptive because of this, with highs capable of reaching over 37 degrees Celsius, only to be erased by a cool change that causes temperatures to drop around 15 degrees Celsius. It happens infrequently enough not to affect summer vacation planning, but with that unpredictability in mind, be sure to pack a light jacket or cardigan, just in case.
Autumn: March-May
This time of year can feel like an extension to summer, with plenty of warm, sunny days. Mornings become increasingly crisp as the season draws to a close. Evenings out on the town may require a coat.
Winter: June-August
Melbourne's winters are mild enough to comfortably spend a day outdoors, with the right amount of layers. While Melbourne never sees a snowfall, winter mornings can be cold enough for frost in some areas, with overnight temperatures nearing freezing on occasion.
Spring: September-November
Melbourne can sometimes be a little slow to come out of its winter, but spring here is typically sunny and comfortable, steadily warming up while remaining cool in the evenings.
Below are average temperatures in Celsius.
January: 16°C to 27°C
February: 16°C to 26°C
March: 14°C to 24°C
April: 11°C to 21°C
May: 9°C to 17°C
June: 8°C to 15°C
July: 7°C to 14°C
August: 7.7°C to 16°C
September: 9°C to 18°C
October: 11°C to 20°C
November: 12°C to 22°C
December: 14°C to 25°C
Apps to Download
PTV: Melbourne public transport planner, routes, timetables, live updates.
iOs | Android
National Gallery of Victoria: Navigation aid to the NGV's collections, events, and exhibitions.
iOs | Android
The Fork: Restaurant, cafe, and bar reservations; reviews.
iOs | Android
Yalinguth: An augmented-reality experience guided by Aboriginal and Torres Strait Islander Elders and storytellers that connects visitors to place and history.
iOs | Android
The Happiest Hour: Guide to happy hours and other deals at local pubs and bars.
iOs | Android
Related: Sydney Travel Guide: Read This To Plan Your Future Vacation!
Written By