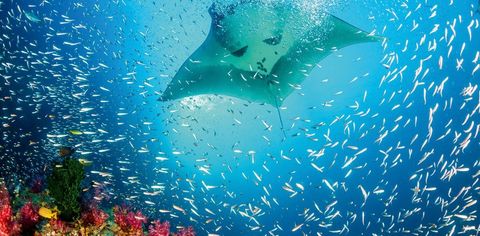 Resorts take different routes to luxury and sustainability in the fragile ecosystem of the Maldives. Our contributor took stock of the offerings on an isle-hopping tour before the pandemic struck. By Devanshi Mody Second course: chiffon ravioli. Phones out. Click-click. Everyone has an iPhone. "The iPhone is tedious," I announce. "It takes five steps to delete one message!" A honeymooning Californian construction billionaire agrees, "Android is smarter. But I'll always use the iPhone anyway." As shall I. Why? There's a smart choice. Why don't we make it? This question will niggle at me as others continue clicking dainty French-style courses, dissecting the six accompanying wines. We are at Decanter, the underground wine cellar at The St. Regis Maldives Vommuli Resort, enjoying an exclusive wine dinner for 13, recalling The Last Supper.
The 13th guest isn't in a white flowing robe turning water into wine but all tuxedoed up. I don't immediately realise he was on the same seaplane to the resort, springing about taking pictures of blue-lassoed islets boiling out of the Indian Ocean of whom I'd said, "He can't be going where I am!" I declare now I thought him a beach-bum. My mother is aghast—is this what she bred me to say?! David smiles, that's what he is when he's not being a forensic psychologist.
At midnight, supper ends. We teeter out. I can't resist, "Will you turn into a pumpkin now, David?" He beams, "I noticed you on the seaplane because you and your mother exuded such dignity." Touché! The Russians leave the wine cellar reserving a bottle of Château Margaux pricier than my overwater St. Regis Suite (hitting INR 4,82,600 per night). The new French Executive Chef Jocelyn Argaud observes that people just look at labels, and real connoisseurs ferret out great but less glamorous wines. Like iPhone vs Android? A Dubai-based tour designer, who baulked at eco- aware resorts that I approved of, exits urging upon me the celebrated new resort JOALI, "Now that's luxury. The GM's business card is so thick!" Perhaps I should begin with my arrival in the Maldives. St. Regis's airport butler, Hamdoon, offers an unparalleled welcome and challenges, "Nobody in the Maldives can beat us in service." Finesse is not in thick silk curtains but in the staff's slick, I've often told GMs of ultra-luxe hotels. They haven't often understood. The excruciating finesse of Hamdoon's attention leaves me rippling like a silken ribbon. St. Regis's airport lounge is legendary, and the arrival ritual at the resort overwhelms. We are greeted, seated on a deck overlooking an astonishing lagoon, and treated to chilled coconut water. Our butler Shamiyu, who has presented himself via iPad during the airport pick-up (nice!), now unveils our overwater suite. When I was in the Maldives last, seven years ago, my entire villa was the size of my bathroom now. Outside the elegant suite, the jacuzzi-pool sunbathes on the sexiest deck in all of Maldives. Deviously sophisticated design.
To match, crafty punctilio. Shamiyu is sharp-on-time to fetch us for the sunset sacrament. Observing the whimpering grey skies I wonder if there will be a sunset. Shamiyu attributes preternatural weather to environmental abuse. At the Whale Bar, which must surely be the world's best-designed bar, Carmina Burana plays and the sunset ritual unfolds. The skies billow in ruffles of crimson, lilac, carnation, fuchsia. But they might not in future if man keeps denaturing nature. Next day, Chef Jocelyn conjures another "petite surprise." We are led into an organic garden. Everyone in the Maldives has one now. It's the new rage. I'm told that the chef, the French GM Vincent Pauchon, and the Indian resort manager Harish Nair convened, pondered, and devised a programme with a 10-year vision. They adopted the neighbouring island to cultivate much of their own produce towards self-sufficiency and reducing carbon footprints/costs, besides empowering local communities, educating their children, and living symbiotically. If guests demand white truffles and caviar and Norwegian salmon, the chef can courier them over (lockdowns permitting). "But ask yourself, is this what you want?" the chef favours local produce and is constructing a "nursery," an English word jarring the rhythm of his lush French narrative. Neither of us recalls the French word pepinière—more vexing to me than the importation of food is the importation of English into French, Hindi, everything.
his own mind: he deplores a Maldivian waste-dumping island he says in French is called "Isle Poubelle" (Dustbin Island). His 'Elements' lunch isn't just about garden gastronomy (vibrant salads gorgeous with toasted almonds, roasted pistachio, and lively flowers, culminating in demure French-style risotto), but about serving food for thought. Introspect, educate, raise awareness, the chef says with poignance and poetry. His is "une petite goutte dans l'océan" (a drop in the ocean), which won't change much until people reign their all-devouring consumerism. He prophesies consequences of luxury tourism's encroachment into unchartered territories where plunderous improvident enterprises brutalise pristine natural habitats to feed the gorging demands of hedonism. The pronouncements are made with not the regime-defying provocation of Shostakovich's 5th Symphony but the insidious, stirring rhythm of Ravel's Boléro. It's all the more ominous, and jolts. I feel we are in the Garden of Eden, heading for another Fall. And it comes. As COVID-19. When I was visiting the Maldives, I wondered how we should travel in 2020. Little realising then that we wouldn't! Well, pandemic-permitting, how should we travel in 2021? This magazine's ethos of conscious travel doesn't suggest we set sail into the sunset on a catamaran or patronise only Cruso-esque resorts. But we can holiday smartly. Nature now demands it. I once judged a resort's luxury quotient by the thickness of its towels, tissues, and toilet rolls, as the mindless luxury of most glossies demanded. Until, at Bawah Private Island in Indonesia, the GM (a Frenchman again) said he had consciously opted for linen-thin environmentally conducive towels against the plump sort you'd expect. His wife eschews some of the world's most-sought destinations, because they profane the environment in avaricious heedlessness. Likewise, I choose not to travel to certain cliche locations with manufactured histories or ones that claim impunity to their history. Vacations and the voyage of life will always tantalise with choices between what one likes and what one ought.
Complementing these philosophical times, The St. Regis Maldives Vommuli Resort creates an avant-garde design sensation integrating local materials into the spectacular Whale Bar, manta-like overwater villas, lobster-shaped spa, and shell-shaped library, cunningly evoking the region's marine life. The library's esoteric collection includes a book on Horace, and I can't recall when last I heard Horace invoked. You don't judge a book by its cover, but I do judge a hotel by its library, the best being where one finds books other travellers left, revealing the sort who frequent the hotel. After St. Regis, with its butlers who can be nurses to a patient, we're off to the heartbreakingly beautiful Raffles Maldives Meradhoo, which superbly replicates vignettes from the original, Raffles Singapore, on the exotic remoteness of an equatorial island. Its vintage-feel beach villas have palatial bathrooms with baths big enough for a tractor to bathe in. As you indulge in the glass- wrapped shower-corner of the new overwater villas, you spot a patch of blue rising, rising until it magnifies into a brilliant parrotfish while swells of limber fish bedazzle, swiftly swill this way and that, like sequinned dancers in some consummately well-choreographed ballet.
Raffles doesn't offer buffets. This, managers explain, cuts wastage and costs and ensures quality. This is best demonstrated with breakfast, sensibly compact. Options include Chinese, Lankan, Arabic, and even Peruvian at the dapper overwater Nikkei-cuisine restaurant, Yuzu. Lunches are gorgeous, suppers suave. But breakfasts are best, especially the in-villa floating champagne breakfasts. Yuzu's terrific cocktails are another story. Kudadoo Maldives Private Island is a model resort. Just 15 villas, architectured by a Japanese, shimmer overwater like golden caskets with Kyoto-style slanting roofs. Immense, spartan rooms come with onsens; ample terraces lend themselves to floating champagne breakfasts. And breakfast is, like in a Japanese ryokan, pre- ordered the day before. Except, you can order everything on offer!
The all-inclusive resort boasts the destination's choicest inclusive wines and champagnes (Ruinart, Louis Roëderer, Taittinger). This unhinges temptation. I've vowed to drink but a glass a day. Now I quibble that it depends on how big the glass is. In the Maldives, quibbling is allowed. And so, I find myself rocking on the swing on my pool-deck, champagne in one hand, again remarking that perpetual gnawing disjunction between what I like and what I ought, torn between the sybarite-unleashed and the saint-aspirant. Kudadoo's highlights include fromages affinés, generally seen only at Michelin- starred restaurants in France. You might ask, "But is it sustainable?" Indeed, Kudadoo is sustainable—it's 100 per cent solar energy-run, in wood, and equipped with a resident biologist, Lynn, who takes you on manta missions. Mantas are best spotted in the morning, but my butler unthinkingly sends me on an afternoon excursion. I see no mantas. However, as hordes of spinner dolphins exhibit their acrobatic ingenuity, Lynn elucidates how environmental desecration triggers El Niño, a natural phenomenon, to occur unnaturally with frenzied frequency eventuating coral starvation and the much- discussed bleached coral.
This isn't what Steven, JOALI's GM, is referring to when he talks about sustainability. He means economic sustainability. I am commending him on the cashews at breakfast that JOALI's Turkish owner, the only woman to own a Maldivian resort, sources from Turkey. The whimsically fabulous and deliciously feminine JOALI is one of the latest and perhaps the ultimate in the profligacies of the Maldivian ultra-luxe pantheon. While 'light' is the prescription for overwater villas, JOALI's have monumental green marble bathrooms, with marble enough to sink an island. Wooden sliding doors—so luxuriantly thick I can't move them—are embossed with the same motif as the plushest carpets, as thick as the doors and the duvets. Everything exudes luxury. But I can't help thinking, "How thick is luxury?" The villas, with exorbitant artefacts customised for the resort and welcome bottle of Ruinart (only polite when the villa costs INR 5,19,725), hailed as the destination's ritziest, seem uneasy in the ecologically fragile Maldivian biosphere. Nevertheless, the asymmetrically disposed water villas aren't an artistic caprice but laudably preserve the reef by contouring it.
There can be nobility in luxury. And you find it at JOALI. It's the destination's first 'Art Immersive' resort. Guests are requesting art tours of arresting island-inspired pieces, including a manta treehouse and herron-head, which you can enter. The artist intends you to imagine the world from these creatures' perspective. Thought-provoking when you encounter a turtle while snorkelling and realise this magnificent piece of nature's art with its golden head and mauve-jade shell is endangered like much marine life, thanks to human stupidity. Most impressive is the intricate marine mosaic at the Italian restaurant Bellinis, where an Italian chef handcrafts tagliolini (a type of pasta). At Japanese-Peruvian restaurant Saoke, as you dine on the deck watching waters aswirl with baby sharks the wonderful manageress, Lordess, manifests and reveals that sometimes mantas sway in too and do their graceful dance across the silvery seas. She says it so poetically I'm enchanted.
Faced with nature, the imbecilities of humanity perturb. But Turkish operations manager Anwer charms away one's concerns. Were the world crumbling, Anwer with his debonair dark hair and glassy eyes would yet stand steadfast, smiling away exquisitely. "She only likes the handsome boys," says Steven. "No Steven," I correct, "intelligence appeals to me more than good-looks. It is a rarer and more precious commodity." Think about it.
GETTING THERE
Indigo flies directly to Malé from Mumbai, Bengaluru, and Kochi.
STAY
The St. Regis Maldives Vommuli Resort
Doubles from INR 1,85,615
Doubles from INR 2,22,739
Doubles from INR 1,00,230
Kudadoo Maldives Private Island
All-inclusive from INR 2,82,135
Related: #MyThrowbackTrip: T+L India's Editor-in-Chief Aindrila Mitra Revisits Maldives
Written By