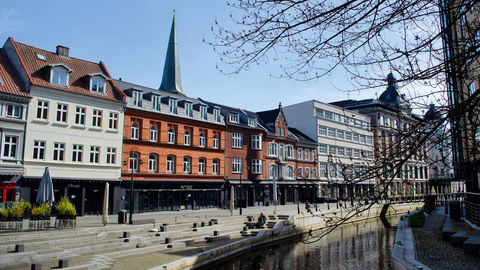 Editor's note: The global COVID-19 crisis has left each one of us deeply affected and we want to help. Burda Media India has organised a fundraising campaign to #FightBackWithTesting and donating RT-PCR test kits to the worst-affected areas in India, which will be secured from our testing partner Mylab Discovery Solutions. You can help these kits reach many more by donating for the cause or by adopting a kit. Click here to join the fight.
Denmark has succeeded in 'flattening the curve' with a relatively lenient lockdown. A student describes life in a dorm, with its abundance of board games, snaps, and sing-alongs. By Inayat Naomi Ramdas Within hours of the World Health Organisation's classification of COVID-19 as a pandemic on March 11, Prime Minister Mette Frederiksen announced that Denmark would be closing down its borders and placing restrictions on its people. It was a sunny spring morning, and it seems like the Ides of March had arrived early.
I live in a student dorm in the port city of Aarhus, a well-known university town located on the Jylland Peninsula. Since the lockdown came into effect, online classes have taken over. Common spaces like the kitchen and dining area expose us to one another, and maintaining social distancing has been a challenge.
Outside, the streets remain empty. The few apothecaries and supermarkets that are open for essentials don large posters warning people to "Wash Hands, Maintain Distance, and Stay Home." Inside our kollegie, however, we have established a world of our own.
It's All About Fællesskab
The stereotype that Danes are as cold as the Danish weather must come with a disclaimer. While I am here as a student and my classmates are from all parts of the world, I have found the locals to be delightfully warm. The Danes are all about fællesskab, an unpronounceable word that denotes community and togetherness. Frederiksen uses it in almost all her press conferences, and it has been influencing the national curve ever since the first case emerged in late February.
For life within four walls, fællesskab has taken a reformed, if not completely novel, meaning. After months of winter rain, hail, and a few sprinkles of snow, when it was finally time to get some sun and cherry-blossom cheer, fate forced us to retreat indoors. But Danes deal with their long, dark, dreary winter months with innovative bonding ways established through centuries.
The national pastime seems to be board games. There are hundreds of Danish-brand games that can be found in local brætspilscafés (board game cafeterias) all over Denmark. And Danes are no amateurs. Once the board comes out, the gloves come off. I have learned this the hard way—losing every game of Catan, Ligretto, Bezzerwizzer, and The Resistance in the last one month.
Drinking, too, is an integral part of the Danish experience. I was told on my arrival that friendships are cemented over gallons of beer. While I do not possess the chugging capacity of Nordic mythical proportions, it has been largely true. Yet, it is not
as much about the booze as it is about closeness and sense of community. They even have a whole day of the week dedicated to this activity: Friday. And since fredagsbar (Friday bars) are cancelled, many have come up with ways to continue with the revelry: teachers host online parties with their students, and neighbours connect with each other across balconies.
At my kollegie, a karaoke subscription allows us to sing into the wee hours of Saturday, at the risk of upsetting our neighbours. Meanwhile, I have managed to pick up a few Danish verses. Denmark is known for its folk songs and hymns. As tradition, family and friends spend chilly evenings around a fire, devouring a hearty barbeque with chilled beer while belting out tunes. Coronavirus has not played spoilsport. The Danish Broadcasting Corporation (DR) has taken upon itself to play conductor, enabling people to partake in old Danish favourites from their homes. The sing-alongs have become so popular that even the Prime Minister and her daughter joined in the fun. Outside, The Sun Shines On

Denmark's lockdown allows for restricted movement outdoors, but under strict guidelines— maintaining a two-metre distance and not gathering in groups larger than 10.
Horse riding, running and hiking in the woods, and bicycle rides to the supermarket are great ways to maintain one's weight and sanity. I sometimes join my dorm-mate Catherine in planting spring flowers in our garden. Often, I prefer sitting with my books in our yard.
Sunny spring days entice the Danes from the dorm across the yard to come out and challenge each other in matches of King and Beer Bowling, both Danish summer lawn games. "These are perfect to play now because you have to stand far away from the opponents," explains Freja, a nursing student, as we watch three Danes compete at King.
One Month Down, One More To Go
On Easter Sunday, exactly a month since the lockdown was announced, the national curve is well on its way down. But the government is not quick to rejoice.
It has urged its citizens to continue to self-isolate, even on Påske (Easter), a day that practically every Danish family celebrates at home. Our group decides to host a Påskefrokost (traditional Danish Easter lunch). After a morning spent preparing tartelleter (tartlets), sild (herring), frikadeller (pork meatballs), and eggs, we gather around the table to toast staying strong with some really strong Danish Snaps.
There is yet another month of self-isolation ahead of us. Although quarantine has induced chronic dry hands and anxiety about the future, it has strengthened my bonds with the locals. I just hope that by the end of all this, I can learn to say "rødgrød med fløde" (red pudding with cream) as easily as I eat it!
Related: Lisa Ray Shares A Glimpse Of Her Life In Singapore Under Lockdown
Written By