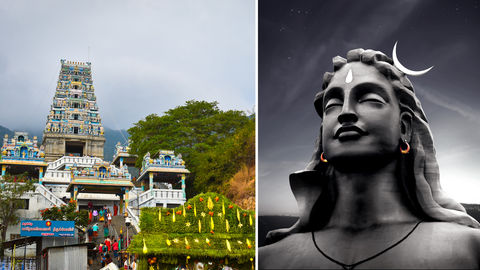 Highly influenced by the Kongu culture, Coimbatore, is a rich amalgamation of historical tales, breathtaking tourist spots, age-old textile heritage and mouthwatering culinary secrets. After travel bans are lifted, if you plan a holiday here, do check out these lesser-known places in Coimbatore. By Smrithi Suresh
Lesser-Known Places In Coimbatore
Coimbatore, also known as Kovai, is a major commercial hub of Tamil Nadu. This city is surrounded by hill stations that ensure it is blessed with a moderate climate throughout the year. You'll fall in love with the kind of communal harmony that Coimbatore exudes. Here we've put together a list of six hidden gems near Coimbatore for your to discover.
View this post on Instagram
This small town near Pollachi in Coimbatore is surrounded by endless stretches of greenery, majestic dams, waterfalls, and mighty mountain ranges. Winding ghat roads with 40 hairpin bends towards Valparai will surely test your driving skills. This place is famous among photographers and tea enthusiasts too. The rich aroma of coffee plantations floating in the air will leave you craving for a cuppa. Valparai is home to many hidden gems like Nirar and Sholayar Dams, Grass Hills, Nallamudi viewpoint and more.
View this post on Instagram
Famed for housing a part of the Anamalai Tiger Reserve, Topslip is an exotic place peppered with teak and bamboo forests. This place doubles as a habitat for many endangered species of flora and fauna. Aliyar Dam situated at a distance of 26 kilometres from Topslip has a captivating view of the Anamalai hills. You can try boating here or perhaps visit the aquarium. A two-kilometre trip to the Monkey Falls from the dam is also worth a mention. The pleasant climate and wildlife safaris here make it a great weekend getaway choice.
View this post on Instagram
The Velliangiri Hills is known as the 'Kailash of the South' for its (world's largest) sculpture of Adiyogi. You can take a walk through the Isha Yoga Centre, which is known for facilitating spiritual awakening among patrons. The verdant Velliangiri hills are also said to be sacred as lord Shiva himself stayed in the mountains for a while (according to folklore). There is a famous Velliangiri Andavar Temple, situated on top of the hill. Here, under a natural cave, a Shiva Linga is worshipped. One needs to cross seven hills to reach this holy abode. However, only men are allowed to visit this place. If you wish to seek blessings from the Swayambhu (Lord Shiva), plan your trip between February to May.
4. Mettupalayam
View this post on Instagram
Have you ever been on a toy train ride chugging through the mountains? A UNESCO heritage site, Nilgiri Mountain Railway, offers a unique travel experience from Mettupalayam to Ooty. It passes through steep mountain trails and tall trees and takes around four hours and 50 minutes of travel time. Mettupalyam also has a famous water-themed amusement park called the Black Thunder. You can indulge in many rides and games here. In the end, head to the viewpoint in the park to catch a picturesque sunset.
5. Maruthamalai
View this post on Instagram
Arulmigu Subramaniyaswami temple is a famous 12th-century hill temple of Lord Murugan, about 14 kilometres from Coimbatore. Thousands of devotees visit this shrine every day. It is often believed that seeking blessings from the deity here can cure many diseases. Other nearby tourist attractions are the Gass Forest Museum, Botanical garden in Tamil Nadu Agricultural University and GD Car Museum.
6. Siruvani Waterfalls
View this post on Instagram
Siruvani Falls is one of the most prominent locations near Coimbatore. Situated about 35 kilometres from Coimbatore, it provides water with enriched minerals. The people here believe that Siruvani water is the world's second tastiest water. You can pay a visit to the Siruvani dam and the river. Moreover, you can even trek in the reserve forests or indulge in activities like birdwatching and nature walk with the help of forest department officials.
As a textile hub, Coimbatore has a wide range of clothing shops too. Apart from that you must try 'pure ghee sweets' from any of the Sri Krishna Sweets outlets and have a bite of the delicious South Indian breakfast from Sree Annapoorna Sree Gowrishankar. To relive the city's history, take a walk in the streets of Town Hall and Oppanakara Street.
Getting There: You can directly take a flight or train to Coimbatore from Delhi. One can also opt for a bus ride from Bengaluru.
Best time to visit: July to March
Places to stay: Vivanta Coimbatore is a luxurious upscale hotel with top-notch facilities for tourists. Coco Lagoon Resort by Great Mount in Pollachi is a superb place to stay away from the hustle and bustle of the city. Nestled in greenery, they offer luxury at affordable prices.
Related: #TnlRoadTrips: These Adventurous Road Trips From Chennai Will Put Your Driving Skills To Test
Written By