Koreatown is the beating heart of Los Angeles—a neighbourhood alive with authentic food, contemporary culture, and a diverse, fiercely devoted community. By Steph Cha, Photographs by Dylan + Jeni.
Outside of Korea, this is the greatest Koreatown
At one night in November 2008, I stood outside Le Cercle, a club on Western Avenue in LA's Koreatown. Next to me was a man I'd never met before, eating a burrito that smelled like heaven. I was 22 and imperiously drunk, and when I asked for a bite, he was too startled to say no. It turned out one bite was not enough, so I dragged my girlfriends to the taco truck parked in the Sizzler lot across the street. There we met the truck's owner—a man we later learned was named Roy Choi. He was taking his new Kogi BBQ truck on its first weekend tour of Los Angeles.
Gone now: Le Cercle, my 20s, sharing food with strangers, the Sizzler. Here to stay: Korean tacos, the exuberance of youth, and the wonder of discovery in Koreatown, where change is rapid, exciting, heartbreaking, and constant.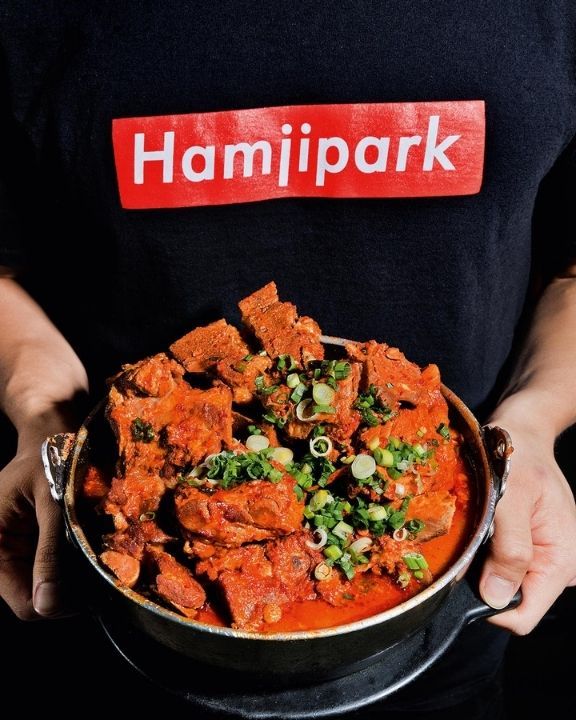 Koreatown received official recognition from Los Angeles County in 1980, thanks in large part to the efforts of Hi Duk Lee. Lee was an entrepreneur and community leader who established the neighbourhood as a "Second Seoul" for the wave of Koreans who moved to LA after the Immigration and Nationality Act of 1965, which lifted the restrictive quota system based on national origin. Lee opened a cluster of businesses around Olympic Boulevard and Normandie Avenue in the 1970s—including VIP Palace, one of the first Korean restaurants in town. He had it built in a traditional architectural style, with imported blue tiles. The restaurant became a neighbourhood staple, a buffet my parents used to frequent before my siblings and I came along. It's where Pulitzer Prize–winning food critic Jonathan Gold—who made the fortunes of many Korean restaurateurs before his death in 2018— got his introduction to our heat-packed cuisine.
Today, Los Angeles has the largest ethnic Korean population outside of Korea itself, and our Koreatown is the diaspora's flagship neighbourhood. Scribbled over and across every block in the neighbourhood is Hangul, the Korean alphabet, announcing restaurants and coffee shops, dry cleaners and florists, grocery stores and test-prep schools and karaoke bars. I grew up in the San Fernando Valley, but my family made regular excursions to Koreatown: to shop and eat, to get haircuts and eye exams and whatever other services we might need, all more or less exclusively provided by other Koreans. My grandmother, who turned 91 this year, has lived there since I was a kid. I can't think of a single time when she's had to speak English, except to communicate with her grandchildren.
VIP Palace has been closed for decades, but the building still stands, its orange facade stencilled with depictions of chickens, children, and a man playing an accordion by members of Lapiztola, a Oaxacan art collective. Since 2001, the space has been home to Guelaguetza (entrées INR 458– INR 1,988), a family-owned Oaxacan-Angeleno restaurant. It's a James Beard Foundation America's Classics winner—one of only a handful in Los Angeles—and the first traditional Mexican spot to receive the prestigious award. "A Korean building serving up regional Mexican food is the essence of LA," owner Bricia Lopez told me. "The heart of LA is the diversity of Angelenos, and it doesn't get more LA than K-Town."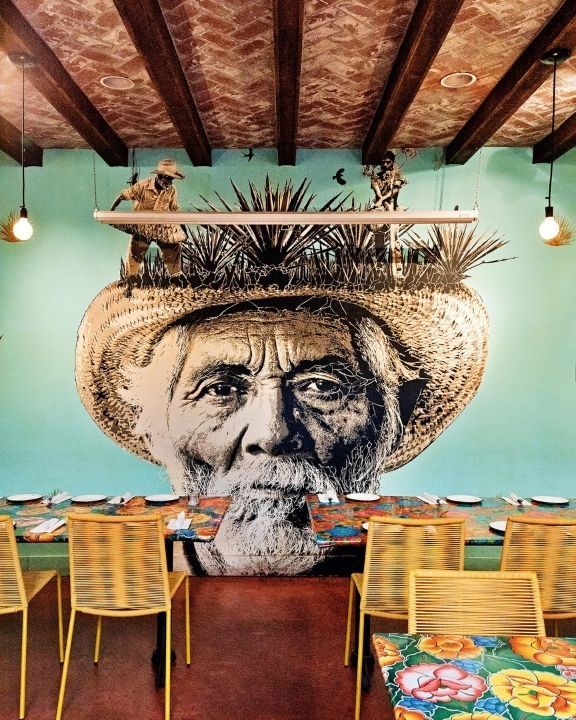 Before the COVID-19 pandemic, Guelaguetza was a spacious, bustling indoor restaurant with a full bar, boasting a world-class mezcal list and live music acts. Now it has reduced capacity and no music, but there's a breezy, cheerful patio in what used to be a parking area. Guelaguetza is best known for its moles— rich sauces made with complex blends of ingredients, many of them sourced directly from Oaxaca, including peppers, nuts, fruits, seeds, spices, and artisanal chocolate. With Koreatown emerging from two years of shifting guidelines and various levels of lockdown, customers are lining up to get their fix of Oaxacan cooking. "Every restaurant is busy," Lopez said. "People want to go out and eat, and I don't blame them."
This is welcome news for the places that made it through, but for many Koreatown restaurants, the pandemic has stretched on too long, assistance has fallen too short, and landlords have proven too ruthless. In the beginning, I hunkered down at home, less than a mile from Koreatown, and when I emerged more than a year later, some of my favourites—Jun Won, Beverly Soon Tofu, Here's Looking at You—were just gone. Dong Il Jang and Nak Won, decades-old businesses that survived the ravaging of Koreatown during the 1992 Los Angeles uprising, could not get through 2020.
As soon as I was fully vaccinated, I left my toddler at home with his father for the first time since his birth in April 2020. I went to Ham Ji Park (entrées INR 764– INR 1,376) for the best pork ribs and pork-neck stew this side of the Pacific, and Dan Sung Sa (entrées INR 993– INR 1,452) for—well, I was just dying to go to Dan Sung Sa. Caroline Cho opened the bar and restaurant in 1997 as a watering hole for Korean immigrants, and until COVID, it never closed for a single day. "We all struggled, but we are all healthy and back—that's all that matters," she said. "What more can I want, right? It's not just me. It was everyone in the whole world."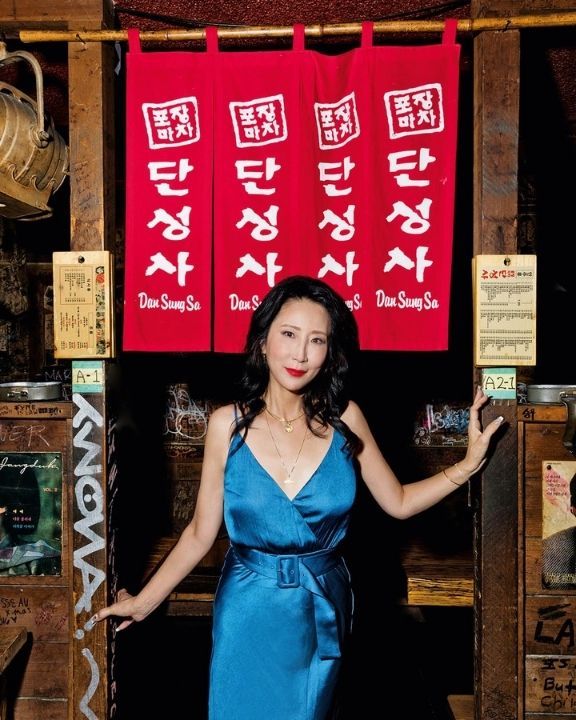 Dan Sung Sa was built in the spirit of Korea's pojangmacha—casual places to eat, drink, and relax. The interior is old-school Korean, centred around a bar and open kitchen, and designed to resemble the street stalls you might see in the alleyways of Seoul or Busan. The wooden counters and walls are seasoned with friendly graffiti and decades of charcoal smoke and spilled soju. Until last year, the parking lot was always full of cars, attended by one of Koreatown's many strip-mall valets. Now it holds Dan Sung Sa's outdoor setup—a street tent made to comply with COVID guidelines, but one that recalls, more than anything, the humble, cosy covered wagons of pojangmacha I've been to in Korea. Eating grilled squid and drinking the milky rice wine we call makgeolli by the bowl, I felt the glorious return of something valuable— something that was almost lost.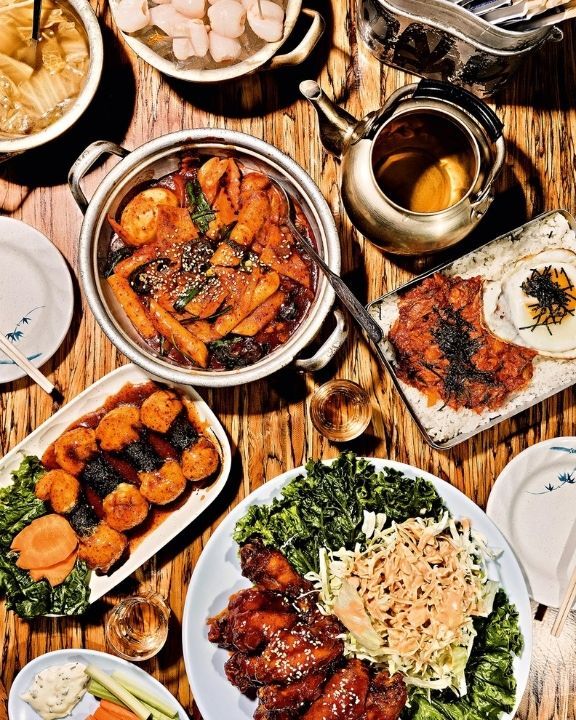 Los Angeles is known more for its sprawl and diversity than for the beauty of its built environment, and Koreatown— with its mishmash of architectural styles and proliferation of strip malls—embodies this eclectic "everythingness" in a way that fills me with native pride. The past exists inside the present, always, and here you can see it with the naked eye, the incorporation of so many histories into one crowded urban landscape.
Along the Koreatown stretch of Wilshire Boulevard—a 2.4-kilometre-long strip that is the neighbourhood's commercial spine—you'll find faithfully preserved landmarks like the Gaylord Apartments (built in 1924) and the beautiful Art Deco Wiltern Theatre (1931). The Wilshire Boulevard Temple (1929) is home to the oldest Jewish congregation in Los Angeles and just got a very expensive expansion. Back
in 2015, long-time temple member Audrey Irmas sold a Cy Twombly painting at auction for more than $70 million (INR 7 crores), and she used part of the proceeds to fund the Audrey Irmas Pavilion, designed by Rem Koolhaas and OMA partner Shohei Shigematsu. The building opened in September, and you can now see the impact it has on Wilshire's skyline. It's an enormous, eye-catching structure, splashy and modern next to the Byzantine Revival temple.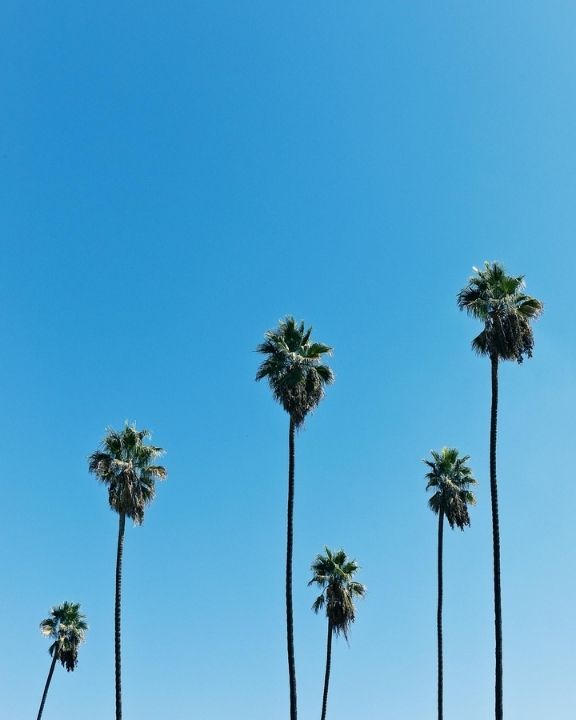 Koreatown is a lot more Korean than when the temple was built, but it is, despite its name, much more than an ethnic enclave. It's the most densely populated neighbourhood in LA County and one of the densest in the country, with some 1,20,000 residents packed into its seven square kilometres. The population is highly diverse, with about half being Latino and a third Asian; altogether, two-thirds of its residents are foreign-born. The promiscuous cultural mix is what gives Koreatown its particular energy. I'm thinking, for example, of the Korea-Mexico World Cup game in 2018, which I watched at Biergarten (entrées INR 1,452–INR 2,140), a gastropub on Western Avenue that serves kalbi (short-rib) nachos and pork schnitzel, with a full house of hyphenated American fans rooting for both teams and guzzling beer at eight in the morning.
The social fabric of Los Angeles is woven thick and knotty in Koreatown, and all the promises—and failures—of the city are intensified in the neighbourhood. On a recent night, I went to dinner in Chapman Plaza, a 1920s commercial center with an ornate Spanish Revival exterior and an exuberant, quintessentially K-Town bar and restaurant scene. I ate at Quarters (entrées INR 917– INR 3,670), one of my favourite Korean barbecue joints, where you can get draft IPAs with your short ribs and dunk spicy pork belly and pork jowl in a deliciously untraditional bowl of melted cheese. The music pounds at nightclub volume from about 7 pm.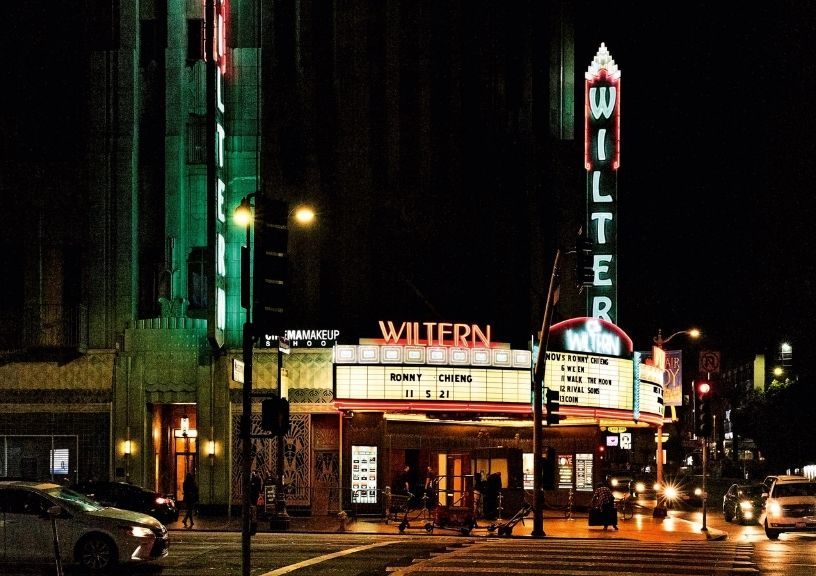 The parking lot—once the hottest late-night valet scene in town—has become a full-on pojangmacha village: big tents, meat, and booze, a thrilling festival atmosphere. We walked from Chapman to the HMS Bounty, a historic bar on the ground floor of the Gaylord Apartments, open since 1962 and—according to my father—one of three places you would, in his day, see white people in Koreatown (the others were El Cholo and Taylor's Steakhouse). It's a classic dive with a nautical theme, as worn and comfortable as an old favourite sweatshirt. The owner, Ramon Castaneda, started working there as a teenager in the 60s, before Koreatown was even Koreatown. And while the neighbourhood has changed, the Bounty has stayed the same.
My friends and I lingered for hours, drinking Gimlets and Manhattans, then hopped over to the Prince. Once upon a time, I was an anonymous talking head on Anthony Bourdain's Koreatown episode of The Layover, and I recorded my spot in one of the Prince's back rooms. At that time it was a fried-chicken-and-soju kind of place with a middle-aged Korean crowd. Now it gets busy even on weeknights and attracts a diverse, youthful clientele. I tried to order yoghurt soju, my go-to at the Prince, only to learn that it was no longer on the menu. I got a dirty martini instead.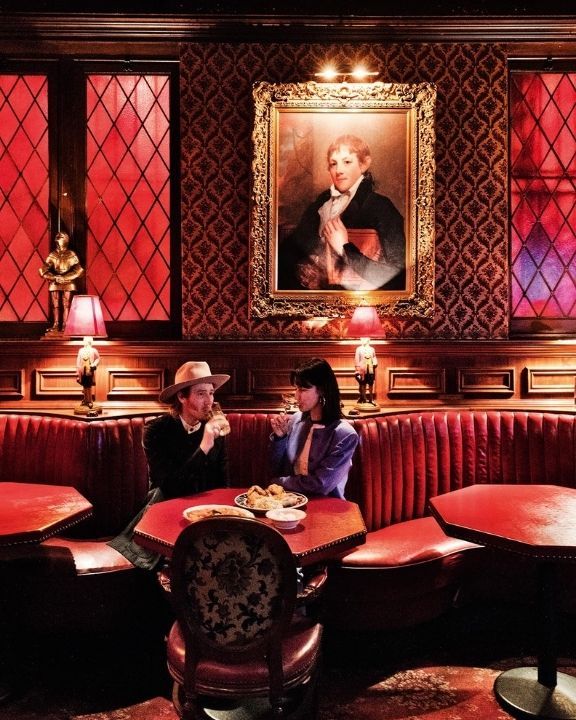 We closed out the bar, and if we were younger, we might have stayed out even later. The night never has to end in Koreatown, where you can always hit 24-hour restaurants like Sun Nong Dan (entrées INR 1,223 – INR 6,116) —great —and Hodori (entrées INR 917– INR 2,752; 1001 S. Vermont Ave) —not great, but great anyway. If you ask around, there's usually one or two places where you can get secret soju after hours.
Walking back to our car after midnight, we passed a homeless man relieving himself on the sidewalk and did what we could to give him some privacy. It was a sharp reminder that Los Angeles is in the midst of a housing crisis. The effects are obvious in Koreatown, where locals blocked the building of a shelter months before COVID. "Pre-pandemic, a third of Koreatown households were earning under $25,000 (INR 19,11,362) a year," noted Jessica Sykes of the Koreatown Immigrant Workers Alliance, a multi-ethnic workers' rights organisation and community group. "For folks who were already vulnerable, the pandemic has made them very visible and even more vulnerable." Mike Davis, a city historian, once said that LA is the city of sunshine and noir, of dreams fulfilled and crushed to dust. Koreatown is LA concentrate. You can find magic and hardship on any night, on any street.
Aneglected hallway on the second floor of an old brick-and-stucco building on Seventh Street leads to a contemporary gallery built and run by artists. Commonwealth & Council is named for the location of founder Young Chung's one-bedroom apartment, where he held the gallery's first shows in 2010. When his landlord caught on and shut him down, Chung found this more permanent exhibition space above the first Spanish-language Alcoholics Anonymous in LA. Of course—and there's something so K-Town about this—a place called Amigos Liquor is right next door, and the building's best-known tenant is OB Bear, an iconic Korean bar now closed following a substantial fire in November 2020. Commonwealth & Council was unaffected by the OB Bear fire, but the space had been burned before. When Chung and co-director Kibum Kim took over, they found charred walls hidden behind cinder block and worked with friends to restore them, incorporating and transforming the damage.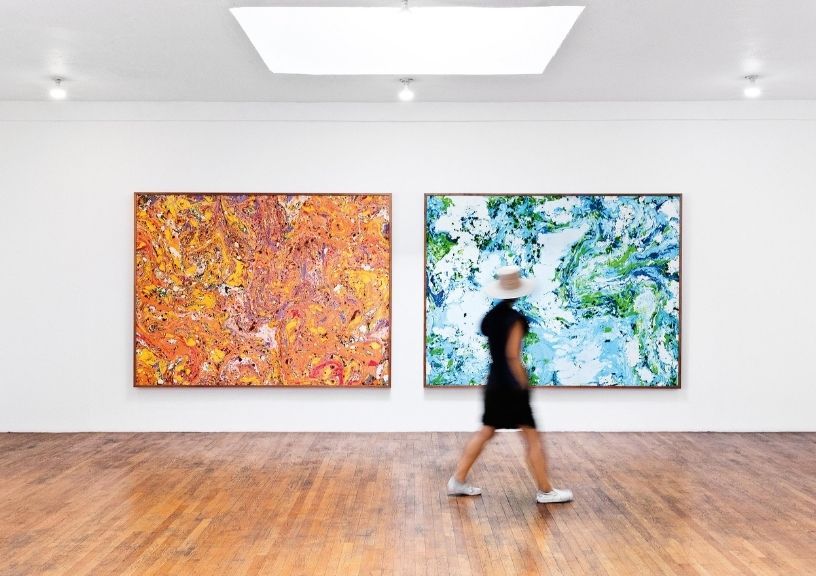 The gallery is a hub for a diverse community of established and emerging artists, as well as art collectors and other culturally curious Angelenos. I caught a solo show by Carolina Caycedo, a London-born Colombian artist now based in LA, and eavesdropped on a casual tour given to two men who were clearly friends of the gallery. Another gallerist dropped by while I was there, apparently just to hang, and after a year of pandemic restrictions, and the restrictions of new parenthood, I marvelled at this easy familiarity, this glorious camaraderie. "We don't proffer ourselves as some community leader, but we are very much part of the larger fabric of the neighbourhood," Kim told me. "Right next door is a seamstress with whom we've collaborated. We know our neighbours."
There's a genre of coffee shop I've only ever seen in Korea and Koreatown. My favourite local example is the Yellow House Café, on Oxford Avenue, an old colonial single-family house that transformed along with the neighbourhood, instead of getting torn down. It's a charming place with a big backyard patio and a cute aesthetic—string lights, round fonts, earnestly cheerful atmosphere. The coffee and tea aren't artisanal, but you can get fun, frilly drinks like a sweet-potato latte or an Almond Roca cappuccino. There's a full food menu, mostly Korean comfort dishes but several pastas, too (another frequent feature of the Korean cafe being some carb-centric Korean-Italian fusion). A long list of desserts includes red-bean shaved ice and a variety of waffles. It's a sweet place with a strong, straight-from-the-motherland spirit.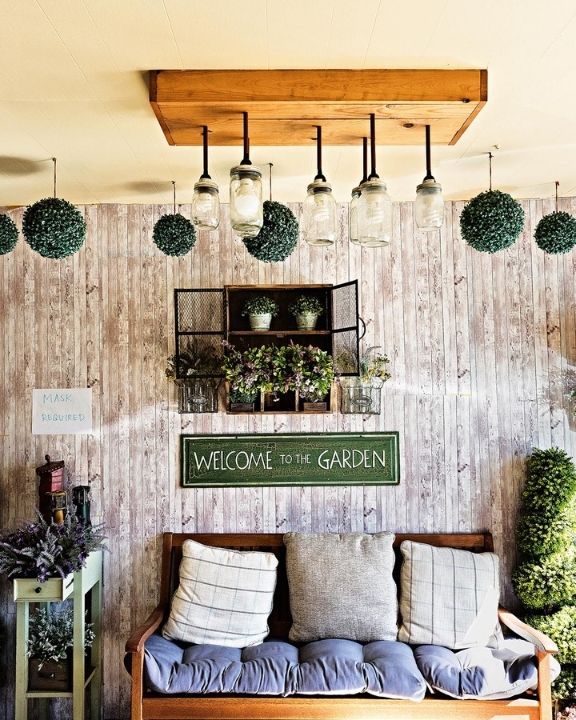 Over the past several years, a different kind of coffee shop has appeared—speciality operations offering lovingly roasted craft coffee and the type of gentrifier-chic storefronts that prompt marks like me to slow our cars and go, "Oh, what's this place?" If the Yellow House could have been lifted from Korea, Spl. Coffee, just five blocks east, feels unmistakably homegrown. Owners Karen Lee and Jonathan Dizon are second-generation Americans from Silver Lake and Echo Park (they went to John Marshall High, where my mother studied as a new immigrant in the 1970s). Lee always dreamed about opening a coffee shop, and when the opportunity arose, she and Dizon moved into a strip mall on an underserved stretch of Third Street.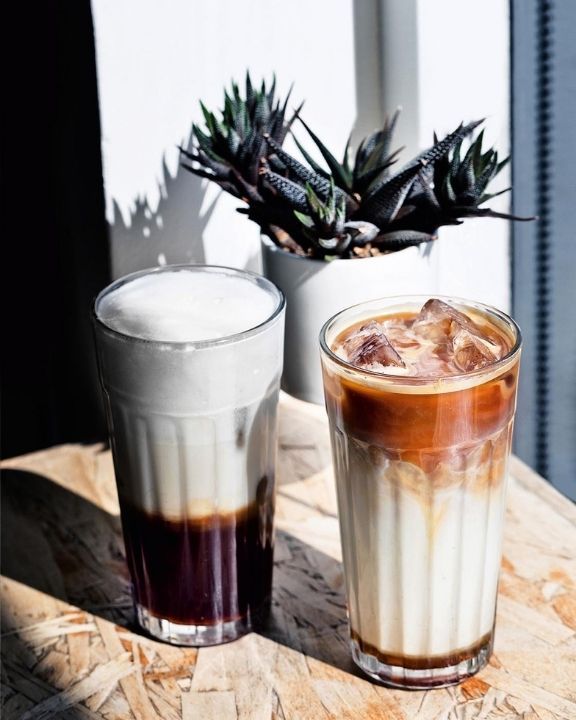 Everything about Spl. is either made in-house or sourced from nearby vendors. On my most recent visit, I sipped a cappuccino while revelling in the atmosphere, which is sunny and open and sparingly decorated—except for an electric-blue mural of chubby chickens and a cat drinking coffee against an LA skyline. This was painted by two graffiti artists, known as Cache and Atlas (from Guatemala City and nearby Alhambra, respectively), whose chickens and cats brighten walls all over town.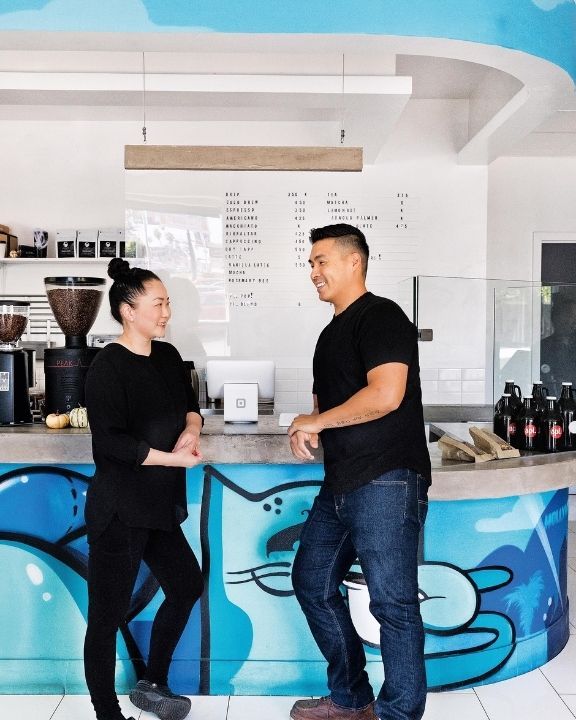 Lee has spent her whole career in the food-and-beverage industry, but when she stopped by my table to chat, I asked her why she was drawn specifically to coffee. "It brings people together," she said. The world has changed in the past two years, but this community isn't going anywhere. Koreatown is resilient, a survivor of fires and plagues, a place where joy is possible on the other side of sorrow.
Getting There
Singapore Airlines flies from Delhi to Los Angeles via Singapore.
Stay
The LINE LA is located in the heart of Koreatown and weaves minimalist design with local artwork and handmade furnishings. Doubles from INR 16,012.
Related: Starting May, South Korea Is Set To Expand Number Of Weekly Overseas Flights