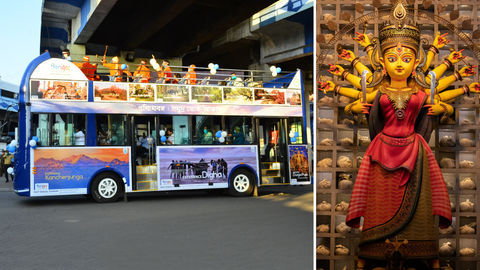 For the first time ever in 15 years, Kolkata has brought back its iconic double-decker buses that will be used for pandal hopping during Durga Puja this year, and later for tourism purpose as well. By Amitha Ameen
Have a look. Here's all you need to know about the newly launched double decker buses of Kolkata.https://t.co/35grEiRycM#DoubleDeckerBus #kolbusopedia @TourismBengal @tourismgoi #heritage #eicher #kbop #kolkata #bengal pic.twitter.com/YBZQCFjp1A

— Kolkata Bus-O-Pedia (@KolBusoPedia) October 14, 2020
It was back in the 1920s when Kolkata had first witnessed the emergence of the now-iconic double-decker buses, which were gradually phased out during the '90s, and eventually, the last one was taken off the city's roads somewhere in 2005. Now, the open-roof double-decker buses are all set to make a comeback during Durga Puja, which will not only serve as a memorable trip but one filled with nostalgia as well.
Spearheaded by the Department of Tourism, Government of West Bengal, Iconic #DoubleDeckerBus back on #Kolkata streets! Chief Minister @MamataOfficial launched the fleet with special facilities! Hop on & Hop off, enjoy the #KolkataConnect#UnknownKolkata #ExperienceBengal pic.twitter.com/66OK0vWqDg

— West Bengal Tourism (@TourismBengal) October 14, 2020
The buses were unveiled by Chief Minister Mamata Banerjee on Tuesday. "Such buses are usually seen in London and will be used here for hop-on-hop-off tours. The booking can be done online from October 23," she said during the inaugural event. (As reported by Hindustan Times)
These buses will be used for pandal hopping and then later to boost tourism in the city. The hop-on-hop-off bus service will pass by the iconic monuments like the Writers' Building, GPO, and Victoria Memorial, and more landmarks will be added as and when demand rises. "Folk artists will perform on the bus to showcase the culture of Bengal," added the CM. (As reported in Hindustan Times)
The first #DoubleDeckerBus– in the City of Joy #Kolkata plied between Kalighat in South Kolkata & Shyambazar in the northern part of the city in 1926!

Soon they gained popularity among commuters & became an integral part of the city's public transport and heritage. pic.twitter.com/ASzO0wdugh

— AncientHistory (@VisionHistory) October 14, 2020
The new buses will be painted blue and white, and will feature destination boards, automatic doors, CCTV cameras, and a panic button. The 51-seater bus will have 16 seats on the upper deck. Another noteworthy element is that the buses will be BS-IV compliant. The very reason why the older ones were phased out was mainly because they were uneconomical and very polluting.
Related: Missing Kolkata's Durga Puja This Year? These Photos Will Recreate That Feeling Of Nostalgia…
Written By