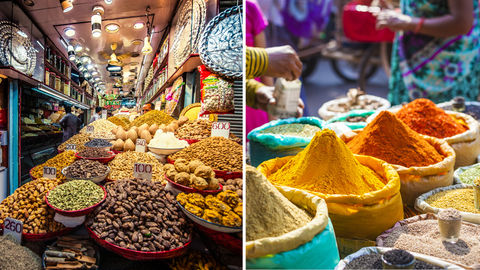 Editor's note: The global COVID-19 crisis has left each one of us deeply affected and we want to help. Burda Media India has organised a fundraising campaign to #FightBackWithTesting and donating RT-PCR test kits to the worst-affected areas in India, which will be secured from our testing partner Mylab Discovery Solutions. You can help these kits reach many more by donating for the cause or by adopting a kit. Click here to join the fight.
Channelling our inner chefs during the lockdown phase has almost become a norm, and trying to whip up global dishes – a trend. However, while our culinary-loving avatars might only be gaining spotlight in the current times, India – as a country – has always been one of the forerunners in this field. One such historic food heaven resides in Delhi's Khari Baoli, the largest spice market in Asia. By Bayar Jain
View this post on Instagram
When one manages to jostle away from the rickshaw pullers on the narrow streets, avert their gaze from the criss-cross of the overhead hanging wires, tune out the cacophony of sellers luring you to buy 'designer' saris, you can find yourself at the opposite end of Delhi's iconic Chandni Chowk. Here, the same chaos continues and the clamour for space to walk remains incessant. Instead, the whiffs of cardamom, turmeric, chillis, dried nuts and a lot more distract you at Khari Baoli, Asia's largest spice market.
View this post on Instagram
Despite being at the other corner of Delhi-6, the pace here remains frantic as ever. Shadowed by overhead shafts, the area has a myriad of shops selling all kinds of Indian spices, herbs and basic products, like rice and tea. Over its 400-year old (and more!) history, Khari Baoli – literally translating to salted stepwell – has seen many changes. The stepwell which gave the area its name has dissipated to become an oral legend, and the Lahori Gate, which led its way to the market lies buried in the rubble of history. Despite these lost glories, the area takes you straight to simpler times.
View this post on Instagram
Even today, most of the shopping continues to happen at a wholesale price with traders carrying back sacks of spices after a successful buy. Locally manufactured tea leaves, or freshly dried papad line the streets, only to be juxtaposed by the colours of ground herbs and powders. Keeping in line the truly local nature of Old Delhi – the practice of creating homemade pickles – jars of preserved mangos, limes, and even lentils are sure to catch your eye.
View this post on Instagram
However, all is not vintage here. With the changing times, this Delhi street has evolved to include homemade pasta, jams, and chutneys into its list as well. A truly 21st-century invention – the Delhi metro – is your best bet to take you to the 14th-century wonderland. Foreign tourists and the curious gaze of young children break the rusticity of the place, but the smells allow you to time travel. When here, the multitudinous smells make it easy to understand the reason for its global acclaim, but the place's evident love for all things local is bound to strike a chord and linger on irrespective.
Related:#TnlSupportsLocal: Here's Why We Are Dreaming Of These 10 Indian Luxury Boutique Resorts
Written By