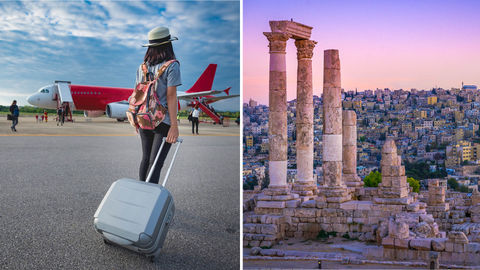 Emerging out of one of the strictest lockdowns in the Middle East, Jordan finally reopens its borders for international visitors from 22 countries starting August 5. However, is India on that list? Find out below. By Kumar Shree
Home to some of the most intriguing heritage sites in the world coupled with spellbinding desert landscapes — Jordan has finally reopened its doors to international travellers after being under a prolonged lockdown since March 2020 due to the ongoing pandemic.
View this post on Instagram
While Petra and Wadi Rum (the Valley of the Moon) remain some of the most popular tourist attractions in this Middle-Eastern country, the hospitality and the friendliness here are exceptional too.
Now that this heavenly abode has reopened its doors to revive tourism, let's take a look at which countries have featured on their 'green signal' list and what conditions have been laid out.
Much like other countries that are reopening after the lockdown, Jordan is also using a traffic light system of green, yellow, and red to determine which travellers can visit the country without undergoing quarantine.
For starters, Jordan has marked 22 countries as green. These are Austria, Canada, China, Cyprus, Denmark, Estonia, Georgia, Germany, Greenland, Iceland, Ireland, Italy, Latvia, Lithuania, Malaysia, Malta, Monaco, New Zealand, Norway, Switzerland, Taiwan, and Thailand.
Jordan's Health Ministry has formulated this list, which will keep changing every two weeks.
View this post on Instagram
Jordan was swift in implementing the lockdown, and the positive effects of it are visible. Jordan recorded some of the lowest Coronavirus cases out of all the Middle-Eastern countries. Hoping to continue with that success, Jordan will have a strict set of entry requirements in place.
Passengers travelling to Jordan will need to take two PCR swab tests. One will be 72 hours before taking the flight to Jordan, and the other will be upon arrival in the country.
The Civil Aviation Regulatory Commission could consider dropping the second test if things go hassle-free during the first week of reopening.
Visitors must adhere to the social distancing guidelines, and wearing a mask is mandatory for all.
Related: Iconic Nightclub Berghain In Berlin Reopens To Visitors With A Mysterious Sound Exhibition
Written By