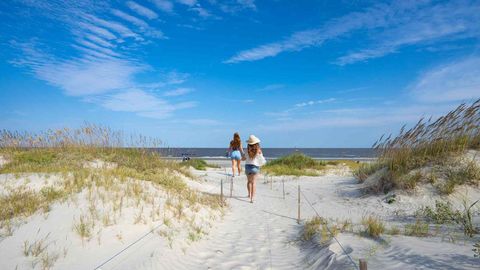 The beach may not be the first thing that comes to mind when you think of a vacation to the Peach State, but just off the coast of Georgia sits a quiet area of wide-open sandy stretches, marshes, and acres of moss-draped live oaks.
The southernmost of the four barrier islands making up Georgia's Golden Isles — so named for their natural radiance and dreamy appeal — Jekyll Island was once a favoured retreat of the country's most influential families. Today, it maintains its age-old appeal, but its 5,500 acres and 10 miles (16 km) of shoreline are just as accessible to vacationing families as they are to an exceedingly well-heeled crowd. The island is owned by the state of Georgia, and development is strictly limited in order to preserve its critical barrier island ecosystem, so everything is built with intention, creating a destination that feels a bit like discovering hidden treasure.
A designated state park and a haven for sea turtles, Jekyll Island comprises a landmark district, cottages, golf and resort amenities, and more. Visit and you'll see why it's an annual vacation spot for many families.
Best things to do on Jekyll Island Did you know there are no traffic signals on Jekyll Island? Getting out into nature is the name of the game here. From hiking and spotting wildlife to hitting the beach (Driftwood Beach and St. Andrews Beach are ideal for shelling), there's plenty to keep you busy, and most of it involves spending time in the great outdoors. Checking out the island's parks, historical landmarks, and lovely restaurants is also a must.
One of the top things to do on the island is to visit Driftwood Beach, home of the iconic weathered trees, branches, and driftwood that washes ashore. It's a sculpture garden formed by nature's unforgiving elements and the passage of time. Before you go, make sure to check a tide chart; go when it's a low or outgoing tide for the easiest access and the most spacious beach.
Another must on the island is touring the 240-acre National Historic Landmark District, which features 34 structures spanning hundreds of years of history. Opt for a tram tour led by a knowledgeable tour guide or explore on your own. You'll step back in time and further understand just what makes Jekyll Island so special.
Kids and adults alike will enjoy exploring the Georgia Sea Turtle Center, an education and rehabilitation facility that provides an interactive opportunity to learn about the animals and their importance to the local and global ecosystem.
Aside from the beaches and historical points of interest, there are many ways to get active, including 63 holes of golf, tennis, a fishing pier, dolphin tours, horseback riding, bike trails, and even the seasonal Summer Waves Water Park. You won't see over-the-top, over-commercialised tourist traps here, but you will find plenty of ways to make memories and enjoy the simple things with your family. Make sure to stop in any of the island's upscale boutiques or souvenir shops to grab an item to remember your trip.
Where to stay There are a variety of hotels on Jekyll Island, but if you want to get even closer to nature, pitch your tent or park your RV under the Spanish moss-draped live oaks at the Jekyll Island Campground. There are 179 total campsites (167 full hookup sites and 12 primitive tent areas) spread throughout the campground's 18 wooded acres, and this spot puts you within walking distance of Clam Creek and Driftwood Beach, about a half-mile away.
Of course, accommodation options are available on the other end of the pampering spectrum, too. Think "regal" and you might get a mental image resembling the Jekyll Island Club Resort, a historic property dating back to the Gilded Age. This massive yet intimate retreat has six dining venues, two pools, a beach, and sprawling grounds to explore. It's the ultimate place to unwind during a visit to Jekyll Island.
If you plan to stay a while, Villas by the Sea is a solid choice. The one-, two-, and three-bedroom villa options provide all the comforts of home (such as full kitchens and separate bedrooms) and are both affordable and comfortable. Guests also love Seafarer Inn & Suites, a modern boutique hotel with some apartment-style accommodations. The beach is nearby, but the seasonal outdoor pool is a popular pick, too.
Many hotel chains, including Westin, Marriott, Hilton, Hampton Inn & Suites, and Days Inn & Suites, also have locations on Jekyll Island, so there are plenty of options to meet your family's needs.
Best time to visit With mild temperatures and a gentle ocean breeze to cool the summers and warm the winters, the short answer is that the weather on Jekyll Island is pretty much beautiful year-round. Annual rainfall is only about 50 inches, the average temperature is 68 degrees Fahrenheit (20 degrees Celsius), and sunny days are the rule.
July and August are the warmest months, with temperatures rising between 30 and 35. December and January are the coolest when overnight lows dip towards 4 degrees. Freezing temperatures and snowfall are rare.
So, if the weather is decent throughout the year, how do you decide when to visit Jekyll Island? You might want to plan your trip around one of the island's signature events, like the spring Turtle Crawl races to benefit the Georgia Sea Turtle Center or the Jekyll Island Shrimp & Grits Festival.
Holly Jolly Jekyll, which includes magical tree lighting and the Historic District being decorated in grand Christmas style, is another great excuse to visit Jekyll Island.
Where to eat and drink on Jekyll Island If you love fresh seafood, you'll eat well on Jekyll Island. Unsurprisingly, many of the island's restaurants serve a menu of Atlantic Ocean delights, and most prepare every dish with Southern flair. While plenty of Jekyll Island hotels have fabulous restaurants, there are also many fun off-property eateries to check out.
Some favourites among locals include Tortuga Jack's, where you'll find beachfront Baja Mexican cuisine under the only oceanfront tiki on the Georgia coast, and The Wharf, a Jekyll Island Club Resort restaurant offering casual open-air dining on the historic pier.
In the mornings, grab the most important meal of the day at Sunrise Grille. You may find yourself thinking about going back for lunch and dinner, too, but there are also places like Love Shack at the Jekyll Market to try. Zachry's Riverhouse is another great no-frills option with riverfront views, and Driftwood Bistro at Villas by the Sea features memorable Low Country cuisine and local shrimp made using old family recipes from the owners and staff.
Getting to Jekyll Island You'll find Jekyll Island midway between Jacksonville, Florida, and Savannah, Georgia, around a 30-minute drive from St. Simons Island, another one of Georgia's dreamy Golden Isles.
As you may have guessed, there's no major airport located on Jekyll Island, so flying into Brunswick Golden Isles Airport (BQK), roughly 30 minutes from Jekyll Island, is likely your best bet if you don't reside within driving distance. Other nearby fly-in options include Jacksonville International Airport (about a 1.5-hour drive from Jekyll Island) and Savannah/Hilton Head International Airport (under two hours). Then, you'll drive in via the Jekyll Island Causeway, which intersects with US 17 at the southern end of the Sidney Lanier Bridge.
Note that vehicle entry to Jekyll Island requires a parking pass, which you can purchase online in advance or at the gate upon arrival. Daily passes cost USD 8 (INR 652) per day, while annual passes will set you back USD 75 (INR 6,114) per year.
This story first appeared on www.travelandleisure.com
Main and Feature Image Credit: Jekyll Island
Related: The First Tommy Bahama Resort Is Opening In This Chic California Destination — Take A Peek Inside
Written By