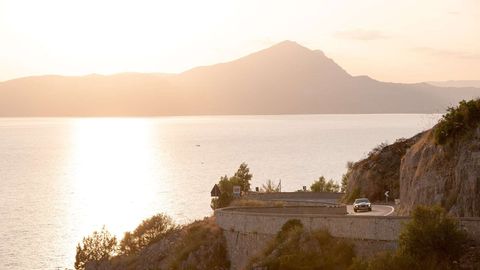 Calling all James Bond fans. Black Tomato, the official travel partner of EON Productions, the creator of the James Bond movies, wants to take you on a private, 007-inspired adventure. In honour of the legendary franchise's 60th anniversary this year, the luxury travel company announced that it has curated a European itinerary in collaboration with the movies' location scouts. The inaugural travel experience will take cinephiles to some of the franchise's most stunning European locations and give them a taste of Agent 007's lifestyle (minus the dangerous stunts, of course) and his inimitable style. By Dobrina Zhekhova
"It is an incredibly special milestone for Black Tomato to be given the honour of bringing 007's travels to life for the first time ever," Tom Marchant, co-founder of Black Tomato, told Travel + Leisure. "The destinations in which Bond's adventures take place play a leading role in the James Bond franchise, and it's an immense privilege to bring these stunning backdrops to the forefront for travellers."
Itinerary for the James Bond inspired luxury Europe trip The first trip will start in London, the home of 007, and "will span arts and culture, action and adventure, with uncompromising luxury throughout," according to a statement shared with T+L. Highlights include visiting Europe's oldest and most prestigious equestrian centre in Chantilly, France, featured in "A View to a Kill" (1985) as the lavish estate of villain Max Zorin. Travellers will get access to the facility's training grounds and Les Aigles track to attend a morning exercise before meeting with jockeys and trainers and heading for a horseback riding session. A private guided tour of the stately Château de Chantilly will follow. Also on the itinerary? A Lake Como getaway wherein travellers will water ski along the Moltrasio shoreline, inspired by the 1989 "Licence To Kill." After a private seaplane tour of the lake, a boat will take guests to the beautiful Villa del Balbianello from "Casino Royale" (2006) for a stroll through its gardens and a villa tour. Finally, the agenda will conclude at a truly iconic location for James Bond fans: Monaco's Casino de Monte-Carlo, where guests will have access to exclusive private rooms of the casino for an evening of gambling.
This is the only James Bond itinerary currently in the works, but through Black Tomato's exclusive partnership with EON, the T+L 2022 World's Best Awards-winning tour operator intends to host similar itineraries every year. "Given this significant 60th-anniversary milestone for EON and Bond, it is an apt moment to officially celebrate some of the extraordinary locations from Bond's film history over the past six decades," Ali James, location manager for EON, told T+L.
Black Tomato will announce the full itinerary for the inaugural trip in March 2023, and only 60 spots will be available to book. Pricing is not yet available, but you can learn more here.
This story first appeared on www.travelandleisure.com
Main and Feature Image Credit: Jasin Boland/Courtesy of James Bond Indicia © 1962-2022 Danjaq and MGM. All Rights Reserved.
Related: James Bond-Famous Hotel In Bahamas Has A Secret 007 Menu — But We Know The Way In
Written By