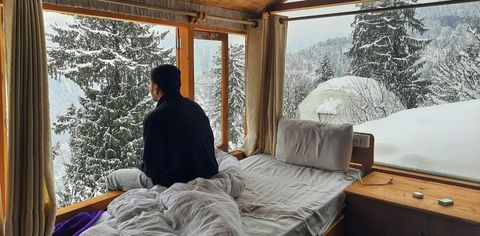 Ever wondered what a workation at India's first geodesic retreat looks like? Here's a first-hand account. By Deepika Gumaste I am stressed about travelling during a pandemic. Having spent most of 2020 indoors and expecting the same to follow suit for a considerable time in 2021, my anxiety prevents me from stepping out of the house. So, when my partner suggests a workation at GlampEco Stays Manali, perched at a height of over 2,600 metres, I decide to take the dreaded plunge. I could do with a change of scenario which involves clean air, floating clouds and sheer rejuvenation with endless Shinrin-Yoku sessions—the Japanese ritual of forest bathing. I also look forward to glamping at India's first geodesic domes, where rustic nature and modern luxury converge amid snow-laden vistas of Hamta valley. Rahul, GlampEco Stays Manali's manager—who also doubles as the in-house guitarist—welcomes us on a chilly winter night. Nauseous and exhausted from a whirlwind hilly drive, I reach the craggy trail to the domes, hoping I did not make a mistake. Akshat and Shilpi, our hosts, greet me with warm smiles, assuring our arrival on the night of the annual Geminid meteor shower as a celestial blessing. My month-long adventure here is an experience of many firsts. My mornings are busy with early work calls. The jet-speed internet with the towering Alpines as a Zoom backdrop in the common sitting room makes for an exciting proposition. The minimalistic, yet spacious interiors adorned with mud walls, small wooden desks, pampas grass and pinecone wreaths inspire feelings of a sun-kissed Danish winter morning paying an ode to hygge. Mahinder bhaiya, who specialises in gourmet Italian fare, indulges my hot chocolate pangs every hour between scrumptious breakfast, lunch and dinner spread. Each meal is pampered with organically-grown ingredients to pass the test of sustainable travel. Think an abundance of greens like thyme, celery, spinach and a dash of my favourite, broccoli. A visit to Hamta valley is incomplete without a gob-smacking portion of siddu, an authentic regional delicacy available at the Kalzang Dhaba run by a charming local couple. Situated just a minute's walk away from the retreat, the dhaba is the ultimate point for connoisseurs looking to sip on a local brew called lungri, or spot city-dwelling Bollywood celebrities flocking to the village for jaw-dropping shots. I alternate my sunlit hours between client calls huddled around the traditional tandoor in the newly-built cafe, and hiking to Sethan, a village nearby where locals are busy building igloos and playing with the friendly mountain dogs. Toshi, who clearly seems to be enjoying my spoils, follows me as I end my evenings sitting on a hammock under the now-barren cherry tree, setting the right tone for mesmerising sunsets. A starry night slowly descends.
ABOUT THE PROPERTY Floating above the clouds, GlampEco Stays Manali houses three futuristically designed geodesic domes, two private mudrooms, and one dormitory with five beds and amenities such as comfortable mattresses, cosy blankets or duvets, WiFi and electric kettles among others. The eco-friendly and thermally-insulated domes, however, remain the star highlight. Complete with attached washrooms and furnished with modern amenities, the sturdy structures offer breathtaking, uninterrupted valley views.
DISCOVER Curated day hikes to Prini peak, Jobri waterfall and lush forest walks are available most of the year. In winters, travellers can enjoy snow views and walk to Sethan, India's first igloo village. For the more adventurous folks, backcountry skiing, snowboarding, paragliding, mountain biking, trekking expeditions, etc., are available on request.
GETTING THERE
GlampEco Stays Manali is just 12 kilometres away from Manali and is easily accessible by road from Chandigarh and New Delhi, both.
Related: #TnlSupportsLocal: Check Out These 5 Hotels In Kullu-Manali To Kickstart Your Rebound Travels
Written By