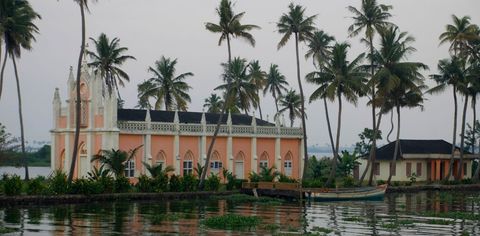 What once used to be just a marshy tract is today a haven for the discerning traveller. Kumarakom in Kerala welcomes you with palm-flanked backwaters, beautiful bird songs, luxurious houseboats, and more. Here's a detailed Kumarakom travel guide to make the most of your trip. By Karan Kaushik
Your handy guide to Kumarakom: Things to do
Kumarakom Bird Sanctuary
View this post on Instagram
Sequestered amidst dense mangroves, Kumarakom Bird Sanctuary inhabits as many as 180 species of birds. Commonly-spotted birds here include common egrets, storks, darters, herons, and teals. The best way to explore the sanctuary is by taking a boat ride in the tranquil backwaters. The ride takes you closer to waders such as ducks and waterfowl, parrots, fly-catchers, and larks, among others.
Vembanad Lake
View this post on Instagram
This pristine waterbody prides itself on being Kerala's biggest lake. Hire a kettuvallom and explore the Vembanad backwaters. Kettuvalloms are houseboats made from traditional rice boats. You may also hire speedboats, motorboats, or pontoon boats to soak in the picturesque beauty of the lake. If angling interests you, you may join the local fishermen in their daily adventures of catching boatloads of Karimeen, dark molluscs, and shrimps.
Pathiramanal Island
View this post on Instagram
An hour's ride away from the Kumarakom Bird Sanctuary, the beautiful Pathiramanal Island is spread across 10-acre and serves as an amazing spot to enjoy a quintessential backwater picnic with your loved ones. Located in the middle of the Vembanad Lake, the island can be accessed from both Kumarakom and Alappuzha on a backwater cruise. Come winters and the island bustles with the birdsongs of migratory species, that fly here in the droves.
Aruvikkuzhi Waterfall
View this post on Instagram
Another popular picnic spot near Kumarakom is the mesmerising Aruvikkuzhi Waterfalls. The seasonal fall cascades from a height of 100 feet. Unwind in the lap of nature and let the crisp air do its trick. From here, you may also visit St. Mary's Church, perched above the waterfalls. The waterfall is located near Pallickathode.
Ettumanoor Mahadeva Temple
View this post on Instagram
Dedicated to Lord Shiva, this ancient temple is famous for its imposing murals. The prime attraction at the temple is the tastefully done painting of Lord Shiva in his Nataraja form, which is housed in the ornate gopuram. Legend has it that the temple was visited by the Pandavas and sage Vyasa.
Kumarakom Craft Museum
View this post on Instagram
Any trip to Kumarakom will be incomplete without visiting the Kumarakom Craft Museum. Housed inside a gorgeous traditional wooden building, the museum showcases an impressive collection of antiquities. From stunning wooden crafts to paintings and traditional artefacts, the museum introduces visitors to the rich cultural heritage of Kerala. Show your support for the local craftsmen by picking up souvenirs from the museum shop.
Kudamaloor
View this post on Instagram
Take a short detour to Kudamaloor before you end your trip. Located on the banks of River Meenachil, Kudamaloor once served as the headquarters of the Chembakassery kings. Traditional Nalukettu houses still stand to tell the tales of Kudamaloor's glorious past. The prime attraction in Kudamaloor is the 800-year-old St. Mary's Church.
Related: Water Sports Destinations In India That Promise A Refreshing Dose Of Adrenaline
Frequently Asked Questions (FAQs)
Question: Where to stay in Kumarakom?
Answer: Where to stay Kumarakom offers a wide range of luxurious resorts and cosy homestays. You can choose to stay in a houseboat or opt for a luxurious stay at Taj Kumarakom Resort & Spa, Kerala. CGH Earth's Coconut Lagoon is located near the bird sanctuary and is popular among nature lovers.
Question: How to reach Kumarakom by air?
Answer: Cochin at 130km is the nearest airport from Kumarakom. Most resorts offer pick-up and drop. Taxis are also easily available.
Question: How to reach Kumarakom by rail?
Answer: Kottayam at 15km is the nearest railhead. It enjoys direct connectivity from major cities like Delhi, Chennai, Mumbai, Calcutta, Hyderabad, and Bengaluru.
Question: How to reach Kumarakom by road?
Answer: Kottayam is served by bus services from Kochi, Alleppey, Thiruvananthapuram, Kozhikode, and other towns.
Question: What is the best time to visit?
Answer: While Kumarakom mostly witnesses pleasant weather, the humidity level is quite high. For the best experience, plan your trip between September to March.
Written By