It's that time of the year when birdwatchers get their binoculars and camera kits ready to spot some of the most majestic migratory bird species every winter at these wetlands in India. By Karan Kaushik
Here are 10 birding wetlands in India that host migratory birds every winter
Mangalajodi Wetland, Odisha
View this post on Instagram
Located at the northern corner of Chilika Lake, in Khorda district's Tangi block, Mangalajodi Wetland invites migratory waterfowls and waders every winter. As many as 160 species arrive here from Mongolia, Russia, the Caspian Sea, and even parts of Ladakh and southeast Asia.
Some of the commonly spotted species include grey-headed swamphen, black-tailed godwit, northern pintail, grey heron, glossy ibis, and sanderling. Adorned with water lilies, the marshy freshwater swamp also serves as a home to an impressive array of fishes, reptiles, and amphibians.
View this post on Instagram
The village was once known for its bird poaching. Years of efforts by the state government and local community-run conservation initiatives have turned Mangalajodi into a top ecotourism hotspot of Odisha.
Pallikaranai Wetland, Tamil Nadu
View this post on Instagram
This south Indian wetland is truly blessed with rich biodiversity and plays home to more than a hundred species of birds in winters. Nestled in Chennai, the marshland also inhabits endangered reptile species, including Russell's Viper, a highly venomous terrestrial snake.
Often seen birds at the rainwater harvesting wetland include common moorhen, Indian spot-billed duck, pheasant-tailed jacana, and fulvous whistling duck, to name a few. Birdwatching pros may even spot rare species like Eurasian teal and gadwall.
When here, make sure to pay a visit to the Interpretation Centre, which beautifully showcases pictures and details about the myriad bird species that one can find in Pallikaranai. Binoculars and spotting scopes are also provided at the centre.
Bhigwan, Maharashtra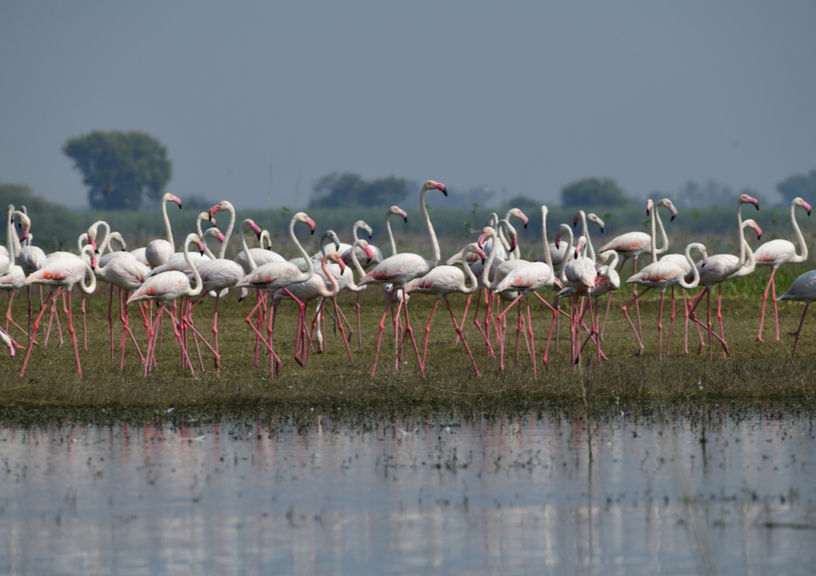 Situated on the Pune-Solapur border, Bhigwan is a lesser-known paradise for birdwatchers. The wetland in India is an extension of the Ujjani Dam backwaters and hosts a wide variety of ducks, lizards, and snakes.
Expect to witness painted storks and demoiselle cranes taking early morning flights in all their glory. Egrets, ducks, gulls, river terns, and herons are spotted throughout the year. Every year, bird photographers flock to Bhigwan to capture the beautiful flamboyance of greater flamingos.
View this post on Instagram
What also makes Bhigwan wetland a must-visit destination for every nature lover are the surreal sunrises and sunsets it offers. Popular points for birding around Bhigwan include Diksal and Kumbhargaon villages. The wetland is best explored on a boat ride.
Pong Dam Wetland, Himachal Pradesh
View this post on Instagram
Boasting stunning views of the Dhauladhars, Pong Dam wetland lies at the Shivalik foothills in Kangra. A fortnightly estimation carried out by the Himachal Pradesh Forest Department in November this year, revealed that as many as 78 species were recorded at the Pong Dam wetland. Of these, 20 were migratory. During the peak winter season, the number of migratory birds that fly to Pong Dam from countries like Tibet, Iraq, China, and Siberia crosses one lakh.
View this post on Instagram
Species like the bar-headed goose, the world's highest-flying bird, and amur falcon also arrive in large numbers. Commonly spotted birds are Eurasian oystercatcher, little cormorant, northern shoveler, greylag goose, and Kentish plover, among others.
The migratory birds in Pong Dam Wetland in India head back to their native countries in March. You must plan your birding trip accordingly.
Dhanauri Wetland, Uttar Pradesh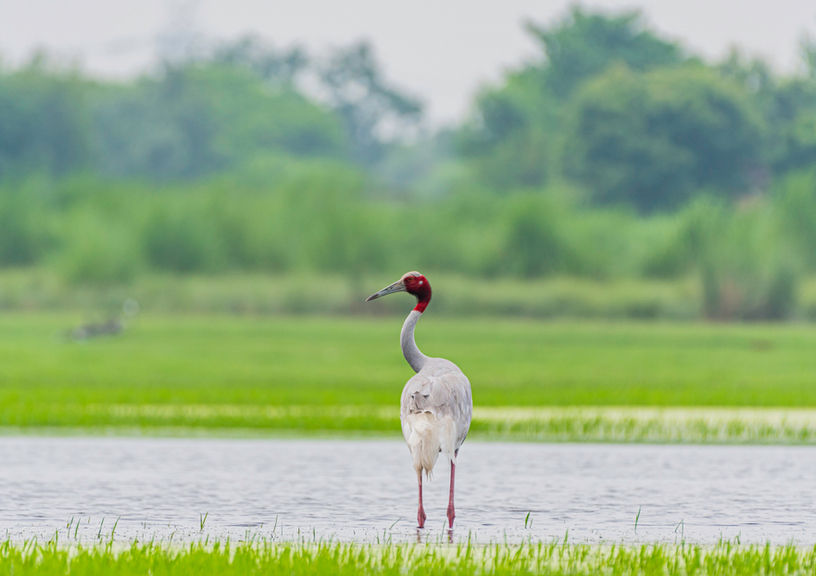 If you have a special liking for the elusive sarus crane, Dhanauri Wetland in Greater Noida will not disappoint. The wetland inhabits the tallest flying bird in the world in impressive numbers, so much so, that it has garnered attention among birdwatchers as the land of sarus cranes.
View this post on Instagram
Oriental Darter, Common Pochard, and Painted Storks are also seen in abundance at Dhanauri. While here, you can also encounter animals like jackals, nilgais, and mongooses.
What makes Dhanauri Wetland a healthy ecosystem for birds is the presence of reptiles like monitor lizards and rat snakes. So, if you are looking for some fresh air in Delhi-NCR, plan a trip to this birding wonderland sometime soon.
Basai Wetland, Delhi
View this post on Instagram
Another great option for the birdwatchers of the national capital region, Basai Wetland is beautifully hidden in Gurugram and offers incredible bird sightings. With over 231 species recorded, Basai is one of the best birdwatching sites around Delhi.
From water rails to moustached warblers to bar-headed geese, migratory birds arrive at Basai in significant numbers. Featuring lush mustard fields, Basai is blessed with great biodiversity. Some people even end up encountering jackals during their birding trip.
View this post on Instagram
Greater flamingos, weavers, bitterns, and warblers are also spotted at Basai. The best time to visit is between the months of October and March.
Magadi Lake, Karnataka
Declared as an important bird area by the Bombay National History Society, Magadi Lake is known for its large congregations of Bar-headed geese, which arrive here in December. Situated on the Gadag-Lakshmeshwar road, the saline lake is spread over 134 acres. 30 species have been spotted at Magadi. Of these, demoiselle crane and white-fronted goose are very common.
View this post on Instagram
The prime attraction of Magadi is the bar-headed geese though. They fly here from Central Asia and continue to treat the lake as their home till March. Thanks to the sincere efforts of the forest department and the Magadi village panchayat, the lake continues to provide apt environs for the winged visitors every winter.
Harike Wetland, Punjab
View this post on Instagram

A Ramsar Site with over 368 recorded species, Harike Wetland in Tarn Taran Sahib prides itself on being one of India's leading wetlands.
Located at the confluence of the Sutlej and Beas rivers, the Harike Wetland ecosystem invites winter migratory birds through the central Asian flyway.
Prominent species spotted here are common pochard, gadwall, northern shoveler, greylag goose, and tufted duck. Among migratory visitors, coots dominate in large numbers. The best trails at the bird sanctuary are the ones along the Left bund passage.
Sambhar Lake, Rajasthan
View this post on Instagram
If you have had your share of Keoladeo National Park as a birdwatcher, give Sambhar Salt Lake a chance. Located near Jaipur, Sambhar will leave you enchanted with its unique landscape and large flamingo count.
Other than the flamingos, you could spot up to 45 different species at Sambhar. Often seen ones among these are bay-backed shrike, eastern yellow wagtail, black-tailed godwit, and black-winged kite.
There are painted storks in abundance too, along with redshanks, sandpipers, black-headed gulls, and coots.
Nalsarovar, Gujarat
View this post on Instagram
Taking an early morning boat ride in the gentle waters of Nalsarovar Bird Sanctuary is a pleasure that every nature lover must experience at least once in their lifetime. The months between November and January are ideal to explore Nalsarovar at its most scenic.
View this post on Instagram
Migratory birds that form a beeline at Nalsarovar during winter months include pelicans, white storks, purple moorhen, and flamingos. You can also spot species like glossy ibis, yellow-wattled lapwing, tufted pochard, and red-headed bunting.
Related: Eco-Tourism Destinations Around The World That Should Be On Your Bucket List