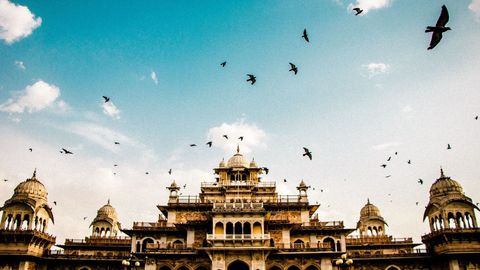 Whenever a long weekend rolls around, travellers can't resist using it as the perfect excuse to hit the road and head out on a mini-vacation to nearby cities. People living in Delhi-NCR are at a great advantage with many picturesque tourist places located just a short drive away, from desert to mountains. With the G20 Summit 2023 taking place from September 8 to 10, a public holiday has been declared in the national capital for these three days, providing a golden opportunity for a weekend getaway near Delhi.
While the travel options for Delhiites are endless, we have curated a list of places within 500 km of Delhi that are perfect for a short trip.
Perfect weekend getaways near Delhi
Agra, Uttar Pradesh (243 km) Agra is synonymous with the iconic Taj Mahal, a magnet for domestic and international tourists alike, especially since it is near Delhi. This Wonder of the World draws travellers to the city, entices them to immerse themselves in Agra's rich culture, history and architecture and also offers a chance to explore other grand monuments and historical places in and around the city.
Places to see and things to do in Agra:
Start your trip with a visit to the renowned Taj Mahal and hear about tales of Shah Jahan's love for his wife, Mumtaz Mahal. You can also take a walk in the beautiful Mughal garden, Mehtab Bagh, which lies north of the Taj Mahal and offers beautiful views of the UNESCO World Heritage Site. Take a tour of the Agra Fort, the official residence of the Mughal dynasty when Agra was the capital. You should also check out the Sikandra Fort (Akbar's Tomb) and the Tomb of Itmad-ud-Daulah.
Just 36 km away is the ancient city of Fatehpur Sikri, the capital that Akbar abandoned due to water shortage. The ruins of the city are well-preserved and worth exploring, with the Buland Darwaza at its centre.
Agra also has two wildlife conservation centres — Agra Bear Rescue Facility and Elephant Conservation and Care Centre — a few kilometres outside the city. Here, you can see sloth bears and elephants rescued from across the country.
Food to try in Agra: Indulge in the petha (from Agra's famous Panchhi Petha), bedai, dalmoth, stuffed paratha, jalebi and chaat.
How to reach Agra: The 'city of Taj' can be reached from Delhi via the Yamuna Expressway.
Book your stay at Jaypee Palace Hotel via Booking.com
Book your stay at Jaypee Palace Hotel via Agoda
Jaipur, Rajasthan (307 km) One of the best weekend getaway destinations near Delhi, the pink city seamlessly blends culture with luxury through its palaces, traditions and customs. Travellers from across the globe visit the city to see historical and architectural landmarks, stay at opulent heritage hotels and experience rich cultural heritage. Jaipur has plenty to offer for food enthusiasts and shopaholics as well, with its vibrant bazaars and misthan bhandars.
Places to see and things to do in Jaipur:
Explore the City Palace and see the luxurious lifestyle of the Jaipur Royal Family. Enjoy beautiful views of the city from Hawa Mahal. Learn about the city's history at Jaigarh Fort, Amber Palace and Nahargarh Fort. You can even see an actual Egyptian mummy at the Albert Hall Museum. Get an immersive experience of Rajasthani culture at Chowki Dhani village fair, where you can see traditional folk dances, ride camels and indulge in the local cuisine.
If you are looking to shop in Jaipur, then you should know the best things to buy are block-printed dresses, Jaipuri quilts, traditional jewellery and Rajasthani jutti. Bapu Bazaar, Nehru Bazaar and Chandpole Bazaar are ideal for street shopping in Jaipur. Several popular Indian brands are also from Jaipur, like Suvasa, Cottons, Anokhi, the PDKF store, Kilol and Amrapali.
The culinary scene of Jaipur is booming, with bars, cafes and even local eateries receiving recognition. For fine dining, head to Baradari, Suvarna Mahal and 1135 AD. Bars like Forresta and Bar Palladio are the best places to grab a drink, and for street food, don't miss the delicious offerings of Rawat Misthan Bhandar and Laxmi Misthan Bhandar.
Foods to try in Jaipur: Try out the Rajasthani thali, laal maas, safed maas, mirchi vada, pyaaz kachori, daal bati churma, mohan thaal, ghewar and bajra ki roti with lehsun chutney.
How to reach Jaipur: The NH 48 directly connects Delhi to Jaipur
Book your stay at Fairmont Jaipur Hotel via Booking.com
Book your stay at Fairmont Jaipur Hotel via Agoda
Rishikesh, Uttarakhand (258 km) Residing in the Himalayan foothills, Rishikesh is where spirituality meets tranquillity. With numerous holy sites and yoga retreats in Rishikesh, and the river Ganga flowing nearby, the city is a sacred sanctuary in itself that makes it an ideal weekend getaway near Delhi. But what is truly remarkable about Rishikesh is that it has grown beyond being just a spiritual centre. It is now thriving as a hub of adventurous activities as well.
Places to see and things to do in Rishikesh:
Spend some time around the banks of the river Ganga, cross the Ram Jhula or take part in the iconic Ganga Aarti at the Triveni Ghat. Learn about the local traditions at Shree Neelkanth Mahadev Temple. Meditate at the Beatles Ashram, where the British band spent time in the 1960s. Rishikesh also has several yoga ashrams, like the Parmarth Niketan Ashram and World Peace Yoga School. If you are looking for adventure in the wild, then Rishikesh is a great place to try camping, bungee jumping, river rafting, ziplining, trekking, rock climbing and the giant swing. Explore the local flora and fauna at the Rajaji National Park.
Foods to try in Rishikesh: Indulge in gulgula, aloo puri, rajma chawal, kafuli and aloo ke gutke.
How to reach Rishikesh: Rishikesh is connected to Delhi via NH 334
Book your stay at The Roseate Ganges Rishikesh via Booking.com
Book your stay at The Roseate Ganges Rishikesh via Agoda
Mussoorie, Uttarakhand (275 km) The birth of this town in the foothills of the Himalayas goes back to colonial rule when British officers developed it as a hill station for their summer retreat. Over the years, especially after the independence, it has become a favourite among honeymooners and a popular holiday destination for Delhiites. The breathtaking views and the cool weather are just one of many reasons why Mussoorie is known as the 'Queen of the Hills' in North India. Ruskin Bond, the renowned writer, lives here, and many of his wonderful novels are inspired by his love for the city.
Places to see and things to do in Mussoorie:
One of the best ways to explore Mussoorie is to spend time at the Mall Road. Take a stroll down the road and shop for local products available along the street, like sweaters, jackets, wooden artefacts, decor and knick-knacks. You can even take the ropeway to Gun Hill from Mall Road, where you can enjoy the panoramic views of the Doon Valley. The road also has several known eateries, like Kalsang, Cafe By The Way, Chic Chocolate, Lovely Omelette Centre and Little Llama Cafe.
A little away from the city centre (Mall Road) is George Everest Peak; adventure enthusiasts love to hike up the hill for the breathtaking views. There are several waterfalls, too, around Mussoorie, like the Kempty Fall, Mossy Fall and Bhatta Fall.
If you are looking for good, old-world charm, then visit the quaint little town of Landour, just 4 km from Mall Road. You can visit the iconic Char Dukan Road and get to know about the stories of the four tiny tea shops serving customers for generations. The Rokeby Manor is a 175-year-old English-style country estate hotel, and the beautiful architecture of this heritage property makes it worth the visit. Don't forget to grab delicious desserts at the famous Landour Bakehouse.
Foods to try in Mussoorie: Try out thukpa, momo, omelettes, local chocolates and German chocolate cake.
How to reach Mussoorie: The hill station can be reached from Delhi via NH 709B and NH307.
Book your stay at JW Marriott Mussoorie Walnut Grove Resort via Booking.com
Book your stay at JW Marriott Mussoorie Walnut Grove Resort via Agoda
Nainital, Uttarakhand (311 km) Nestled in the Kumaon region, Nainital is another tranquil hill station in Uttarakhand. It derives its name from the famous Naini Lake that rests at the heart of the city. Surrounded by lush forests with soaring Himalayan peaks forming a distant background, this beautiful town makes for a sought-after tourist destination near Delhi.
Places to see and things to do in Nainital:
Take a boat ride on the iconic, mango-shaped Naini Lake. Check out the beautiful architecture of Naina Devi Temple. If you love animals, you can head to GB Pant High Altitude Zoo or adventure at the Eco Cave Park. Nainital has several viewpoints around the city that offer gorgeous views of the valley, like the Snow View, Tiffin Top and Naina Peak West.
Nainital has some excellent eateries, offering a diverse variety of cuisine with something for everybody. Some noteworthy places are Sakley's Restaurant, Machan, Boat House Club, Embassy Restaurant, Sher-E-Punjab, Cafe De Mall, Giannis and Cafe Chica. If you have shopping plans in Nainital, make sure to visit Mall Road, Bara Bazaar, Tibetan Market and Bhotia Bazaar.
Foods to try in Nainital: Try out momo, bal mithai, aloo ke gutke, saag and chainsoo.
How to reach Nainital: NH 9 connects the capital city with the hill station.
Book your stay at The Naini Retreat via Booking.com
Book your stay at The Naini Retreat via Agoda
Shimla, Himachal Pradesh (343 km) Once the summer capital of British India, Shimla is another weekend getaway near Delhi peopl love to escape to during the hot season. The hill station's vintage appeal is what makes it a magical place, providing travellers with the chance to see colonial-era buildings and stay in old colonial houses with modern comforts. The breathtaking views and the pleasant weather also make Shimla a much-favoured honeymoon destination in India.
Places to see and things to do in Shimla:
Almost every Indian hill station has a Mall Road, and so does Shimla! You can start by exploring the road and may witness some live performances at The Ridge. You can learn about the local culture and traditions at Kali Bari Temple, Jakhu Temple, and Christ Church. The Viceregal Lodge and Gorton Castle are a few of the many places in Shimla where you can witness the beauty of colonial architecture.
Don't forget to hop on the Shimla Toy Train; the journey from Kalka to Shimla offers gorgeous views of the hills and forests along the route. You can even check out Mashobra, just 10 km from Shimla. Mashobra is a hill retreat famous for its fruit orchards, lush oak forests, beautiful streams, and waterfalls.
Foods to try in Shimla: Enjoy Himachali cuisine with dishes like madra, dhaam, chha ghosht and khoru.
How to reach Shimla: The hill station is accessible from Delhi via NH 44 and 5.
Book your stay at The Oberoi Cecil via Booking.com
Book your stay at The Oberoi Cecil via Agoda
Ajmer, Rajasthan (398 km) Located at the centre of Rajasthan, Ajmer is a melting pot of cultures and has imprints of both the Mughals and Rajput dynasties, which ruled it at different points in history. The city is also a symbol of religious harmony, as it is home to many Sufi shrines and temples where people of all faiths come to seek blessings. The city is also known for its educational institutions, including the renowned Mayo College.
Places to see and things to do in Ajmer:
With the Ana Sagar Lake at its epicentre, Ajmer has several monuments that represent the culture, history and beauty of the city. The Taragarah Fort, Ajmer Fort and Adhai Din Ka Jhopra are examples of how Mughal and Rajput architectural styles come together. You can even learn about the city's history at the Ajmer Government Museum. The city also houses the iconic Ajmer Sharif Dargah and Nareli Gyanodaya Digambar Jain Temple.
Foods to try in Ajmer: Indulge in biryani, dhoodh jalebi, sohan halwa and kachori kadhi.
How to reach Ajmer: Ajmer is linked to Delhi through National Highway 48.
Book your stay at Ananta Spa & Resort via Booking.com
Book your stay at Ananta Spa & Resort via Agoda
Amritsar, Punjab (449 km) Home to the holiest shrine of Sikhism, the Golden Temple, Amritsar holds great spiritual and religious significance in India. The city is also a haven for foodies, with several authentic Punjabi eateries sprawled across the city.
Places to see and things to do in Amritsar:
Visit the Golden Temple, and if you have time, you can even perform sewa and participate in the langar. Learn about India's independence struggle at Jallianwala Bagh and the Partition Museum. Visit the Indo-Pakistan border at the Wagah Border and see the border ceremony that takes place almost every evening.
For shopping, head to Guru Bazaar, Hall Bazaar, and Lahori Gate Market. These markets are great for buying traditional jutis, phulkari dupattas and Patiala salwars. The city has amazing roadside restaurants where you can enjoy delicious and authentic Punjabi cuisine. Check out Kesar Da Dhaba, Beera Chicken House, Kulcha Land, Makhan Fish and Chicken Corner, and Ahuja Lassi.
Foods to try in Amritsar: Butter chicken, tandoori chicken, chicken tikka, Amritsari kulchas, lassi, Amritsari fish tikka, tandoori naan, makki di roti and sarson da saag, jalebis and kulfas.
How to reach Amritsar: NH 44 connects Delhi and Amritsar.
Book your stay at Taj Swarna via Booking.com
Book your stay at Taj Swarna via Agoda
Shop the best travel experiences here
Hero and feature image credit: VED/Unsplash
Related: 10 Scenic Drives In India For A Breathtaking Forest Trip This Summer
Frequently Asked Questions (FAQs)
– What are the most budget-friendly tourist destinations near Delhi?
Agra, Rishikesh, Jaipur, Nainital and many others offer a variety of vacation options. It is up to you how much you plan to splurge on your trip. Some ways you can make your trip more budget-friendly is by opting for affordable stays and eating more street food.
– What are the most adventurous destinations near Delhi?
Rishikesh is one of the most adventurous destinations near Delhi. It is famous for river rafting, trekking, rock climbing and bungee jumping.
– What are the best family-friendly destinations to visit near Delhi?
Ajmer, Nainital, Shimla, Amritsar, Mussoorie, Rishikesh, Jaipur and Agra are all family-friendly destinations around Delhi.
– What are the historical sites near Delhi?
Jaipur, Amritsar, Ajmer, Jaipur and Agra have many historical sites.
– What are the best local transport options to explore the nearby tourist destinations from Delhi?
You can hire a taxi, hop on a train or even go on a bus to tourist destinations near Delhi.
Written By