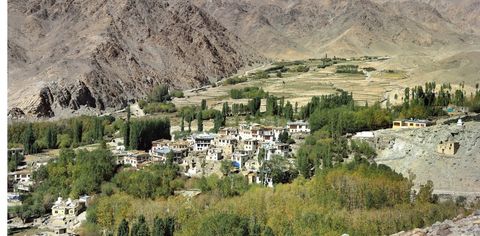 Even though the cold, harsh terrain of Ladakh can be tough to navigate for a first-timer you will come across people and places that warm your hearts. By Bayar Jain
Minutes into my hour-long flight from New Delhi, I see curious eyes glued to the window. I peer over my co-passenger's shoulders to see what is making everyone's head turn. The lunar landscape of Leh, paired with spotless blue skies, is a mesmerising sight. The tiny defence airport is surprisingly crowded. Ladakh seems to have drawn tourists from around the country, all desperate to quench their thirst for travel after many months of staying cooped up. I too am eager to discover the many famous wonders of India's northernmost region, not suspecting in the least that it will be the people who will leave the most lasting impressions on me.
Here's A Glimpse Inside The Local Life In Ladakh
A FAMILY AWAY FROM HOME
It begins at my homestay in Fiang, a village in the Leh district. A petite woman greets me at the doorstep and insists on carrying my luggage to the second floor. My host, Chery Dolma, radiates warmth. As I walk up the carpet-draped wooden stairs, the 25-year-old reveals that she shares the house with her parents, her brother, his wife, and children. I later learn that Nepal-born Dolma was adopted into this Ladakhi family as a child, and never wished to return to the neighbouring country. Her Ladakhi family, too, wouldn't have it any other way.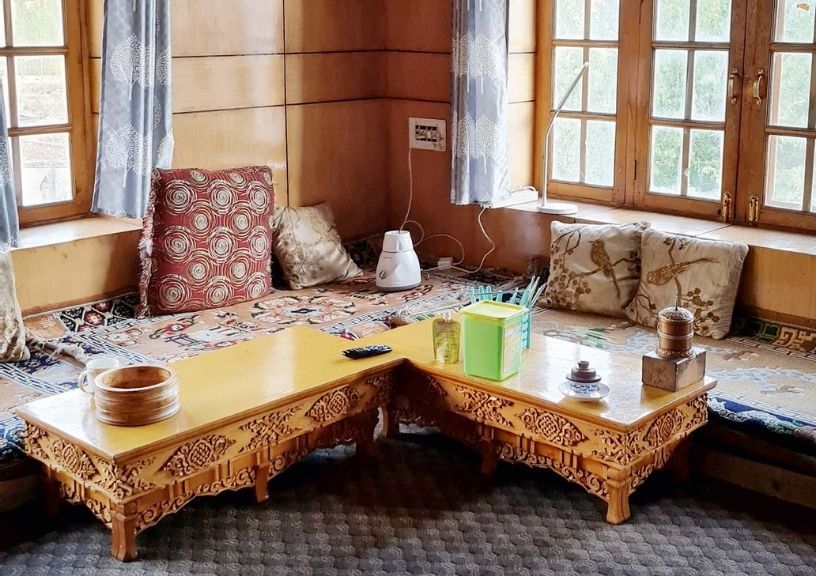 The ground floor houses the family's rooms and kitchen, while the second floor is listed on Airbnb. Here, two cosy bedrooms, a prayer room, and a common dining and lounge area sit with an attached balcony. Every space is made livelier with the family's personal memorabilia and knick-knacks. Dolma sees me eyeing the trophies on the walls and explains, "My sister-in-law and brother are sports trainers at a nearby school. And my sister is training to become an ice-hockey coach, too!"
Day one is slow and lethargic; it's advisable to rest to help the body acclimatise to the region's high altitude. But I have no complaints. The family's pet dog, Tsegyal, and Dolma's food and conversations keep me company. "I wanted to do something to help the family," reveals Dolma, who dropped out of school early. She pours a cup of gur-gur chai—a pink, salty tea traditionally made with yak milk. "That's why I joined hands with SEWA (Self Employed Women's Association of India) and Airbnb to list the home on the platform," the host explains while I bite into a sweet butter biscuit called merkur.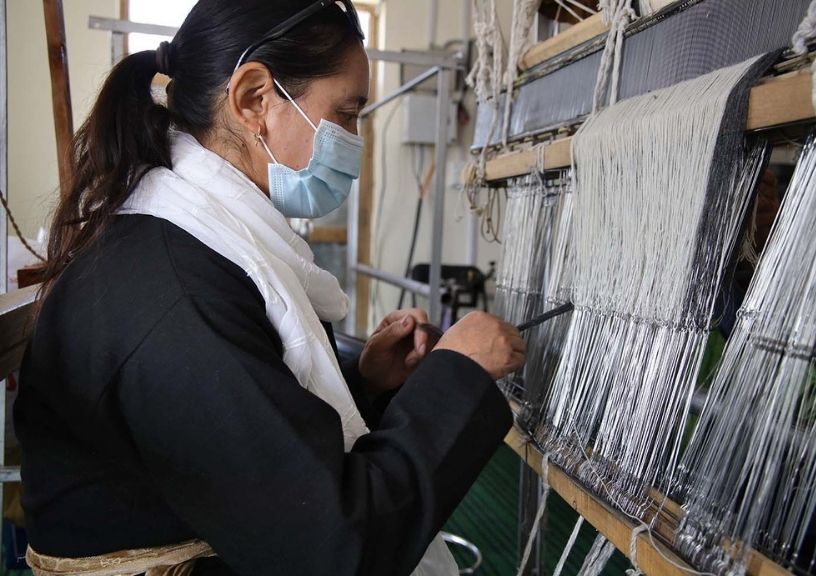 SEWA is an Ahmedabad-based non-profit organisation that promotes the rights of low-income, independently employed female workers. Its Ladakh chapter has collaborated with Airbnb to train, equip, and guide local women to becoming responsible hosts. A venture introduced under the online travel portal's Hum Sab Ek (We Are One) initiative, the collaboration also trains women in making handicrafts, weaving, and food processing. As Dolma dices carrots, cabbage, and onions—all sourced from her backyard garden—for a dinner of momos and chhurpi soup (dried dzo cheese in barley soup), she convinces me to visit the SEWA Centre the following day. The countless twinkling stars visible from the terrace of the house hint at ample magic in store.
LOCALS AT WORK
Not one to enjoy tea, I'm coaxed into starting my day by sipping on a cup of butter tea with khambir, a whole wheat brown bread. "When in the mountains, tea is a must!" asserts Dolma's brother. "Never leave the house on an empty stomach," he continues, echoing my mother's favourite food adage.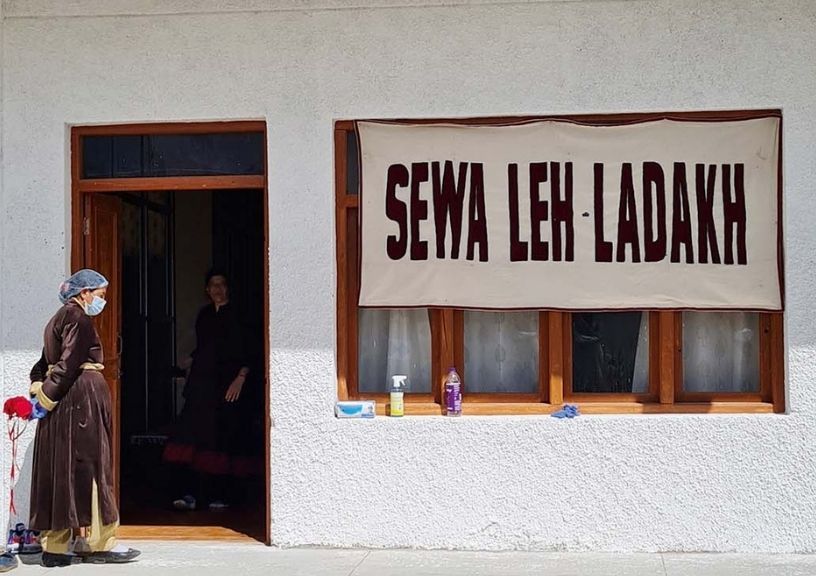 Perched on dry sands, the white building of the SEWA Centre is eerily quiet and looks deserted from the outside. Inside, multiple rooms and halls envelop a rectangular open-air courtyard. Two rooms, which flank the reception, read 'weaving unit' and 'food processing unit'. From within these rooms, Tibetan prayers start to fill the air. "Every morning, the women of SEWA begin the work day with a prayer," explains Tejas Raval, SEWA's IT manager. Moments later, the women break into pairs and perch in front of sewing and weaving machines. The snip-snip of the scissors and the rhythmic hum of the machines is occasionally broken by hushed giggles. The women's hands, however, don't stop. "Earlier, weaving and processing would go to Kashmir," says Pimmi Mehta, a consultant at SEWA. "Since March 2021, the women here have been weaving pashminas as well." Woollen toys, bags, and clothes are some of the other products fashioned at the centre. I sit by one of the craftswomen, watching her finish a bag meticulously—unfazed by my arrival.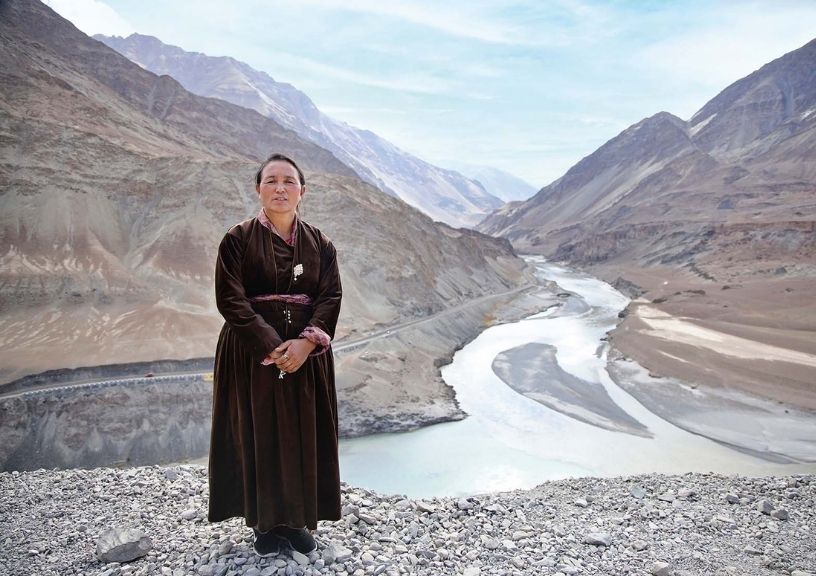 In the other unit, things are louder and more frenzied. By the window, two women are feeding fresh fruit to an industrial apricot juicer. By the door, another pair is stirring apricot pulp over a stove. A third table has been reserved for labelling, tallying, and displaying. Here, fresh bottles of sea buckthorn juice and apricot juice, as well as apricot jam, vie for attention.
RETREAT INTO NATURE
The next part of my Airbnb itinerary takes me to Lchang Nang Retreat—translating to 'the house of trees'—in Nubra Valley. A wooden signboard leads me to a brick house fringed by bright yellow marigolds; the owners' love for nature is instantly evident. The 20-acre retreat has sustainability built-in. A walk from the reception to my cottage meanders through a canopied path lined with solar lamps and hammocks swaying gently under trees. One pathway turns towards a tea station, another leads to a herb garden. My eco-cottage—made using mud, willow, and poplar—relies on solar-powered grids for electricity and LED lights for illumination. Potable water sourced directly from glaciers is available on tap—a rarity in India. With a hot brew in hand, I sit by the window overlooking my private sit-out backdropped by snow-capped peaks, thinking to myself, "You can't get closer to nature than this."
At sundown, I'm treated to a private high-tea experience in the resort's valley meadow—a scene reminiscent of the Swiss Alps setting of Heidi, the children's novel by Johanna Spyri that launched a popular anime series. In my tale, I munch on sandwiches to the background score of a nearby river and the backdrop of an orange sky covering the magnificent mountains.
ONE WITH SELF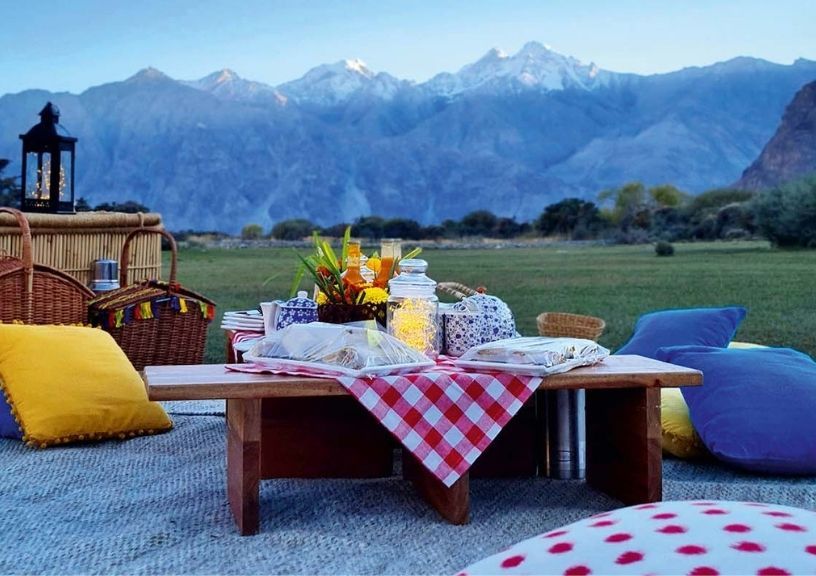 Ordinarily, I like late mornings. But the in-house yoga instructor, Tsering Yangzom, has an intriguing experience planned: a mindfulness session by a tso (lake). I pull myself out of bed and, still dressed in track pants, let Yangzom lead the way. "The lake is just a short hike away," she assures me, picking up the pace on the trail. But all I see is a seemingly endless stretch of arid land leading up to rocky mountains. A lake seems all but impossible! A 20-minute-long hike and many breathless breaks later, the glistening Yarab Tso appears seemingly out of nowhere. "Yarab Tso is considered sacred by the locals," Yangzom tells me. "That's because the lake came into being despite the lack of any water bodies nearby."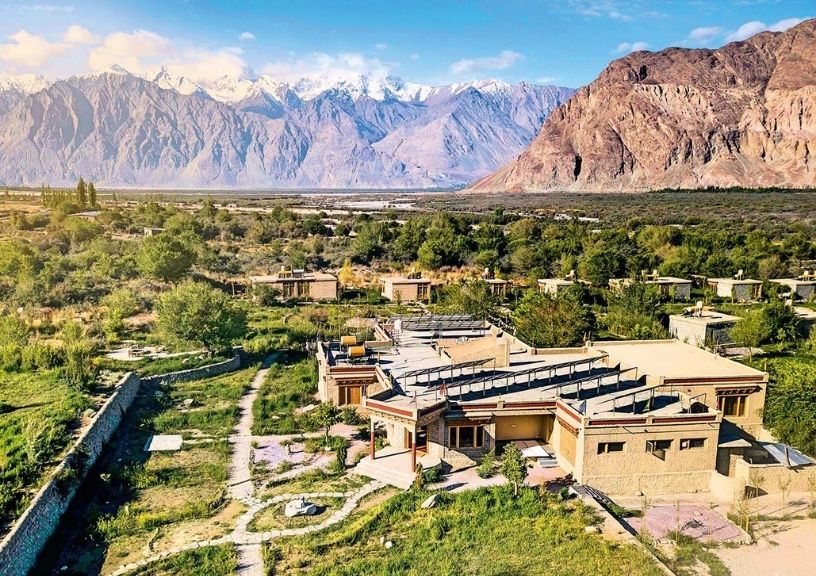 Her gentle voice guides me through yoga postures and adds to the feeling of calm evoked by the murmur of the lake's shimmering water. It's an ideal end to a journey full of revelations. Ladakh may have its blisteringly hot sunny days, spine-chillingly cold season, and intimidating rocky terrain, but underlying all of this is an overwhelming sense of peace and a warmth that is found in its people alone.
Getting There
There are non-stop flights daily from New Delhi to Leh Airport. Other major cities have connecting flights.
Stay
Both Chery Dolma's homestay and Lchang Nang Retreat are listed on Airbnb. Located in Fiang, Chery Dolma's Homestay (from INR 2,000) is ideal for travellers looking for a cosy stay with a warm local family. The home is adequately equipped for a comfortable stay. Lchang Nang Retreat (from INR 13,000) in Nubra Valley is an eco-conscious retreat with 17 Ladakhi-style cottages immersed in natural beauty. The retreat also offers many nature-inspired experiences such as picnics, yoga, stargazing, nature walks, a farm table, etc.
See
Consider visiting the Sangam, the confluence of the Indus and Zanskar rivers. It is also credited as the world's highest river-rafting point. Khardungla Top—claimed to be the world's highest motorable road—is another famous attraction. Gurudwara Pathar Sahib, Shanti Stupa, and Magnetic Hill also draw tourists. When in Nubra Valley, the Sumur Sand Dunes are a must-visit and the nearby Samstanling Monastery is a famous tourist spot.
Related: Working From Home Again? Check Out These Workation Spots In Himachal Pradesh
Written By