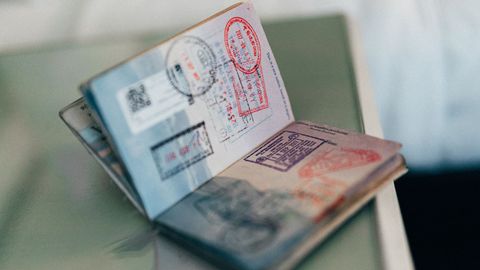 With numerous hopeful travellers getting Schengen visa rejections or US visa applicants having to wait a long time to reach the interview stage, the struggle to obtain a visa seems to be getting harder by the day. In these desperate times, one can only hope for the best or some divine intervention by visiting one of the many visa temples across India.
Several temples have given hope to visa-seekers, considering that worshipping at these holy sites, according to many, played a role in making their dreams of international travel come true. Temples in Chennai, Ahmedabad and even Delhi are known as the places of worship for people wanting visas.
What is a visa temple?
These are temples in India that have become famous among travellers struggling to get their visas. Devotees have visited these sites to pray for visas, and their successful acquisition has led people to call them visa temples.
8 visa temples in India:
Pracheen Hanuman Mandir, Delhi Connaught Place, one of the most popular landmarks of Delhi, is home to the Pracheen Hanuman Mandir, a famous holy site. It is also known as one of Delhi's Hanuman visa temples, with devotees worshipping the lord in hopes of getting their visas. Many believe in the Hindu God's power to help with international travel, and one of the reasons for that is his legendary crossing to Lanka in the popular folklore Ramayana.
Interestingly, this temple is also located within walking distance of Delhi's VFS Global office — where visa applications for many countries are submitted — at the Shivaji Stadium Metro station.
How to reach
By air: Indira Gandhi International Airport is 12 km away.
By rail: New Delhi Station is just 2 km away.
By road: NH-1, NH-2, NH-38, NH-310 and NH-324 pass through the capital.
Gurdwara Shaheed Baba Nihal Singh, Jalandhar Punjab has a religious site where visa seekers pray for their dream of moving abroad to turn into reality. It is a 150-year-old gurudwara that has become popular for its visa powers. Located in Jalandhar, the Gurudwara Shaheed Baba Nihal Singh has a special tradition that sets it apart from other sites on this list.
Rather than bringing visa applications or passports to the gurudwara, devotees offer toy planes along with prayers. This gift is a metaphor for the aspiration of visa seekers who wish to move abroad. The toy plane offerings are eventually donated to children. The gurudwara has come to be known as the "Hawaijahaj Gurudwara" or the "Aeroplane Gurudwara".
The Doaba region of Punjab, where Jalandhar is, has approximately six lakh Non-Resident Indians (NRIs) who have successfully moved abroad.
How to reach
By air: Sri Guru Ram Das Jee International Airport in Amritsar is the closest airport, 107 km away.
By rail: Jalandhar City Junction and Jalandhar Cantt Station are the main railway stations in the city.
By road: NH-3, NH-44 and NH-703 pass through Jalandhar.
Sri Lakshmi Visa Ganapathi Temple, Chennai Chennai is home to the Sri Lakshmi Visa Ganapathi Temple, also known as Visa Ganapathi Temple by worshippers. The temple claims that praying here can supposedly aid the visa process for 210 countries, especially the H-1B and H-4 visas for the US. Devotees come here and pray with their passports.
The temple is just 14 km from the US Consulate Chennai and takes pride in sharing specific rituals like "special abhishekam", to assist devotees with visa interviews or any visa-related delays. Visa Ganpathi Temple has embraced modern technology and even facilitates devotees to offer visa donations through WhatsApp.
How to reach
By air: Chennai International Airport is just 5 km away.
By rail: Meenambakkam Station is about 5 km away
By road: NH-32, NH-48 and NH-150C pass through Chennai.
Chamatkari Hanuman Mandir, Delhi
While this is not one of the most known temples in Delhi, this important site is still a beacon of hope for people struggling with their visas. As the name suggests, this quaint temple is dedicated to Lord Hanuman and is tucked away in the lanes of Sainik Farms. Despite its small size, it has garnered a reputation for helping devotees get their visas, so much so that the temple even has a practice of maintaining written records of pilgrims who were successful in getting a visa after praying here.
How to reach
By air: Indira Gandhi International Airport is about 17 km away.
By train: Nizamuddin Station is 14 km away.
Chamatkarik Shree Hanumanji Mandir-Visa Hanuman, Ahmedabad
Nestled in the streets of Gujarat's largest city is a tiny temple that is famous among visa applicants. Like Delhi's Chamatkari Hanuman temple, even this visa temple is dedicated to Lord Hanuman. Also known as the Visa Hanuman temple, hopeful students and working professionals believe in the spiritual mystics of the site and pray that the lord can help them with their visa application process. Devotees even bring their passports and visa papers to get them blessed.
How to reach
By air: Sardar Vallabhbhai Patel International Airport is 10 km from the temple.
By rail: Ahmedabad Junction Station is just 2 km away
By road: NH-47, NH-64 and NH-131A pass through Ahmedabad.
Dola Mata Temple, Jhulasan Located in the ancestral village of astronaut Sunita Williams in Gujarat is another visa temple with devotees coming from different corners of the state, as well as Rajasthan and Haryana. Jhulsan village, about 40 km from Mehsana district, has the Dola Mata temple. According to the news reports, the village inhabits 7,000 people, and each family residing here has a member living abroad.
How to reach
By air: Ahmedabad's Sardar Vallabhbhai Patel International Airport is the closest airport, roughly 40 km away.
By rail: Jhulsan Station is right in the village.
By road: Ahmedabad is 43 km away.
Veetrirundha Perumal Temple, Thirumazhisai In Tamil Nadu's Thiruvallur district is Thirumazhisai, about 23 km from Chennai, which has another visa temple. Veettrirundha Perumal Temple even holds a special ritual called the "Thirumazhisai – Special Vadamalai Archana for Visa" that allows passionate devotees to perform the prayer without their presence. Furthermore, the blessings of this ceremony are delivered to the devotee through prasad, no matter where they are. So, if a visa-seeker is preoccupied with the application and interview process, they can ask for blessings for their visas virtually.
How to reach
By air: Chennai International Airport is 21 km away.
By rail: Pattabiram Station is 10 km from the temple.
By road: Chennai is roughly 25 km away.
Chilkur Balaji Temple, Hyderabad Chilkur Balaji Temple has garnered the attention of the world not just for its architectural beauty but also for its reputation for helping get visas. This sacred site is dedicated to Lord Balaji, an incarnation of the Hindu God Vishnu. Located in the heart of Telangana's capital, it is popularly known as Visa Balaji Temple. The deity is visited by visa applicants, praying to God to grant them the all-important permit. The temple is especially famous among H-1B applicants aiming to work in the US.
According to the locals, the story behind Hyderabad's Visa temple goes like this — the temple's priest had noticed the increasing desire among Indians to move abroad. As a result, he gave the diety a new persona, that of Visa God. At the same time, many visa applicants visited the temple to pray, and many shared that they ended up getting visas after their visit. Devotees bring their passports and perform various ceremonies and prayers in the hope of divine intervention.
How to reach
By air: Rajiv Gandhi International Airport is around 29 km from the temple.
By rail: Hyderabad Deccan Railway Station is 30 km away.
By road: NH-44, NH-65, NH-164 and NH-765 pass through Hyderabad.
Shop the best travel experiences here
(Hero and feature image credit: ConvertKit/Unsplash)
Related: Get Lost In The Architectural Beauty of These Temples In East India
Frequently Asked Questions (FAQs)
– What is the significance of visa temples?
These temples have become famous among devotees struggling to get their visas.
– Are there any visa temples outside India?
All the visa temples are in India, as they are for people aspiring to travel to another country.
– Are there any specific rituals or offerings associated with these temples?
Yes, Veetrirundha Perumal Temple holds the special ritual of "Thirumazhisai – Special Vadamalai Archana for Visa", Visa Ganpathi Temple organises a "special abhishekam", and Gurudwara Shaheed Baba Nihal Singh has a unique tradition where visa-seekers offer toy aeroplanes.
Written By