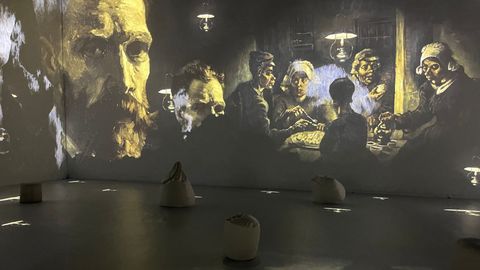 Offering art aficionados the opportunity to take a stroll through the mind and artistic 'madness' of one of the most popular post-Impressionist painters — Van Gogh 360 has officially opened in Bangalore. Here's an exclusive look at what the highly-anticipated exhibit has in store.
Over the past few years, art appreciation has shifted from being a studious, pensive experience to a spell-binding endeavour of being enveloped in a myriad of brush strokes and bold colours with complimentary music to boot. Around the world, galleries and interactive museums have invested in high-definition projectors to spotlight popular works — with colours and contours dancing across walls, hopping across floors, and lingering on the fingertips of viewers.
In India, this immersive revolution found a veritable vehicle in Van Gogh 360 — a dream-like exhibit that turns to the wild and bold work of one iconic Dutch painter whose name has inspired movies, music, and merchandise. With dozens of projections and high-powered computer servers at work, it promises to leave one starry-eyed. After a successful outing in Mumbai and New Delhi, the show has arrived in Bangalore, bathing a part of Bhartiya Mall in vibrant hues. Lifestyle Asia India gets an exclusive peek at what it has to offer.
Van Gogh 360 in Bangalore features over 300 iconic artworks "I have put my heart and soul into my work, and have lost my mind in the process," Van Gogh once famously stated. The words reflect his artistic style, which is informed by raw emotion, mental illness, and a palpable passion for the craft. Experts often note the thick use of paint on canvas with palette knives and brushes — called impasto — that add a texture to his work, give it an impulsive quality, and set it apart from the rest. Right at the outset, visitors get acquainted with this and other little details that make up the Dutch creator in the education room. Here, large displays highlight the most significant aspects of his tortured yet creatively stimulated life — exploring his deeply loving relationship with his brother, affinity for nature, and psychiatric illness that drove him to chop off a part of his ear. These details serve as inspiration for over 2,000 artworks — 300 of which are on display at the exhibition.
The exhibit fuses crisp images with classical music After planting myself on one of the many bean bags in the space, I watched several bright, cheery sunflowers (Sunflowers, 1888-1889) whoosh past my arms and feet, noting how each petal proudly wore a bold shade of yellow. I walked closer to the walls to observe the sorrow of an old man in a chair (At Eternity's Gate, 1890) to understand the artist's take on mortality. A swirl of colours and textures soon broke my train of thought, transforming into an inviting cafe (Café Terrace at Night, 1888) before quickly dispersing into an intimate bedroom (Bedroom in Arles, 1888). Over the course of the next few minutes, factories were built and destroyed around me (Quai de Clichy, 1887) and multiple images of a skeleton (Skull of a Skeleton with Burning Cigarette, 1885) reminded me of the painter's tryst with tragic tropes. Despite the undoubtedly alluring quality of the bright yet thought-proving Starry Night (1889), what caught my attention was the gritty depiction of country life (The Potato Eaters, 1885). The larger-than-life images made it easier to observe every bony detail on the hands of the workers as they sat down for a meal after a hard day's work. Complementing this experience was a classical score by a Canadian composer — that dulled and rose in tempo to fit the mood of the displays.
Conclusion: Gogh for it Despite being a departure from the detail-oriented depiction that most museums offer of the artist's work, the exhibition's storytelling process is compelling. This is particularly for those new to the world of art or disillusioned by the general inaccessibility of it all. Besides building an appetite for art and giving Gogh enthusiasts a one-of-a-kind opportunity to interact with his work — the space will appeal to children and those seeking a fun weekend activity. Not to mention, you're bound to get several stunning pictures for the 'gram. We recommend heading here on a weekday to beat the crowd.
Prices of tickets are INR 1099 for Monday-Friday and INR 1499 for Saturday-Sunday. Book yours, here.
Where: Bhartiya Mall Of Bengaluru, Bhartiya City
Shop the best travel experience here
This story first appeared here.
All images: Courtesy Eshita Srinivas
Related: Exciting Events In India That Should Be On Your Social Radar This August
Written By