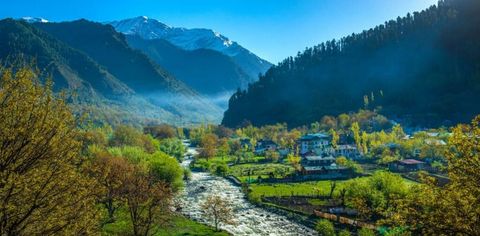 Pahalgam, lovingly known as the 'Valley of Shepherds' is undoubtedly a slice of paradise on Earth. Here are the top five hidden gems near Pahalgam that you must put on your itinerary if you are looking for unexplored places in Kashmir. By Smrithi Suresh
These unexplored places in Kashmir are a must-visit
Tulian Lake
View this post on Instagram
Tulian Lake is a feast to the eyes. The colour of the water strikes a sharp contrast to the surrounding snowcapped mountain peaks. The beauty of this turquoise-blue lake with floating ice chunks adorning its surface is a sight to behold. A short trek to Tulian Lake is an experience of a lifetime. The route has a few steep sections but as you go through the dense pine forest, the picturesque lake charms your fatigue away.
Sheshnag Lake
View this post on Instagram
Sheshnag is an oligotrophic lake with greenish-hued water, fed by the melting snow from surrounding mountains. You can find many rare fish species here. The trekking route towards Sheshnag lake is a scenic one with views of spectacular meadows that make for postcard-worthy pictures. In between the trek, you can also opt for short pony rides. You can set up a camp and light a bonfire for a relaxing evening with friends. Plan a visit here between April to September as the lake stays frozen during the winter months.
Baisaran Valley
View this post on Instagram
Baisaran valley sits gracefully like a diva surrounded with thick forests and snow-clad peaks. This 'mini Switzerland' of India is an amazing place to soak in some fresh air and rest in the lap of mother nature. You can go for pony rides, zorbing, or even try hiking. On a trek towards Baisaran, you can get a clear view of Kashmir Valley and Lidder river flowing between the mountains at different pitstops. The pine trees and the exquisite landscape will douse you with a sense of calm. You can organise a picnic by the bank or indulge in a hot cup of traditional Kashmiri Kahwa from the nearby tea stalls. Visit Baisaran valley between January to March to enjoy the snow.
Lidderwat Village
View this post on Instagram
A beautiful meadow and home to thick forests and mountains covered with shrubs, Lidderwat is a wonderful place to camp near Pahalgam. Adventure seekers can start their trekking expeditions towards Kolahoi glaciers from here. The trek trail from Pahalgam to Lidderwat is refreshing as it is dotted with forests of maple trees and pine. The spectacular panoramic views of the hills will win your heart. If you are searching for a place to relax overnight with the Lidder river flowing by your side, Lidderwat is your best bet.
Chatpal
View this post on Instagram
Contoured by the mountains of south Kashmir, Chatpal is a magnificent land of beauty. From wildflowers to endless stretches of pine forests — the undulating scenery in this town will take your breath away. Go for a long walk through the valleys and learn about the humble lifestyle of the local Gujjar community. A visit to their mud houses with flocks of sheep grazing nearby is a sight you rarely witness in metropolitan cities. There aren't many attractions here but tourists in search of some natural retreat can head to Chatpal, which is at a distance of 56 kilometres from Pahalgam.
Best time to visit Pahalgam: March to November are the best months to visit Pahalgam. If you want to ski then plan your visit post December.
Where to eat: The Trout Beat by Pahalgam Hotel
Where to stay: Hotel Heevan, Pahalgam
So, which one of these unexplored places in Kashmir are you excited to visit?
Related: #TnlSupportsLocal: Check Out These Boutique Hotels For Your Rebound Trip To Jammu & Kashmir
Written By