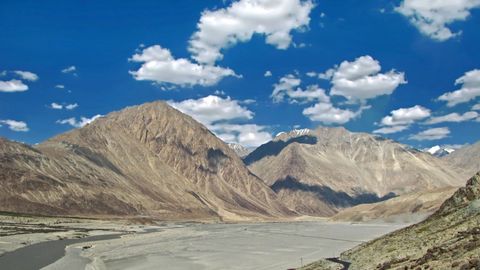 The land of pristine lakes, expansive high planes, and stunning valleys makes for the perfect excuse to indulge your inner adventurer. And if you've yet to explore the wonder that is India's Little Tibet, we can't think of a better way to do it than on foot. Grab your duffels and fleece jackets and embark on these bucket list-worthy treks in Ladakh. By Eshita Srinivas
For the experienced, treks in India's cold desert are challenging and exciting – complete with steep ridges, unpredictable weather, and glaciers to traverse. For beginners, it's an experience that will take their breath away – both literally and figuratively. Ladakh has long welcomed nature enthusiasts and adventurers with open arms. In fact, the union territory has built a reputation for being one of the country's best spots for adrenaline-pumping sports like mountaineering (and rock climbing) and river rafting. That said, trekking continues to be one of the most popular activities in the region. After all, few other places offer monasteries, snow leopards, and sapphire lakes – all in one go. And we've got all the details on the best ones to add to your itinerary.
Best treks to explore in Ladakh
Chadar One of the most popular treks in Ladakh takes place over the frozen waters of the Zanskar river. This, when the roads to Zanskar Valley are closed due to heavy snowfall. The journey often begins from Chilling, west of the capital Leh. This is a near 105 kilometre stretch in freezing temperatures – we're talking -25 to – 35 degrees celsius). Naturally, it's built to test your limits. The payoff however, is frozen waterfalls and a large blanket (chadar) of ice that mirrors the sky at night. If that's not stunning, we don't know what is. If you're down for an adventure, Chadar trek is a must-try.
Best time to visit: January-February
Duration: 8-9 days
Highest altitude: 3,390.2 m
Level: Difficult
Book your stay at The Grand Dragon Ladakh
Rumtse to Tso Moriri If a postcard-perfect backdrop is what you seek on your treks, this one won't disappoint. It takes you through the plateau of Changthang – across several mountain passes – to arrive at the largest high-altitude lake in India. The itinerary typically consists of Rumtse, Kyamar, Tisaling, Ponganagu, Nuruchan, Gyamar Barma, and Gyamar. Along the way, you might spot a black-necked crane, bar-headed goose, horned lark, the stunning Tso Kar lake, Changpa nomads with their yaks and pashmina goats, colourful blooms, and mountains in all their glory. A special permit is needed to embark on this trek and you'll need to carry a tent as well as food supplies from Leh with you.
Best time to visit: June-October
Duration: 8 days
Highest altitude: 5,435 m
Level: Difficult
Stok Kangri Another trek that's meant for the adventurous, Stok Kangri is step one to mountaineering in The Himalayas. This, considering the trek involves crossing the 6,000 m barrier up to the summit and involves the use of equipment like axe and rope. You need to sign up with a guide who will introduce you to these contraptions as well as how best to use them. Beginners, however, can choose to trek to the base camp instead – battling frigid air and steep slopes along the way. The trek could start from Stok or Spituk and offers the most stunning views of the mountains and Indus Valley.
Best time to visit: June-September
Duration: 6 days
Highest altitude: 6,153 m
Level: Difficult
Markha Valley Crowned the most popular trek in Ladakh – the Markha Valley Trek takes you on an adventure in the Hemis National Park. This region is sandwiched between Stok Kangri in the North and Zanskar in the South. The itinerary includes two passes – Ganda La and Kongmaru La and the trek itself begins from Spituk or Chilling. It takes you past tea houses, Buddhist monasteries, isolated mountain villages, wild animals, and barley fields. However, the stars of the show are snow leopards that make an appearance – albeit rate – during winters. Staying with locals during the course of the journey is an excellent way to truly discover local culture and food. Best part? It's beginner friendly.
Best time to visit: April-October
Duration: 8 days
Highest altitude: 5,260 m
Level: Easy-Moderate
Nubra Valley Further contributing to the breathtaking nature of this list is this historically-significant, popular trek that explores the ancient silk route, stretching from India to Central Asia. The highest point is the Lasermo La pass – often covered in snow – and the Nubra Valley itinerary includes Phyang, Phyang Phu, Lasemo La, Hunder Dok, and Hunder. Along the way, you'll discover majestic mountains, verdant meadows, colourful blooms, picturesque monasteries, relaxing Panamik hot springs, and the quaint Turtuk village. The destination is known for its sand dunes – a sight worth witnessing. You could also meet the double-humped Bactrian camel at Diskit Gompa.
Best time to visit: July-September
Duration: 5 days
Highest altitude: 5,438 m
Level: Moderate
Book your stay at Lchang Nang Retreat in Nubra Valley
Sham Valley This one's for all the beginners and travellers who only have a handful of days to spare in Ladakh. Called the 'baby trek,' it involves picturesque views of small, isolated mountain villages where you can spend nights in homestays and savour local delicacies. The journey doesn't go above 4,000 m. There's plenty of popular monasteries – Rizong, Rizong, Temisgam, Alchi – to discover as well. The starting point is the Hemis National Park and the itinerary includes Likir, Yangthang, Hemis Shukpachan, and Temisgam. This trek is accessible throughout the year. Best part? You can bring kids along for the journey.
Best time to visit: All year round
Duration: 3 days
Highest altitude: 3,874 m
Level: Easy
Book your stay at Likir Pottery Homestay in Sham Valley
Padum to Darcha Rounding out this list is another beginner-friendly trek that begins at Padum and takes you past monasteries, yaks, Kayak river, rocky canyons, gentle streams, tea shops, and more. This is the perfect opportunity to davour yak milk, explore prehistoric carvings, and discover the ways of the nomadic tribes. The Tsarap river stretch, in particular, which leads to the Lakong river is believed to be stunning. Some parts of the region are only accessible by foot for a few months per year – making it a bucket-list experience for many.
Best time to visit: July-September
Duration: 9 days
Highest altitude: 5,090 m
Level: Moderate
How To Plan A Trek In Ladakh?
Most trekking routes are accessible from April-October, however the winter treks have shorter schedules. Preparation is key when it comes to heading here – be sure to stock up on thermals, refillable thermoses, comfortable shoes, and a lot of sunscreen. Permits are needed for Nubra Valley and Tso Moriri so be sure to check ahead of time or sign up with a tour guide. Ladakh's ecosystem is quite sensitive with limited resources so be sure to save water and avoid littering.
Images: Courtesy Shutterstock
Related: Manali To Leh: Here's How To Plan Your Dream Road Trip
Frequently Asked Questions (FAQs)
Question: Are treks in Ladakh risky?
Answer: Treks in Ladakh range from easy to difficult. Each comes with a different set of risks but provided you're appropriately guided, they're worth embarking on.
Question: Are treks in Ladakh safe for solo travellers?
Answer: Many solo travellers sign up for treks in Ladakh. However, it's always a good idea to take precautions with your choice of stay and travel agencies.
Question: What is the best time to trek in Ladakh?
Answer: Most trekking routes are accessible from April-October, however the winter treks have shorter schedules.
Question: What are the offbeat treks in Ladakh?
Answer: Rumtse to Tso Moriri and Markha Valley treks are believed to be offbeat and bucket-list worthy.
Question: Which is the longest trek in Ladakh?
Answer: The Chadar trek is one of the longest in Ladakh.
Written By