Tirthan In Himachal Pradesh Serves As The Perfect Adventure Destination For These Sisters
On a trip to the Tirthan Valley in Himachal Pradesh, two sisters rediscover their love for travelling together as the mystical land heals their frayed sisterhood. Text and photographs Satarupa Paul
Two sisters bond over travelling at Tirthan Valley
The weather app had predicted a gloomy day with hints of a thunderstorm, yet by some sleight of hand, it was turning out to be a bright and cheery one. My sister and I lay sprawled on the soft grass of the Sharchi meadows, lush from the recent monsoon. Behind us, towering conifers dotted the slopes of the mountains that stood high and mighty like sentinels of this kingdom. Wooden houses were sprinkled around, some peeking surreptitiously from the woods, others standing meekly in the shadows of the mountains. In front of us unfolded a panorama unlike any other. The valley of Tirthan lay below with its eponymous river, a silvery thread of life. Guarding it on all sides stood the majestic Pir Panjals—the largest of the Lesser Himalayan ranges. As if on cue, to complete the idyllic setting, a flock of sheep appeared on the meadows, bells tinkling at their necks, a fluffy shepherd dog in tow with his human not far behind.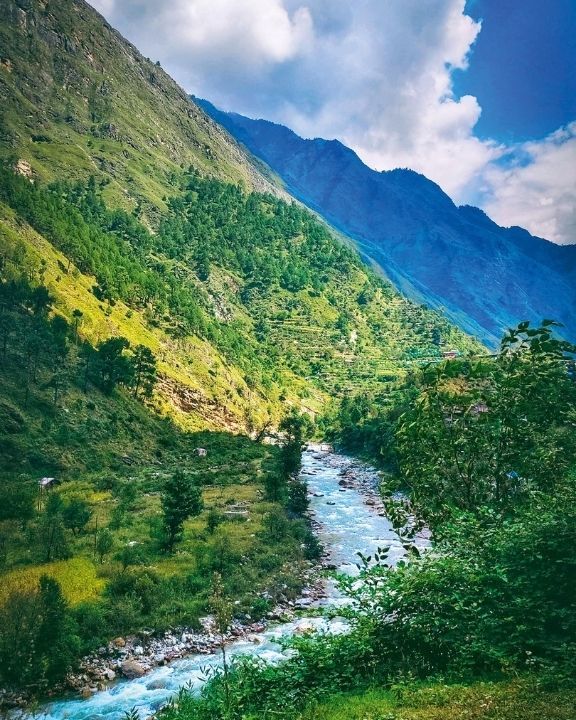 A week ago, it'd have been unimaginable for the two of us to be together in this dreamy place, talking, laughing and enjoying each other's company. The pandemic may have kept many families apart, but for my sister and me, the distance had driven a wedge deeper than we could've anticipated. We hadn't met in over two years—the longest that we had ever been apart—she in lockdown in an alpine French town, me in isolation in a bustling South Delhi neighborhood. The daily video calls of the initial frenzied days had petered out, and life in the new normal had caught up with us. Many travel plans were thwarted by waves of viral mutations, and signs of resignation were settling in. So, when a travel window finally presented itself, and my sister flew down from France, the feeling of joy was unsurpassed, at first.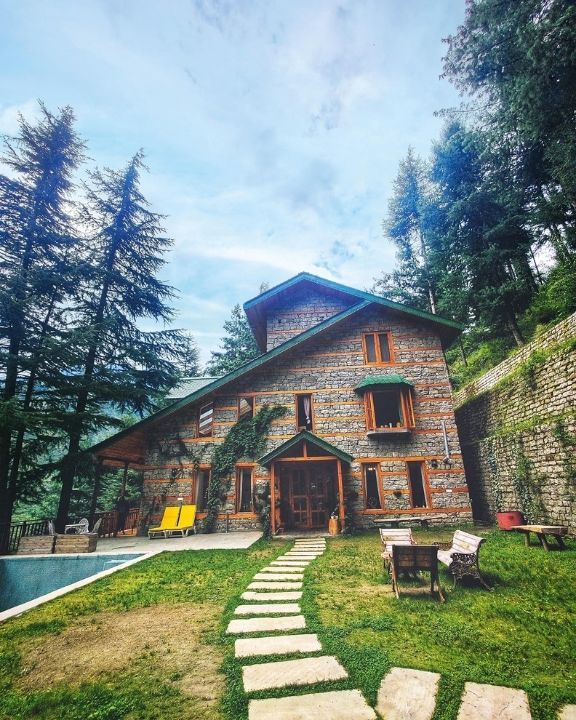 Absence does make the heart grow fonder, but the mitigation of that absence doesn't necessarily keep that fondness alive. Much had changed in us and between us over the past two years. For sisters who were once thick as thieves, we found ourselves distant and irritable. Hanging out at our erstwhile favourite spots in Delhi didn't bear the same charm, and being together under the same roof was proving to be tense. Hence, in a desperate attempt to revive that sisterly bond again, we decided to do the one thing that we were both still equally passionate about: travel. And the destination, mutually agreed on surprisingly fast, was to be our favourite state, Himachal Pradesh.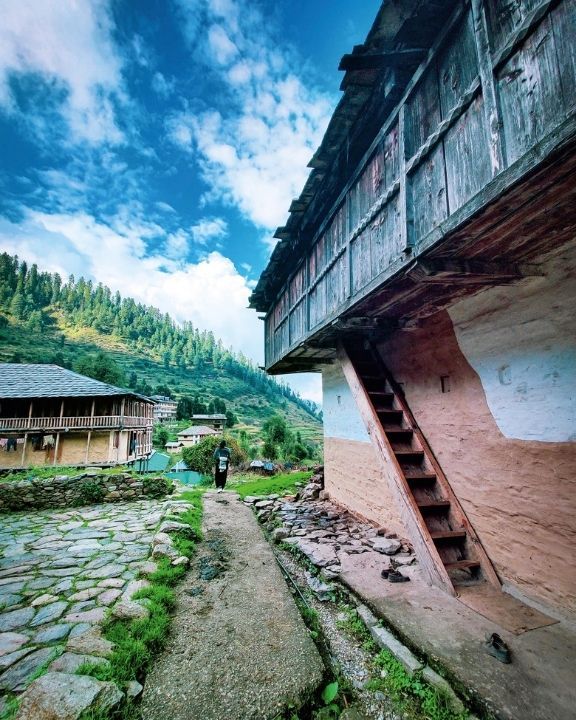 But this time, we decided to give our Himachal regulars a miss and made our way to the remote Tirthan Valley. On the overnight bus ride from Delhi, we talked well into the night, sharing things we had kept from the world and, for the first time, from each other. Next morning, we alighted about two hoursbefore Manali at Aut, an unremarkable place known only for the nine-kilometre-long Aut Tunnel. We then spent two hours in a local taxi, gazing out at a charming landscape with mighty mountains, quaint villages, and the Tirthan River, before we arrived at our accommodation, Kudrat – A Boutique Homestay, in Tirthan Valley.
Perched high above the valley, away from the flurry of resorts and homestays that have mushroomed by the riverside, Kudrat is tucked away in a thick deodar forest. Only a wooden gate at road level betrays its location. From here, it's a long, steep climb up a series of stone steps, with moss and grass hugging the edges and rows of flowering plants flanking the way. Our city-bred lungs were out of breath by the time we climbed up to the first landing, where a long stone-paved walkway beckoned us to the fairy-tale-like Wood House, cocooned in a thicket of tall deodar trees. The first of the two houses built here, it currently serves as the home for the hosts—Sudhir, Bhawna, their five-year-old daughter Kudrat, after whom the place is named, and their four-legged family members.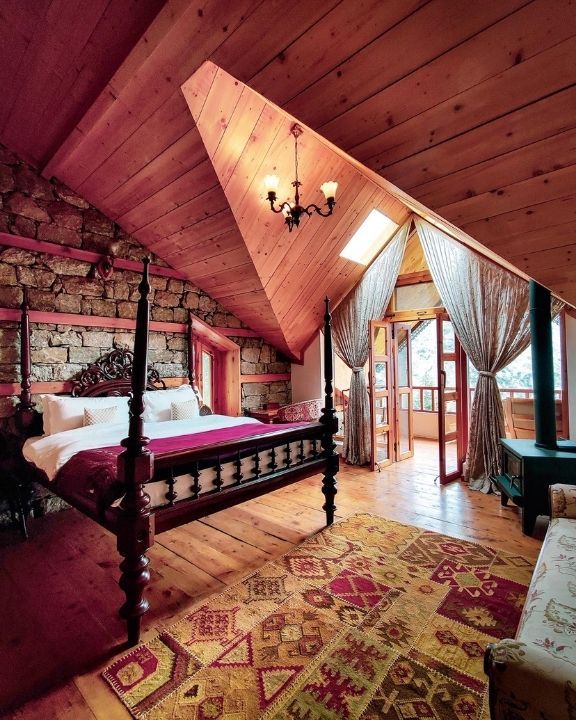 A warm meet-and-greet followed, with a round of fresh rhododendron juice to awaken our senses to all the wonderful things that awaited. A second climb up a shorter flight of steps brought us to a second landing where the Stone House stood in all its glory. Fronted by a lawn and a pool overlooking the snow-tipped Tirth peaks, the Stone House is every design enthusiast's dream come true. Warm wooden floors welcome you into the double-height living room, where expansive windows and skylights offer uninterrupted views of the gorgeous surroundings, and a selection of cosy seating arrangements let you master the art of doing nothing. A staircase from the adjoining dining room lead to the bedrooms on the upper floors, each exhibiting a unique personality with eclectic furniture, linen, and art picked by the hosts.
As my sister and I made our way to the bedroom assigned to us, we couldn't help but squeal in delight, as if we were back in a childhood home albeit a much prettier one. A handsome four-poster bed stood against a rustic stone wall, the wooden ceiling sloped low on one side, beautiful lace curtains draped the windows and door to the verandah, and a small electric fireplace completed the mountain-home feels. Stepping out on to the verandah, we let out a collective gasp at the view: rows upon rows of mountains, some snow-capped, others green with meadows and forests, and the Tirthan River winding through it all far below. "I may live at the foothills of the French Alps, but they can never compare to the majesty of the Himalayas," my sister said. I engulfed her in a tight embrace, in what was possibly our first real hug since she had arrived.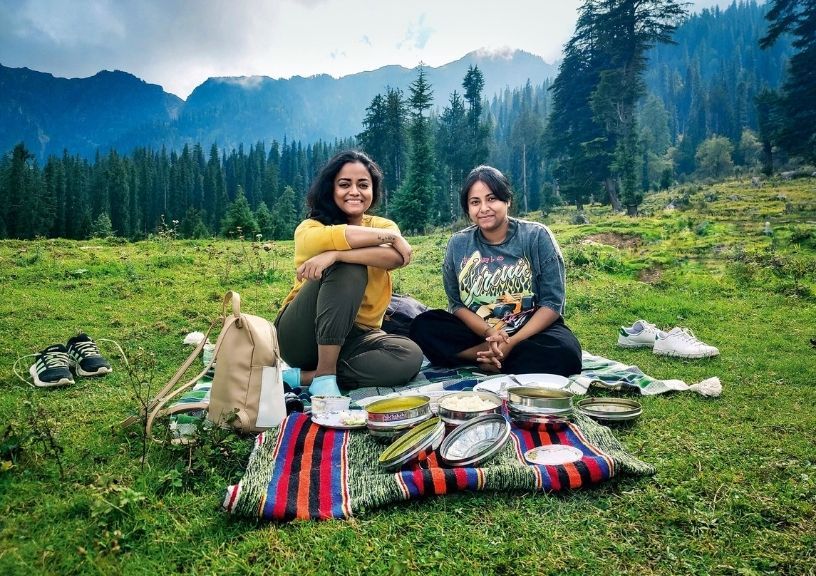 Over the next few days, she and I would find ourselves lowering our guards and putting our differences aside to thoroughly enjoy the place together like we once used to. Endless strolls on the forested trails around Kudrat, collecting fallen pine cones along the way, and stopping often to appreciate the wild flora, would remind us of our carefree childhood days in Shillong. Sitting by the Tirthan River's bank in contemplative silence, watching the brook's waters tumble by even as our fishing rods tried to bait unsuspecting trouts, we'd remember other such seemingly indolent activities that used to bring us joy once. Savouring indulgent spreads of delicious wholesome meals at the homestay, rustled up expertly by Bhawna and her team of local chefs, would reignite our common love for good food. At night, under the twinkle of a million stars, we'd unburden our souls of secrets.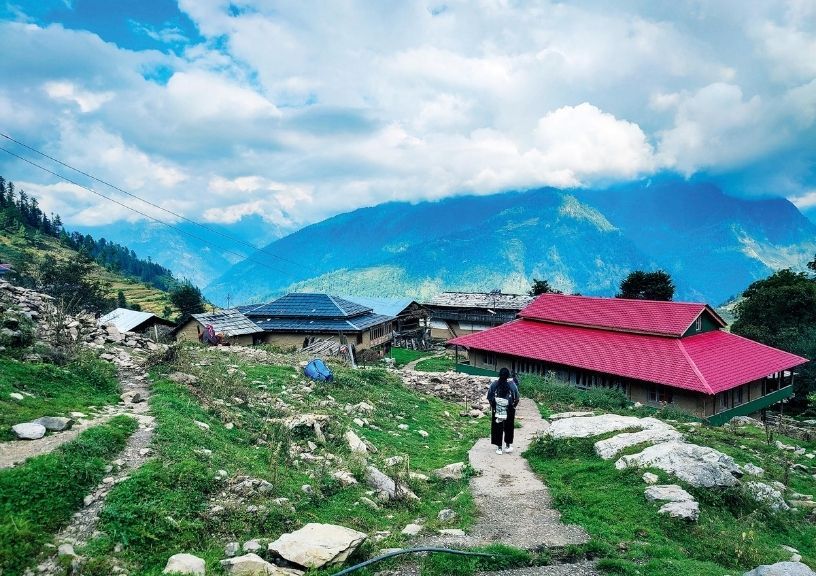 On certain days, we found ourselves meandering through picture-postcard mountain villages such as Sharchi, Jamala, and Bandal, appreciating the vernacular architecture of the delightful houses and experiencing a slice of mountain life along the way. Often, we'd stop to have unhurried conversations with the villagers, who, by the virtue of their innate warmth, would invite us in for tea or even a meal. On other days, we embarked on short hikes to nearby attractions—a shadow of the long, arduous treks we used to go on in the past. Yet, in those moments that we helped each other up rocky paths, over gurgling streams, and through confusing goat trails, we felt closer not only to nature but also to each other.
That is how we found ourselves on the meadows of Sharchi, with the flock of sheep and their shepherd, a few mountain dogs, and some curious locals for company. Later, after a simple lunch of rajma and kadhi chawal, courtesy of the kind villagers, my sister and I lay on the green grass under a blue sky. We talked and joked and held hands and sat in comfortable silence, basking in the glory of the Himalayas and each other's company.
Getting There and Around
The Kullu-Manali Airport at Bhuntar is the closest one to Tirthan Valley, but it is served by only one weekly flight from Delhi. Travelling by road is the best choice; buses, cabs, and car rentals are readily available in Delhi and Chandigarh.
Stay
Kudrat – A Boutique Homestay is nestled in a deodar forest at an altitude of 1,890 metres, near the Great Himalayan National Park. It faces the Tirth peaks and offers distant views of the Tirthan River. Kudrat offers 11 luxuriously-appointed rooms across two houses, which feature traditional architecture and are made of natural, locally available materials such as wood and stone. Both the houses have a living room, dining room, kitchen, and library/playroom. Starts at INR 10,000 (plus taxes) per night per room.