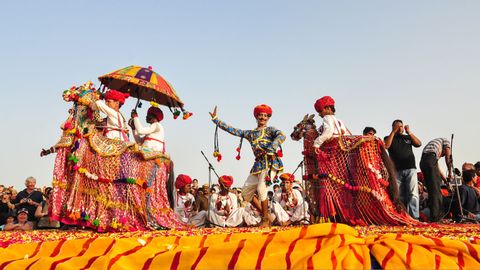 Pushkar Fair, among the biggest livestock festivals in the world, has started. So, in case you're looking to visit, here's your guide to know all about the festivities. By Anushka Goel
Pushkar is a much-revered site in India, home to the only Brahma temple in the world. The destination, which is about 30 minutes by road from Ajmer, is a small but beautiful town which offers travellers a fun place to visit. Somewhat laid-back, Pushkar is great for backpackers looking to explore Rajasthan, especially in November, on a budget. It is also a great place for artists, who come here for some peace and quiet as they work on their pieces. Pushkar Fair is one of the major attractions in the city, which brings together traders, artisans and travellers from far and wide.
Book your stay at Ananta Spa & Resort Pushkar here
What is the Pushkar Fair?
The festival marks the beginning of the Hindu month of Kartik, with celebrations lasting anywhere between five to nine days – until Kartik Purnima, i.e. the full moon in the month. The Pushkar Fair is among the largest cattle fairs in India, with traders visiting to exchange knowledge and purchase and sell their livestock. This includes cattle, camels and horses, but can also include other animals.
Where is Pushkar Fair celebrated?
The fair happens on the banks of the Pushkar Lake in Pushkar, Rajasthan. The destination is about half an hour from Ajmer, and makes for a wonderful sight to see when decked up for the fair, known for its cattle trade, camels, music, art and dance.
Book your stay at Sahdev Bagh, Pushkar here
What all happens at the fair?
The festival sees a variety of exhibitions, competitions and shows which keep visitors entertained. From bridal competitions to camel and horse races and safaris, there's plenty of activities organised here, which makes it such a vibrant, fun-filled affair. Because it is held at the beginning of the month of Kartik, the festival is also called Kartik Purnima festival.
Special activities during Pushkar fair? This year, the activities at the fair, apart from trade, will include a handicrafts fair, hot air balloon rides, deepdanam aarti, camel dance, group performances, jazz nights, musical concerts and a lot more. You can find a detailed itinerary of the festivities here.
Book your stay at Mulberry Resort here
When will the Pushkar camel fair take place?
The Pushkar Camel Fair will be held from November 1 to November 9 this year.
Hero and Featured Image: Courtesy of Shutterstock
Related: Pushkar Travel Guide: Things To Do, Places To Visit, Where To Stay And More
Frequently Asked Questions (FAQs)
Question: Why Pushkar Fair is celebrated?
Answer: It is among the biggest livestock festivals in India.
Question: Where is Pushkar Fair in Rajasthan?
Answer: It happens on the banks of Pushkar Lake in Rajasthan.
Question: In which season was Pushkar Fair celebrated?
Answer: It is celebrated in the beginning of the Hindu month of Kartik.
Written By