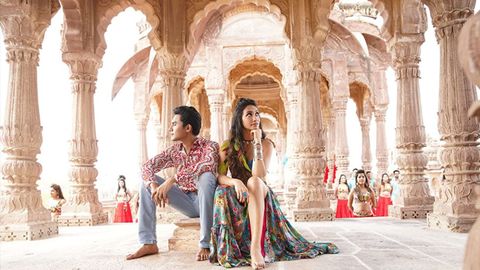 When it comes to travel, inspiration can strike from anywhere. So, why not turn to your screens? Head to Amazon Prime Video for movies and series that will make you want to visit some of these popular destinations in India.
Watching movies and series on the go has been made super easy, thanks to OTT platforms. TV programmes, soaps and limited series that are made for TV, along with content made especially for these online platforms, not only allows us users to consume more content, but also discover new genres, languages and destinations through them.
Most of us consume content in some form or the other almost daily – when we are commuting, to kill some time or to unwind, and sometimes, even as background noise while we go about our daily activities. These movies and shows also set some major inspiration and goals for us – be it fashion, food, career or travel. Video content, whether or not based around travel, inspires us to visit the destinations showcased and soak in the same sights as our favourite stars – be it villages, grand palaces or nature trails.
So, in case you're looking for content to watch online, check out these Amazon Prime Video movies and series which will take you on a trip across India.
Amazon Prime Video movies and series to watch for some travel inspiration
Mirzapur – Across Uttar Pradesh
The action crime thriller is set in the Purvanchal region of Uttar Pradesh, in the city of Mirzapur. The series is primarily shot in the city, along with other destinations such as Lucknow, Jaunpur, Azamgarh and more. The story revolves around Akhandanand Tripathi, a millionaire carpet exporter and mafia don of Mirzapur, and layers of politics, crime and the underworld. The series is in its third season now, which is expected to release in 2023.
In Mirzapur, visit destinations such as the ghats and the Ghanta Ghar. Other places you can visit based on the series are Lucknow (and its mosques), Varanasi (known for its ghats and its silks), and Raibareili, among many others.
The Family Man Season 1 – Srinagar
The Family Man, starring Manoj Bajpayee as the main lead, has been shot across destinations in India – from Mumbai, where Srikant Tiwari (the titular character) lives, to places such as Srinagar, where he travels to for a mission. The Prime Video series beautifully captures the valley and its natural beauty, small hamlets, local life and more.
In Srinagar, visit the Mughal Gardens and Dal Lake, and go on a Shikara ride. Also, be sure to visit nearby destinations such as Gulmarg and Sonmarg for some snowy adventures.
Book your stay at Hotel Al Azrah here
Bandish Bandits – Bikaner and Jodhpur
Bandish Bandits uses music has one of its main characters. It showcases the story of a traditionally trained singer and a pop singer, who fall in love. The series showcases how music can be seen as a means of culture and tradition as well as one that symbolises liberation. The series was shot across locations in Bikaner and Jodhpur.
If you're falling in love with Rajasthan while watching the series, we will definitely suggest planning a trip to Bikaner or to Jodhpur soon. In Bikaner, be sure to visit Junagarh Fort and the local markets for some traditional namkeens. Also, visit local forts and palaces to soak in traditional, Rajasthani architecture. Jodhpur is known for the Mehrangarh Fort, Umaid Bhawan Palace and its delectable food.
Modern Love: Mumbai – Mumbai
There's enough movies and shows that have showcased the beauty of Mumbai, but we feel that none of them have captured it in a way that Modern Love: Mumbai has done. The series, shot across the Maximum City, displays its suburbs, outskirts, chawls, local trains, and iconic places such as Marine Drive and Bandra-Worli Sea Link in an almost emotional, human way.
If the series inspires you to visit the city, explore the seaside at Marine Drive and Bandstand. Visit Juhu to see the beach and SRK's home, or take a cab ride across Bandra-Worli Sea Link to gasp at the marvel that it is. Be sure to take at least one ride on the Mumbai Local – we recommend off-peak hours so that you aren't overwhelmed by the sea of people. Also, visit places such as Siddhivinayak Temple, Kala Ghoda, Fort, Mumbai's churches and Haji Ali Dargah to immerse yourself in its spirituality and art deco vibe.
Book your stay at The Lalit-Mumbai Airport here
Gulabo Sitabo – Lucknow
Gulabo Sitabo, a comedy drama that released as an Amazon Prime Video movie amidst the COVID-19 pandemic, stars who is among the most respected actors in Indian cinema, Amitabh Bachchan. Alongside him is Ayushmann Khurrana, known for his off-beat choices in films. The movie is a fight around an old, dilapidated haveli (where the two live as landlord and tenant), called Fatima Mahal, and will transport you to Lucknow's quaint alleyways with each frame.
If you're visiting Lucknow, be sure to visit Hazrajganj and Chowk for some frames from the movie. Apart from these, visit Bara Imambara and indulge in Tundey Ke Kebab. Also, be sure to visit the Rumi Darwaza and The Residency. Explore local markets for delicious eats as well as local crafts and cloth.
Book your stay at Hyatt Regency Lucknow here
Sherni – Kanha National Park
Another Prime Video movie that should be on your watchlist is Sherni. Starring Vidya Balan as an Indian Forest Service officer, the movie revolves around her being tasked with capturing and containing a man-eating tigress in a remote village. The movie was shot in . However, she faces hostility from various sides as she tries to do her job.
The series is extensively shot in the forests of Madhya Pradesh, especially Kanha National Park. The park in itself is a wonderful place to visit to witness wildlife and natural habitat, tigers and more, and will make for a great weekend or short getaway.
Sardar Udham – Amritsar
Sardar Udham is based on the Indian revolutionary leader, Sardar Udham Singh. The movie is shot across locations which includes Amritsar, Punjab. It shows the Jallianwala Bagh Massacre and other important points in the revolutionary's life, including his death sentence.
If the movie inspires you to visit Amritsar, be sure to visit Golden Temple and Jallianwala Bagh. Make a day trip to the Wagah-Attari border, and be sure to splurge in the local markets and indulge in delicious eats such as Amritsari Kulchas and naans.
Book your stay at Hyatt Regency Amritsar here
Sharmaji Namkeen – Delhi
Sharmaji Namkeen, among the Amazon Prime Video movies that evoke wanderlust, is special for reasons more than one. The film was Rishi Kapoor's last, and his role has been completed by Paresh Rawal – thus being the first movie where two actors play one character, with frames seamlessly transitioning from one to the other. The movie is based in West Delhi and takes one through the capital city unlike others.
If you're a Delhiite or the movie makes you want to visit the city, be sure to explore the many forts and old alleyways here. Visit Chandni Chowk for the latest fabrics and the city's famous street food and places such as DLF Emporio for luxury shopping. Visit Red Fort, Qutub Minar, Hauz Khas Fort and more for a lesson in history, and visit Connaught Place for a glimpse into British architecture. Oh and, the wide roads and Delhi Metros will definitely add to your experience!
Hero Image Credit: A still from Gulabo Sitabo; Feature Image Credit: IMDb
Related: Disney+ Hotstar Movies And Shows That Will Set Some Serious Travel Goals
Written By