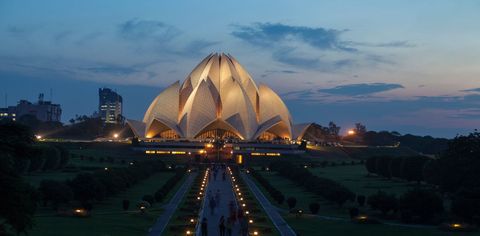 In this article, we take you through independent India's modern architectural heritage. By Karan Kaushik
As we prepare to celebrate another year of India's independence from British rule, we thought it would be nice to take our readers through the country's modern architecture. Here, we feature some of the most popular heritage structures that were built after independence.
Explore post-independence architecture in India at these famous spots
Vidhan Soudha, Bengaluru
View this post on Instagram
Perhaps the most iconic building of Bengaluru, the Vidhan Soudha was designed by architect BR Manickam. It was built in the Neo-Dravidian style of architecture in 1956. Architecture buffs will have a great time marvelling at the Revivalist style of the post-independence building. The Vidhan Soudha building also pays tribute to early temple architecture, which can be seen in its carved pillars, elaborate arches, pediments, and granite construction.
Lotus Temple, Delhi
View this post on Instagram
One of the most-loved spots in Delhi, the Lotus Temple, also known as the Bahai House of Worship will remind you of the Sydney Opera House and Singapore's new Art Science Museum. Built in 1986, the lotus-shaped structure was designed by architect Fariborz Sahba. It has been designed to respect all religious beliefs in a contemporary setting. What makes the architecture of the Lotus Temple distinctive is the use of form, geometry, light, water, and ventilation.
Jehangir Art Gallery, Mumbai
View this post on Instagram
One of the most popular buildings in Mumbai that define post-independence architecture in India, the Jehangir Art Gallery sits in the historic Kala Ghoda. This premier art institution was designed by GM Bhuta for GM Bhuta and Associates. It was inaugurated in 1952 and stands as an example of early modernism, where art galleries used to be inward-looking. The art gallery's egg-shaped plan and diffused day-lighting made it a building that was ahead of its time.
Sabarmati Ashram, Ahmedabad
View this post on Instagram
Any trip to Ahmedabad is incomplete without a visit to the Sabarmati Ashram. When Mahatama Gandhi envisioned post-independent India, he imagined contemporary architecture that will blend with traditional and vernacular designs. Architect Charles Correa kept the same in mind while designing the ashram in 1963. He used the modernist style of functionalism while designing the airy courtyards and spacious and well-lit structures that dot the ashram complex.
Triveni Kala Sangam, Delhi
View this post on Instagram
Established in 1950 by prolific classical dancer Sundari K Shridharani, Triveni Kala Sangam stands on Tansen Marg, between Mandi House and Bengali Market. The multi-arts institution features four art galleries, a chamber theatre, an outdoor theatre, and an open-air sculpture gallery. Also on offer are interesting and fun-filled arts, music, and dance classes. The building is one of the best examples of American architect Joseph Allen Stein's trademark use of latticework.
Auroville Dome, Puducherry
View this post on Instagram
The beautifully planned township of Auroville was set up in 1968 as a place where men and women from all nationalities could live in peace and harmony. The prime attraction here is the spherical, gold-coloured Matrimandir. Its dome embodies the teachings of The Mother and Sri Aurobindo. The lotus-bud-shaped marble structure stores soil from 124 countries and 23 Indian states, a symbolic gesture of Aurovillean unity. The short walking route to Matrimandir from the Information Centre is dotted with an open exhibition, herbal garden, a coffee shop, and pavilions to meditate in.
India Habitat Centre, Delhi
View this post on Instagram
India Habitat Centre has been an all-time favourite hangout spot for the intellectual and elite of Delhi. Designed by Joseph Stein and built by the renowned firm Doshi and Bhalla, the India Habitat Centre campus is spread over nine acres. The campus houses several conference venues, auditoriums, hospitality areas, a library and resource centre, and art galleries. The centre hosts regular art exhibitions, seminars, lectures, plays, book launches, and more.
Gandhi Bhawan, Chandigarh
View this post on Instagram
Inaugurated by Dr Sarvepalli Radha Krishnan in 1962, Chandigarh's iconic Gandhi Bhawan is one of the finest examples of post-independence architecture in India. The building is located at Panjab University. It was designed by Swiss architect Pierre Jeanneret, who was Le Corbusier's cousin. The building is used by students who wish to study the words and works of Mahatama Gandhi. Surrounded by a gorgeous pond, Gandhi Bhawan houses an amazing collection of books on Gandhi and his exemplary life.
National Crafts Museum, Delhi
View this post on Instagram
Visiting the Crafts Museum is always delightful for art and craft lovers. When renowned architect Charles Correa designed the museum, he wanted to lend it a traditional yet contemporary feel. Overlooking the Old Fort, the museum is designed around a central pathway. While naturally-lit art spaces unfold at every turn, the earthen vibe of the museum charms the visitors. The museum reflects the upholding custom of Indian artisans. The fabrics, paintings, the use of mud, rock, woods, and other art installations bore testimony to this.
Jawahar Kala Kendra, Jaipur
View this post on Instagram
Jawahar Kala Kendra was established in 1993 as an international multi-art and culture centre. There was a rising need to incubate and nurture art and artists and JKK was exactly what Jaipur needed. Designed by eminent Indian architect Charles Correa, the building is based on the theme of nine planets. The architecture of JKK also drew from Jaipur's square-grid city plan. JKK has six exhibition galleries, an open-air theatre, auditoriums, dormitories, and a coffee house. Of special note are the Jain murals and paintings that adorn the ceiling of the building's central dome.
Feature and hero image courtesy: Shutterstock
Related: Mumbai's Art Deco Buildings: A Treasure Trove Of Architectural Heritage
Written By