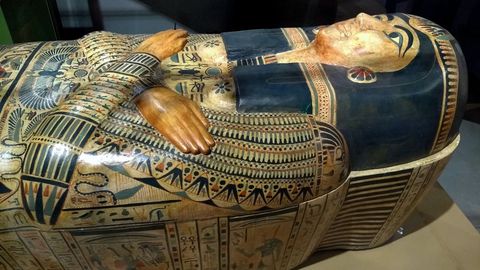 When we think of mummies, our minds often gravitate towards the pharaohs and pyramids of Egypt. These historical artefacts exude an eerie and mysterious aura, captivating the world's fascination. This allure has inspired iconic Hollywood movies, such as The Mummy trilogy (starring Brendan Fraser), the 1932 classic The Mummy, and the more recent The Mummy (starring Tom Cruise). However, beyond the silver screen, India also harbours places where you can get up close and personal with these enigmatic relics. Yes, you read that correctly! Museums, a church, and even a village in India are the final resting places for mummies; intriguingly, not all have Egyptian origins.
India houses eight mummies, among which only six have Egyptian origins. One is a revered Buddhist monk, and another is a Spanish missionary. Discover the locations in India where you can encounter these enigmatic artefacts and delve into their intriguing histories.
Places to see Mummies in India
Gue Village, Spiti Valley
Unlike the Egyptian mummies you will find in this list, Sangha Tenzin is an Indian mummy resting peacefully in the Gue village of Spiti Valley. This is not your typical mummy, Sangha Tenzin is not embalmed or wrapped. Rather, his remains are stored in a glass box in the village Gue, and his face is exposed along with his white teeth intact.
The 500-year-old mummy was discovered in 1975, unearthed from the ruins of a stupa that collapsed during an earthquake. The 15th-century Buddhist monk was naturally mummified in a sitting position, with hair and skin intact. Legend has it that the monk had saved a local town from a scorpion infestation by naturally mummifying himself as a sacrifice.
How to reach
By air: Bhuntar Airport is the closest, about 319 km away from Gue.
By rail: Joginder Nagar Station is the closest railhead, located about 417 km away.
By road: New Delhi is 714 km away.
Albert Hall Museum, Jaipur Drawing inspiration from London's Victoria and Albert Museum, the Albert Museum in Jaipur proudly hosts a 2,300-year-old Egyptian mummy. Brughsch Bey, the curator at the Museum of Cairo in 1883, presented this remarkable relic as a gift to Sawai Ishwar Singh, the ruler of Jaipur at the time, thus making it the mummy's new sanctuary.
This mummy was a teenage girl named Tutu from a family of priests devoted to the Egyptian God Kehm. She belonged to the Ptolemaic dynasty, the last in ancient Egypt, ruling from early 300 BC to 30 BC.
How to reach
By air: Jaipur International Airport is 10 km away.
By rail: Jaipur Junction Station is only 5 km from the museum.
By road: Delhi is 293 km away.
Indian Museum, Kolkata The largest and earliest museum in India, the Indian Museum of Kolkata was established by the Asiatic Society of Bengal in 1814. Among its treasures, the museum proudly houses an Egyptian mummy at its Egypt Gallery.
The 4000-year-old mummy was gifted to the Asiatic Society of Bengal by a British officer named Lt EC Archbold of the Bengal Light Calvary, and it came to Kolkata in 1882. It was discovered in the royal tombs at Gourvah, on the western bank of the Nile at Luxor (ancient city of Thebes).
After the mummy was carefully examined, an intriguing discovery was made — the mummy was a young girl, and a part of her brain was missing. This 4000-year-old mummy is not the only fascinating mystery in the museum; the gallery also has a mysterious mummified hand.
How to reach
By air: Netaji Subhash Chandra Bose International Airport is 18 km away.
By rail: Kolkata Station is just 7 km from the museum.
Telangana State Archaeology Museum, Hyderabad Also known as Dr YS Rajasekhara Reddy State Museum, the oldest museum of Hyderabad houses the remains of an Egyptian Princess. The 2500-year-old mummy came to the capital city in 1920. Nawab Nazeer Nawaz Jung (son-in-law of sixth Nizam Mir Mahboob Ali Khan) acquired the mummy at an auction for GBP 1000 (approximately INR 1,03,106).
In 1930, the relic found its new home with the seventh Nizam of Hyderabad, Mir Osman Ali Khan. The Nizam carefully preserved the mummy in the Nizam State Museum, which has now evolved into the renowned Telangana State Museum.
The Egyptian mummy belongs to Princess Naishu, the daughter of the sixth Pharaoh of Egypt. Historians believe that she lived in the Ptolemaic period between 300 BC and 100 BC. She is the only Egyptian mummy stored in South India.
How to reach
By air: Rajiv Gandhi International Airport is 33 km away.
By rail: Hyderabad Station is just 1 km away.
Baroda Museum & Picture Gallery, Vadodara
Sayajirao Gaekwad III, the Maharaja of then Baroda, made the unique acquisition of an Egyptian mummy during his rule. He obtained the mummy in 1895 for a mere USD 175 (approximately INR 14,550). Now, the priceless relic rests in the Egyptian Gallery of Baroda Museum & Picture Gallery, and very little is known of this artefact.
How to reach
By air: Vadodara Airport is about 5 km away.
By rail: Vadodara Junction is just 1 km away.
By road: Gandhinagar is 131 km from the museum.
State Museum, Lucknow Established in 1863, the State Museum is the oldest in Uttar Pradesh and home to a 3000-year-old mummy. This ancient artefact was acquired by the museum in 1952 by a Britisher named J J E Potter. Upon meticulous examination, experts deduced that this mummy belonged to a 13-year-old Egyptian girl, whose unique feature is the presence of an unwrapped toe, adding to the mystique.
How to reach
By air: Chaudhary Charan Singh International Airport is 17 km from the museum.
By rail: Lucknow Junction Station is just 5 km away.
Chhatrapati Shivaji Maharaj Vastu Sangrahalaya (CSMVS), Mumbai Previously known as the Prince of Wales Museum of Western India, the CSMVS achieved the prestigious "2022 Award of Excellence" from the UNESCO Asia Pacific Awards for Cultural Heritage Conservation. Within its esteemed walls, the museum proudly showcases a 2,000-year-old Egyptian mummy.
Historical records suggest that this mummy's journey to India can be traced back to the British colonial period, and it has been a cherished part of the museum's collection since its inception in 1922.
How to reach
By air: Chhatrapati Shivaji Maharaj International Airport is 25 km away.
By rail: Chhatrapati Shivaji Maharaj Terminus Station is just 1 km away, and Mumbai Central Station is 7 km away.
Basilica of Bom Jesus, Goa One of the oldest churches in Goa, Basilica of Bom Jesus holds great historical and cultural significance in the union territory and is part of UNESCO's World Heritage Site listed as the Churches and Convents of Goa. Within this revered church lie the preserved remains of a prominent figure from the 16th century — St. Francis Xavier — a Roman Catholic missionary who played a pivotal role in the dissemination of Christianity in India.
How to reach
By air: Goa International Airport in Dabolim is 26 km away, and Manohar International Airport in Mopa is 41 km away.
By rail: Vasco da Gama Station is 27 km away, and Madgaon Station is 35 km away.
By road: Panaji, Goa's capital, is about 12 km from the church.
Shop the best travel experiences here
Hero and feature image credit: Miguel Á. Padriñán/Pexels
Related: Why We Love India: A Pictorial Journey Of The UNESCO Heritage Sites Of India
Frequently Asked Questions (FAQs)
– What are mummies?
Mummies are the preserved remains of deceased humans or animals. They are often associated with ancient Egypt, where a specific embalming process was used to preserve bodies.
– How are mummies related to India?
The connection between mummies and India lies in the presence of mummies in Indian museums and historical sites. Most of the mummies are not native to India and have been acquired from various parts of the world, such as Egypt, and are now housed in Indian museums.
– Are there any famous Indian mummies?
Yes, one famous Indian mummy is Sangha Tenzin, a Buddhist monk who mummified himself in the Spiti Valley.
– How old are the mummies found in India?
The mummies found are as old as 4000 years.
– Can I visit museums in India to see these mummies?
Yes! There are six museums in India where you can see these fascinating mummies. They are the Albert Hall Museum in Jaipur, Baroda Museum & Picture Gallery in Vadodara, Indian Museum in Kolkata, Telangana State Archaeology Museum in Hyderabad, State Museum in Lucknow and Chhatrapati Shivaji Maharaj Vastu Sangrahalaya in Mumbai.
Written By