Jaisalmer is among the most beautiful destinations to visit in Rajasthan, especially in the winters. The place, with its golden forts, sand dunes and vibrant markets, is picturesque and filled with heritage and will make you feel closer to India's culture. So, if you're in the city for just 48 hours, this guide to the places to visit in Jaisalmer, where to stay, what to do and where to eat will be all you need for a fulfilling, pleasant and memorable trip.
Jaisalmer is one city that will make you really feel like you're in the part of Rajasthan that's more often showcased in movies. Golden sand within an hour's distance, massive forts complete with markets full of colourful wares, havelis and hotels that feature intricate carvings and local cuisine that will blow your mind are just a part of the overall experience.
Known as the Golden City, Jaisalmer is located close to the Pakistan border and in close proximity to Thar Desert. Its name comes from the use of the yellow sandstone in the construction of the fort and its houses, as well as the desert's sand that lends it a golden hue. These reasons make it a major tourist attraction, along with the fact that it houses one of the few living forts across the world, aka the Jaisalmer Fort.
Book your stay at WelcomHeritage Mandir Palace Jaisalmer here
History of Jaisalmer
The city is said to have been established sometime in the 12th century, and stories of the city's creation go back to Rawal Jaisal, the eldest heir of the Rawal of Deoraj who was passed over for the throne of Lodurva in favour of a younger half-brother. When Rawal Jaisal went looking for a new place to set up his capital, he came across a sage whose prophecy predicted that a descendant of Krishna would form their kingdom here. Being a descendant of the Yaduvanshi clan, Rawal Jaisal constructed a fort, now called Jaisalmer Fort, and created the kingdom, thus fulfilling the prophecy and creating a new capital for himself. The fort was constructed in 1156 AD.
Jaisalmer is thus a truly beautiful place to visit in winter, as the weather will play the perfect host for you to explore its beauty and subtle charm. So, if you're planning to visit, keep two days in hand to explore the best of the region.
Best places to visit in Jaisalmer in 48 hours
Day 1
Once you've reached Jaisalmer, check in to your hotel and freshen up for a bit. Then, after lunch, hit the road and begin your travels.
Jaisalmer Government Museum After lunch, you probably will not have a lot of time on hand to explore the city throughout the day. So, we suggest visiting the Jaisalmer Government Museum. The place has been established by the Department of Archaeology and Museums and houses artefacts from the seventh and ninth centuries AD. A major attraction here is the trophy of the state bird Godawan, beautiful household items from the era, jewellery, crockery and more.
Opening Hours: 10:00 am to 4:30 pm (Friday closed)
Entry Fee: INR 10 (for Indians); INR 50 (for international visitors)
Kuldhara Village From the museum, head to Kuldhara, a village just a few kilometres from Jaisalmer and is among the places to visit in the region. The place is said to be haunted, and thus is also called the abandoned village. Legend has it that the villagers abandoned the place overnight in the 1800s, with no one having any idea where they went. Supposedly, there were about 85 villages here that were full of people, and even to date, there's no information on where they all went. Today, the place attracts history enthusiasts and keen photographers because of its golden-hued homes and an eerie, quaint charm.
Opening Hours: 8:00 am to 6:00 pm
Entry Fee: INR 10 per person; INR 50 per person (with a car)
Book your stay at Gobindgarh Jaisalmer here
Sam Village and Desert National Park From Kuldhara, head to Desert National Park and experience how the wildlife in the sand exists. There are jeep safaris that will take you to places within the park where you can see local wildlife such as the state bird of Rajasthan (Godawan or the Great Indian Bustard), eagles, falcons, desert fox, chinkaras and the desert cat. Sunset views here are also magnificent and will make your journey worth the while.
Spend the night at one of the safari camps at Sam village and experience the magic of the desert along with sand dunes. If not, you can simply enjoy the sunset and head back to your hotel for the night.
Opening Hours: 10:00 am to 5:00 pm
Entry Fee: INR 100 per person; INR 100 per person for a jeep safari; INR 200 for a guide
Day 2

We suggest waking up a bit early to soak in the morning fragrance that covers the city, as you sip on some tea or coffee. After a hearty breakfast, it'll be time to head to the main city, which houses its marvellous fort, mesmerising havelis and colourful wares.
Book your stay at SUJÁN The Serai Jaisalmer here
Jaisalmer Fort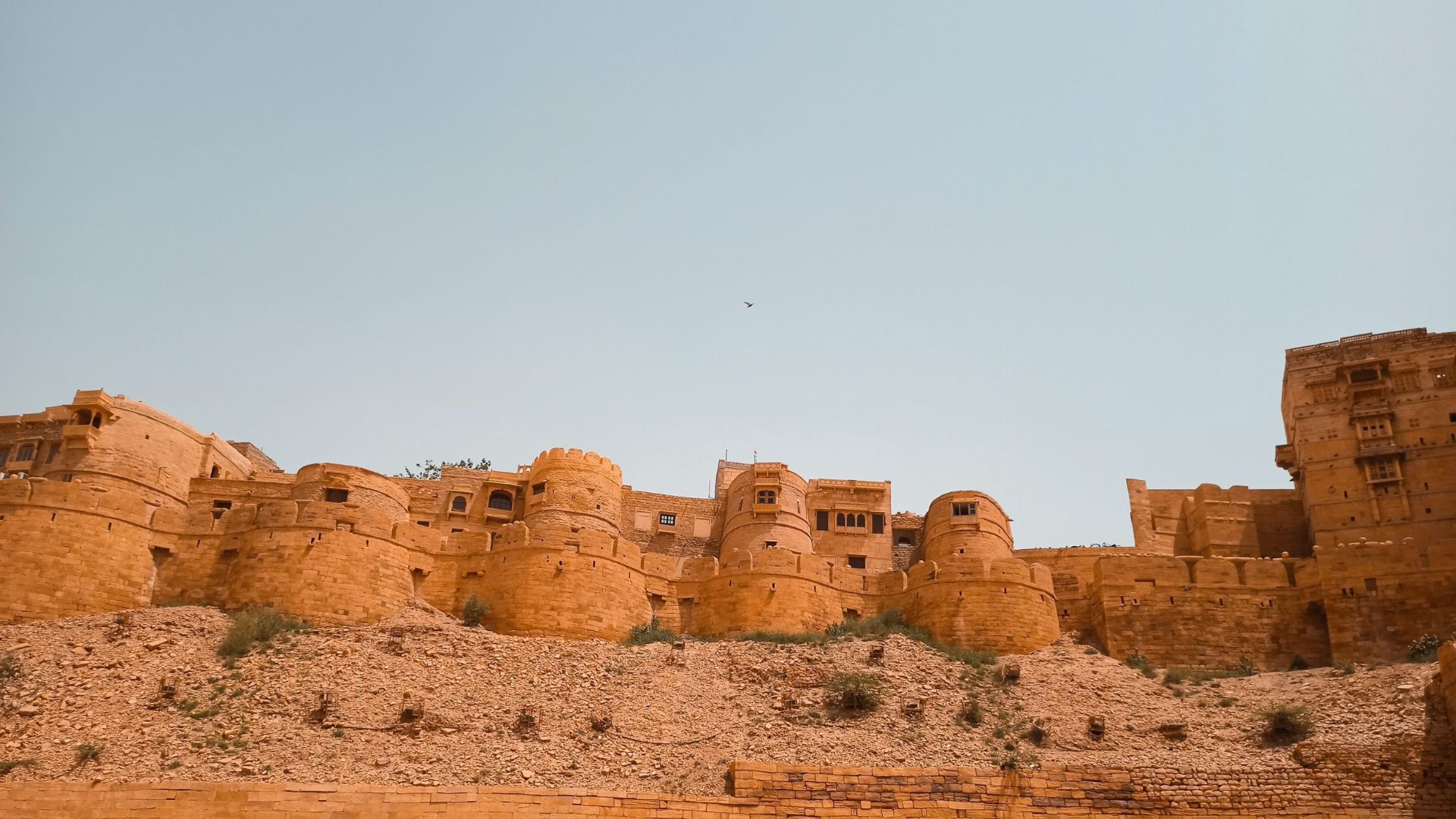 The UNESCO World Heritage Site is among the six hill forts of Rajasthan that share this coveted tag. One of the oldest living forts in the world, Jaisalmer Fort (also called Sonar Killa or Sonar Qila) has housed generations of people. This is among the many factors that make it one of the places you must visit in Jaisalmer. It takes around four hours to complete the fort tour and you'll be wowed by the markets, bylanes and homes that rest inside its walls. You can also pick up vibrant umbrellas and dupattas from here as souvenirs. But, remember to bargain well.
Opening Hours: 9:00 am to 6:00 pm
Entry Fee: INR 50 (for Indians); INR 250 (for international visitors)
Patwon Ki Haveli Located barely half a kilometre from Jaisalmer Fort, Patwon (or Patwaon) Ki Haveli is one of the must-visit places in the city. The five-storey structure is one of the largest in Jaisalmer and features intricate carvings, paintings and mirror work that has been used as decoration for its inside walls. Along with Patwon Ki Haveli, visit Salim Singh Ki Haveli as well as Nathmal Ji Ki Haveli, both hardly a five-minute walk from here. Each of these havelis have their own history which makes them unique.
Opening Hours: 9:00 am to 5:00 pm (Patwon Ki Haveli); 8:00 am to 6:00 pm (Salim Singh Ki Haveli); 8:00 am to 7:00 pm (Nathmal Ji Ki Haveli)
Entry Fee: INR 100, INR 50 for camera and INR 100 for a video camera (Patwon Ki Haveli); INR 10-50 per person for Indians and INR 100 for international visitors, INR 50 for camera and INR 100 for video camera (Salim Singh Ki Haveli); No entry fee for Nathmal Ji Ki Haveli
Gadisar Lake Once you're done walking around the havelis, it'll be time to witness the golden sunset. And the place we suggest for this is the Gadisar (or Gadsisar) Lake. Built by Rawal Jaisal (and then by Gadi Singh), the lake was once the sole water reservoir in the city. Here, you can enjoy activities such as boating, as well as a Laser Water Show, something you must witness.
Opening Hours: 8:00 am to 7:00 pm
Entry Fee: No entry fee. However, boat rides and other activities are chargeable
Local markets
Among the places to visit in Jaisalmer are its markets. Filled with stonework, leheriya and bandhani clothes, multi-coloured turbans, local handmade wares, pickles, and traditional ingredients, the markets here offer Rajasthan's culture in one place. You're sure to go back home with bags of items not only for you but for your loved ones as well! Some of he bazaars to visit are Manak Chowk, Pansari Bazar, Seema Gram and Sonaron Ka Bazar.
When to explore Jaisalmer for the best weather
The best time to visit Jaisalmer is winter and early spring, from November to February.
How to reach Jaisalmer By Air
Jaisalmer Airport is connected to cities such as Delhi and Mumbai
By Rail
Jaisalmer Railway Station is well-connected via trains to the rest of the country
By Road
Jaisalmer has a good road network, and can easily be reached from all major cities, especially in the north
What to eat in Jaisalmer
Some of the dishes you must sample in Jaisalmer are Dal Baati Churma, Pyaaz Ki Kachori, Gatte Ki Sabzi, Ker Sangri, Makhania Lassi and Mirchi Pakoda.
What to shop in Jaisalmer
Look for leather goods, stoles and scarves, silver jewellery, home decor, and puppets (katputli) to bring back with you.
Hero and Featured Image Credit: Shutterstock
Related: Jaisalmer Fort: Your Guide To Exploring The Stunning Living Fort
Frequently Asked Questions (FAQs)
Question: How to reach Jaisalmer from Delhi?
Answer: Jaisalmer is well-connected by air and train to Delhi. The road distance between the two cities is 772 kilometres.
Question: Who built Jaisalmer Fort?
Answer: The Jaisalmer Fort, which is also among the oldest and few living forts across the world, was built by Rawal Jaisal in 1156 AD.
Question: Why is Jaisalmer called Golden City?
Answer: Jaisalmer is called Golden City because of the yellow sandstone used in the architecture of the fort as well as the town.
Question: How to reach Jaisalmer from Mumbai?
Answer: You can either take a flight or a train to reach Jaisalmer from Mumbai.