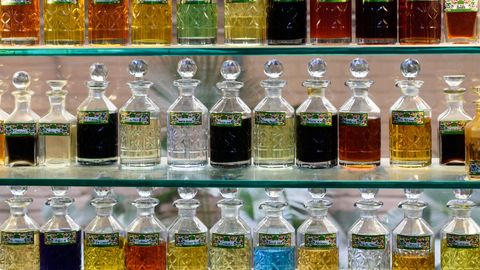 The art of perfumery was first introduced to the world by the Egyptians. Since then, cultures around the world have taken up this craft, creating signature scents using oils and attars to add a touch of fragrance to their bodies. While modern perfumery has evolved, some of the oldest perfume shops in India remain faithful to time-honoured traditions.
The origins of perfumery trace back more than 4,000 years to ancient Cyprus, where the earliest known perfumes were discovered. Over time, evidence of perfumery has emerged in various ancient civilisations, including the Chinese, Hindus, Israelites, Arabs, Greeks, Romans, and Carthaginians. Perfume spread to the world when the Arabs standardised the production, resulting in the global diffusion of these fragrances.
In the 16th century, perfume's popularity is believed to have soared in France, especially amongst the aristocracy. So profound was this obsession that even Louis XV got everything scented, from clothes to furniture and gloves! The invention of Eau de Cologne further propelled this industry, allowing it to flourish and expand its influence worldwide.

What makes India's oldest perfume shops truly unique In India, fragrances serve a dual purpose, transcending mere cosmetics to play an integral role in cultural and religious practices. Ittar, rosewater and sandalwood are commonly used across religions to perfume food and for special rituals such as adorning brides before their big day. It is also used in prayer ceremonies in the form of incense sticks.
However, the allure of perfume's use on the body to appeal to the senses remains common across cultures and economic barriers. This is why several perfume shops across the country keep a range of fragrances that not only cater to various moods and times of the day (fresh scents for the day versus floral, sensuous ones for the evening) but to different preferences, budgets and more.
Some popular Indian fragrances include the smell of first rain, known as 'petrichor', as well as sandalwood and jasmine, to name a few.
Intriguingly, India has several perfume shops that have been crafting their own attars (ittars/itrs/atrs) and oils for generations, with a legacy that spans over two centuries in some cases. Each of these establishments has something unique to offer, with fragrances that you may not be able to find elsewhere. It's this exceptional quality that sets them apart. Eminent Indian personalities have frequented some of these shops, while for others, it's the sheer weight of their history that makes them extraordinary.
What sets Indian perfumery apart Divrina Dhingra, the author of The Perfume Project, sheds light on the unique character of perfumery in India. "India has a rich history that goes as far back as the first millennium BC. Since then, fragrance has played a role not just in matters of worship and offering but in trade and personal use, too. Compared to our lives today, ancient Indians who could afford perfume had far more elaborate rituals around its use. As far as trade goes, materials like sandalwood, agarwood, jatamansi were very important," she tells us.
The love for Indian raw material remains a hallmark of perfumery, with many perfumers and fragrance houses sourcing their ingredients from India. Some popular Indian scents are extracted using traditional methods, which makes them potent and sought-after. For example, "Kannauj – the perfume capital of India, is known for its traditional deg bhapka method that is still used today," Dhingra tells us.
So, the next time you're in the market for a new fragrance, we suggest you check out the oldest perfume shops in India not just for unique scents but also for a lesson in India's rich perfume history.
Oldest perfume shops in India
Sugandh Vyapar, Lucknow – Since 1809
View this post on Instagram
Among the oldest manufacturers and processors of Indian perfumes, Sugandh Vyapar specialises in creating high-quality perfumes, attars and a diverse range of products that provide fragrance. While the company was first established in 1809, the brand was created in 1982. Today, their portfolio includes products such as absolutes, attars, perfumes, aromatherapy herbs and spices, as well as incense sticks and dhoop.
Locations: 7, Commerce House, Habibullah Estate, Hazratganj, Lucknow; 17, Ashok Marg, Hazratganj, Lucknow
Gulabsingh Johrimal, New Delhi – Since 1816
View this post on Instagram
Founded in 1816, during the period when India was under British rule and the Mughal Empire's reign was waning, Gulabsingh Johrimal holds a remarkable place in the history of Indian perfumery. Lala Gulab Singh, an entrepreneur from Jhajjar in Haryana, moved to Delhi, the Mughal Sultanate's capital. It was here that he got a whiff of perfumes, leading to the foundation of his perfumery in the heart of Old Delhi's Chandni Chowk, along with his son, Lala Johrimal.
Gulabsingh Johrimal is a one-of-a-kind perfumery that has been crafting exotic fragrances for over 200 years, making it arguably the oldest perfume shop in India. While their scents cast a spell on the erstwhile nawabs and the crème-de-la-crème of Indian society, today, their perfumes are available to everyone.
The perfumery uses the traditional deg bhapka distillation techniques to extract natural perfume oils such as Ruh (pure distillate extract) and Attar (distillate extract over a pure sandalwood base) from a variety of flowers, woods, spices and herbs.
Location: 320, Dariba Kalan, Delhi 110 006
Book your stay at Haveli Dharampura on Booking.com here
Book your stay at Haveli Dharampura on Agoda.com here
Haji Khuda Buksh Nabi Buksh, Kolkata – Since 1824
View this post on Instagram
Established in 1824, Haji Khuda Buksh Nabi Buksh in Kolkata has a storied history that began when the current owner's forefathers moved from Lucknow to the City of Joy. Neyazuddin Allah Buksh, the eighth-generation proprietor, continues the legacy of this remarkable store. The shop houses innumerable types of attar (or ittar) in large decanters. These fragrances include khus (which cools the body in the summers) and a variety of roll-on attars suitable for people across ages.
Buksh's attars are manufactured in Kannauj and Lucknow, and then brought to Kolkata, where they are available at various price points ranging from INR 50 to INR 4,000. As per a conversation about his distinguished clientele with Telegraph India, Buksh said, "Netaji Subhas Chandra Bose, along with his aides, would drop by at our shop in the early 1940s, as he was a big admirer of attar. His favourites were rose and rajnigandha." The shop's glorious history includes other famous customers like Kazi Nazrul Islam, Liaquat Ali Khan, Sheikh Mujibur Rahman and more. "I've heard stories of how Jawaharlal Nehru would come here whenever he was in Kolkata. Another of our famous customers was Rabindranath Tagore. Members of the Tagore family continue to purchase attar from us to this day," Neyazuddin added.
Location: 87, Maulana Shaukat Ali Street, Kolkata
Izharson Perfumers, Lucknow – Since 1928
View this post on Instagram
Located in the City of Nawabs, Izharson Perfumers has been a fragrant presence since its inception in 1928 when founder Izhar Ahmed began manufacturing and selling fragrances in the Shahi Bazaar at Chowk, Lucknow. The shop not only specialises in perfumery but also aims to display Lucknowi tehzeeb and adab to all its patrons, as noted on its website, offering customers not just fragrances but an experience.
Izharsons prides itself in creating long-lasting fragrances that cater to all. From perfumes to attars, they have a variety of fragrances for personal use. Other products on their portfolio include bakhoor, incense sticks, air fresheners and car fresheners, offering a variety of fragrances to suit all your needs.
Location: Akbari Gate, Chowk, Lucknow and C – 5, Janpath Market, Hazratganj, Lucknow
Book your stay at Hyatt Regency Lucknow on Booking.com here
Book your stay at Hyatt Regency Lucknow on Agoda.com here
Ajmal Perfumes, Mumbai – Since 1951
View this post on Instagram
With over 240 retail outlets across the Gulf countries and the rest of the world, as well as a strong online presence, Ajmal Perfumes India is one of the most popular homegrown brands today. Its roots lie in Hojai, Assam, where rice farmer Haji Ajmal Ali set out to search for Oudh from the Agarwood tree. After procuring this scent, he moved to Mumbai to begin his journey as a perfumer.
The brand is known for its bespoke, handcrafted scents that last long and make you smell amazing. The brand has also collaborated with House of Anita Dongre to create perfumes for her brands AND and Global Desi, and has won accolades for other perfumes it manufactures. You can buy their products from over 3,000 retail points (including stores and online platforms) as well as from their own website.
Location: Several outlets across India
Jain's Perfumers – Since 1979
View this post on Instagram
Jain's Perfumers was established in 1979 within Delhi's Palika Bazaar, a popular underground shopping complex. The store specialises in essential oils and natural perfumes with floral, woody and citrusy notes, to name a few. The store has also created signature fragrances such as Al Habeeb, Night Queen, Tohfa and Juhi with exotic oriental fragrances.
They provide a variety of traditional, modern and unique scents crafted using fine ingredients and fresh florals to ensure longevity. You can even opt for gift packs or custom perfumes for yourself or as a special gift for your loved ones.
Location: 172 Palika Bazar, Gate No 6 New Delhi
SUGANDHCO/Scentkart, Luknow – Since 1980
View this post on Instagram
SUGANDHCO has its roots in the legacy of perfumer Chhunnamal Vijayvergiya, who began the craft of perfumery back in the 1850s. His perfumes were popular amongst the nawabs and rasookdars of Lucknow and with time, the business changed and adapted to modern tastes and techniques.
The SUGANDHCO brand was established in 1980 and is known for unique varieties such as cooler perfumes and floor fragrances. They also have an online store, ScentKart, through which customers can purchase their wares.
Not just that, another homegrown perfume brand, ISAK (you may remember them from Shark Tank India's season 1), also stems from the same legacy of Chhunnamal Vijayvergiya, and creates bespoke artisanal fragrances made with Indian ingredients.
Location: D-4 Janpath Market, Lucknow
(Hero and featured image credit: Leonie Broekstra/Shutterstock)
Related: Carry The Scent Of Spring Wherever You Go With These 9 Nature-Inspired Fragrances
Frequently Asked Questions (FAQs)
– How old are the oldest perfume shops?
The oldest perfume shop in the world is in Santa Maria Novella in Florence, and it is 600 years old.
– Where can I find the oldest perfume shops?
Old perfume shops can be found across the world. The oldest in the world is in Florence, while the oldest perfume shop in India is Gulabsingh Johrimal, located in New Delhi.
– Do the oldest perfume shops only sell traditional fragrances?
The oldest perfume shops in the world sell both traditional and modern fragrances. Most house a range of attars and sprayable perfumes.
– Are the perfumes at these shops more expensive than modern brands?
Depending upon the scent you prefer, the perfumes at these shops can be more affordable or expensive depending on their quality and staying power.
– Can I find unique or rare fragrances at these shops?
Of course! These old perfume shops are known for crafting signature scents and blends using traditional and modern methods, creating unique and rare blends.
– Do the oldest perfume shops offer personalised fragrance consultations?
You can always ask perfumers at the shop for recommendations and more information about different scents.
– Do the oldest perfume shops offer online shopping options?
Some brands such as SUGANDHCO, Gulabsingh Johrimal and Ajmal Perfumes have made their products available online, in addition to their offline store(s).
– Are the fragrances sold at these shops natural or synthetic?
Most of the oldest perfume shops pride themselves in extracting fragrances from natural extracts such as sandalwood, agarwood, roses, lilies, jasmine and other raw materials.
– Can I learn about the history of perfume-making at these shops?
Yes, in case the shop staff and owners are free, you can chat with them about the shop's history and the history of perfume-making, both in India and internationally.
Written By