According to a 2020 National Wildlife Database report, India is home to 106 national parks that preserve almost 70 percent of the world's wild tigers and lions, sloth bears, birds and flora. They also offer scenic beauty and climatic diversity through their sprawling campuses and thriving ecosystem. By Moyena Parikh
Many of these famous national parks are in northern India. The list includes the country's oldest national park Jim Corbett, South Asia's largest national park Hemis, and the Ranthambore National Park known for being the home to the Royal Bengal tigers.
Because of the geographical diversity of North and North-West India, which includes the mighty Himalayas range, the great Indian Thar Desert and the Aravalli range, the mineral-rich soil in this region supports varied vegetation and plant life. This also creates a conducive environment for the endangered species of animals and birds to thrive.
However, with so much beauty to behold, it's tough to choose which of these natural wonders you should plan a trip to first. Nevertheless, we have listed the best national parks you can visit in northern India, as well as factors like accessibility, wildlife, camping opportunities and breathtaking natural landmarks that will help you narrow down your search.
Here are some popular national parks you can explore in the northern states of India
Jim Corbett National Park, Uttrakhand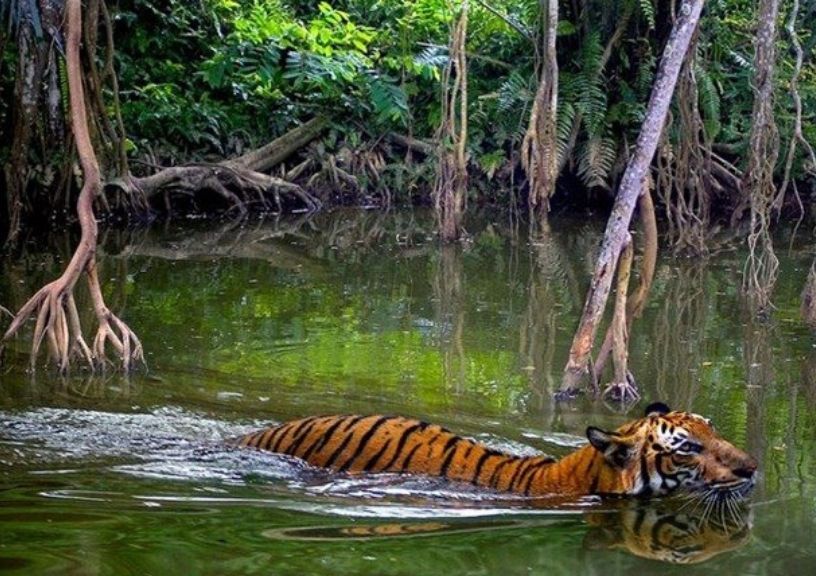 The Jim Corbett National Park is the oldest national park situated in Nainital. Founded as Hailey National Park in 1936, it is a part of the Corbett Project Reserve initiated to protect endangered species, including the Bengal Tiger.
Measuring 520 square kilometres, the landscape of the national park includes grasslands, hills, riverine belts and marshy depressions. Apart from the endangered tigers, other rare animals that can be spotted at Corbett are otters and the endemic fish-eating crocodile.
The Jim Corbett National Park is blessed with freshwater and alpine flora, which includes Sal trees, Khair-Sissoo trees, Ber shrubs and numerous bamboo and flowering plants.
Witness a variety of birds during your visit to the national park from October to February. For an amazing trekking experience with less crowd, visit Jim Corbett from July to September. Explore the national park from March to mid-June if you want a great rafting experience and see the maximum number of animals and birds.
Additionally, you can explore its five tourist zones — Bijrani Safari Zone, Jhirna Safari Zone, Dhelna Safari Zone, Dhikala Zone, and Durga Devi Zone — in jeeps and elephant safaris.
Ramnagar is the nearest railway station and is well connected with all major cities by road. The Jim Corbett National Park is about 1.2 kilometres from the Ramnagar railway station and the Jolly Grant Airport in Dehradun is the nearest airport.
Rajaji National Park, Uttrakhand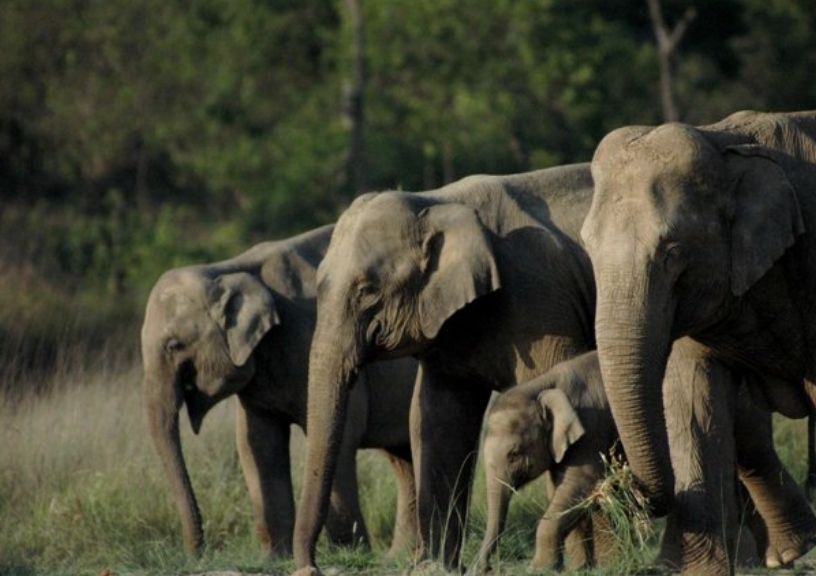 The Rajaji National Park was formed in 1983 by integrating the Rajaji Wildlife Sanctuary of Uttaranchal with Motichur and Chilla wildlife sanctuaries. It was named after the late freedom fighter Shri C. Rajgopalachari, who was famously known as Rajaji. The Rajaji National Park covers an area of 820.42 kilometres spread over the districts of Pauri Garwal and Saharanpur in Dehradun and Uttarakhand, respectively.
It encompasses the Shiwalik range and its many ravines that support the national park's rich flora and fauna. Classified as the Indus-Ganges Monsoon Forest type, the region includes semi-evergreen, mixed broad-leaved forests and Terai grasslands. You can also find many sal trees here.
Boasting a diverse fauna of about 400 bird species, including Greater Scaup, White-naped Woodpecker and Great Hornbill, the national park also houses exotic animal species of tigers and elephants. The 40-kilometre-long Phanduwala-Kansrao-Motichur trail that traverses through the thick forests is a major tourist attraction, especially for birdwatchers.
However, you can only visit the Rajaji National Park from 15 November to 15 June with entry permits. Visitors can opt for jeep and elephant safaris provided by the Forest Department.
The nearest railway station is in Haridwar, and the nearest airport is Jolly Grant in Dehradun. It is almost 200 kilometres from Delhi by road.
Great Himalayan National Park, Himachal Pradesh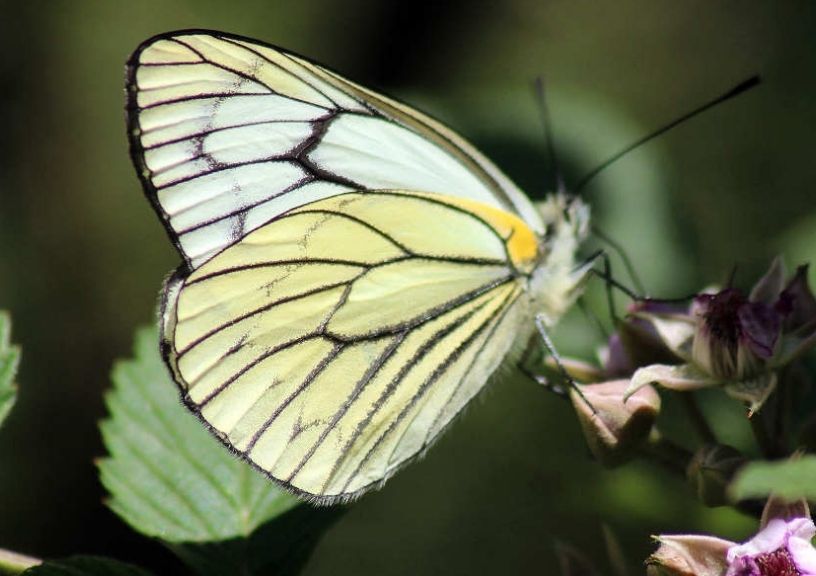 Although the Great Himalayan National Park was formed in 1984, it gained the status of a national park in 1999. Located in Kullu, it is spread over 754.4 square kilometres and touches the borders of Pin Valley National Park, the Rupi Bhabha Wildlife Sanctuary and the Kanawar Wildlife Sanctuary. It earned a World Heritage Natural Site status in 2014.
The national park is home to many endemic and endangered species of flora and fauna. There are about 832 plant species, 209 bird species, 31 mammal species, 12 reptile species, nine amphibian species and 125 insect species.
Tirthan, Jiwa Nal, Parvati and Sainj valleys serve as major tourist attractions for trekking, camping, rock-climbing and birding. The national park also provides seasonal-based activities such as trout fishing and local fairs planned throughout the calendar year.
The Great Himalayan National Park is open throughout the year, except December to March because of heavy snowfall. While the nearest railway station is Joginder Nagar, the nearest airport is in Bhuntar, Kullu. You can also avail bus and taxi services for your visit.
Dudhwa National Park, Uttar Pradesh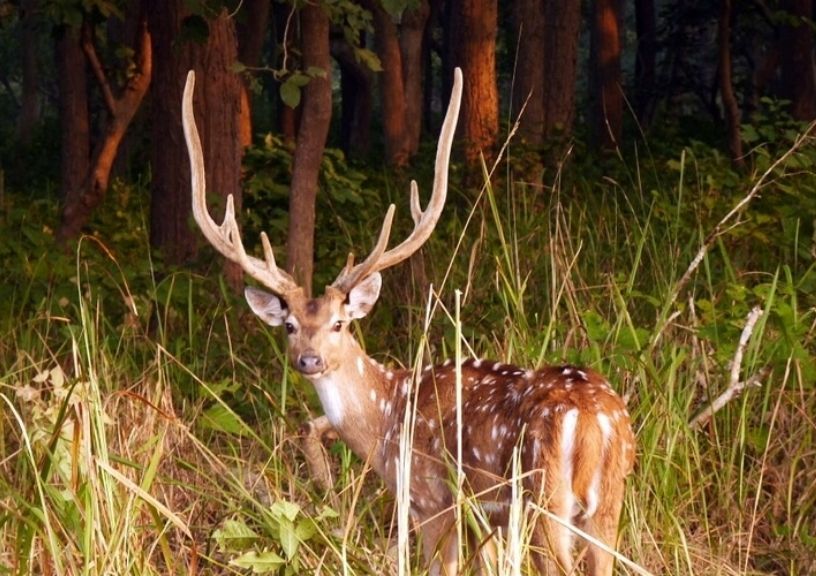 The Dudhwa National Park has been known as a tiger reserve since 1879, but it became popular as a national park in 1977. Eventually, it was included in Project Tiger in 1988. Spread over 811 square kilometres, the Dudhwa National Park comes under the Terai belt in Uttar Pradesh, which houses the most endangered ecosystems in the world.
You can find 450 bird species, including Hornbill, Red Jungle Fowl, Peafowl, Bengal Florican, Fishing Eagle and Bengal Florican, in the region other than endangered animal species such as tigers, rhinoceros, deers and elephants. The diverse flora includes sal, jamun, shisham trees along with large grasslands and wetlands, and the landscape of the national park situated on the Indo-Nepal border looks more appealing with flowing streams, creeks and lakes.
The best time for sightseeing and safaris is from November to May, and you can explore the national park in jeeps and mini-buses.
The nearest rail-head is Dudhwa, which is about four kilometres from the national park. The Chaudhary Charan Singh Airport in Lucknow is at a convenient distance from here. You can also reach the Dudhwa National Park via state and private buses, plying from Palia to Dudhwa.
Ranthambore National Park, Rajasthan Whenever one thinks of the Ranthambore National Park, the first association that comes to mind is the tiger. This national park was known as Sawai Madhopur Game Sanctuary in 1955 and was included in the Project Tiger in 1973. It got the stamp of a national park in 1980, while the adjacent forests earned the names Sawai Man Singh Sanctuary and Keladevi Sanctuary.
Covering an area of 500 square kilometres, if the Sawai Man Singh Sanctuary is taken into account, Ranthambore is a treat for history, nature and exotic wildlife enthusiasts alike. The must-visit places are the UNESCO World Heritage Site Ranthambore Fort, the ancient ruins dotted across the region and the Trinetra Ganesh temple.
Other than sheltering the majestic Royal Bengal Tigers, the national park is home to 40 species of mammals, 35 species of reptiles and 320 species of birds. Some of the popular species you will spot are leopards, sloth bears, deers and marsh crocodiles. You will find Graylag Goose, bronzed-winged jacana, Asian Palm Swift, Indian Gray Hornbills, Nightjars and many other birds around the Padam, Malik and Rajbagh lakes.
The ideal seasons to visit are during summers and winters to spot these birds and animals; although the winter months are recommended for sighting tigers in the park.
There are 10 safari zones in Ranthambore National Park which can be explored in jeeps or mini-buses. The nearest airport is about 182 kilometres away in Jaipur while the most convenient railway station is Sawai Madhopur.
Valley of Flowers National Park, Uttrakhand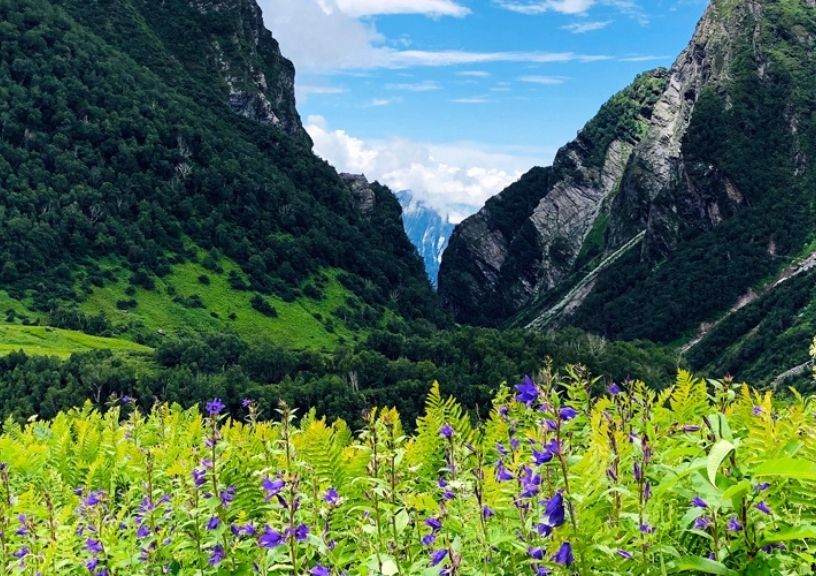 Situated in the Chamoli district, the Valley of Flowers National Park is a popular UNESCO World Heritage Site and is known for its sprawling floral meadows against the divine Himalayan backdrop. It was accidentally discovered in 1931 by three British mountaineers.
Measuring 87 square kilometres, the national park is a part of the Nanda Devi Biosphere Reserve. The breathtaking landscape is accentuated with sub-alpine forests, waterfalls and wild streams. Nature lovers will be delighted to know that at the Valley of Flowers National Park, you can find 600 species of exotic flowers, including orchids, poppies and daisies. Animals like the grey langur, black bear, lime butterfly and snow leopard can also be spotted here.
It is open from May to October and is best explored on foot, though porters are also available. Trekkers will absolutely enjoy exploring this Himalayan route, while nearby Ghangaria offers a memorable rural experience to tourists.
Govind Ghat serves as a central point by road, rail or air. You will then have to trek 16 kilometres to reach the Valley of Flowers. The nearest airport is Jolly Grant and the nearest rail-head is in Rishikesh.
Dachigam National Park, Jammu and Kashmir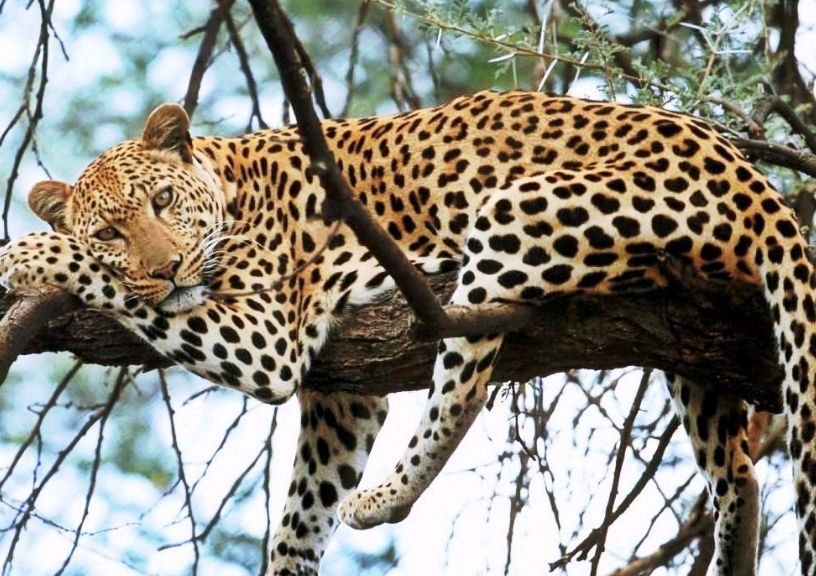 Resting on 141 square kilometres of land, the Dachigam National Park was created after relocating ten village communities in 1981. Known as a protected area since 1910, it is divided into lower and upper segments because of the variations in the terrain, altitude, flora and fauna.
It is the only national park where the Hangul, or Kashmir stag, is found. Other wildlife species that can be spotted here are Himalayan brown bear, Pygmy Owlet and the leopards. Trekkers are highly recommended to visit the Sangargulu Valley to sight these animals. You can also enjoy birding and spot the Cinnamon Sparrow and the Himalayan Monal, among other species.
Nature lovers will be in awe of the lush green environs, comprising alpine trees, pristine waterfalls, widespread shrubland, fruit-bearing trees and flowery meadows.
Although it is open for tourists throughout the year, the best time to explore the national park is between April and August. The nearest airport to reach the Dachigam National Park is Sheikh ul Alam International Airport, while the nearest rail-head is in Srinagar.
Hemis National Park, Ladakh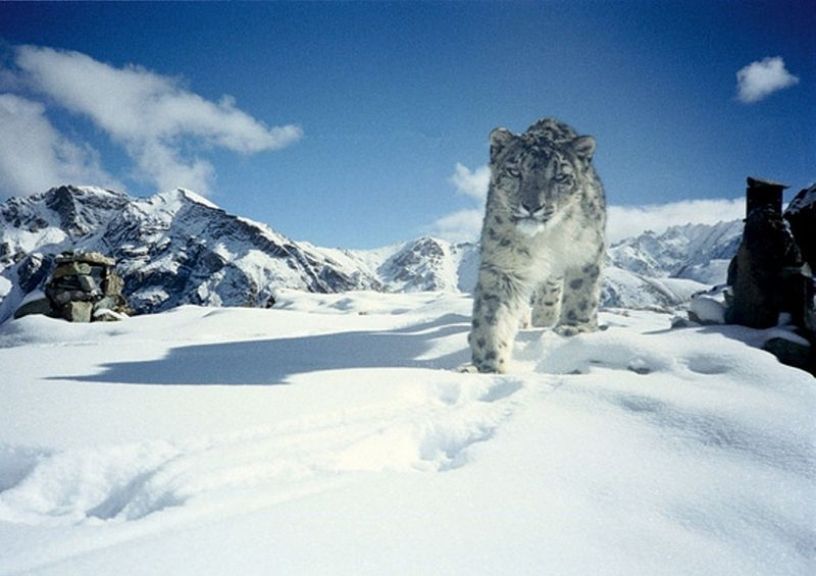 Founded in 1981, the Hemis National Park is known as the largest national park in South Asia. Spread over 4,400 square kilometres, the national park is located at an altitude of 3,300 to 6,000 metres, making it one of the highest national parks worldwide. It got its name from the Hemis Monastery that has been here since 1630.
The fauna is mostly dry as the area is under snow. However, the national park has various steppe and alpine trees, along with 15 medicinal plants.
Home to almost 200 snow leopards, the national park also has 16 species of mammals, such as Tibetan wolf, red foxes and Eurasian brown bear, and 73 birds, including golden eagle, Brown Accentor, Red-billed Chough and Himalayan Snowcock. The Hemis National Park is sheltering 1,600 residents across six villages.
The best time to visit the Hemis National Park is between May and October. While camping and trekking are popular tourist activities, paying a visit to the almost 400-year-old Hemis Monastery, from which the national park gets its name, is what makes the visit more memorable.
Jeep safaris and trekking are the best ways to explore the area. Leh is the nearest airport to the national park and is well-connected to major cities by road.
(Featured Image – Raghuram. A/CC-BY-SA-2.5,2.0,1.0/ Wikimedia Commons; Hero Image Credit – Ranthambore National Park)
Related: Gorgeous National Parks In Northeast India That You Must Visit