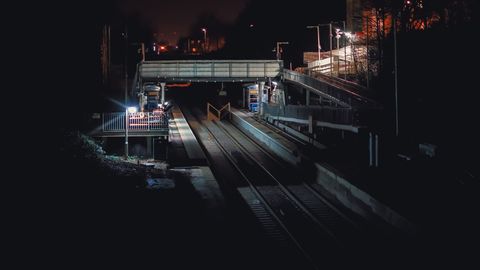 If you have ever thought that ghosts and spirits are confined to old forts and dilapidated buildings, it's time to reconsider. There is a high possibility that you might sense a paranormal presence while waiting for your train at a station during your next rail journey. With that in mind, let's embark on a spooky trip to some of the most haunted railway stations in India.
These railway stations have become infamous for disturbing incidents that range from shadows vanishing into thin air to painful cries. Many passengers have reported numerous bone-chilling experiences at these places. Are you brave enough to board a train to these eerie destinations?
Bookmark these haunted railway stations in India for a spooky tour
Chittoor Railway Station, Andhra Pradesh The people of Chittoor believe that the ghost of a CRPF constable, Hari Singh, wanders at the railway station in search of justice. According to a 2015 report by The Hindu, on October 31, 2013, the constable was attacked by RPF personnel and a few TTEs on a New Delhi-Kerala train. He got down at this station and was later taken to a hospital in Chennai, where he breathed his last owing to his injuries. As locals have felt his presence, they avoid visiting the station after dark.
This railway station is functional.
Barog Railway Station, Himachal Pradesh Barog, a quaint little town in Himachal Pradesh, is home to the longest tunnel on the picturesque Kalka-Shimla rail route. However, it is also famous for having one of the most haunted railway stations in India.
Legend has it that a British railway engineer, Colonel Barog, was trusted with the responsibility of constructing Tunnel No. 33, but owing to certain miscalculations, he failed. Following this, he was reprimanded by the government in front of his colleagues, which led him to shoot himself while he went for a walk with his dog near the tunnel.
Interestingly, he was buried very close to the tunnel as a tribute. Strangely enough, reports say that no one has been able to locate the grave for over a decade. Some accounts suggest that he hasn't left the place even after his death many years ago and his 'friendly' spirit casually chats with those who don't know about him.
This railway station is functional.
Dombivli Railway Station, Maharashtra Have you ever spotted a crying woman at Dombivli Railway Station in Maharashtra who says she wants to go back to her home but can't? Numerous people have, and it is said to be the ghost of that woman who died in one of the many accidents that have taken place there. Also, people have shared experiencing the presence of peculiar energy and heard scary wails at this haunted railway station in India.
This railway station is functional.
Naini Railway Station, Uttar Pradesh The Naini Jail is situated very close to the Naini Railway Station, near Prayagraj in Uttar Pradesh. Locals say that they have witnessed the spirits of political revolutionaries and freedom fighters at the station, who were tortured in the jail. Although the ghosts wandering in search of peace don't harm anyone, their pain can be felt.
This railway station is functional.
Begunkodar Railway Station, West Bengal Reportedly, the station master of Begunkodar Railway Station in Purulia once saw a woman clad in a white saree running along the railway tracks. According to locals, the ghost was of a girl who had committed suicide on the tracks, and gradually, more people reported seeing the woman's spirit and requested the administration to act. The authorities, however, did not take any action.
Later, the station master and his family passed away under mysterious circumstances, paving the way for more rumours. As a result, trains stopped halting at the station, and employees started backing out. When the authorities couldn't hire new employees even after repeated attempts, it led to the closure of the railway station. Although it became functional again, the ghost fear prevails, and people avoid staying back after 5:00 pm.
This railway station is functional.
Rabindra Sarobar Metro Station, West Bengal The Rabindra Sarobar Metro Station in Kolkata is surrounded with spooky stories. The passengers of the last train of the day have often reported seeing shadows disappearing in a flash and hearing cries of women at the station. And as frightening as it may sound, some have shared experiences of feeling hot breath on their skin while waiting for their metro, only to turn back and see no one.
The staff and drivers have also seen figures floating on the tracks, making it one of the most haunted railway stations in the country.
This railway station is functional.
Ludhiana Junction, Punjab How far would you go if you love your job? A former computer reservation system officer at Ludhiana Junction was so committed to his work that he stayed back even after leaving this world. Locals say that even after his demise in 2004, his soul continues to take refuge in the office room he used to sit in. And, rumours have it that whosoever has tried to sit in his room has invited ill fate.
This railway station is functional.
Sohagpur Station, Madhya Pradesh This railway station near Bhopal is believed to be haunted by the ghost of a woman who cries in pain and agony, terrifying the people passing through this railway station. However, it is not just her cries that send shivers down the spine. Many people have reported hearing some other unsettling noises as well, adding to the mystery surrounding this station.
This railway station is functional.
(Main and featured image credit: Fas Khan/Unsplash)
Related: 15 Haunted Places In India That Are Sure To Send Shivers Down Your Spine
Frequently Asked Questions (FAQs)
Do haunted railway stations really exist?
Yes, people who have had paranormal experiences at railway stations believe so.
What are some famous haunted railway stations?
Some famous haunted railway stations include Begunkodar Railway Station, Barog Railway Station and Rabindra Sarobar Metro Station.
What kind of paranormal activities are associated with haunted railway stations?
Cries of women and disappearing shadows are some of the paranormal experiences that people have reported to have experienced at haunted railway stations.
What are the origins of these ghost stories at railway stations?
The origins of these ghost stories at railway stations are accounts shared by people who have experienced them.
Are haunted railway stations open to the public?
Yes, most haunted railway stations are open to the public.
Have there been any investigations into these alleged hauntings?
Yes, a few groups have investigated some of these experiences, but there's nothing concrete available about them.
Do people visit haunted railway stations for ghost hunting or tourism?
Yes, ghost tourism enthusiasts do visit haunted railway stations.
Are there any safety concerns associated with visiting haunted railway stations?
Most of these haunted railway stations are desolate after dark, so it is better not to visit them alone.
Are there any rational explanations for the reported paranormal activities?
There are no rational explanations behind these paranormal experiences.
Written By