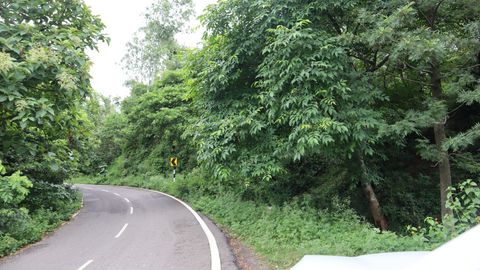 Lovers of the hills are always in search of quaint destinations for their next vacation. If you too are a mountain lover who lives in Delhi-NCR or Chandigarh, a great, super quick getaway is Morni Hills. Here's your complete guide to travelling to Morni Hills and making the most of your time at the hill station.
About Morni Hills
Morni Hills is located on the outskirts of Panchkula and makes for a great picnic spot or overnight stay, especially for those looking for weekend road trips from Delhi. At a height of just 1,220 metres, the hill station is quite low-lying, making it a destination that is easy to reach and stay at.
This is not all — Morni Hills is also an important archaeological site, thanks to the Thakur Dwar Temple, where carvings dating back to the 7th Century have been found. What's more, its location allows ardent birdwatchers as well as beginners to explore some rare and popular birds, including Wallcreeper, Crested Kingfisher, Blue Peafowl, Turtle Dove and a lot more.
View this post on Instagram
The hill station is located at the foothills of the Shivalik range, and is said to have gotten its name from a queen that ruled the area some 2,000 years ago. The road leading to the hill station is filled with pine trees, and as you ascend, the air turns crisp and clean — with the flora and fauna making it fragrant with their scent.
Places to visit around Morni Hills
Morni Hills is a great place to unwind over the weekend and spend some time amid nature (and escape the polluted cities). As you go on long walks, you will come across several small farms that belong to locals and are completely organic. You will also witness enclosed areas where medicinal plants are being grown on a large scale, maintained by companies dealing in ayurvedic products to be used at their factories.
View this post on Instagram
There are also some great destinations that one can visit in and around Morni Hills. Among them is the Morni Fort, which is currently maintained by art students. The small fort is a beautiful ruin surrounded by lush greenery. Located close by are also the Garhi Kotaha Fort and the Masoompur Fort. Tikkar Tal, a lake about half an hour from Morni, makes for a pleasing picnic spot. Also, be sure to visit the Thakur Dwar temple and get a glimpse of history.
Weather in the hill station
The temperature here is lower than Chandigarh, but the difference is only about four to five degrees. So, visiting in the rainy season and in the months of August-November, and February-April are great as they provide just the right temperature difference to make you feel comfortable and not sweat in the heat (or feel too cold).
How to reach
View this post on Instagram
By air: Chandigarh International Airport is the closest one, around 52 km away.
By train: Chandigarh Railway Station is the closest station, 41 km away.
Distance from Delhi: 254 kilometres
Distance from Chandigarh: 41 kilometres
Hero and Featured Image: Courtesy of Balkar Singh/Unsplash
Related: 10 Trips Within 150 Kilometres From Chandigarh That Will Make Your Weekends Better
Written By