An Encounter With The Quietly Disappearing Culinary Heritage Of Rajasthan's Merasi Community
In an attempt to bite into Rajasthan's meaty meals, a traveller stumbles upon the Merasi community quietly lurking on the fringes of society, echoing traditional tunes that lay forgotten and curating delicacies that rarely find a spot among menus of today. Text & Photographs by Neetole Mitra
Even though the glutton in me is sure that I chose my destination wisely, I find myself questioning the decided absence of non-vegetarian fares from all the food menus I encounter across Rajasthan. I have discovered the unsuspectingly tangy and spicy mirchi wada and enjoyed the perplexing gulab jamun curry for lunch in Jodhpur. In the walled city of Jaipur, I have carefully bitten into the ominous mirchi ki sabzi wrapped in puris. I have devoured endless plates of kadhi kachori in Alwar and have fallen in love with sev tamatar and kaju curry in the alleys of Pushkar. However, my inner carnivore remained deeply unsatisfied.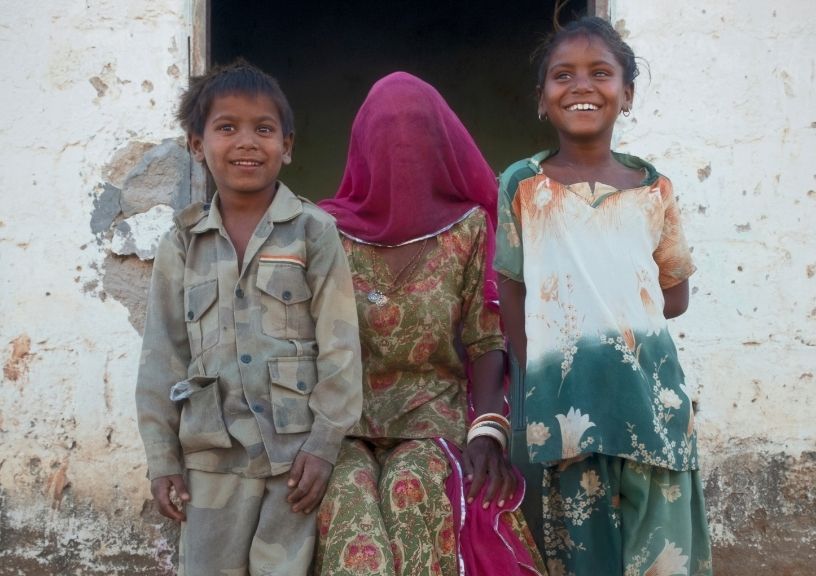 It would be incorrect to say that there is no meat to be found in Rajasthan. There are endless shops in Ajmer offering biriyani and steaming hot meat botis served straight from the grill with wafer-thin rumali rotis and pudine ki chutney. Moreover, there are plenty of elite eateries in Jaipur serving the Laal Maas curry. Yet none of these come close to that menacingly hot, authentic Rajasthani fare I am looking for.
Neither can I comprehend why despite being so close to the Thar Desert — with its numerous nomadic tribes and shepherding communities relying on meat-based cuisine for nutrition — Rajasthan merely wants to serve ker sangri and gatte ki sabzi to its travellers. Surely there is more to be found here. But where?
The desert may have decided to hide its wild delicacies from me, but I am determined to find them. Ergo, it is time to go offbeat. Deboarding a bus midway on the Jaisalmer-Barmer Highway (National Highway 68), I find myself amidst the chaotic market of a village called Shiv. On the fringes of the Thar Desert, this is seriously arid terrain. I'm surrounded by a clutter of vendors selling fruits and vegetables all carefully protected under layers of tarpaulin sheets; an occasional chai-pakora seller strategically punctuating this confusion of hawkers. Besides the far and few gnarly babul trees offering shade to dehydrated mongrels, there isn't much green cover. I stay put patiently enduring the heat and waiting for Bhutte Khan who runs a community space for musicians nearby.
Merasi's Musical Musings
A reputed Merasi singer, Bhutte Khan, travelled around the world, performing for many global audiences, before he started working for the upliftment of his community in 2007. Using Dharohar as a platform to promote the culture of his people and helping many find work, he has converted a few acres of land to set up a unique cultural village complete with recording studios, workshop spaces for musicians, stage for performances, and thatched-roof huts to host music and culture connoisseurs. With the pandemic unfolding, it has become a convenient space to host virtual performances. I find myself amidst a group of Rajasthan's legendary Merasi musicians who have gathered for a virtual SPIC MACAY show scheduled for the evening.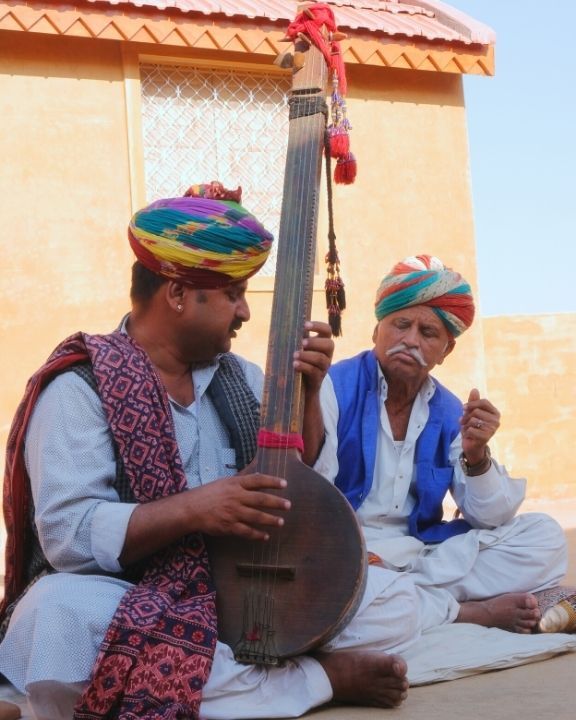 Lead vocalist Dada Khan has travelled 60 kilometres from Dedariyar village, with assistant singer Mulla Khan and dholak player Manjoor Khan. Bhugde Khan has come from Bisu to infuse notes of the Kamaicha into the performance, along with percussionist Roshan Khan, who will render the peculiar twangs of the morchang and bhapang.
The Merasis are custodians of Rajasthan's living and intangible heritage. Frequently found adding auditory character to the many forts of the state, the Merasis have since time immemorial served as professional hereditary caste musicians to various tribes across the region. With time, however, the Rajputs emerged as their most prominent patrons. With the Merasis maintaining the panegyric traditions by singing praises of their heroic deeds and keeping a record of births and deaths in their community. Crucial ceremonies and festivals were (and continue to be) incomplete without their presence. In exchange for their service, the Rajputs offered money (bakshish) and provided land and cattle to help sustain the Merasis.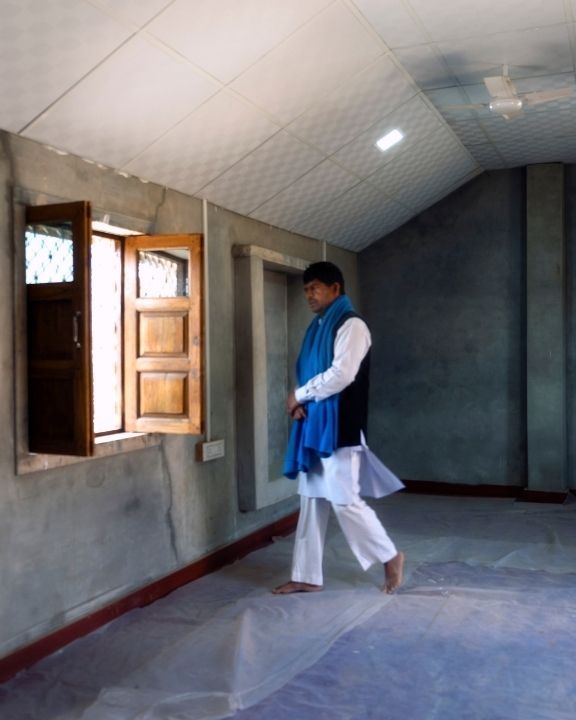 However, post-Independence, as the Rajputs lost their royal stature and wealth, this system slowly lost relevancy. Yet, despite poor earning opportunities offered by such an exchange, each Merasi family continues to be in service of a Rajput household even today, reinforcing the caste dynamics of the past. So much that their entire life is fashioned by this exchange. Like how all weddings of the Merasi community are celebrated at the peak of summers since they must perform for their patrons during the winter months when it's Rajput wedding season. Like how, despite being practicing Muslims, the Merasis primarily sing bhajans in praise of Hindu gods to please their patron, and sometimes even worship Hindu deities themselves.
"The Merasis live not just on the fringes of the Thar Desert, but also the social rungs of Rajasthan." Speaking to Kuldeep Kothari, custodian of oral and performative histories of the Thar Desert, helps shed some light on the social dynamics that play out in the lives of these folk performers. It also reveals why the nomadic cuisine I've come looking for is so hard to find in common-place destinations across the state. "Kept away from education and bereft of economic opportunities, the Merasis continue to depend on the landed and affluent tribes for sustenance. Because of this, the Merasis are called Manganiyars — those who beg or ask for handouts. Their community is, even today, treated as untouchables, despite many gaining global recognition and winning awards for their musical expertise. They must carry their utensils for events at the homes of their upper-caste patrons. Else they won't be served food nor get drinking water."
A Taste of Rajasthan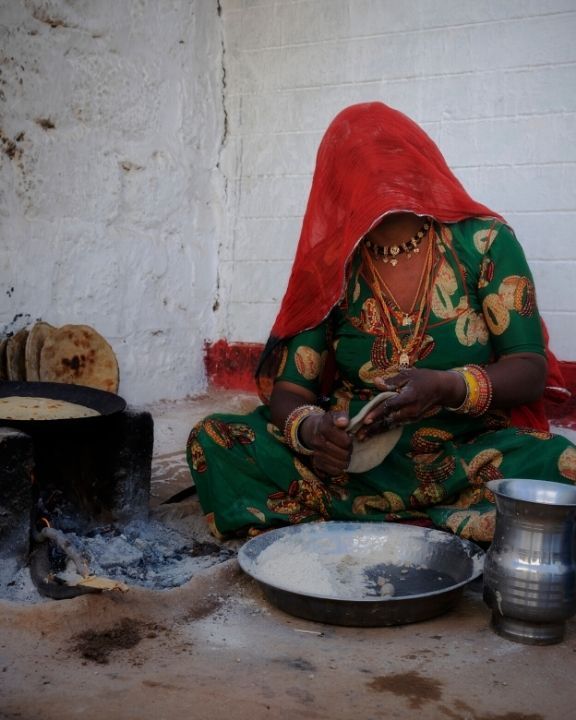 At the end of a riveting performance at Dharohar, dinner is on the house. Singer Mulla Khan has turned a chef and brewed an aromatic affair. The hall at the end of Dharohar, that serves as the kitchen, is occupied by a few who keep him engaged in a lively conversation as he churns a fury red curry simmering in a degchi balanced precariously over a small stove. He's making the famous Laal Maas curry and I can taste the sharpness of the spices in the flavours that fill the room. Dinner will be served shortly with bajre ki roti and desi chhach which, I am warned, might be too sour and pungent for my liking. Another well-meaning word of caution is shared – "don't tell the people in the village that we cooked meat for you. They might not like it."
Bhutte Khan is the perfect host. For him, this means serving an option of wheat chapatis for the benefit of his guests who might not prefer the more fibrous bajre ki roti. He's almost alarmed when I refuse the atta roti and go for the local bread instead relishing it with the melt-in-mouth delectable meat preparation. I realise that eating with the Merasis is akin to breaking a social barrier, which they also practice ardently. Like when a visit to the sapera colony comes with the advice of not accepting water at their house. It takes three more meals before the Merasi community is comfortable with me eating what they eat. It is a casual lunch gathering after a short ceremony where Manjoor Khan takes on a new disciple eager to master the Dholak. The food has been sent from home and prepared by the unseen wives of the artists hosting me. It is a simple spicy, garlicky and juicy meal – the bajre ki roti is mashed and mixed with daal and lehsun ki chutney and sipped from the plate. It's filling and acts as a perfect refreshment under the afternoon sun.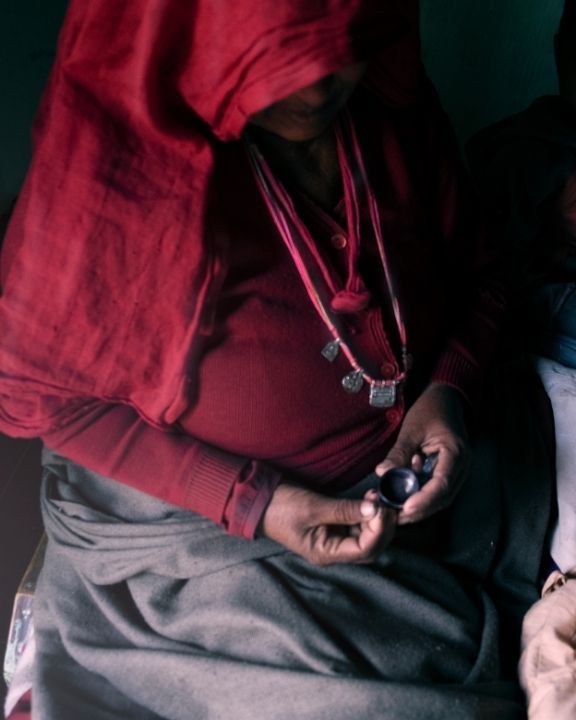 Besides music, the Merasis are also custodians of the indigenous culinary traditions of the Thar desert that have evolved over centuries dictated by the rules of the landscape they inhabit. Their curries are cooked in the juices of the meat. At best, raw butter is used, which is available in abundance compared to water. The use of hyper-local ingredients, like chillies, adds a peculiar flavour to their cuisine that would be hard to find elsewhere.
"There's a soupy meat curry that the Merasis make. It's called Khada maas or Akha. It's a delightful affair." Kuldeep Kothari reminisces about his meals with the community. "The concept of marination doesn't exist. All ingredients are tossed into the handi and the lid sealed with atta." He also mentions a chutney served along with the main dish made by grinding local red chillies, garlic cloves and an indigenous sour fruit called kachri.
A conversation with Dr Rahul Ghai reveals some more. Dr Ghai has been studying the tribes of the Thar Desert for over two decades and shares an academic perspective on the subject."There are usually two kinds of cooking styles in the desert. One is handi-based, and the other is hearth-based. In hearth-based cooking, the meat is stuffed with spices and rice and slow-cooked in a ditch in the soil. It is a lavish preparation and was common practice during the leisurely monsoon months in remote dhanis. Though, it would be hard to find hearth cooking now. We've lost it to time."
After hearing of these preparations, I can't help but wonder why Mulla Khan decided to cook laal maas for us at Dharohar. More so, since the curry belongs to the Rajputs, originating with their shikar cuisine.
"It is difficult to put history in watertight compartments when it comes to the nomadic tribes." Dr Ghai observes. "The Rajputs are an influential community and enjoy easy access to the hospitality industry and the media, so their narrative often gets more prominence. It's not like the royals did their cooking when they went hunting. They often employed the local tribesmen to take care of these tasks for them. This kind of open-air cooking is very similar to what was also practised by the nomadic and shepherding tribes of Iran and Afghanistan – and is known as the grassland mutton cooking technique. Such culinary customs have been practised for centuries in the Thar Desert. Moreover, the Laal Maas made popular by the Rajputs, went through the filter of a 'civilised' kitchen where many ingredients changed. The raw butter became clarified; whole spices were grounded, and the quantity of chilli mellowed down to suit a more sophisticated palate."
A Dying Culture It is this act of mellowing down or filtering through a lens of "civilisation" that lies at the heart of the Merasi identity in the Thar Desert – a region that has been the site of conflict between nomadism and civilisation for centuries. The scars of this battle are seen in the railway tracks laid down by the British during the 19th century, marginalising and displacing the Banjara and Balaid tribes by taking away their monopoly on trade across the Thar Desert and leading to the decline of a flourishing pastoral economy. It is visible in the fence-protected patches of land growing cash crops like cotton and aggressively limiting the free movement of shepherding communities and their herd. It is found in policies that have banned the sale and import of Camel meat leading to reduced demand and value for the animal in prominent animal fare across the state contributing to a decline of camel population in the region.
This barter of civility in exchange for nomadism is apparent when Kuldeep Kothari mentions how the harmonium is slowly replacing traditional instruments like the Ravanhatta and Kamaicha in the performances of the Merasi. It is also apparent in the growing numbers of youth keen to take up 'modern' professions, instead of their hereditary professional identity (I met two civil servant aspirants in three days at Shiv). Maybe the Merasi community themselves, in an attempt to climb the social ladder, will eventually stop eating bajre ki roti with spicy meat curries and all that will survive is the laal maas curries of Jaipur's elite restaurants, sobered down mementoes of the Thar Desert's culinary heritage. Till that happens, I know where to find my fill of Rajasthan's wild delicacies and will return to Shiv for more such gustatory delights.
Related: A Crash Course On Community-Based Tourism & Its Importance Right Now