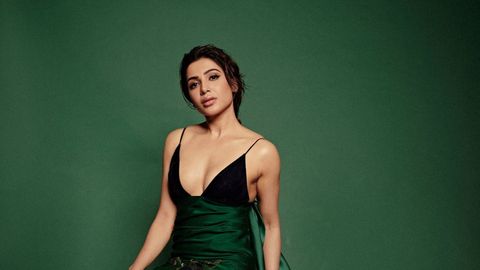 Nobody is immune to the charms of Kashmir, be it the snow-capped mountains, the views of frozen dal lake, walking through the apple orchards or skiing over fresh snow, the UT comprise of a beauty that is difficult to explain in words. Kashmir always manages to leave an impression on the minds of its visitors and actor Samantha is one of them as well.
Kashmir is also referred to as paradise on Earth and rightly so. If you have ever been to Kashmir, Gulmarg and Srinagar to be more specific, you know that there is no place that comes close to the beauty of it.
Kashmir is a tourist magnate and every year the footfall increases many folds because it has something to offer everyone. Be it an adrenaline junkie who is looking for some adventure activities or someone who is just on the lookout for some peace and calm, Kashmir is your one-stop shop. You can ski here during the winter season, go for the gondola ride, enjoy the marvel of nature during a shikara ride, live in a houseboat, explore the apple orchards or trek the lengths of the mountains, the ultimate destination cater's to everyone's needs. It's not just us who believes it, superstar of the South Indian film Industry Samantha also seconds our thoughts.
Kashmir is one of Samantha's favourite destination A few months ago, the actor was in Kashmir and after her time there she shared a heartfelt post on her official Instagram account. The post had a couple of beautiful images from the place which is also known as the Switzerland Of India.
She captioned it, "Kashmir I will always have this piece of my heart that smiles whenever I think about you (sic)." Well, Kashmir has that charm. If you are also planning a getaway to Kashmir anytime soon, let us make the process a little easier for you.
How to reach Kashmir By air
Srinagar airport aka the Sheikh Ul-Alam International Airport Srinagar has good connectivity with all the major cities of India and the airport is located approximately 14 km from the city centre.
By train
At the moment, there are no operational railway stations in Srinagar. To reach Kashmir, the nearest station is Jammu Tawi Railway Station which is almost 300 km from Srinagar city centre.
By Road NH1 and NH 44 connect Jammu and Kashmir to the rest of the country which means that it is fairly easy to drive there.
Best time to visit Kashmir
To avoid the summer heat, the rest of the country travels to Kashmir during the months of March-May to enjoy the cool breeze. With the weather not being extremely cold, these months make for the best time to vacation here.
Main and Feature Image Credit: samantharuthprabhuoffl/Instagram
Related: A Snowy Affair: White Winter Destinations To Experience Snowfall In India
Written By