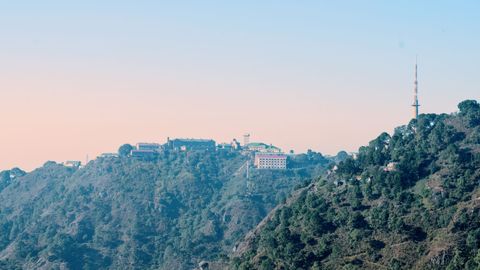 The quaint town of Kasauli was built during the British Raj. The destination is a great spot to visit in the summers to beat the heat, and in the winters, it makes for a beautiful, chilly place perfect for the warm sun. Here's your complete travel guide to the destination. By Anushka Goel
About Kasauli
The town and cantonment of Kasauli is located in the Solan district. The destination is located in Himachal Pradesh. It was established by the Britishers during the British Raj. The destination, a colonial hill station, is a beautiful summer town close to Chandigarh and New Delhi and makes for a popular summer destination. It is also an important railway junction in North India.
Book your stay at Hotel Fortune Select Forest Hill, Kasauli, here
What to do
Travellers can explore its markets and churches. Relish the local snacks and purchase woollen shawls, or spend time walking around and soaking in the natural beauty of this quiet hill station.
Best places to visit in Kasauli
Monkey Point The highest point in Kasauli, Monkey (or Manki) Point offers spectacular views of the Himalayas. It is believed that Lord Hanuman set his foot here when he went looking for the Sanjeevani Booti. The destination is reachable after a short trek. You will be able to soak in the snow-capped peaks, Sutlej river and several other stunning views.
Gilbert Trail If you're looking to spend time amidst nature, head to the Gilbert Trail. The 1.5-kilometre trail takes you through the mountains and offers views of the Himalayas. What's more, the trail is home to various species of birds.
Book your stay at Suryavilas Luxury Resort & Spa, Kasauli, here
Christ Church The old, gothic church is a stunning sight. The grey-bricked structure comes complete with green walls painting a stunning Victorian structure. The church is a quiet, calm place, and will make you feel at peace. What's more, the lush greenery is sure to excite you!
Mall Road Like most hill stations, Kasauli also has a Mall Road. Here, you can enjoy snacks such as bun-samosa, tea, Maggi and other yummy treats. Shop for local wares, purchase local wines and buy winter essentials such as shawls and shoes to make the most of your time there.
Book your stay at StayVista at The Mansion, Kasauli, here
Sunset Point A short walk into the Cantonment area will lead you to the Sunset Point. The place has a viewing gallery. Here, you will be able to see the beautiful sunset, along with the entire valley and the city of Chandigarh.
Best time to explore Kasauli
The best months to explore Kasauli are March to June, and August to November.
Hero and Featured Image: Courtesy of Zonayed Ahmed/Unsplash
Related: Landour Travel Guide: How To Make The Most Of This Hill Station Next To Mussoorie
Frequently Asked Questions (FAQs)
Question: How to plan trip to Kasauli?
Answer: Kasauli is easily reachable by road from Delhi and Chandigarh.
Question: What are the nearby places to Kasauli to explore?
Answer: Solan valley and Chandigarh are within 100 kilometres from Kasauli.
Question: Is Kasauli worth visiting in summers?
Answer: Yes. Being a hill station, Kasauli makes for a great destination to visit in the summers.
Written By