Jaipur, nicknamed the Pink City, forms a key point on the Golden Triangle, the tourist circuit that connects New Delhi, Agra, and Rajasthan. Jaipur's nickname is a nod to the pink buildings within its historic core, among them the iconic Hawa Mahal. By Meena Thiruvengadam
Jaipur is a city of sprawling palaces, ornate architectural masterpieces, and sweeping views of lush green hills and idyllic lakes. It is the first planned city in India and has earned UNESCO World Heritage status for setting an exceptional example of indigenous city planning. And its streets feel a little more manageable than the congested labyrinths of New Delhi and Mumbai, especially for first-time visitors to India.
This is a city that inspired Paul McCartney to write "Riding into Jaipur" and became the backdrop of The Best Exotic Marigold Hotel movies. It is a place to enjoy the performing arts, to feast on sumptuous meals in the banquet halls of royalty, and to reminisce about a bygone era of Maharajas. Ride elephants and explore Mughal architecture by day and enjoy some of the world's finest hotels by night.
Jaipur is also a shopper's paradise, offering everything from fine jewellery and intricate handmade art pieces to a variety of textiles.
Visitors can fly directly into the city or take a train, bus, or private car from New Delhi. The fastest route is by high-speed train, which takes just under four hours.
Time Zone
Jaipur is in the Indian Standard Time Zone. Indian Standard Time is 10 hours and 30 minutes ahead of Eastern Time, and India does not observe Daylight Saving Time.
Best Time to Go
Jaipur is warm all year long, but the most comfortable time to visit the Pink City is between October and February. This is when the days are clear and breezy and when visitors can expect to find the most pleasant temperatures. Visit between March and July and you may find yourself exploring sprawling castles that pre-date air conditioning in stifling heat. During these months, temperatures in Jaipur can soar above 100 degrees Fahrenheit (38 degrees Celsius).
Things to Know
Jaipur is the largest city in Rajasthan and the 10th most populated city in India. It is known as the Pink City, a nickname earned for a colour elegantly woven throughout the city. Jaipur forms one point of the Golden Triangle, a tourist trail that connects New Delhi, the Taj Mahal, and Rajasthan. Jaipur is only 167 miles (269 km) from New Delhi, but it is an entirely different world. Founded in 1727, Jaipur is the first planned city in India. Instead of a complicated labyrinth of roads, the city is built on a street grid that makes it easier to navigate than Delhi or Mumbai. Jaipur is a place to explore the palaces of pre-colonial India, dive deep into Indian history, and relax in world-class hotels.
Currency: Rupee
Language: Hindi, English, Dhundari
I don't speak Hindi: main hindi nahin jaanta hoon
I'm lost: main kho gaya hoon
I would like: main chaahoonga
Calling code: + 91 0141
How To Get Around
Trains: Jaipur has big ambitions for local transit, but it still has a ways to go in realising them. Jaipur's metro serves an eight-mile (12.8 km) stretch of the city and has just one operating train line. If you're looking to get around by public transit, the bus is a better bet.
Buses: Jaipur operates city buses, some with air conditioning. Several tour companies offer sightseeing bus tours as well.
Taxis: Several taxi companies operate in town and many can be booked online. India's iconic yellow and green auto rickshaws also are widely available.
Ride service: Ride sharing is available through Uber and Ola in Jaipur. Taxi and private car services also are available.
Best Hotels
Leela Palace
Address: Jaipur-Delhi Highway, NH 11, Kukas, Rajasthan 302028, India
Phone: +91 1426 350 000
Book Now
This gorgeous five-star hotel is a feast for the senses set against the backdrop of the Aravalli mountain range. Spread over eight acres, this hotel is a palatial respite that's home to some of the city's top restaurants.
Rambagh Palace Address: Bhawani Singh Rd, Rambagh, Jaipur, Rajasthan 302005, India
Phone: +91 141 238 5700
Book Now
This sprawling luxury hotel offers just 78 luxury rooms and suites set around a picturesque Mughal garden. The former palace of the Maharajas is home to some of the finest restaurants in Jaipur and has hosted guests including Prince Charles and Jackie Kennedy.
The Oberoi Rajvilas Address: Babaji Ka Modh, Goner Rd, Jaipur, Rajasthan 302031, India
Phone: +91 141 268 0101
Book Now
This luxury hotel pays homage to the heart of the Pink City, borrowing the colour throughout the property. If you're looking for lots of privacy, a dreamy pool to lay beside, and a personal experience to make you feel like royalty, you can find it here.
The Raj Palace
Address: Jorawar Singh Gate, Amer Rd, Chokdi Gangapol, Jaipur, Rajasthan 302002, India
Phone: +91 141 263 4077
Book Now
Walking into this heritage hotel is like entering another era. This is a place to revel in Jaipur's intricate design work and to lounge in luxury — or the gorgeous hotel pool. Don't miss the afternoon tea.
Jai Mahal Palace
Address: Jacob Rd, Civil Lines, Jaipur, Rajasthan 302006, India
Phone: +91 141 222 3636
Book Now
This epic hotel is set within 18 acres of gorgeous Mughal gardens. The five-star property has 100 rooms and suites in the heart of the Pink City, the historic inner core of Jaipur. It also boasts a spa, cigar bar, and private dining, unlike anything you've ever experienced.
Best Restaurants
Mohan Mahal
Address: Jaipur-Delhi Highway, NH 11, Kukas, Rajasthan 302028, India (Inside the Leela Palace)
Phone+91 1426 666 000
Website
This gorgeous restaurant takes the traditional Indian thali dinner to a whole new level. Just decide between vegetarian and non-vegetarian, and let the chef take you on a flavourful journey through several local specialities.
Preet Mahal
Address: Jaipur-Delhi Highway, NH 11, Kukas, Rajasthan 302028, India (Inside the Leela Palace)
Phone: +34 913 66 42 17
Website
This all-day restaurant offers poolside dining as well as an indoor dining room. It's more casual than Mohan Mahal and serves up a variety of traditional Indian dishes as well as pizzas and pastas.
Suvarna Mahal Address: Bhawani Singh Rd, Rambagh, Jaipur, Rajasthan 302005, India (Inside the Rambagh Palace)
Phone: +91-141-2385700
Website
This upscale Indian restaurant is housed in what was once a palace banquet hall. This is an opulent space filled with gilded mirrors and ornate frescoes and a place to feast on the favourite dishes of pre-Colonial Indian royals. Don't miss the Rajasthani spicy lamb curry or the chicken with mango and saffron.
House of Han
Address: Crowne Plaza, Sitapura Industrial Area, Tonk Road, Jaipur
Phone: +34 914 77 34 38
Website
Located inside the Crowne Plaza Hotel, this restaurant is the place to go for Dim Sum in Jaipur. Beyond Dim Sum, you'll find a variety of vegetarian and non-vegetarian dishes from China, Singapore, and Hong Kong. Don't miss the signature olive fried rice.
Steam
Address: Bhawani Singh Rd, Rambagh, Jaipur, Rajasthan 302005, India (Inside the Rambagh Palace)
Phone: +91-141-2385700
Website
If you like trains, you're going to love this lounge-style restaurant inside the Rambagh Palace hotel. The restaurant is set inside a restored steam engine and the recreated Victorian train station it's pulled into. On the menu, you'll find a variety of global cuisines including Indian, Mediterranean, Asian, and Mexican items. There's also a selection of pizzas.
Things to Do
Hawa Mahal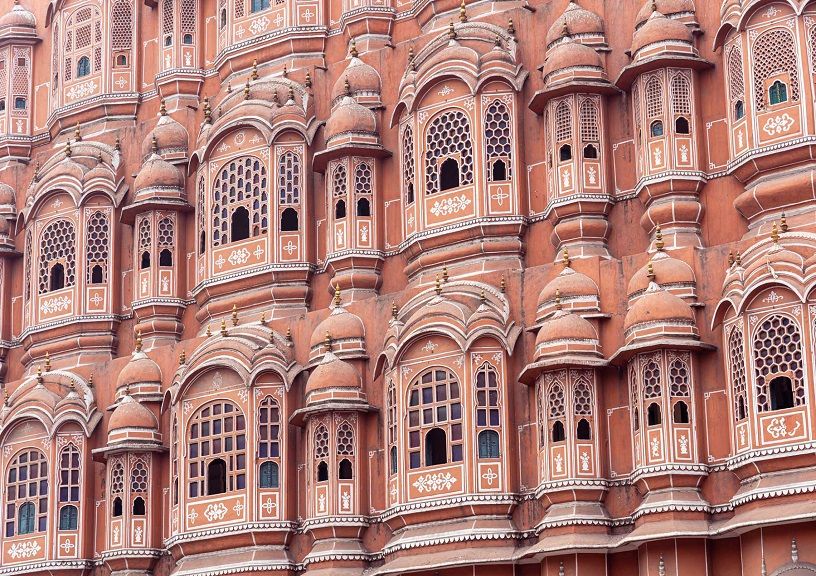 Address: Hawa Mahal Road
This is the heart of the Pink City. The five-storey architectural icon is made of red and pink sandstone and sits at the edge of the City Palace in Jaipur's historic core. Hawa Mahal's exterior looks like a honeycomb and boasts 953 small windows whose latticework has become famous around the world.
Amber Palace, also known as Amer Fort
Address: Devisinghpura, Amer, Jaipur, Rajasthan 302001, India
Website
This palace is about a half-hour drive outside of Jaipur, but it too has been declared a UNESCO World Heritage Site. This palace traces its history to 1592 and Sheesh Mahal, the hall of mirrors, is one of its can't-miss spots. Amber Fort is also a popular spot for elephant rides.
City Palace
Address: Tulsi Marg, Gangori Bazaar, J.D.A. Market, Pink City
Next to Hawa Mahal, this is one of Jaipur's top attractions. Until 1949, this was the ceremonial and administrative seat of the Maharaja of Jaipur. It hosted religious and cultural events in a collection of buildings surrounding open courtyards.
Jal Mahal
Address: Man Sagar Lake, viewable from Nahargarh Fort
Jal Mahal is a majestic palace rising from the centre of Man Sagar Lake. This palace seems to float on top of the glassy water, but a close look shows it's partially submerged. Just one of its five stories is now visible. The building isn't accessible, but you can catch a glimpse of its former glory from Nahargarh Fort.
Jantar Mantar Address: Gangori Bazaar, J.D.A. Market, Pink City, Jaipur, Rajasthan 302002, India
This is yet another UNESCO World Heritage Site you won't want to miss, especially if you're fascinated by astronomy. The Jantar Mahal is a collection of 19 astronomical instruments built in the early 1700s. It is home to the world's largest stone sundial.
Nahargarh Fort
Address: Krishna Nagar, Brahampuri, Jaipur, Rajasthan 302002, India
This magnificent force was once a key point in the city's defence. It's connected to the Jaigarh Fort and offers sweeping views of the city of Jaipur as well as the Jal Mahal, which is no longer accessible to tourists.
Jaigarh Fort
Address: Devisinghpura, Amer, Jaipur, Rajasthan 302028, India
Jaigarh Fort is located 500 feet above sea level, in the Aravalli mountain range. It was built in 1726 to protect the Amer Fort palace complex and overlooks the Amer Fort and Maota Lake.
Best Shopping
Johari Bazar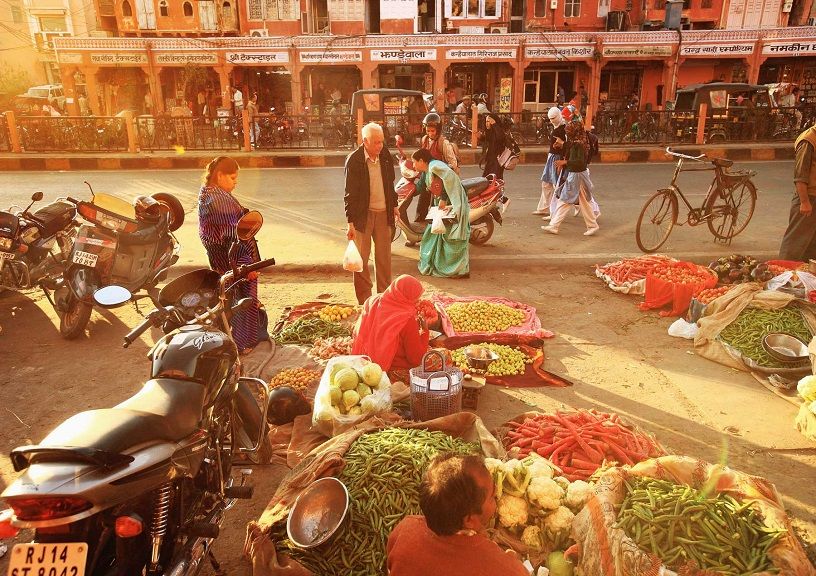 Address: Johari Bazaar Road
This is one of the best-known shopping spots in Jaipur. Johari translates to a jeweller, and jewellery is a market speciality. Shoppers can expect to find traditional Rajasthani jewellery made from gold and precious stones as well as a variety of traditional Indian clothing.
Bapu Bazar
Address: Bapu Bazaar Road
Bapu Bazar is the place to buy Mojari, a popular local shoe made of camel skin. Shoppers can also expect to find a variety of Rajasthani textiles, crafts, and traditional Indian clothing including lehengas and sarees.
Tripolia Bazar
Address: Kanwar Nagar
Tripolia Bazar is one of the oldest and busiest markets in Jaipur. This is the place to shop for bangles and colourful fabrics. You can also expect to find a variety of fine carpets and rugs.
Chandpole Bazar
Address: Pink City, Jaipur, Rajasthan 302007
If you've got a dream home to furnish, you'll want to pay this 300-year-old market in the heart of the Pink City a visit. This market is home to hundreds of vendors and is best known for its intricately carved marble statues.
Nehru Bazar
Address: Film Colony, Modikhana
You'll find a variety of gorgeous clothing items and textiles here, but the big draw is the juttis, a traditional North Indian style of shoe. Juttis are a Jaipur speciality, and you'll find the best of them at Nehru Bazar.
Neighbourhoods to Know
Pink City: This is the old city, the historic core of Jaipur where you'll find key sights including Hawa Mahal, City Palace, and several local markets.
Sindhi Camp: This modest residential neighbourhood is east of Pink City. This is a transport hub and a place brimming with authentic street food and affordable accommodations.
Weather
The days are marked with warmth all year long in Jaipur, though nights can get chilly from December to February. Summer comes early with peak temperatures that can rise above 100° Fahrenheit (37.7°C) in April, May, and June. Monsoon season runs from July to September, cooling down temperatures and lowering hotel prices for visitors who don't mind the rain. October to June bring cool breezes and moderate sunlight, making it the most popular time of the year to visit. You may want to pack a jacket, though. Temperatures can dip into the 40s (around 4-6°C) in January.
The following are average temperature highs and lows by month in Celsius.
January: 7.7°C to 23.3°C
February: 12.2°C to 27.2°C
March: 17°C to 33.3°C
April: 22.2°C to 38.3°C
May: 26.6°C to 42°C
June: 27°C to 40.5°C
July: 25.5°C to 35.5°C
August: 24.4°C to 33°C
September: 23.8°C to 35°C
October: 20°C to 35°C
November: 14°C to 30.5°C
December: 10°C to 25.5°C
Apps to Download
Aarogya Setu: Government COVID-19 Contact Tracing App
Incredible India: Official Tourism Ministry App
IRCTC Rail Connect: Indian Railways App
Related: The Only Guide To Shopping In Jaipur You Will Ever Need