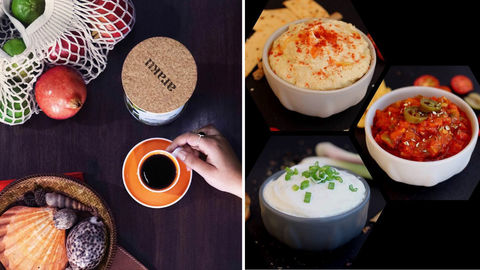 Editor's note: The global COVID-19 crisis has left each one of us deeply affected and we want to help. Burda Media India has organised a fundraising campaign to #FightBackWithTesting and donating RT-PCR test kits to the worst-affected areas in India, which will be secured from our testing partner Mylab Discovery Solutions. You can help these kits reach many more by donating for the cause or by adopting a kit. Click here to join the fight.
While we learn how to recreate that perfect marinara sauce, the creamiest hummus or even call our grandmas to give a tangy pickle recipe, here is a list of small brands who make a living out of it. After all, gourmet food with a dash of homemade touch is all the comfort we need right now! By Japleen Kaur
View this post on Instagram
If you start your day with a dollop of jam on nicely toasted bread, this brand will become your best friend. Fruit spreads as they call their products are a favourite among people from across India but especially in Pune where the production takes place on a farm. Born out of the love of feeding a kid healthy jams, they have flavours like strawberry-lavender or the recently launched mango variety like mango-chilli or mango-pepper to lure you in!
With a tiny set up in the foothills of Himalayas, Mudi Bars are granola bars that are also extremely healthy, but without compromising on taste. Indo-Italian couple Maanu and Mudita, who are ace bakers, craft these bars themselves with their in-house doggo, Kora inspecting the process. Our personal favourite flavours are cranberry-oats and coconut-date! Fair warning: you can't stop after the first bite.
Desperate times call for desperate measures, and that's proof with many people trying to make wine at home during this lockdown. But when you do go back to drinking wine that's been nourished and aged, do check out Fruzzante Winery that sells India's first Chikoo wine. It comes from the Chikoo-abundant region of Bordi in Maharashtra and has become a bucket list element for wine connoisseurs. They also have pineapple, mango, and strawberry wines on the menu, if Chikoo doesn't make the cut for you!
View this post on Instagram
Mumbai has a plethora of unique homegrown brands, and a recurring name is Dip Box. A product of a mother's dedication of feeding her children their favourite things, dip box features flavours that are sure to make you place an order or two. Roasted tomato hummus, Belgian chocolate dip, French onion dip and multigrain Lavaash are just a few of the items that taste and sound delicious.
A cottage industry brand that saw the light of the day when an NGO formed the Mahila Umang Samiti more than a decade ago. It empowers women in the lesser-privileged regions of Uttarakhand and gives them an opportunity to earn through these products. That been said Kumaoni's honey and chutneys are some of the best you'll ever eat. Organic, straight from the mountains, without a hint of preservative, and for a good cause — it can't and won't get better than this!
The first-ever canning company of Goa is now a household name. The brand is local to the region and a proud one at that. Upholding the community, no Goan meal is complete without Costa's sausages and curry powders.
View this post on Instagram
This brand gets its name from Araku Valley in Andhra Pradesh. Coffee is a must for most people, including us and this homegrown brand not only fulfils the craving in India but also in a boutique in Paris. With the temperatures soaring we recommend making a nice cold brew with perhaps the dark chocolate coffee mix from Araku! You can smell the aroma, can't you?
Related: #TnlSupportsLocal: Here's Why We Can't Wait To Go Back To These Iconic Indian Restaurants
Written By