Taking lazy strolls, frolicking in the water, and playing with the sand while chugging a pint of chilled beer or two. Sounds perfect, right? Varkala has all on offer. And much more. Whether you love boho vibes or you prefer a spiritual experience, this Varkala travel guide will not disappoint. Varkala is good for a relaxed beach holiday, while also being a site of religious interest. By Karan Kaushik
Spread over laterite cliffs, Varkala is blessed with blue-green seawater and ink blue skies. Over the last couple of years, Varkala has emerged as a popular backpacking beach destination. It's one of those places where you don't go with a long-preplanned list of must-dos.
Here, you won't feel pressured to squeeze in as many places in your itinerary as you can. Just lolling around by the sea or enjoying jazz music over bites of excellent seafood at a hippie café would be more than rewarding. If you are looking forward to a spiritual sojourn, Varkala is home to age-old temples, which have only peaceful vibes to offer.
Here is your complete Varkala travel guide
Things to do
Papanasham Beach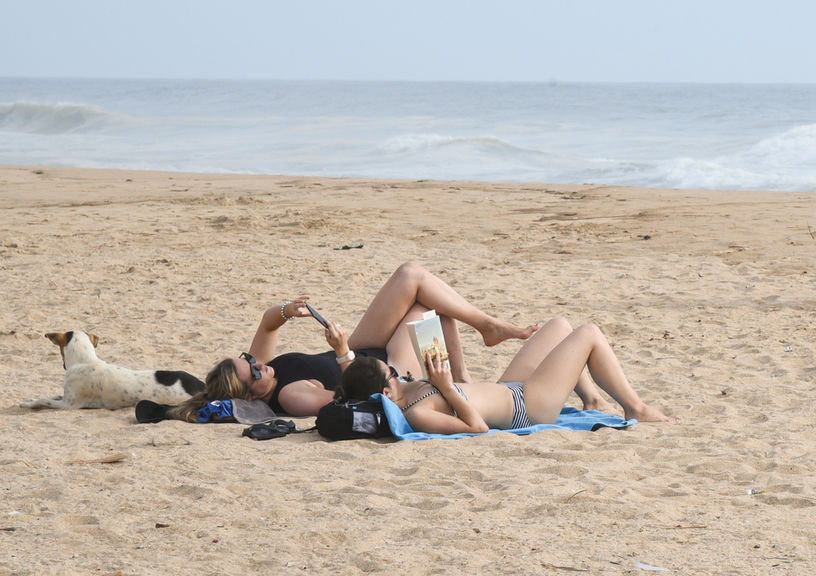 This scenic seashore is where all the action in Varkala happens. Also known as the Varkala Beach, Papanasham Beach draws visitors throughout the year, who come here to wash away their sins in its tranquil waters. The word Papanasham means washing away one's sins. It is believed that a dip in the pristine waters here will rid one of all sins. The water is safe for swimming between October and February. You can also hire deckchairs and sun umbrellas at a nominal price. For more assistance, you may contact the Tourism Police outpost here.
View this post on Instagram
The beach features red laterite cliffs. There are two major cliffs on this golden sand beach. These are the North Cliff and the South Cliff. While the North Cliff has great sea views and a bustling bohemian market, the South Cliff is more laidback. At the North Cliff, also called the Varkala Cliff, you will find amazing eateries and shopping outlets, which will leave you spoilt for choice. There's a little Tibetan market too, from where you can buy cool jewellery items and souvenirs.
You can also indulge in paragliding and surfing. For a rejuvenating experience, you may also visit the natural spring found here.
Thiruvambadi Beach
View this post on Instagram
Located near the North Cliff, this black sand beach is ideal, if you are seeking a more non-touristy and solitary experience. Sunsets at the beach are something you should totally look forward to. Thanks to the frond of coconut trees that embellish its landscape, the beach provides the perfect environs to spend a lazy afternoon reading a book or a refreshing swim. There are some nice hotels at the shore, including a Zostel hostel, which promises a fun stay.
Kappil Beach
View this post on Instagram

This picturesque golden sand beach is where the backwaters of river Kappil meet the sea. When here, you can enjoy boating with your friends and family. Rides are on offer on speedboats, canoes, coracles, rowboats, and country boats. If you are looking for some thrill, you can also surf here.
Odayam Beach
View this post on Instagram
If sundowners at a beach shack are your thing, Odayam Beach is the place for you. Located between Thiruvambadi Beach and Varkala Beach, this quiet beach is lined with happening shacks and small beachside eateries. Watch local fishermen at work, catch a lovely sunset during a canoe ride or simply soak in the sun, Odayam Beach is a must-visit for those seeking solitude and solace.
Janardhana Swamy Temple
View this post on Instagram
Located at Beach Road, this Vaishnavite temple dates to the 12th century. Adorned with ancient brass bells, the temple houses imposing statues of Lord Shiva and Lord Hanuman. The sanctum sanctorum is dedicated to Lord Vishnu. The temple is flocked by devotees in the droves, the majority of which, come to observe the last rites of their loved ones. Do keep an eye for the unique Lord Hanuman paintings here, where he can be seen in different poses.
Quick Tips for the temple visit: Be ready to climb a long flight of steps to reach the temple precincts. The temple has a strict dress code. Photography is prohibited in the sanctum sanctorum.
Anjengo Fort and Lighthouse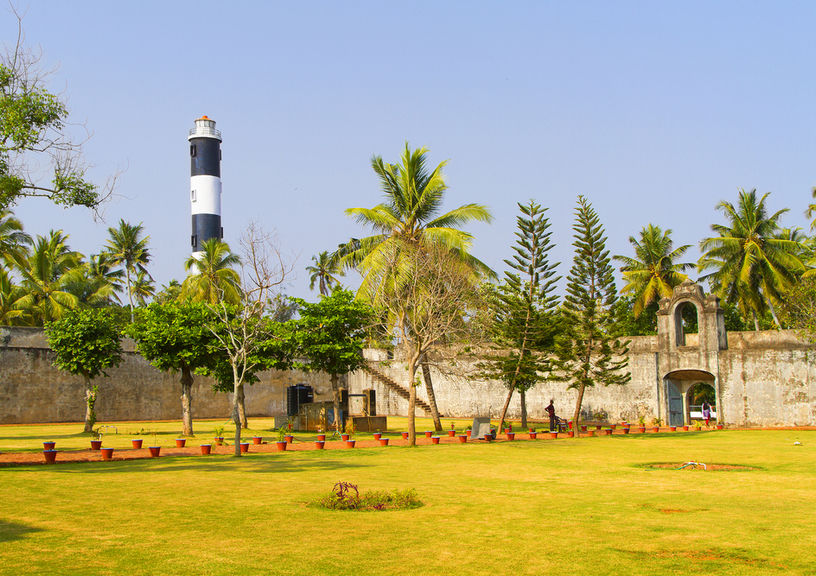 Take a scooter or auto ride to the fishing village of Anjuthengo or Anjengo, 20km from Varkala. While the fort stands as a reminder of the Portuguese and Dutch rule, there's not much worth writing back home. At best, you can laze around in the well-kept lawns of the fort and unwind. What makes up for the fort, however, is the historical lighthouse here. Known as the Anjengo Lighthouse or simply as the Varkala Lighthouse, it was constructed to guide the ships coming from Britain. Thankfully, you can climb up to the top of the lighthouse and capture stunning aerial shots of Varkala in your lens. From Anjengo, you can also take a ferry to visit the popular Shiva-Parvati temple at the Ponnumthuruthu or Golden Island.
Ayurvedic Massages
View this post on Instagram
Varkala is home to many Ayruvedic centres. Visit any Green or Olive Leaf-certified centre in the beachside hotels to pamper yourself with a restorative massage. Most of these centres also offer Yoga courses, and you must enroll in one if you are seeking a wellness trip.
Varkala Cultural Centre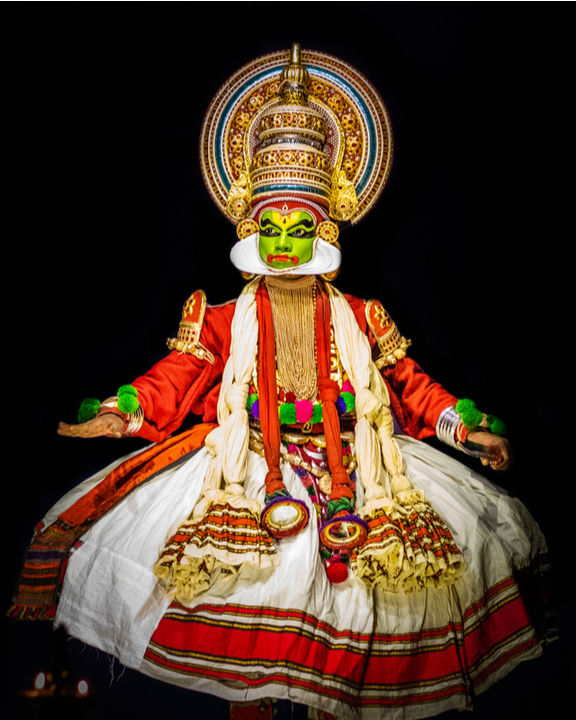 Any trip to Kerala would be incomplete without enjoying a Kathakali performance. Do make sure to visit the Varkala Cultural Centre and check if they are organizing Kathakali performances. There are regular performances during peak tourist season. Another place, where you may watch Kathakali performances, is the Kuttikkad Temple near the North Cliff.
Best time to go
November to March is the best time to visit Varkala. Monsoon is nice and beautiful too, but the seawater is not suitable for swimming and other water activities.
How to go around
Autos and rented motorbikes are the best transport options in Varkala. There is no dearth of bike rentals in Varkala and you can get everything from an Activa to a Royal Enfield to Pulsars.
Best Hotels
Gateway Varkala- IHCL SeleQtions
View this post on Instagram

Nestled between the gorgeous red cliffs, this luxury property by IHCL stands on a hillock and overlooks the sea. The resort offers a nice retreat for both business travellers and leisure seekers. Facilities include a swimming pool, jacuzzi, and attached private balconies. The hotel also offers a host of complementary and paid activities. If travelling with kids, explore Taj Kids, their kids' program about adventure and mindful learning.
Contact: + 91 470 2773300
Website
Elixir Cliff Beach Resort and Spa
View this post on Instagram

This property offers the best and largest luxury suites in Varkala. Every suite is tastefully decorated and comes with all the necessary mod cons. The hotel is a seamless blend of nature and luxury. You may choose from the three categories of suites. These are the Jacuzzi Seaview Suite, Seaview Suite and Partial Garden View Suite. The bedrooms feature an en suite bathroom. The room also has a separate dining space, an extra single bed, and a sitting area.
Contact: +91 98099 93286
Best Restaurants
Inda Café
View this post on Instagram

This happening café is great for vegetarians and weight watchers. You can spend as much time as you wish to in the chilled-out atmosphere and no one will ask you to leave. Food reccos include their smoothie bowl and green goodness bowl. They have delicious pizzas and fresh juices too.
Trattorias Restaurant
This lovely clifftop restaurant serves delicious food and offers incredible views of the sea. They specialise in north Indian fair, too. For breakfast, try their masala omelette and hash brown potato.
Clafouti
Seafood lovers must visit Clafouti. And seafood is not all that they serve. There's everything from European and Italian to Nepali and Chinese. They serve our usual Indian staples too.
How to reach
By Air: Thiruvananthapuram is the nearest airport at 50km. Pre-paid taxis are easily available from the airport.
By Rail: Varkala Railway Station enjoys nice connectivity with major cities like Delhi, Mumbai, Chennai and Bengaluru.
By Road: Varkala is 11km off the highway between Salem and Kanyakumari via Palakkad, Thrissur, Ernakulam, Kollam, and Thiruvananthapuram.