There are some sojourns in India, where the journey is as blissful as the destination. Mammoth mountain peaks, mesmerising waterfalls, tranquil water bodies, lush fields, and dense forests adorn them. Sometimes, we are fortunate to get a window seat on the flight to marvel at snow-capped mountain peaks that kiss the clear blue sky. And other times, the best views are savoured by train and car. One such journey that offers an incredible experience, no matter what the mode of commute, is the one to Leh. By Karan Kaushik
Here's everything you should know before planning your dream trip to Leh
The Destination
Jagged mountains, turquoise lakes, age-old Buddhist monasteries, traditional Ladakhi mud-brick houses, prayer-flag-festooned lanes, charming bazaars, and cool cafes. Only a few places in India reward the discerning traveller as Leh does. From white-water rafting to enriching trails in nomadic and remote villages, the magnificent land of high passes also offers a plethora of thrilling activities for adventure seekers.
The Way
By Air
View this post on Instagram

Leh enjoys good air connectivity with major Indian cities via Delhi and Srinagar. While taking a bike trip to Ladakh is on every traveller's bucket list, not many know a flight could be as exciting. The air journey to Leh allows you to see the mightiest mountain range in the world in all its glory. You will come across the Shivaliks, the Dhauladhars, and the Pir Panjals. As you go up, you will notice massive glaciers that mark the beginning of the Great Himalayan Range.
The flight offers incredible views of snow-clad peaks, which include Parang chu, Phirse chu, Kharpa 6234, Pangyo chu to name a few. The Tso Moriri Lake is also visible. Here's a tip: make sure you get a seat on the left side of the aisle.
The flight takes you to the Kushok Bakula Rimpochhe Airport, the main airport of Leh. Taxis for Leh city are easily available at the airport.
By Road
View this post on Instagram
Considering Delhi is the base, there are two major routes to Leh. These are the Manali-Leh and Srinagar-Leh routes.
Delhi to Leh via Manali
This route takes you through some incredible points like the famous Rohtang Pass, one of the most popular tourist destinations in India. As you start your journey from Delhi, you will be driving on the Grand Trunk Road, or NH44. You can stop at Murthal for a truly memorable breakfast and fancy some ghee soaked paranthas and lassi. As you move towards Manali, the uphill climb begins around Ghanauli.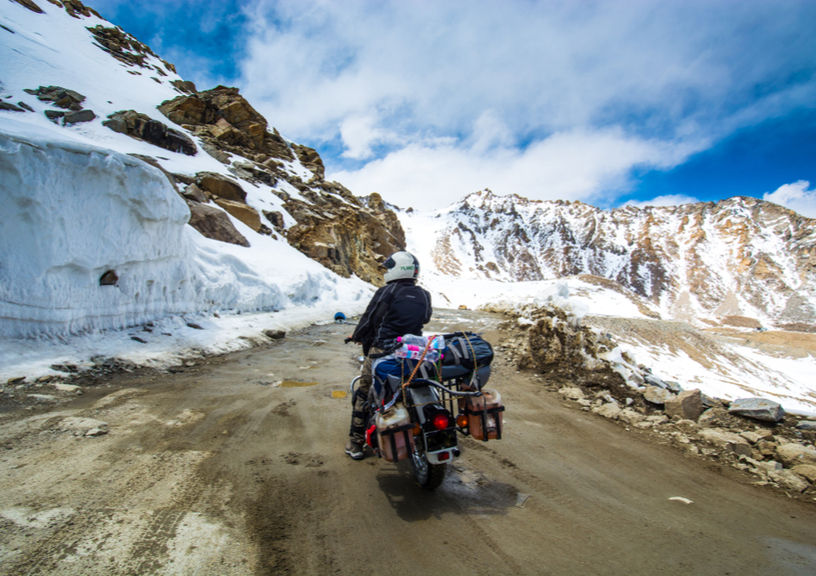 After crossing the Rohtang Pass, you will be driving on some of the world's highest motorable roads. On reaching the Lachulungla Pass, you will be able to witness the entire Ladakh Plateau. During this bike ride, some of the important points that you will be driving through include Karnal, Mandi, Manali, Jispa, Sarchu and Tanglang La. You can take a break in either Manali, Keylong or Jispa and spend a night there before heading forward to Leh.
View this post on Instagram
If you are not in the mood to ride all the way to Leh, you can also book a roadways bus from Manali. There are deluxe and ordinary buses run by HRTC and J&K SRTC between Manali and Leh. You may also hire a cab to reach Leh from Manali.
Note: You'll have to get a permit to travel beyond Rohtang Pass from Manali.
Delhi to Leh via Srinagar
Perhaps the more popular among the two, this route is a biker's dream. You start from Delhi, drive through Ludhiana, Jalandhar, Pathankot, Jammu, Patnitop and Anantnag to reach Srinagar. Spend a day soaking in the breathtaking beauty that Srinagar is blessed with. During this journey, you will also be crossing the 9.2km long Chenani-Nashri Tunnel that has reduced the distance between Jammu and Srinagar by 40km.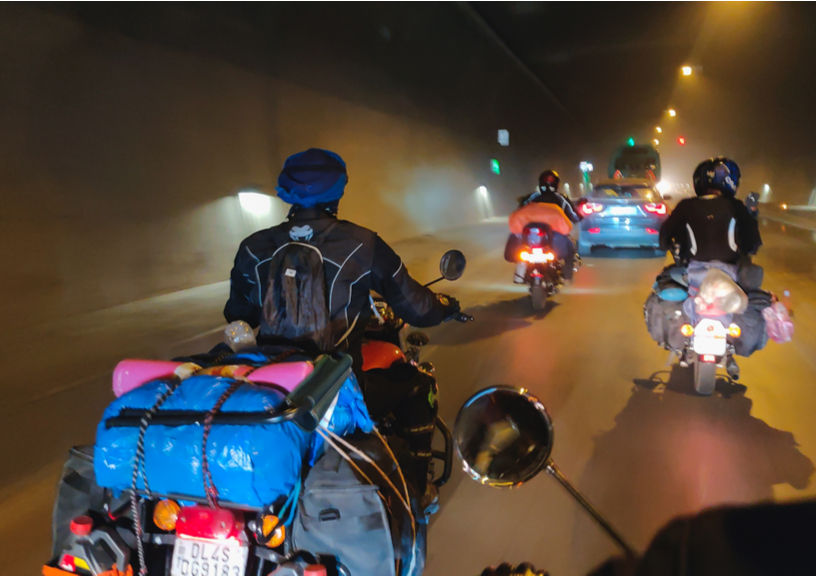 Fancy a shikara ride in the Dal, drink lots of kahwa, buy yourself a phiran and some saffron and stay the night in Srinagar. The next day, you will be driving through Sonamarg, Zoji La, Dras, Kargil, Lamayuru, Alchi and Nimmoo before finally making your way to Leh.
In Kargil, you must pay your tributes at the Kargil War Memorial. On your way to Leh from Kargil, you can also visit the age-old Mulbekh Monastery. Other important points where you could take little stops are Namik La Top, Lamayuru Monastery, and Fotula Top, which is the highest point on the Srinagar-Leh road.
View this post on Instagram
Direct buses to Leh from Srinagar are also available in all categories from the Leh bus stand. The morning bus to Leh reaches Kargil by night, where it takes a halt and reaches Leh the next day.
Here's a tip. It's best to take the Srinagar-Leh route during your onward journey so that your body could properly acclimatise. You can take the Leh-Manali route during your return journey. This way, you'd be able to experience the thrill of both these routes. It's a win-win situation.
By Rail
Jammu Tawi, at 700km, is the nearest railhead from Leh. It's well-connected to major cities like Delhi, Mumbai and Kolkata. From here, you can hire a taxi or take a JKSRTC bus for Leh. Pathankot, Chandigarh and Kalka are other nearby railway stations from Leh.
Things to do in Leh
Here are some of the must-visit attractions in Leh.
Pangong Tso Lake
View this post on Instagram

Located at a height of 4,350m, Pangong Tso is the highest saltwater lake in the world. Its azure blue waters form a beautiful contrast with the arid mountains that stand in its backdrop. The lake shot to fame after it was featured in the movie 3 Idiots. Create your own yellow scooter moment here and you never know you may end up finding your Rancho.
Thiksey Monastery
View this post on Instagram

Perched atop a hill towards the North of the Indus River, this monastery dates to 1430 AD and houses the Lakhang Nyerma Temple. The monastery is famous for its iconic statue of Maitreya Buddha, which draws visitors throughout the year. Standing 15m tall, the statue was constructed in a period of four years.
Leh Palace
View this post on Instagram
This palace overlooks Leh and offers panoramic views of the town and its picturesque surroundings. The palace features ancient wall paintings, which depict the life of Lord Buddha. The palace has been beautifully restored by the Archaeological Survey of India and serves as a popular tourist spot in the town.
Hall of Fame
View this post on Instagram
Located on the Leh-Kargil Road, just 4km from the main city, this museum is dedicated to our brave soldiers, who laid their lives for their motherland. A visit to the museum will fill you with patriotism and make your heart swell with pride.
Shanti Stupa
View this post on Instagram

A major attraction in Leh, the stupa was built as a symbol of peace to commemorate 2,500 years of Buddhism. Perched atop a hill, the stupa offers peaceful vibes and great views. Sunrises and sunsets are typically beautiful. The relics of Buddha in the stupa were enshrined by the 14th Dalai Lama.
Hemis National Park
View this post on Instagram
If you are a wildlife lover with an adventurous streak, head to the Hemis National Park when in Leh. Sprawled over an area of 3,350 sqkm, the park is home to the elusive snow leopard and a wide variety of birds. The Snow Leopard trek here is one of the most thrilling experiences you can take in India.
Magnetic Hill
View this post on Instagram
One of the most fascinating places in the country, the Magnetic Hill lies at a distance of 30km from Leh. It is known for its gravity-defying abilities. There's a particular point, which has been marked with a square. If you park your vehicle inside that box, you'll see your vehicle moving in the forward direction on its own. This intriguing experience must be included in your Leh itinerary.
Best Time To Go
If you are travelling by bike, the best time would be around September and October, when the Srinagar-Leh and Manali-Leh highways are open, and the roads are perfect for driving. The tourist season in Leh usually begins in April, but it's advisable to travel by flight during this time. The Manali road along Rohtang Pass opens around June, making it another good time to visit Ladakh.
For bikers, the months of July, August and September are considered the most suitable. The months between November and March are extremely cold. The highways are closed, and the lakes are frozen. In December, Ladakh is cut off from the rest of the country. If you are planning the Chadar Trek or Snow Leopard Trek, you must visit between January and March.
Related: We Get The Taste Of The Local Life In Ladakh Through Our Immersive Travel Experience