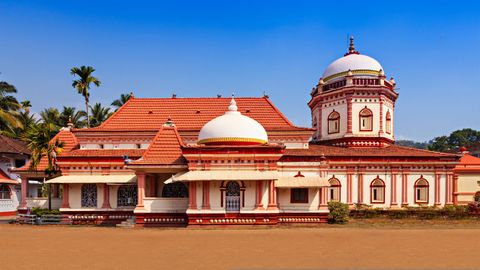 Often touted as Goa's Hindu heartland, Ponda is a treasure trove of Indian architectural heritage. This temple town will leave you smitten with its over 50 temples. Here, we feature some of the best temples in Ponda. By Karan Kaushik
Temples in Ponda
Mangueshi Temple, Priol
View this post on Instagram
Begin your discovery of the temples of Ponda with the Mangueshi Temple, also known as Mangesh Temple. The temple is dedicated to Lord Mangueshi, a form of Lord Shiva, worshipped exclusively in Goa. Legend has it that the place was visited by Lord Shiva after losing his all in a game of dice against his consort Goddess Parvati. Encompassed by lush surroundings, the temple stands in all its glory on a hillock. Of special note here is the shining white deepastambha or lamp tower. Intricately carved panels adorn it. The temple courtyard is dotted with gorgeous buildings that are used for ceremonial purposes and to accommodate pilgrims.
Mahalasa Narayan Temple, Mardol
View this post on Instagram
From the Mungueshi Temple, head to the Mahalasa Narayan Temple in Mardol. This temple prides itself on housing the largest deepastambha in India. The six-storeyed structure dominates the temple premises. The presiding deity here is Goddess Mahalasa, Lord Vishnu's Mohini incarnation. Another prime attraction at this temple is its grand brass bell, which hangs sans a ringer. Goddess Mahalasa is also worshipped as the folk deity Khandoba's consort. Lord Khandoba is a form of Lord Shiva.
Shree Shantadurga Temple, Kavlem
View this post on Instagram
Shree Shantadurga Temple in Kavlem is the largest temple in Goa. Goddess Shantagurda is known as the goddess who mediates between Lord Vishnu and Lord Shiva. The deity is locally known as Santeri. Her original temple in Goa was at Keloshi. The Portuguese demolished it in 1564. The temple you see today was built during the 18th century under the reign of Chattrapati Shivaji Maharaj's grandson Chattrapati Shahu. The temple complex features a deepastambha, a large water tank, and guest houses for pilgrims.
Nagueshi Temple, Bandora
View this post on Instagram
One of the most beautiful temples in Ponda, Shri Nageshi Temple in Bandora is dedicated to Shri Nagesh Maharudra, a form of Lord Shiva. Lord Laxmi Narayan and Lord Ganapati are also worshipped here. The temple speaks volumes about the rich architectural heritage of Ponda. Here, you can see the dilapidated palace of the Raja of Sonda. The rooms on the ground floor of the temple house weapons that were once used by the rulers of the mighty Vijayanagar empire. However, these rooms are made accessible to visitors only during the Ganesh Festival, which is held here with great fervour.
Mahalaxmi Temple, Bandora
View this post on Instagram
This 17th-century temple will leave you in absolute awe of its brilliantly embellished facade. This is also one of the most peaceful temples in Ponda and offers sheer bliss. The prime attraction here is the ancient water tank which features a concrete lotus floating under a canopy. The temple dates to 1413, as suggested by the stone plaque carvings. It was built during Nanjan Gosavi Pratihast's reign over Goa. There are two idols of Goddess Mahalaxmi in the temple. The original black stone idol is said to have been shifted here from Colva by two devotees Safto and Fato.
Shree Kamakshi Temple, Shiroda
View this post on Instagram
Also known as Shree Kamakshi Saunsthan, this 16th-century temple is nestled amidst the sylvan hills of Shiroda village. A grand temple gate knowns as the Mahadwar welcomes you to the temple complex. From here, you have to descend a flight of stairs to reach the magnificent temple. Its prime features include an octagonal two-storied tower adorned with its shikhara adorned with a golden kalash. Other noteworthy spots include a large Sabha Mandap, an impressive deepastambha, and a sacred temple tank.
Feature and hero image courtesy: Shutterstock
Related: Your Guide To Slow Travelling In Goa, With An Unmatched Experience
Written By