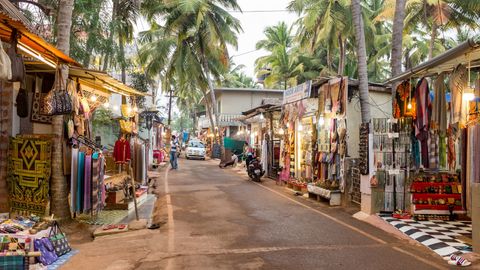 A five-day event – between November 15 and 19 – will see a flurry of artisans and craftspeople coming together to honour the country's most popular tropical destination. Titled the Goa Heritage Festival – visitors can participate in tours, attend book launches, groove to local music and savour traditional delicacies. Here's all about it. By Eshita Srinivas
The pristine beaches, thriving shopping markets, and bustling nightlife aren't the only draws of Goa. Recognising this, the Goa Heritage Action Group (GHAG) has lined up walking tours, seminars, musical performances, pop-ups, and more to celebrate the state's rich and diverse culture from dawn to dusk. Based at the Campal Heritage Precinct on the Mandovi Riverfront, the five-day fiesta will bring together over 40 artists and 43 craftspeople – all Goan. Here's looking at what's on the itinerary.
Goa Heritage Festival will feature over 18 guided walks As per a report by The Goan, the festival will see over 18 walks – each spotlighting the region's cultural and architectural heritage. Participants can discover a food trail marked by folklore, explore Panaji's freshwater springs, walk through underground tunnels, and more – each with a local expert. Jack Suhija – in charge of curating these walks – added, "We have selected an insightful tree walk at the Bhagwan Mahavir Garden at Campal led by writer Arti Das, a city signage walk with Vishal Rawley and a bird walk by the Goa bird conservation network."
Arti Das, meanwhile, added, "Heritage goes beyond monuments and old houses. Through these walking tours, we can spread awareness about the type of biodiversity that the state has and bring in the focus about the degrading conditions of these heritage places and the need to promote their care and restoration."
View this post on Instagram
That aside, visitors can expect insightful lectures, poetry sessions, and live music. This includes book launches by Mallika Sarabhai, Tasneem Zakaria Mehta, Heta Pandit, Rana Safvi, Pragya Bhagat, and Nature Conservation Society. Ceramics, crochet, handicrafts, coconut crafts, local dance performances – Dhalo, Mando, Goff, Kunbi, Kalshi, and more – are also on the itinerary. As is a pop-up bazaar with homegrown brands – food, drink, and more, a report by Gomantak Times adds.
That's not all, keeping in mind the planet – the festival aims to be a zero-waste event through partnerships with water-collection rewards and eco-conscious companies. The event is free and open to all. For more information and registration details, visit the event's official page here.
Meanwhile, don't forget to book your luxury stay at best hotels in Goa.
All images: GHAG/Shutterstock
Related: Kerala's Kovalam Is Set To Host The First Ever International Indie Music Festival
Written By