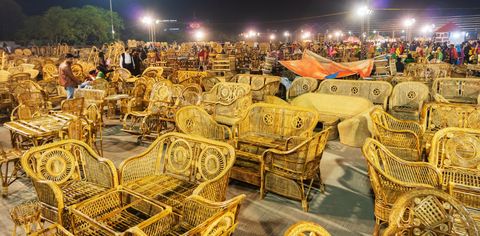 Bengalis are known for their undying love for aesthetics. Being the capital of West Bengal the bustling metropolis of Kolkata is home to iconic markets that sell everything under the sun. Thanks to the love of Bengalis for everything beautiful, there are some nice furniture markets in Kolkata that must be visited if you are planning to refurnish your house or add a little quirk to it. By Karan Kaushik
Furniture markets in Kolkata
Mouri Furniture Market
From little roadside shops selling cane furniture to plush shops selling beds, mattresses, tables, chairs, and other items, Howrah's Mouri furniture market has it all. While you must not expect anything too classy or vintage, you'd be surprised to see the impressive range of affordable and durable contemporary furniture with great designs. If we were to recommend one particular item that you must buy here, it's the wooden almirahs, that come in breathtaking designs and patterns.
Gariahat Market
View this post on Instagram
This bustling market sells almost everything from crockery to pickles to wedding cards. Gariahat is also known for its furniture stores that display gorgeous wrought iron and cane furniture. If you want to add a cosy vibe to your place, shop for cane chairs, moodhas, lamps, and wrought iron mirrors from here. The market is also home to several stores that sell mattresses, pillows, and other upholstery at dirt cheap prices. If you have a newborn at home, don't forget to take simui tulo pillows for them. These come filled with mustard seeds or simui tulo cotton.
BB Ganguly Street or Bowbazar
View this post on Instagram
While Bowbazar or BB Ganguly Street is known for its jewellery, some people also flock to the market to buy furniture. Popular shops here include Bowbazar Furniture, Silpasree, Modern Furnishing Stores, and Eastern Furnishers. Here, you'll find an impressive collection of wooden tables, chairs, sofa sets, beds, and dinner tables. The shops here also deal in customised furniture, which is made from high-quality wood.
New Market
View this post on Instagram
Formerly known as Sir Stuart Hogg Market, New Market is situated on Lindsay Street. Apart from its food, clothing, and handicraft stores, the market is also known for its elite furniture stores. In fact, it's one of the most sought-after furniture markets in Kolkata. For instance, Konark Collectables is one of the most popular stores here. The store will compel you to splurge on antique pieces such as victorian clocks, antique mirrors, lamps, statues, and more. National Furniture is another popular shop, that deals in all kinds of household objects.
Russel Street
View this post on Instagram
Next up on our list is Russell Street. This market is home to the iconic Russell Exchange Auction House. Here, you'll find what most home decor stores in Kolkata fail to offer. The auction house puts old music players, cameras, typewriters, colonial lamps, statues, lithographs, and glass decanters under the hammer, among other antiquities every Sunday. They are also open through the week and a window-shopping spree here could be therapeutic, to say the least. The shop also deals in old cassettes, old currency notes, framed portraits, roll wire pipes, and more.
Jodhpur Park
View this post on Instagram
If you love the good old cane furniture that graced every Indian house in the 90s, check out the unmatchable range at Dakshinapan Complex in Jodhpur Park. Located in Dhakuria, the complex houses several furniture shops that deal in ethnic cane furniture. From chairs to sofa sets to swings, the market offers nice furnishings at affordable prices. You must also visit Rajasthali Rajasthan Government Handicrafts Emporium in Dhakuria for all things Rajasthani. Their handpainted chairs and miniature paintings are hot sellers.
Park Circus
One of the prime localities of Kolkata, Park Circus is home to a large number of furniture stores. But if there was one shop, we'd like to bring to your notice, it has to be D.A. Sons at Ballygunge Circular Road, near Rabindra Sadan. This is a 125-year-old antique shop that sells antique items. Their newly-made furniture is also inspired by their antique furniture collection. The store is famous for its wooden carvings, which can be seen in the tables, beds, chairs, wardrobes, and mirror frames they make.
Gopal Nagar Lane
View this post on Instagram
And last on our list of furniture markets in Kolkata is Alipore's Gopal Nagar Road. You'd find a footpath near Judges Court Road, which is lined with furniture shops selling antique stuff. From beautifully carved wooden items to poster beds to lamps and antique bar cabinets, you'd get everything here. Keep an eye out for vintage clocks, work desks, and mahogany and teak furniture.
Related: 6 Furniture Markets In Mumbai That Will Deck Up Your Home On A Budget
Written By