The pandemic has made our contributor discover obscure destinations within driving distance of her home town, Nainital, with two unlikely travel companions: her parents. A road trip to Chalnichina in Uttarakhand holds a mountain of revelations for the family, about the place and one another. By Shikha Tripathi
Get enchanted with the beauty of Chalnichina
Plate of sweetmeats is doing the rounds, and when it stops at me, I struggle to choose between bal mithai and singhori. "You can have both," says Shivraj Singh merrily, but I don't want to overstep his wife's hospitality. I go for the malu leaf-wrapped goodness of the regional milk sweet, singhori, and down it with a glass of crisp spring water, as cool to the throat as the sight of the balmy Himalayas is to my eyes. My parents make a healthier choice—a piece of jaggery to go with their tea. While they marvel at the mountainous expanse beyond, I marvel at how this trip to Chalnichina came to be.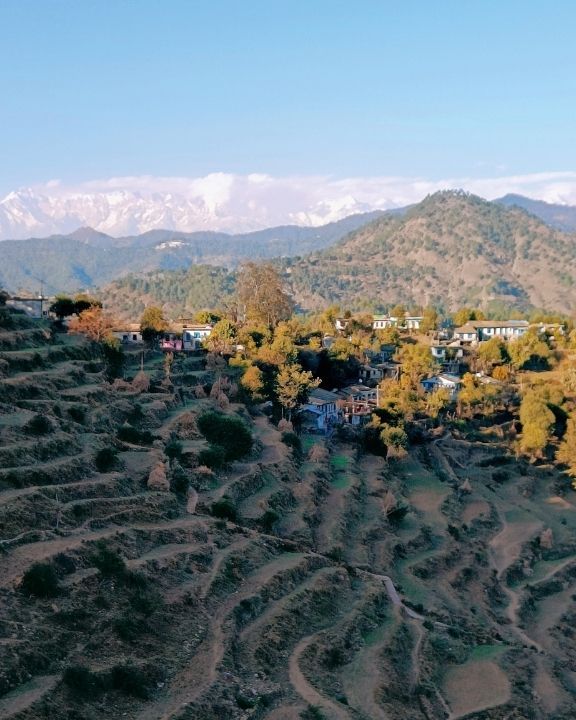 Despite having grown up in the Kumaon Himalayas of Uttarakhand, I've never been to this part of my backyard. But the pandemic has been full of surprises; it fuelled the rediscovery of my roots, and shaped my travels in a way that I started taking the detours I never took, making pit stops that were never on my bucket list. It also gave me a new set of cohorts, my folks whom I would have never otherwise chosen to hit the road with, or expected to metamorphose into ideal travel companions. When Chalnichina was bookmarked, I had to look it up on the map to see exactly where it was. Beyond Dhaulchina but before turning for Mukteshwar, near Lamgarha but not quite, and somewhere off the road to Pithoragarh, is how I finally placed it. With our woollens packed for the looks-like-spring-but-feels-like-winter weather, we set off on the thre-hour journey from Nainital.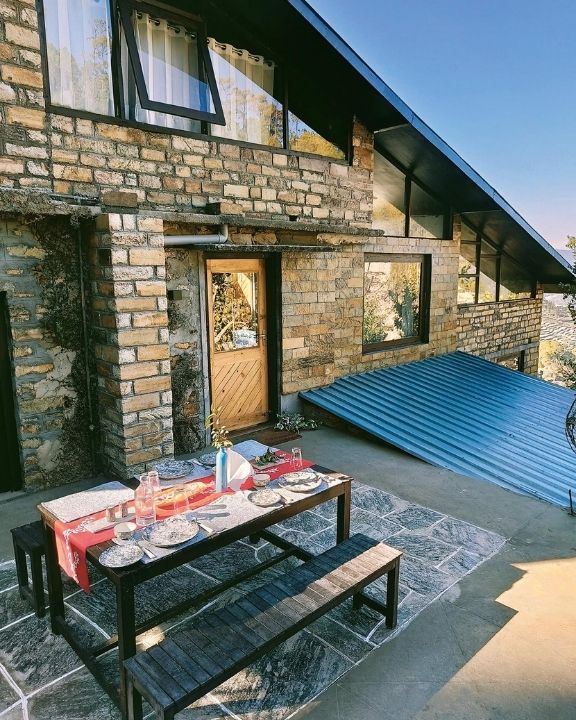 Shivraj Singh, the caretaker of the House On The Slope, a dreamy glass house that we have booked, has been guiding me on the phone for the last 10 kilometres. We stop just once for tea, an achievement considering my father loves multiple breaks on road journeys to the point of annoyance. But a business named 'Chai Khan' calls for one, and after the break, past the last bumpy stretch of unpaved road, we walk down the slope from the parking where Singh welcomes us with a warm ginger-lemon drink.
Lunch is ready, he says, as he points at a spread on an outdoor table under young lemon and orange trees. As requested, it's a bunch of Kumaoni dishes; local greens paired with mustard raita and madua (millet) rotis, horse-gram lentils and rice, fried aubergine for some variety, and my all-time favourite, hemp chutney, on the side. I would have preferred a different cuisine, but my parents love their pahari food so I oblige and am not disappointed. I reluctantly now agree that, in principle, it's always good to go with local food in offbeat destinations.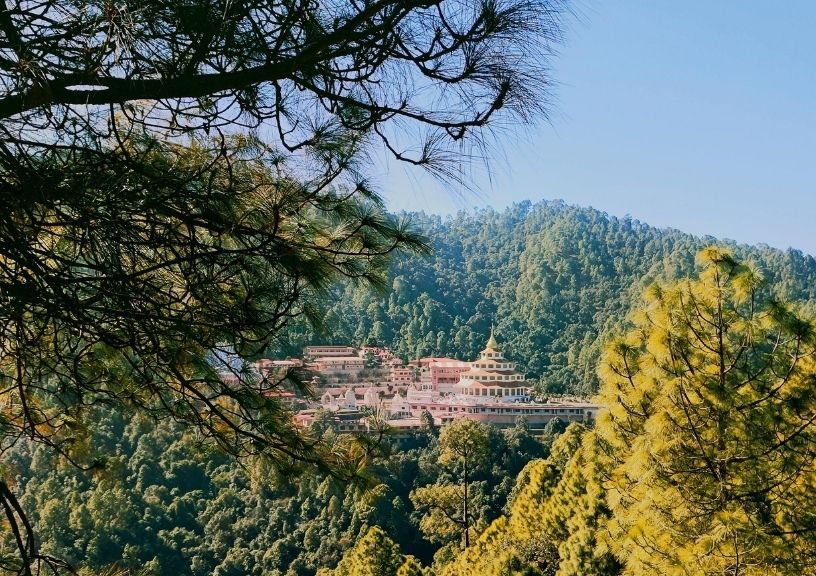 Along with the food, we also take in the last of the sun. On a north-facing slope, it's a toss up between sunshine and fantastic views, and the latter is the focus here. I'm not complaining, for as I plonk myself down on the bright blue couch, the glass wall in front of me frames the Kumaon and Nepal Himalayas in a grand floor-to-ceiling painting. The same view can be seen from the bed if the sliding door of the small, cosy bedroom were to be left open. Not only the mountains, but the stars too are brought closer by the well-insulated glass ceiling of the master bedroom upstairs. After a delectable candlelit dinner in the snugly decorated sitting, I climb up the wooden stairs and fall asleep mesmerised by the brilliance of a late-night interstellar show through my roof.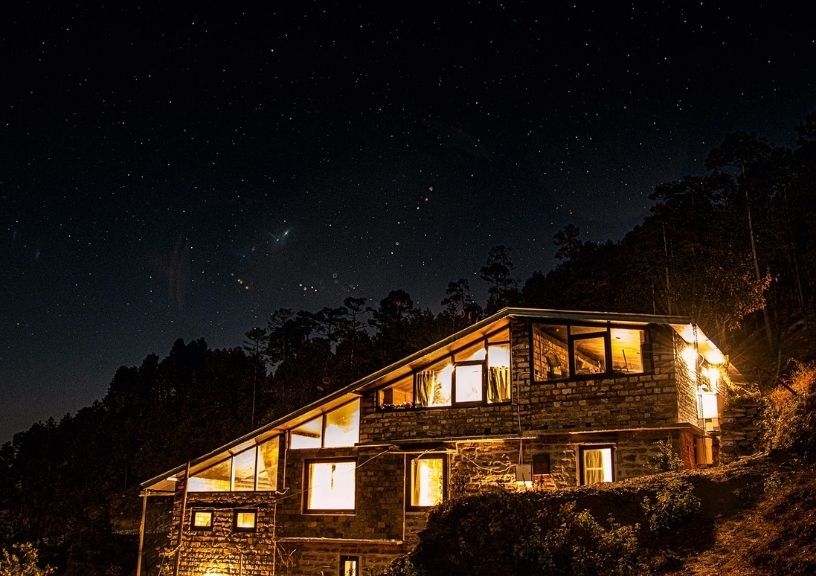 The morning is marked with excitement about a visit to the nearby Dol Ashram, a 32-year-old centre for spiritual growth and learning. My mother tells me that it also houses the world's largest shri yantra, a meditation device that is the diagrammatical representation of Mount Meru, the centre of the cosmic universe in Hinduism. I'm a sceptic when it comes to religious sites, but I'm keen to see the astonishing 1,600 kilogram object that pulls meditation practitioners from around the world, and yet, much like our glass house abode, remains a hidden gem. Spread over eight acres and overlooking the Himalayas, the ashram enthrals with its beauty, cleanliness, and order—and knowledgeable volunteers including young IT professionals on spiritual sabbaticals. The hour-long walkabout is refreshing, nd the viewing of the yantra remarkably calming.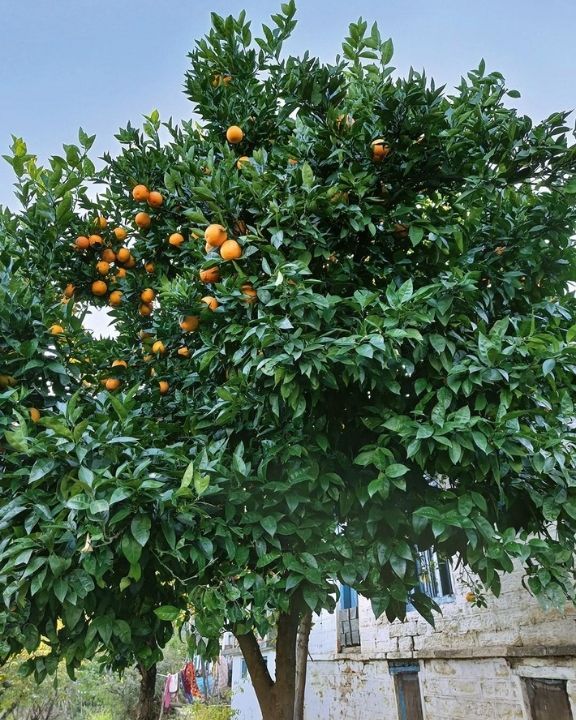 We're in for a treat when we return, for Singh has baked pizza. I'm impressed with the thin crust, and it's only after I have devoured it that he reveals it had a millet base, the same grain he used for our chapatis the previous day. We're happy to have sampled some local culinary mastery, and in order to make up for the indulgence, we take up Singh's offer for a walk to his village. Would we be interested in attending his niece's wedding? The proposal brings up memories of the last Kumaoni village wedding I attended over 20 years ago, as a child. I recount the event with my father, amused over how much I had hated the unfamiliarity of it all. This time around, I'm eager to go, and the bumpy road is not a deterrent. Half way through, I feel guilty for making my sexagenarian parents walk uphill on narrow trails and downhill on slippery slopes, but they instil faith in me when they stop to pose for photos at precarious spots. Through the dense mix of oak, pine, and rhododendron, the route is marked with glimpses of the Himalayas, birdsong, a beautiful waterhole, and wholesome laughter.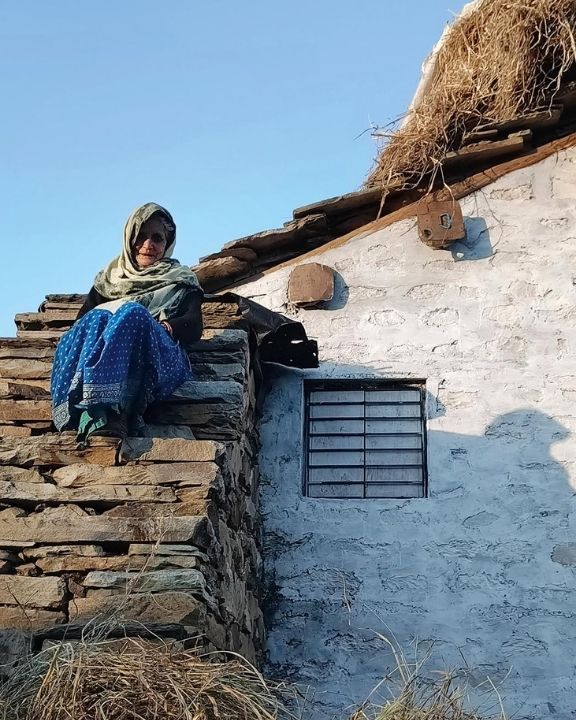 Naugaon is perfect in its setting. The wedding is in the foreground of a rare bakhali, a long row of co-joined houses, which used to be symbolic of large joint families, dotted with intricately carved windows—my favourite feature of Kumaoni architecture. We exchange smiles as we admire the houses, the simple wedding rituals, and the traditional choliya dance. It's evocative of a time gone by, both for us and for a dwindling community. I am pulled out of my sobering thoughts by Singh ushering us past the small crowd, into his courtyard next door. We are welcomed by his wife holding out that plate of sweets, and my face lights up looking at the singhori. As my parents sip their tea with jaggery, she gathers malta, a juicy citrus fruit that I have memories of eating in my ancestral village sitting with my grandmother in the winter sun. I thank her as she gifts us the bag of fruit.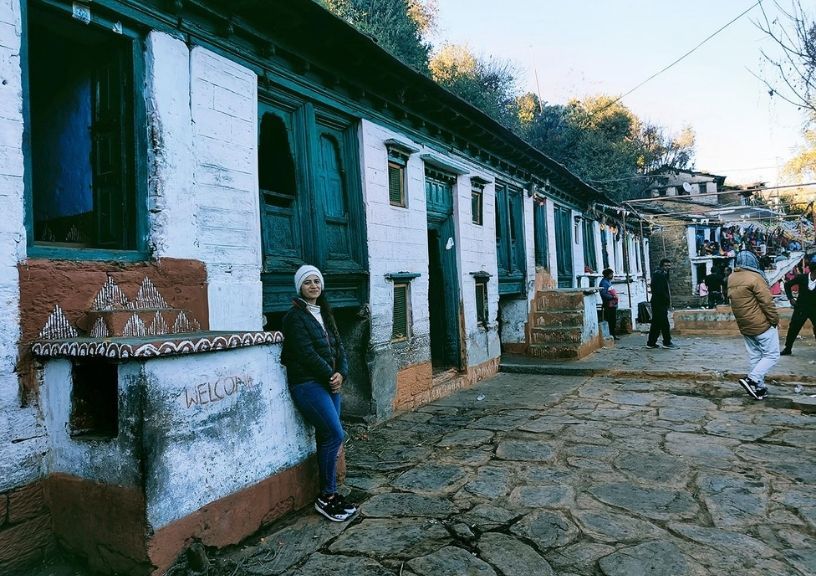 We take a different, gentler route back, for it is nearly sundown. The snow-capped range on the horizon reflects the colours of sangria, and the House On The Slope beckons us with its flickering lights. Singh has gone ahead to prepare dinner and set up a bonfire. It's a cold mountain evening, but the warm ambience and hospitality of our stay are a comforting thought. As I guide my parents gently in the dusk, I am glad to have seen in them the quality I admire the most in travellers— adaptability. While I would have never seen it on home turf, the seamless switch I have seen in them on the road has been a pleasant surprise. Before I wake up in the morning, they will have completed their morning walk to the tiny Chalnichina market or a temple on the ridge. I will catch the sunrise from the grand window of the glass house, but they like their views and regime unobstructed. Somewhere over soup, around the bonfire outside the house reflecting a million stars, we shall find our middle ground.
Getting There
Chalnichina is located approximately 370 kilometres from Delhi. It's a four-hour drive from the nearest domestic airport, which is at Pantnagar, Uttarakhand.
Stay
The House On The Slope is a two-bedroom, pet-friendly, plush stay. It is part of Hushstays, a unique collection of private mountain retreats. Entire cottage with meals costs INR 22,000, plus taxes, per night.
Related: Lansdowne Travel Guide: Plan A Weekend Getaway To The Charming Hill Station