Jaipur is synonymous with rare and ancient arts and crafts. Our contributor spent a couple of days in the Pink City, tracking down some of its most talented and elusive artisans, for whom their respective crafts are as good as family heirlooms. By Riaan Jacob George
Have you ever wondered what goes behind creating those wooden blocks that print patterns on your clothes? Have you ever traced back the origins of meenakari jewellery beyond glitzy urban boutiques? Did you know that the artisan behind a simple string puppet comes from a family of puppet makers? In my attempt to meet some of these unsung heroes of Jaipur's traditional art scene, I navigated some of the city's dustiest alleys earlier this year. For company, I had experiences curator Kartik Gaggar, whose organisation, Rajasthan Studio, is bridging the gap between the state's master craftspersons and travellers by offering the latter a host of art experiences. This not only boosts visibility for the artisans but also acts as an additional source of income for them, besides adding another novel tour option to Rajasthan's already impressive repertoire.
Exploring the traditional crafts in Jaipur
A NEIGHBOURHOOD OF PUPPET MAKERS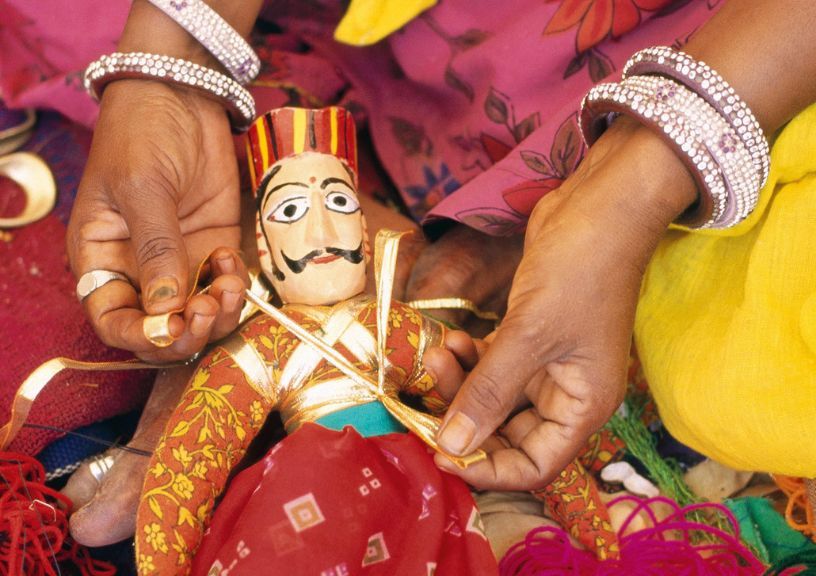 Kathputli Nagar (Puppet Colony) is a cluster of shanties tucked away in a corner of Jaipur and is named after the families of puppet makers who have lived there for decades. I find myself in the tiny home of Papu Bhat, who comes from a long line of puppet makers. "I belong to the Putli Bhat community, and this craft has been passed down to us for generations. India, and Rajasthan in particular, has a strong tradition of string puppets," Bhat explains to me in Hindi. We find ourselves surrounded by small blocks
of wood, which are used to create the head of the puppet, bottles of paint used to colour in the features, and large stacks of multicoloured cloth pieces that are used to make the puppets' garments. "The art of kathputli is closely linked to the folklore of Rajasthan, associated with instrumental music and songs, very often featuring the love story of Radha and Krishna," Bhat narrates, as he brings to life a Radha-Krishna puppet duo. The painstaking process of making a puppet involves chiselling features on a wooden block, adding multiple coats of paint, drawing eyes, spiral moustaches and other features, using
nails to secure everything in place, and then dressing it in miniature clothes. We pick out some red and yellow bandhani fabric swatches to create a look for the puppets at hand. "In Rajasthan, the turban is extremely important, so we spend a lot of time making beautiful turbans for our puppets," the master craftsman tells me. Bhat has now opened his home workshop to travellers, who can spend time with him and get some hands-on experience of the craft. Besides selling his puppets to tourists and handicraft stores, the craftsman also works with corporates across India, conducting interactive masterclasses with their employees. "My art form is dying," he tells me, "so I need to make much more of an effort to keep it alive and give it visibility." I spend nearly three hours with him, toiling over blocks of wood and stacks of fabric to create a maharaja-maharani duo of string puppets, which he then carefully packs and offers to me as a souvenir.
MASTER OF MEENAKARI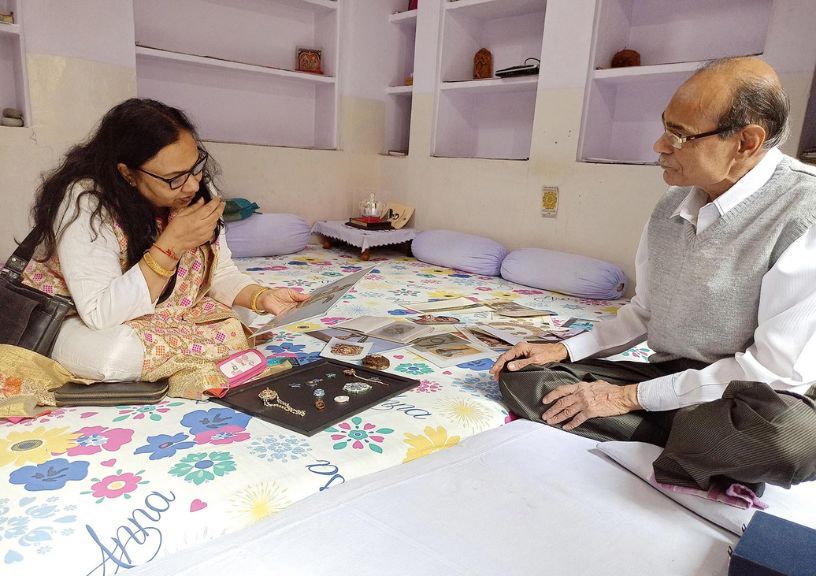 After dabbling in puppet-making, I decide to delve deep into Jaipur's jewellery heritage. My next stop is in the narrow, chaotic alleys of the Pink City, amid a labyrinth of buildings, stores, temples, and workshops. When I reach the home of Jaswant Kumar Meenakar, he leads me into a quiet room and brings out some of his meenakari tools and creations. Over a few cups of tea, Jaswant Kumar Meenakar chats with me about his family's artistic lineage and how he strives to keep his traditional art alive. I'm pleasantly surprised at his tales. From this humble haveli, the artist makes some of India's most prized pieces of meenakari jewellery, earning him patronage across India's royal families and VIP families around the world. For the uninitiated, meenakari is an ancient form of enamel paining on gold, silver, brass, or copper, using a small selection of colours and tools. This art form was first popularised in India by the Mughal emperors, which explains the traditional meenakari motifs seen today. "My family has been practising this art form for over 450 years. It has been handed down generations and carefully preserved. My father passed it on to me, my son is also an artist, and today, my young granddaughter is joining the business after having studied design," says Meenakar proudly.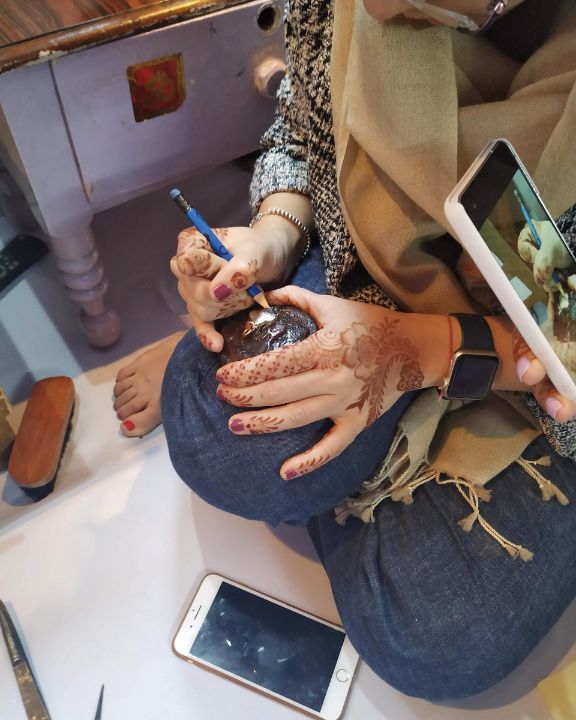 Over the course of the afternoon, he shows me his different tools and some of his most beautiful creations: an oversized, highly-intricate pendant, which is flat on one side, featuring exquisite meenakari work, and adorned with kundan work on the other side; a gold-base maang-tikka that's 60 years old (it has not lost any of its shine), adorned with red and white meenakari work and embellished with pearls.
Today, Jaswantji, as he is lovingly called in his neighbourhood, has started welcoming small batches of art enthusiasts into his home for short-format masterclasses as well as long-format residencies. "I am happy that there is a renewed interest in this art form. It is my responsibility to preserve it and ensure that people look at meenakari as more than just pretty jewellery," says the artisan. We spend a couple of hours together, where I learn some rudimentary skills of painting on a simple silver pendant.
THE BLOCK MAKER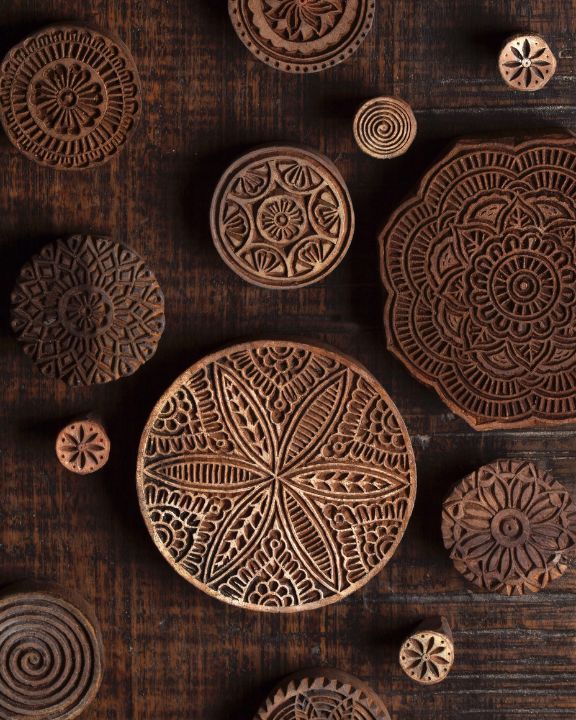 While Jaipur has always been associated with exquisite block-printed garments, and there are countless places where travellers can block-print their own clothes, one rarely hears of the artists who actually make the blocks. I am happy to discover that wooden block-making is a highly specialised art, and there is a small clan of people who have been doing it for many years. In this pursuit, I find myself in the home workshop of Gayyur Ahmed, who welcomes me warmly into his verandah. Ahmed is a celebrity in his own right—recognised by the Indian government as one of the best block makers in the country. "I come from a family of wood carvers. We have been doing this for 400 years. I learnt this art from my father, and he learnt it from his father. Similarly, my son is carrying this forward. The big designers and brands in India do showcase our block prints, but I really want people to talk about the art that goes into making these intricately carved blocks," Ahmed says. Designers and brands send him pattern templates, on the basis of which he customises blocks that they eventually use on garments.
He then leads me to a cupboard and shows me an oversized block, with extremely intricate carving, which won him a prestigious award from the Indian government's Ministry of Textiles in 2014. "A huge block like this takes me a couple of months to complete," he reveals.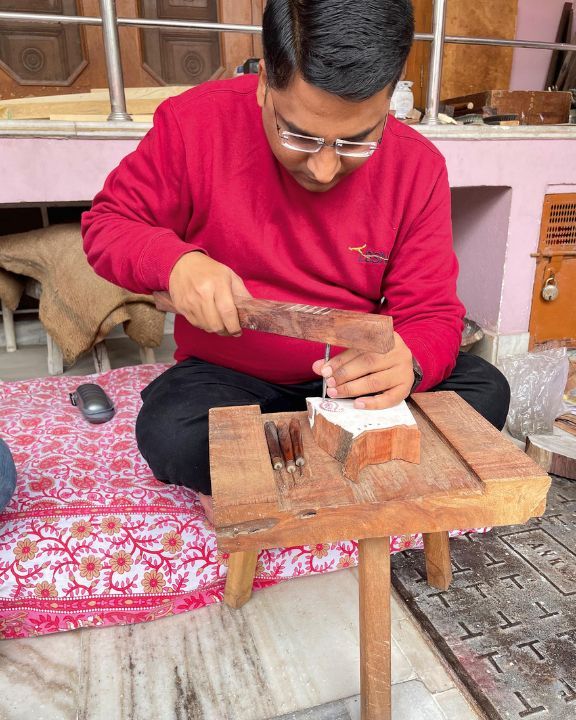 I decide to get my hands dirty and sign up for a quick masterclass. We start with a small block of soft wood. We pick this from a pile of shagon wood blocks that have been dried in Ahmed's basement for over a year so that they can be chiselled perfectly. We then trace a pattern onto the block—in my case, it is a small, simple frog design. Using a small chisel and hammer, I learn to carve the wood, with varying levels of pressure, and scoop out portions of it to create the block. It takes me a while to get it right. "My family traces its origins to the Shia Muslims of Persia, who settled here and started their craft during the reign of Sawai Jai Singh II," Ahmed tells me. I am then led to a storeroom, where he keeps his most prized blocks. They are absolutely astonishing in detail.
My encounter with these three artists not only opened my eyes to what lies beneath the surface of art and craft shopping, but also showed me another way to experience a destination. The idea of travel is changing, as it should. Travellers are happy to trade store-bought souvenirs for experiential workshops with local artisans. I know I did, and would do it again—until I get that block of frog right.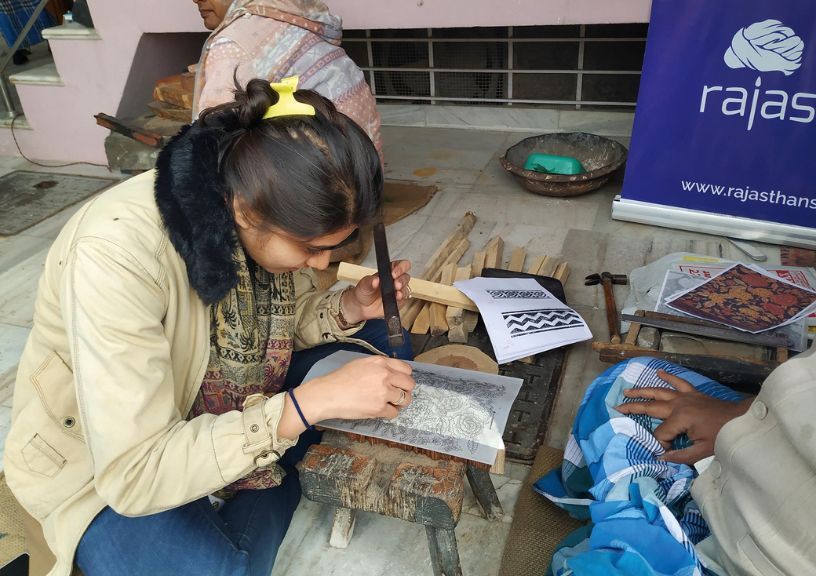 Getting There
Jaipur is well connected to all Indian metros by air and railways.
Stay
The Leela Palace Jaipur makes for a beautiful stay in the Pink City, especially for an art-centric tour. The new Leela property employs traditional thikri craft, inlaid mirrors, Shekhawati paintings, and silver foiled domes in its decor. Doubles from INR 15,300
Tours
Rajasthan Studio offers a range of art-based travel experiences with award-winning artisans across the cities of Jaipur, Jodhpur, and Udaipur. Contact +91 98205 60980
Related: Add A New Aesthetic To Your Instagram Via These Gorgeous Backdrops In Jaipur