Positioned on the way from Bhopal to Chhindwara, the alluring Patalkot Valley makes for a refreshing eco-tourism destination. Home to indigenous communities like the bharias and the gonds, the horseshoe-shaped valley is snuggled between dense forests, towering granite walls and sandstone rocks, and enchanting waterfalls. By Karan Kaushik
Your ultimate guide to Madhya Pradesh's Patalkot Valley
The Destination
View this post on Instagram
A treasure trove of natural resources, the lush Patalkot Valley has remained largely untouched by a heavy tourist influx. This has helped Patalkot retain its ethnic culture and blissful environs. The valley turns absolutely magical during monsoons. Home to several tribal settlements, Patalkot Valley promises an enriching time for the seasoned traveller.
Here's why you must explore this offbeat destination sometime soon.
Things to do in Patalkot Valley
Hiking, Trekking & Camping
View this post on Instagram
Thanks to its unique topography, Patalkot offers amazing opportunities for the devil-hearted. Go hiking or embark on a trek to a tribal village. One of the best treks you can take in Patalkot is the one that takes you to Zingaria Waterfall. Visit Raja Kho, where you'll come across the erstwhile military station of the Gond kingdom. From here, make your way to the Doodhi river and enjoy rafting on its thrilling rapids.
You may also fancy a night of camping at a riverside camping site. Patalkot Adventure Sports organises camping tours and other adventure activities in the valley. Patalkot Eco Jungle Camp, located 20 km from Tamia also offers nice camping opportunities amidst the majestic Satpura ranges.
Tamia – Patalkot
View this post on Instagram
Reach out to Motel Tamia and Tribescape to arrange a tour of Tamia and Patalkot. Popularly known as Tamia-Patalkot darshan, the eco-tourism initiative by the hotel introduces you to the rich tribal heritage of Chhindwara. They organise a tribal food trail called Patalkot Ki Rasoi. Take this opportunity to learn a thing or two about the indigenous food of the tribals.
Meet the Gond and Bharia tribes
View this post on Instagram
Patalkot inhabits the Gond and Bharia tribal communities. The tribals are experts at making herbal medicines from native plants. You can even buy these natural medicines that act as natural remedies for most common illnesses. The tribespeople will also share their knowledge about different medicinal plants and their benefits. Now that's what we call an enriching experience.
You must also embark on a village trail and meet the Bharia tribals, who have been leading a life of isolation in the valley for over 500 years now. The Bharias worship Ravana's son Meghnad, as he is considered the God of Rains. Visiting their mud-thatched abodes and getting acquainted with their lifestyle is an experience that will stay with you forever.
Shop for Chhind handicrafts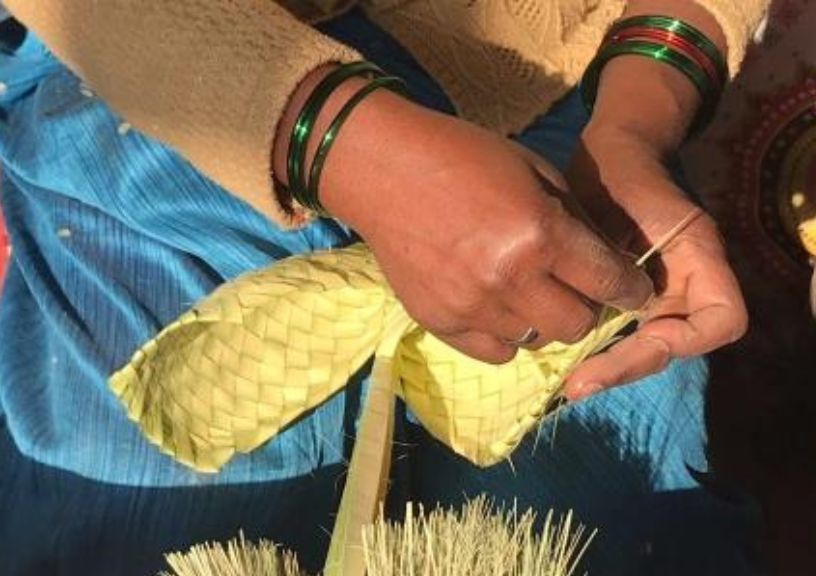 The Bharias are also skilled at creating wonderful artefacts from wood and bamboo. Chhindwara is known for its Chhind art, also known as Khajoor art. They use the leaves of wild date trees to make attractive handicrafts like jewellery items, baskets, and brooms. Do bring a slice of Patalkot with you in the form of lovely souvenirs.
Satpura Adventure Sports Festival
View this post on Instagram
For an incredible experience, visit Patalkot in October. This is when the Saputara Adventure Sports Festival is held. Expect a plethora of adventure activities such as birdwatching, trekking, rock climbing, paragliding, parasailing, and water sports.
Where to stay
Serendipity, Tamia
View this post on Instagram
A stay at Serendipity Tamia promises a mystical experience steeped in nature and adventure. Their trained naturalists will take you on rewarding treks, hikes, and trails. One of their best offerings is the Mountain Top Breakfast, where you can enjoy a wholesome meal while treating your eyes to the splendid views of deep valleys and ravines. The property offers royal cottages, deluxe rooms, and mud-thatched village huts. The fine-dining restaurant Soul Curry dishes out delicious local delicacies, while Pape Da Tashan Dhaba serves lip-smacking Indian fare.
Wild Valley Resort, Tamia
View this post on Instagram
Wild Valley Resort is a charming and spacious resort engulfed by the magnificent mountains of Tamia. The property offers Valley View rooms in the deluxe and family categories. From here, you can also visit the ​​Chhota Mahadev Temple and the Tribal Museum at Tamia.
How to reach
Patalkot Valley is best explored by setting base in Chhindwara, which enjoys easy accessibility from all parts of India.
By Air: Nagpur, at 125km, is the nearest airport. It is served by regular flights from major cities of India. Taxis for Chhindwara are easily available.
By Rail: Chhindwara Junction Railway Station is an important station in Madhya Pradesh. It is well-connected to all parts of the country.
By Road: Chhindwara is easily approachable by road from Nagpur (125km), Jabalpur (215km), and Bhopal (286km). Taxis and buses ply daily to Chhindwara from these towns.
Feature and hero image courtesy: MP Tourism
Related: 10 Wildlife Lodges in Madhya Pradesh That Define Rustic Luxury