A short drive away from Udaipur's tourist crowds lies the historic town of Dungarpur, our contributor samples royal hospitality and heritage in the two palaces of its first family, and discovers an undiscovered gem. By Santosh Ojha
Experiencing royal hospitality at two palaces in Dungarpur
As our car enters the tiny town of Dungarpur, two hours south of Udaipur, my wife and I have our reservations about the destination. This is a town few tourists have heard of. But we are in for a surprise. The place is spotless; we cannot see a single sign of trash as we drive through its busy roads to our destination, Udai Bilas Palace, a royal boutique property.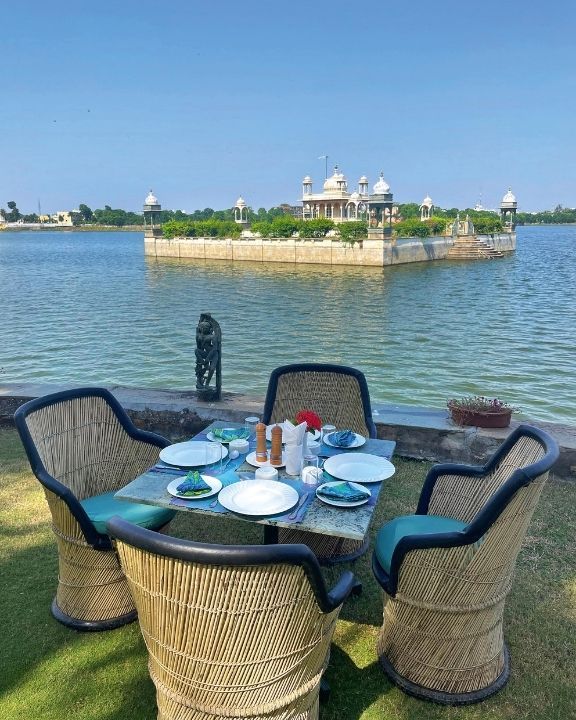 The royal family of Dungarpur traces its origins to the Guhilot Ahara Rajputs of Chittorgarh. Around 900 years ago, Maharawal Samant Singh, the elder son of Maharawal Kshem Singh, left the family to carve out his kingdom in the deep south of Rajasthan, in an area called Vagad. In the early 14th century, the seventh king of the ruling family, Maharawal Bhachund, realised that he needed his capital to be at a place relatively safe from invaders. Dungarpur, already a part of his domain, was an obvious choice due to its hilly and thickly wooded terrain. Today, Dungarpur is home to the 34th king of the royal line, Maharawal Mahipal Singh II.
As I step into the courtyard of Udai Bilas Palace, the part that immediately grabs my attention is the Ek Thambia Mahal. Literally meaning single-pillared palace, the structure was built using white marble and the locally available greenish-blue pareva stones. It's an exquisite specimen of Rajput architecture, replete with ornate balustraded balconies, friezes, and arches. It was built and used as a pleasure pavillion by Maharawal Udai Singh II, who ruled over Dungarpur for over 50 years in the 19th century. The other palace wings—Vijay Niwas, Udai Bilas, Lakshman Niwas, and Khuman Niwas—were added to the complex later. In 1993, the current heir apparent, Yuvraj Harshvardhan Singh, converted Udai Bilas into a 22-room boutique hotel.
We enter our massive suite through a thick wooden door that looks sturdy enough to thwart a trespassing elephant (if one could climb up to the first floor). Our accommodation features two large four-poster beds, an ancient dressing table with an oval mirror, and gorgeous glass chandeliers. Tea is served on the balcony, which offers a beautiful vista: the six-square-kilometre Gaibsagar Lake is serene and bereft of activity. I discover later that the lake belongs to the royal family, and only a part of it—away from the palace—is open to public. A shimmering marble temple seems to be afloat in its waters.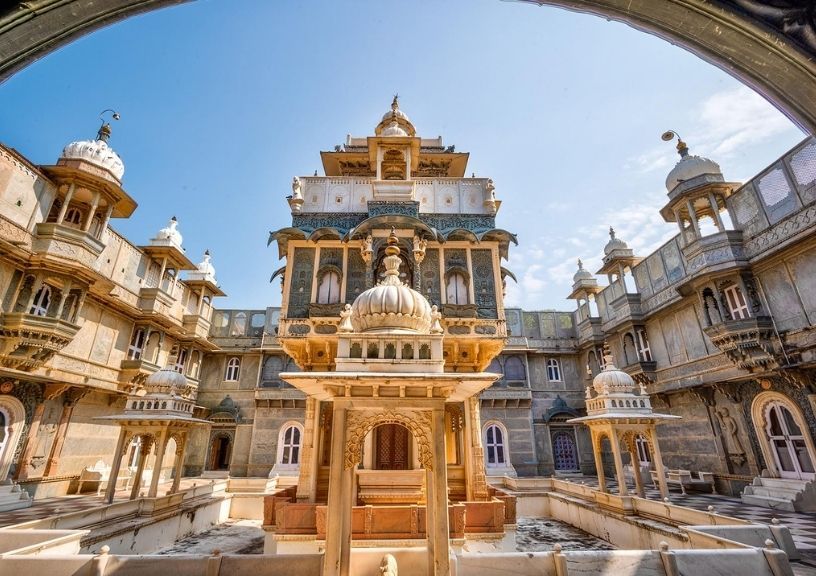 In the evening, the burly, moustachioed property manager, Kalvendra Singh, eagerly escorts us to the bar, Dungarpur Mews, which announces itself with the glowing headlights of an old Contessa car propped up on a tall tree. Inside, we see some unusual props: 27 vintage cars! There's a Steyr Daimler 220 cabriolet of 1937 vintage, a 1966 Volkswagen Beetle, the Cadillac 1950 convertible series, and many more—all in running condition, I'm told. There is even a scaled-down replica of the DH-5 aircraft.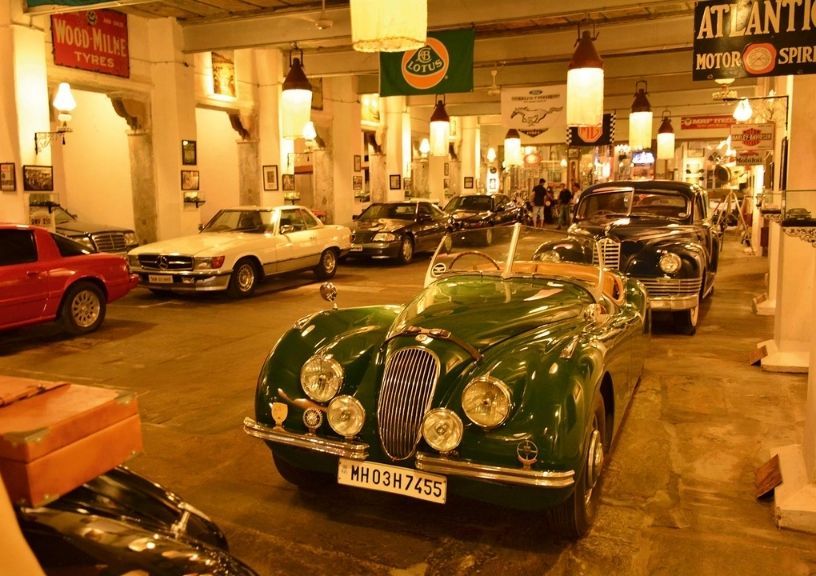 The present king's grandfather, Maharawal Bijai Singh, had gifted two of these fighter planes to the British Royal Air Force to support their fight in World War I. Inside, patrons sit on tyre-shaped bar stools; more car headlamps are propped up on stands; glass globes containing miniature cars dangle from the roof; even the sofa upholstery has tiny cars printed on them! My Scotch-addled mind is still processing this sensory overload when, suddenly, it feels like my chair is levitating. Just as I begin to doubt my alcohol tolerance, I hear the barman laughing heartily. He has activated a hydraulic pump that has lifted the bar area two metres above the ground.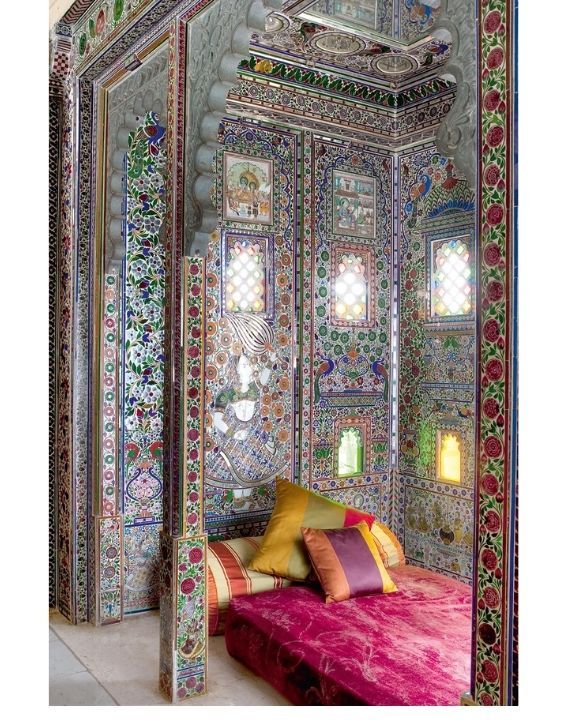 Our dinner is set up in the in the partly open dining area, Zenana Chowk, with the heir apparent, Yuvraj Harshvardhan Singh, and his wife, Yuvrani Priya Darshini Kumari. A huge marble dining table—10 metres by three metres—with a water pool in the centre and inlay work along the edges takes centre stage. Dinner is a delicious spread, and the conversation with the royal couple sparkling. "I am a keen wildlife lover and conservationist", Singh tells me, adding that he is a member of the National Tiger Conservation Authority. Kumari, it turns out, is a passionate and accomplished cook. "I was just 21 when I was invited to Switzerland to cook Rajasthani royal fare for a five-star hotel in Zurich", she reveals. At the time she was helping her father at their heritage property in Jodhpur. A Swiss guest who was impressed by the meals she made invited her. She stayed in Zurich for three months and would return every spring for the next eight years, covering other Swiss cities. Her class shows in the dishes we savour: maas ka handi sulla (boneless mutton curry in handi), draksh murgi (raisin chicken), makki sohita Dungarpur special (a signature corn dish), dhungarela khaata (smoked kadhi), malpua (an Indian pancake), and gulab patte ki kheer (rose petal kheer), to name a few.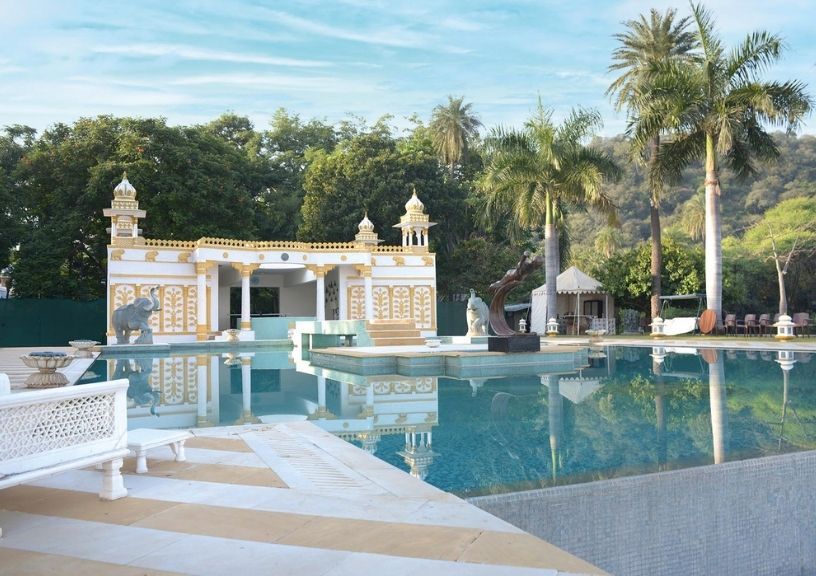 Later, Kalvendra Singh takes me on a tour of the royal estate. The Africa Room's walls bear as many as 141 hunting trophies, an accomplishment of Maharawal Laxman Singh, who ruled Dungarpur for most of the 20th century. Meanwhile, Ajaibghar, Maharani Manhar Kumari Museum, is a treasure trove of the family's memorabilia. The well-curated museum reserves a corner for arguably the most famous scion of the family: the late Raj Singh Dungarpur, who was a noted cricket administrator. Elsewhere, a swimming pool sits facing the lake, with stone-carved statues of elephants standing guard on its periphery.
The second palace we explore, Juna Mahal (Old Palace), has often been described as the longest continuously inhabited fort-palace in India. The royal family lived in it from the early 14th century to the early 20th century. This unique eight-storeyed structure sits atop a hillock overlooking the city. Each king who lived here added his design. sensibilities to the structure. Today, it looks so dilapidated that I think twice before entering it. But I am glad I do, for the next two hours are a breathtaking discovery.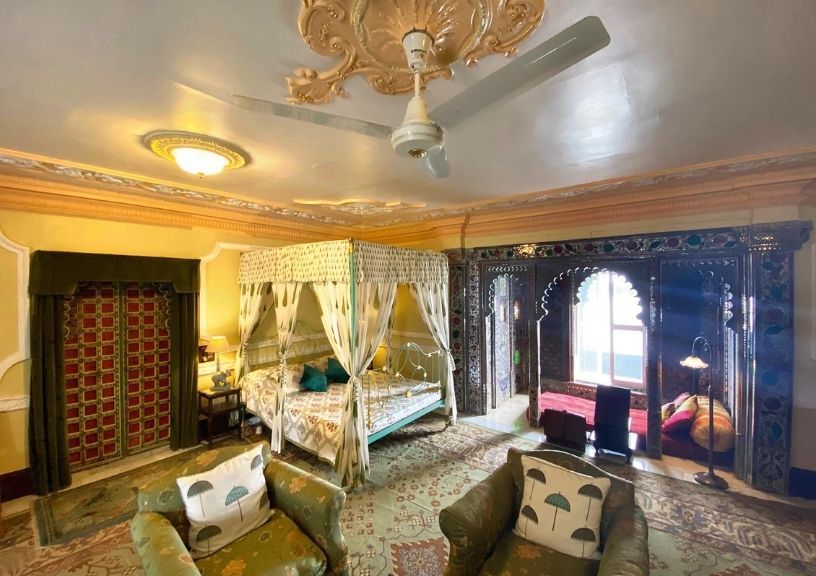 Kamji, the palace security guard and our guide, looks as weather-beaten as Juna Mahal. But he makes for great company as we climb the steep, narrow steps of the palace. The opulent Darbar Hall, which holds the throne, is a visual delight made up of painted ceilings, octagonal marble columns with colourful capitals, and rows of red carpets. The Fateh Prakash Mahal is done up with mirror inlay motifs of flowers, birds, and animals, whereas the Jaali ka Mahal lives up to its name with exquisite latticework letting in breeze and sunlight.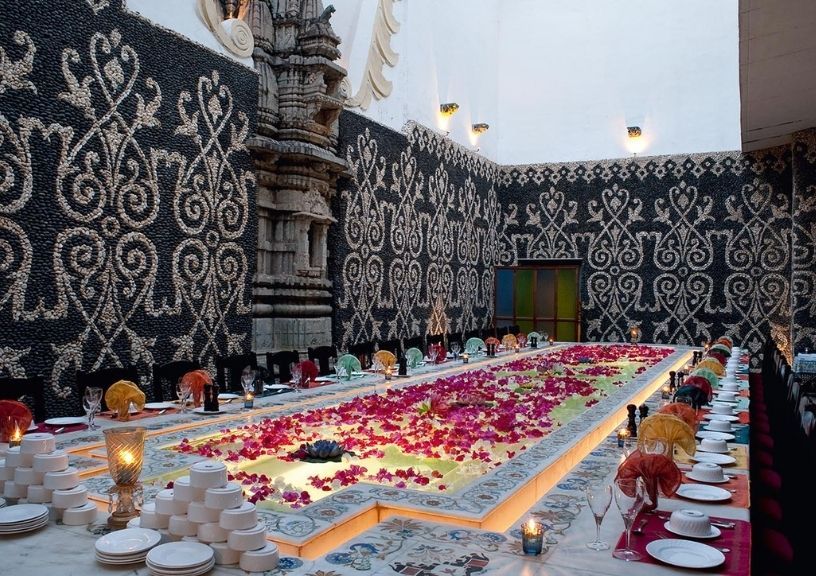 The murals in Juna Mahal are worth a separate tour. One wall has Krishna revealing his "virat swaroop" to Arjuna in the battlefield of Kurukshetra, with an earlier king, Maharawal Bijai Singh, at the deity's feet. Time has taken its toll on this magnificent work. A mural of the Gangaur festival, with Maharawal Uday Singh II in attendance, has done slightly better to ward off wear and tear. A Krishna Leela painting has bright hues of orange and yellow bursting out of the artwork. There is even a 'Kama Sutra' corner, with dozens of miniature paintings portraying varying levels of bodily contortions. The paintings, ordered by the 27th king, Maharawal Rawal Shiv Singh, are now hidden behind wooden shutters installed later by a presumably more prudish king. Kamji ceremoniously opens the doors to let me enjoy the delicate artworks. I spy an amorous couple deep in lovemaking even as the hirsute hero shoots down an intruding deer. Oh, those Rajput kings of yore!
When it comes to tourism, Dungarpur usually loses out to its popular neighbour, Udaipur. But I have come to realise that it is a great place to unwind, enjoy royal hospitality, and discover a heritage gem like no other.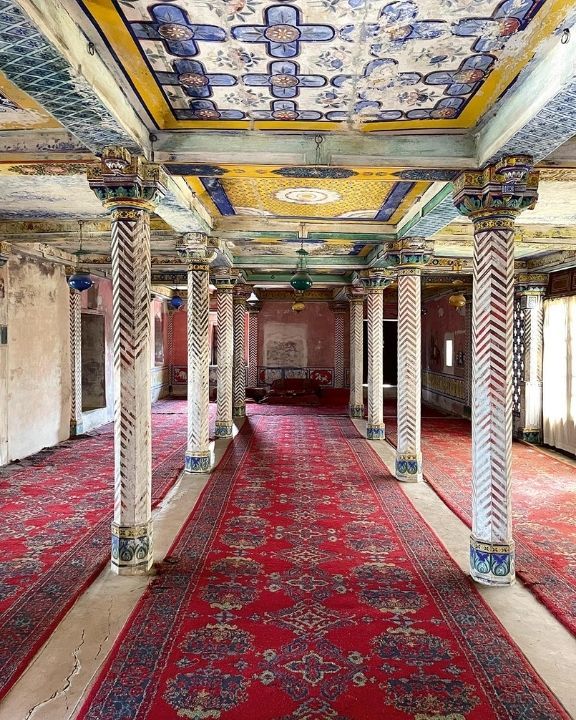 GETTING THERE
By road, Dungarpur is two hours away from the Udaipur airport and three and a half hours from the Ahmedabad airport. Both airports are well connected to the rest of the country.
STAY
There are 22 rooms on offer; no two are identical. Tariff (for two) ranges from INR,900 for a Double Room, to INR12,200 for a Suite, INR 21,150 for an Art Deco suite, and INR 29,000 for the Maharawal Suite; udaibilaspalace.com
Related: Movie Buffs, Check Out The Oldest Cinema Theatres In India