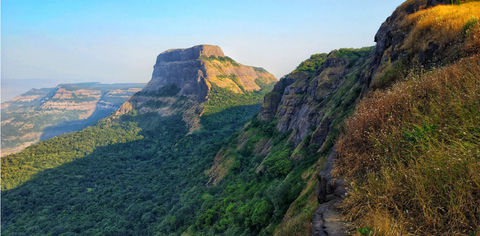 One of the most adventurous treks in India, Dhak Bahiri Cave trek is a true test of your physical and mental fitness. Nestled amidst the Sahyadri Hills, Dhak Bahiri Caves are located near Jambhavali in Mawal taluka of Pune district. If you think you are lionhearted, do take the plunge. By Karan Kaushik
Don't call yourself an adrenaline junkie if you haven't done the Dhak Bahiri Cave trek
View this post on Instagram
Dhak Bahiri Cave Trek is a perfect blend of nature and adventure. Changing terrains and altitudes make this trek a lot more thrilling than your moderate treks. There's rappelling, there's rock climbing, there's a super steep ascent, and there are deep valleys and notorious monkeys. One wrong step on this trek could cost you big time. And yet there are adventure-loving urban dwellers from Mumbai and Pune who embark on this thrilling trek with their friends just for the unmatched views.
View this post on Instagram
The trek requires you to ascend a col, walk along a steep escarpment, and brave a vertical ascent on a 70 degrees gradient rock patch. There are three trekking routes that you may take to reach the Dhak Bahiri Caves.
Jambhavali to Kondeshwar route
View this post on Instagram

The most popular one is from Jambhavali to Kondeshwar. The first stretch of this route takes you through dense jungles and provides enough photo opportunities to capture the picturesque beauty of the Sahyadris with your lens.
After a few doable ascends and descends, you have to make it to the col between Kalakarai Pinnacle and the mountain that houses the Dhak Bahiri Caves. Once you reach the mountain, you have no choice but to hike the 70-degree gradient rock patch.
Sandashi Village route
View this post on Instagram
The second route is from Sandashi village. This one takes a lot more time than the Jambhavali-Kondeshwar route. You may need the help of a local during the first stretch of this route. Soon, you'd see orange ribbons tied to trees which will lead your way to the base of Dhak Bahiri Caves. From here, you will have to cover the same steep rock patch mentioned in the first route.
And then there's the third and least-taken route, which is the Rajmachi route. However, we'd recommend taking either of the first two routes.
Plan it well
Most trekkers choose to spend a night at the Kondeshwar temple. This solves two purposes. One, you can enjoy endless stargazing and soak in spectacular views of the Milky Way. Second, you can get up early and catch a stunning sunrise after a hike to the Dhak Bahiri Caves. You'd also get incredible views of the Rajmachi, Visapur, Manikgad, and Karnala forts from the caves.
The Dak Bahiri Cave Trek leads you to the age-old Bahiri Temple, perched atop a steep hillock. History buffs would love it here. Legend has it that the caves here were visited by Chatrapati Shivaji Maharaj, who had come here to seek blessings and offer a gold plate to Lord Bhairav.
View this post on Instagram
It was only after eminent historian Gopal Nilkanth Dandekar discovered this place that it became the trekking paradise it is today.
Camping and cooking
View this post on Instagram
The best part about this trek is that you can camp inside the caves and spend a night there. The cave houses two rooms, which can easily accommodate as many as 50 people. You'll even get utensils and cookware at the cave. So do carry your own raw material and flaunt your culinary skills to your buddies. There's a little catch here. Do make sure to keep the utensils back in their original place. A popular legend suggests that the one who steals the utensils will die.
Please note that women are not allowed inside the caves for religious reasons. Do carry your belongings carefully as you'd meet a lot of naughty monkeys ready to snatch. And do carry your own food and enough water as there are no eateries here.
Related: Hidden Gems Near Mumbai That Promise Absolute Bliss
Written By