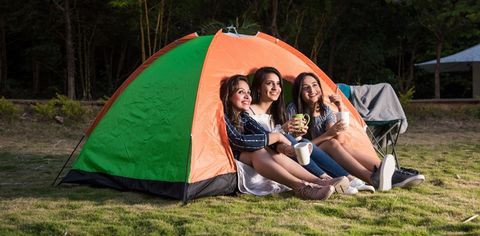 Raksha Bandhan is around the corner. And the best part? It's on a Thursday this year. So, if you take a leave on Friday, you could embark on a long weekend trip with your siblings. Sounds like a plan, right? By Karan Kaushik
Siblings who travel together stay together. It's always great to travel with the people we have grown up travelling with. There's a sense of nostalgia attached to it. If you and your siblings are looking forward to a long-due sibling trip, we are here to help.
Destinations for trips in India to explore with your siblings
Puducherry
View this post on Instagram
Formerly known as Pondicherry, the French Riviera of India is all about sun, sand, and spirituality. Since it was a French stronghold from the 15th century until the mid-20th century, remnants of colonial architecture have an abiding presence in its cobbled streets. From pristine beaches and blissful ashrams to age-old temples and cathedrals to lip-smacking French cuisine and lovely walkways, Puducherry is a sheer delight for the discerning traveller. Must-visit spots include Promenade Beach, Paradise Beach, The Sacred Heart Basilica, Sri Aurobindo Ashram, and Eglise de Notre Dame des Anges.
Udaipur
View this post on Instagram
Udaipur remains an all-time favourite of the seasoned traveller. When here, you and your siblings can have a great time doing all things touristy. Enjoy a relaxing boat ride in the tranquil Lake Pichola, experience the glorious past of Rajasthan at the City Palace, take a ropeway ride for a bird's eye view of the city of lakes, and shop for Rajasthani apparel and handicrafts. Udaipur has lovely surprises for you and your sibling. Explore the Vintage Car Museum, enjoy street food at the Fateh Sagar Lake, visit the Sajjangarh Palace, and enjoy lakeside dinners with stunning views. Foodies must try delicacies like the iconic lal maas and daal baati.
Karjat
View this post on Instagram
Karjat hill station is where the coastal plains of the Konkan end and Bhor Ghat starts. Karjat is Mumbai's closest trekking destination and sits by the banks of river Ulhas. Its leafy hillsides are dotted with white waterfalls and rivulets. From a distance, you get to see pinnacles, forts, gentle spurs, cliffs, and plateaus on a clear day. Come to Karjat for its health retreats, ancient rock-cut caves, imposing Maratha forts, easy treks, and white-water rafting trips. Main attractions include trekking to Matheran via Rambagh Pont, Peth Fort, and Kotligad, and the classic walk up to Bhimashankar.
Chopta
View this post on Instagram
Also known as the mini Switzerland of Uttarakhand, the picturesque hamlet of Chopta is perfect for a staycation with your siblings. Tucked away in the Garhwal Himalayas, Chopta is a part of the Kedarnath wildlife sanctuary. Prime attractions here include the Tungnath Temple, which is the highest located Shiva temple in the world. Explore the panoramic view of Chandrashila or embark on a trek to Deoria Tal. If you love birdwatching, Chopta is a paradise. As many as 240 species can be spotted here. Common ones include Himalayan monal, Himalayan griffon, and scarlet finch. Chopta also has several sunset and sunrise points. The best time to visit Chopta is from November to May.
Gokarna
View this post on Instagram
If you're looking for a getaway that involves beaches but don't want to spend time in Goa anymore, a road trip to Gokarna is what you need. The place is relatively less explored, visited mostly by those looking for off-beat destinations to travel to, and has plenty of hotels and homestays where you can spend the long weekend at. Blessed with sprawling beaches, Gokarna has a very bohemian vibe to it. Once a temple town flocked by devotees, Gokarna now doubles up as a hippie paradise. Prominent spots include Om Beach, Kudle Beach, Mirjan Fort, and Gokarna Mahabaleshwar temple, to name a few.
Kumarakom
View this post on Instagram
Imagine waking up under a canopy of coconut trees or cruising through a lagoon on a bamboo raft. The backwaters of Kumarakom will leave you in awe of nature all over again. Lake Vembanad gently caresses the coastline of Kumarakom, creating a serene landscape featuring virgin backwaters, swaying palm trees, and iconic houseboats. The best way to make the most of a destination like Kumarakom is to check into a luxury houseboat. Visit the Kumarakom Bird Sanctuary, take a ride in a fishing boat, try watersports at the Vembanad Lake, and get sloshed with a glass of toddy at a local toddy shop. Kumarakom is every bit magical.
Saputara
View this post on Instagram
One of the most underrated hill stations in India, Saputara is situated in the heart of the Western Ghats. It's best visited from Ahmedabad. On your way, visit the grand Lukshmi Vilas Palace in Vadodara, marvel at the 100-year-old Golden Bridge in Bharuch, and follow in the footsteps of Mahatma Gandhi at Dandi Beach in Navsari. In Saputara, visit the gorgeous Gira Waterfalls, and go boating on the serene Lake Saputara, which is surrounded by gardens. The Saputara Tribal Museum showcases the rich culture of the Dang tribe. Just a few kilometres away, the Artist Village sells tribal artwork and handicrafts.
Mawlynnong
View this post on Instagram
Picture your sibling trying to walk on the popular Living Roots Bridge in Meghalaya while you try to record their nervous adventure on your phone. If that sounds appealing to you, plan a trip to Mawlynnong with siblings. Deemed the cleanest village in Asia, Mawlynnong is a three-hour drive from Cherrapunji. Cleanliness is a way of life for the villagers. Here, almost every house sports a lovely flower bed in its courtyard. Just outside the entrance of the village is The Bamboo Sky Walk. An eco-friendly staircase-like structure made of bamboo, tree branches, and jute. Ten minutes away is the Living Roots Bridge. Built over centuries by the local tribes, Khasi and Jaintia, the natural bridge has been included in the tentative list of UNESCO World Heritage Sites recently.
Dapoli
View this post on Instagram
Located at a distance of 230km from Mumbai, Dapoli offers a relaxing weekend getaway. A drive to this lesser-explored coastal hill station promises a chance to watch dolphins traverse seas and crocodiles laze around in Maldoli's backwaters. Visit the nearby beaches of Harnai and Anjale, which are dotted with swaying coconut and betel nut palm trees. Both beaches are perfect to enjoy a quiet escape from the city grind. The Karde beach has dolphin sighting tours. Homestays and hotels are available across the Lagdhar beach. A sea-fort, an ancient Ganesh temple in Anjarle, and buckets of delicious seafood complete the alluring offerings at this triadic getaway.
Orchha
View this post on Instagram
If history and architecture are what interest you and your sibling, Madhya Pradesh's Orchha is a great option. Nestled on the banks of river Betwa, Orchha is steeped in mythology and history. Explore the grand Orchha Fort and the Jahangir Mahal it houses. Watch the evening sound and light show here to know about the glorious history of Orchha. Head to the Ram Raja Temple and seek blessings during the evening aarti. The next day, you can visit the Chaturbhuj Temple, royal cenotaphs, and explore the ancient paintings at the Lakshmi Temple. You can also do boating and rafting in the Betwa and plan a cycle trip to Orchha Wildlife Sanctuary.
Kodaikanal
View this post on Instagram
Breezy climate meets old-world charm in Kodaikanal, one of Tamil Nadu's most popular hill stations. Located in the Western Ghats, Kodaikanal has a man-made lake called Kodai lake at its centre. Boats populate the lake while tourists choose between cycling, balloon shooting, skating, and eating the delicious local fare. A typical itinerary would include walking down Coaker's Walk, which is a kilometre-long pathway built on a steep slope that overlooks the whole town, getting acquainted with different varieties of orchids at the Shenbaganur museum, and exploring unusual rock formations and valleys of Guna caves. If you and your sibling are up for some adventure, go trek trekking through dense forests to explore picturesque waterfalls, lovely campsites, and lofty peaks.
Mashobra
View this post on Instagram
If you took a summer vacation to Shimla with your family in your childhood, go and relive the memories. But stay in Mashobra this time. Just a 45-minute drive from Shimla, Mashobra has gained popularity among travellers with its lovely orchards, dense oak forests, gorgeous luxury hotels, and enchanting valley views. An offbeat holiday here will give you and your siblings ample time to catch up and remember the good old days. Go shopping at the Tibetan Handicraft Market, soak in the colonial charm at the small church nestled in the forest. You can also plan a trek to Shali Tibba or Chharabra Village. Mashobra also offers rafting facilities at the Tattapani river and paragliding.
Related: 10 Summer Trips In India You Must Embark On With Your BFFs
Written By