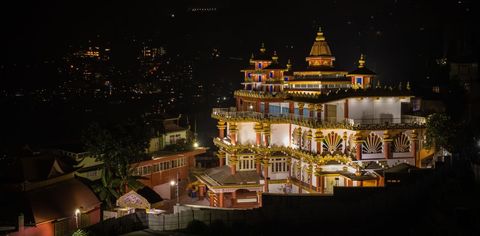 Situated in the Eastern Himalayas, Sikkim is a paradise blessed with natural abundance. The state also boasts an extraordinary history and rich cultural heritage. Gangtok is not only the capital but also serves as a gateway to the region. Here's a handy travel guide to the charming hill station. By Karan Kaushik
Planning a summer holiday in Gangtok? Here's everything to know
The Destination
View this post on Instagram
Gangtok is a beautiful blend of the past and the present. Most tourists use the city as a base for incredible experiences like driving to the legendary Nathula Pass, the otherworldly Tsomgo Lake, and the age-old Rumtek monastery. The town also offers stunning panoramas of Mount Khangchendzonga basking in all its glory.
Gangtok is layered around a mountain ridge and sits at an altitude of 1676m. The hill station has a cosmopolitan vibe, thanks to the shopping complexes, chic cafes, nightclubs and hotels that dot its streets. Gangtok is one of those quintessential hill stations where you enjoy shopping sprees while devouring ice creams and pastries. From ropeway rides to karaoke nights, it's as touristy as it gets.
The Way
Being the capital of Sikkim, Gangtok is easily accessible via all modes of transport. Here's a lowdown on how to get there.
By Air
View this post on Instagram
Bagdogra Airport (126km/4 hours) is the nearest airport from Gangtok. It is connected to major cities like Delhi, Mumbai, Chennai, Kolkata, and Guwahati. Try and get yourself a window seat on the flight. The airway to Bagdogra offers magnificent views of snow-clad peaks and verdant valleys. You also get an aerial view of the Teesta river.
Another airport that you may consider is the newly-built Pakyong Airport, which is just 29km from Gangtok. However, it is served by limited flights, so we'd suggest sticking to Bagdogra. The Sikkim Tourism Development Corporation (STDC) also operates a helicopter service from Bagdogra to Gangtok, which takes around half an hour. But this service is subject to weather conditions, and you must inquire about it in advance to avoid last-minute disappointments.
By Road
View this post on Instagram
The well-maintained NH31A connects Gangtok to Siliguri. The highway goes past the Teesta river and Kalimpong, a popular hill station in West Bengal. Private and shared taxis are readily available for Gangtok. You may also board an SNT bus from Siliguri. But we suggest hiring a shared or private cab.
In Siliguri, you will come across gorgeous tea plantations and the serene vibe of the town will set your mood right for the journey to Gangtok. Stop at one of the roadside dhabas in Sevoke and treat yourself to sumptuous non-vegetarian cuisine cooked in typical Bengali style. From here on, you will be driving along the beautiful Teesta and may want to stop for some quick photo-ops.
By Rail
View this post on Instagram
The nearest railhead from Gangtok is New Jalpaiguri Station (121km/4.5 hours). Taxis are available for Gangtok. The New Jalpaiguri station is one of the most charming railway stations in eastern India. It acts as an important connecting base for the Northeastern states to the Indian mainland. The Toy Train parked at the station will catch your attention. The station enjoys good connectivity with most parts of India. It is connected to big cities like Kolkata, Delhi, and Guwahati. The station was named one of the cleanest railway stations in India in 2016.
Things to do in Gangtok
Gangtok Ropeway
View this post on Instagram
Remember the climax scene of Irrfan's Qarib Qarib Single? That was shot inside the Gangtok Ropeway. The double-cable zig back ropeway has three stations: Secretariat, Nam Nang, and Deorali. The 10-minute long ride offers great views of the town, peaks, and valleys.
Banjhakri Falls
View this post on Instagram
Sequestered amidst a lush green valley, the Banjhakri Falls serves as a nice picnic spot. The park here features paddle boating, a rope course, gazebos, and more. You may also visit the museum set up by the Sikkim Rural Energy Development Agency here.
Tashi View Point
View this post on Instagram
One of the most popular attractions in Gangtok, Tashi View Point boasts mesmerising panoramic vistas of the snowcovered Mount Kanchenjunga. The best time to be here is dawn when the first sun rays light up the mountain peaks. The area also has a cafe and a souvenir shop.
Ganesh Tok
View this post on Instagram
Head to Ganesh Tok to see the cityscape along with views of the Chogyal Palace and Enchey Gompa. Situated on a ridge, the spot offers a bird's-eye view of the sprawling Gangtok city. You can also see Mount Khangchendzonga and Mount Siniolchu from here.
Hanuman Tok
View this post on Instagram
Nestled at an altitude of 7,200 feet, this temple is maintained by the Indian army. The temple features scenes from the Ramayana that have been gorgeously sculpted on its walls.
Enchey Monastery
View this post on Instagram
The Enchey Monastery follows the Nyingma-Buddhist school of thought, and its sanctity is said to be the reason why people started to settle in this region. Located on the northern side of Gangtok, it is known for its glorious three-dimensional murals of stacked creatures depicting the evolution of life.
Do-Drul Chorten
View this post on Instagram
Said to have been built by Trulshik Rinpoche in 1945, the Do-Drul Chorten Stupa's golden dome can be seen from various points in Gangtok. Its 108 prayer wheels have Tibetan mantras inscribed on them.
Rumtek Monastery
View this post on Instagram
Located 26 kilometres outside Gangtok city, Rumtek is Sikkim's largest Buddhist house of worship. Home to a golden stupa along with relics of the 16th Karmapa (head of the Karma Kagyu, the oldest reincarnate lineage of Tibetan Buddhism), it is a site you cannot miss.
Tsomgo Lake
View this post on Instagram
The ethereal Lake Tsomgo, located about 38 kilometres from Gangtok, is nearly a kilometre long and 50 metres deep. Popularly called Lake Changu, the waterbody is surrounded by snow for most of the year and its own frozen surface shimmers in the colder months. Instant noodle stalls call out to you, as do yak rides.
Nathu La Pass
View this post on Instagram
About 50 kilometres away from Gangtok is Nathu La, a legendary snow-laden mountain pass that falls on the ancient Tea Horse Road. It's open to Indian visitors on specific days of the week, and a permit is required for the trip.
Shopping at MG Road
View this post on Instagram
MG Road is the main street of Gangtok. An imposing statue of Mahatma Gandhi and a cute sculpture of a red panda stand on either end. Like most mall roads, this street is lined by shops, ATMs, salons, cafes, bakeries, cyber cafes, bars, and restaurants. One end of the road also houses a Sikkim Tourist Information Centre. It's a traffic-free pedestrianised zone, and the short stretch jas everything you may need. Grab a bench and enjoy people-watching as you sip a cup of hot lemon tea you just scored from one of the street vendors. The shops here sell attractive handicrafts and woollens. From Buddhist masks and thangkas to brass bowls and bags made with local silk, you will be compelled to splurge.
Best Time To Go
While Gangtok enjoys a pleasant climate throughout the year, planning a trip depends on what you seek. If you wish to witness gorgeous rhododendrons blossoming in full bloom, visit between March and May. September to December is perhaps the best time, climate-wise. To enjoy clear views of the Himalayas, visit during this period.
The months of January and February are best if you want to witness snow in the upper reaches of North Sikkim. However, during this period, the routes to high-altitude destinations like Tsomgo Lake and Nathula are often closed. It is best to avoid travelling to Gangtok in the monsoons as the region experiences heavy rainfalls and landslides.
Related: These Beautiful Lakes In Northeast India Are A Feast For The Eyes
Written By