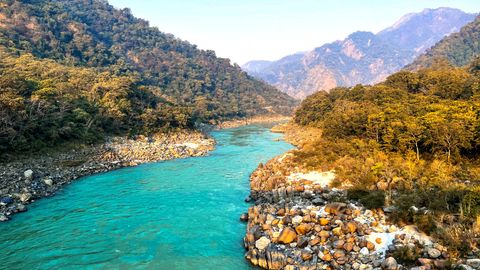 September is almost here, and so is the holiday season which brings along long weekends. At a time when the city is covered in a misty haze, with cool breeze carrying the promise of rains, destinations around Delhi boast of a similar charm. So, in case you want to make the most of September weekends, these are the best road trips from Delhi that will take just 48 hours (or even less)! By Anushka Goel
Thanks to its location, Delhi has a lot of stunning sites around it that you can visit, making the most of your weekends. Most of these destinations are accessible by road, and transport you into an altogether new landscape within hours. Be it low-lying hills or the many small and big forts, or even places of religious importance, several such destinations are located within a few hundred kilometres from Delhi, which make for great weekend destinations.
Now that the monsoon is set to end soon, these destinations are at their best. Roads are filled with lush greenery, and the mist that covers the air is fragrant with the promise of rain and petrichor. The clouds are low-lying and flowers are in their optimal bloom, while birdsong fills the surroundings.
So, in case you are looking to make the most of the end of monsoons and enjoy the weather before the winters set in, these road trips from Delhi will make for the perfect choice, as they take you to places and back in 48 hours or less. What's more, if planned well, you can easily explore these destinations at leisure, get restful sleep and unwind, before resuming work on Monday morning!
12 best road trips from Delhi to take this September
Jaipur
View this post on Instagram
One of the easiest places to drive to, Jaipur doesn't take much time to explore. Leave home by 5:00 am in the morning and visit Amer Fort between 10:00 am and 11:00 am, depending on the traffic and the stops you make enroute. From Amer Fort, explore the Panna Meena Ka Kund and explore Jaigarh and Nahargarh Forts. Then, take pictures of Jal Mahal, before visiting Bapu Bazaar in the evening to shop for some traditional ware. Also, be sure to visit the Birla Temple for some much-needed peace and calm. End your day with a scrumptious thali at Chokhi Dhani.
On Day two, indulge in a scrumptious breakfast of pyaaz kachori and doodh ke laddoo at Rawat, along with chai. Then, head to the City Palace and explore the maharaja's home-turned-museum. Spend some time in one of the cafes overlooking Hawa Mahal for some stunning pictures, and head to Albert Hall Museum. From there, head back to Delhi and you should reach in the evening or late at night. If not, start early the following day to be back just in time to start your work day (especially if you work from home)!
Distance from Delhi: 270 kilometres
Gwalior
View this post on Instagram
Another one among the best road trips from Delhi is to Gwalior. The place takes about seven hours to reach. Start early in the morning and reach there by noon. Visit the Gwalior Fort, which takes about four hours to explore and includes some of the top sites in the city, such as the Saas-Bahu Temple, Gujari Mahal, Gopachal Parvat, and more. Rest in the evening and enjoy some local delicacies and street food. The next day, visit spots such as Tansen Memorial, Jai Vilas Palace and more, before heading on for Delhi.
Distance from Delhi: 365 kilometres
Chandigarh
View this post on Instagram
The union territory of Chandigarh is hardly five hours away from Delhi, and makes for a great destination to visit within hours. The destination is known for its lush green roads and its well-planned structure. What's more, the weather there in September makes it among the best places to visit. Why? Light rains with cool breeze make for the ideal date over the weekend!
Check out spots such as Sukhna Lake, rose garden and rock garden, and eat traditional Punjabi dishes such as chole bhature, kulchas and a lot more. What's more, the drive to Chandigarh will take you through Murthal, which is among the best places to enjoy piping hot paranthas!
Distance from Delhi: 247 kilometres
Rishikesh
View this post on Instagram
About six hours from Delhi, Rishikesh was once a popular pilgrimage spot which is now attracting the youth. The place, known as the yoga capital of the world, is close to Haridwar, a popular holy site (which is enroute Rishikesh if travelling from Delhi) and close to Dehradun (another stunning hill station in Uttarakhand).
In Rishikesh, enjoy the expansive views with cups of hot chai as you unwind with a book, or indulge in adventure activities such as bungee jumping, river rafting and more (as long as the weather allows for the same). Plan your return the next afternoon to be able to enter Delhi in time, or spend a couple of extra days as you work from the hill town.
Distance from Delhi: 270 kilometres
Agra-Fatehpur Sikri-Bharatpur
View this post on Instagram
Agra makes for one of the best road trips from Delhi, and in the monsoons, the destination only becomes prettier. The city is home to the Taj Mahal, one of the seven wonders of the world, which is also among the best monuments dedicated to love. Leave for Agra about 7:00 am in the morning, and reach Taj Mahal by 11:00 am. Explore the place before heading to Agra Fort.
From the Agra Fort, you can also visit Fatehpur Sikri, before travelling to Bharatpur, located just 23 kilometres from there, and retire for the night. Next morning, spend time walking at the Keoladeo National Park as you soak in the clean, fresh monsoon air and identify various monsoon and migratory birds in the place. From there, head to Delhi and reach with ample time to settle in for the night!
Distance from Delhi: 240 kilometres
Alwar-Sariska
View this post on Instagram
Sariska is among the closest tiger sanctuaries to Delhi, and makes for a great weekend destination. Head to Alwar, about 166 kilometres from Delhi, and explore the Alwar fort there. Be sure to sample some milk cake and kalakand, both milk-based sweets that are among the best here.
From Alwar, head to Sariska, which will take about an hour. Spend time in the evening and next morning at the safaris, as you explore the jungles and try to spot a tiger or two. Check out in the afternoon post lunch, and you'll be back home well in time for dinner!
Distance from Delhi: 200 kilometres
Neemrana
View this post on Instagram
Spend the weekend at Neemrana Fort Palace, a fort-turned-luxury hotel. Located just about three hours from Delhi, Neemrana makes for a picturesque drive, especially in the monsoon. Once there, spend some time exploring the beautiful fort that you're also going to stay at. The destination makes for a relaxing staycation that's close enough to home, yet allows you to experience a bit of history.
Indulge yourself in some traditional Rajasthani cuisine in the evening, and in the morning, wake up to birdsong and expansive hill views. Check out after lunch and you'll be home in a few hours, recharged and rejuvenated!
Distance from Delhi: 127 kilometres
Mathura-Vrindavan
View this post on Instagram
The twin cities of Mathura and Vrindavan are a great one-day trip from Delhi, which can also be extended into a one-night stay in case you want to explore the cities a bit more. Home to several Krishna temples, the place is of utmost importance in the Mahabharata as the birthplace and childhood home of Krishna.
Explore the Prem Mandir and several other temples here, or sit by the ghats. In the evening, visit local markets for some street food and chaat, and the next day, head back home!
Distance from Delhi: 186 kilometres
Parwanoo
View this post on Instagram
The quaint hill station is a popular one, thanks to its ropeway rides and beautiful views. Located just six hours from Delhi, Parwanoo is a stunning destination that can be visited in the monsoons, and the views there will rejuvenate your senses like none other.
Spend your time going on nature hikes, walks or simply sipping tea by your bedroom window as you soak in the views and immerse yourself in a book or two.
Distance from Delhi: 260 kilometres
Mussoorie
View this post on Instagram
Also known as the Queen of Hills, Mussoorie makes for a great hill station to visit, especially in the monsoon. The destination boasts of stunning views of the Doon Valley and the Himalayan mountains, soothing walking trails and the freshest air. Indulge in hot noodles and chai, read a book or unwind as you walk through the many mountain trails here. Or else, take a walk down the markets to purchase some warm woollen scarves and shoes!
Distance from Delhi: 313 kilometres
Find best hotels in Mussoorie for your next stay
Kasauli
View this post on Instagram
Another hill station, Kasauli makes for one of the best road trips from Delhi due to its scenic roads and changing landscapes. Enroute, stop at Kurukshetra, an important site in the Mahabharata due to the battle of Kurukshetra, and from there, head on to the quiet hill station.
Spend time there walking on the streets, visiting the Christ Church and going on nature trails. Visit the Kasauli brewery and sample some locally made fruit-flavoured wines. Be sure to enjoy some bun-samosa, a popular snack, as you roam around in the market looking for warm shawls and comforters to take back home!
Distance from Delhi: 287 kilometres
Morni Hills
View this post on Instagram
Another stunning hill station located close to Delhi is Morni Hills. Located about five hours from the city, it is a popular weekend getaway from Chandigarh, albeit a less-explored one. Enjoy the low-lying hills and views of the Himalayas here, as you spend some time amidst nature. Go on walks or visit the nearby fort and lake to spend some time there.
On your way back, stop in Chandigarh to visit Sukhna Lake, before heading to Delhi and rounding off your trip!
Distance from Delhi: 254 kilometres
Hero and Featured Image: Courtesy of Rishabh Gagneja/Unsplash
Related: Motorcycle Road Trips To Take In India For The Ultimate Adventure
Frequently Asked Questions (FAQs)
Question: Where can we go for a long drive from Delhi?
Answer: Some of the best places are Neemrana, Rishikesh, Jaipur, Morni Hills, Agra and Chandigarh.
Question: Which place is best for a two-day trip?
Answer: Jaipur, Alwar-Sariska, Agra-Bharatpur, Rishikesh, Mussoorie, Shimla, Panipat, and Amritsar make for a great two-day trip.
Written By