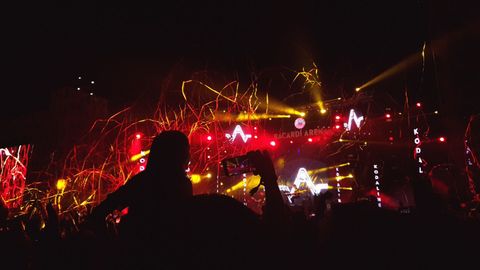 With BACARDÍ NH7 Weekender around the corner, we take a look at how independent music has evolved in India over the decades.
Independent music has been around for a long time now. With bands such as Agnee and artistes such as Lucky Ali making us swoon to their music, the industry has had a few ups and downs, but it's always come back stronger. Today, artistes such as Anuv Jain and bands such as The Local Train and When Chai Met Toast are huge names, thanks to their relatable tunes and take on music. BACARDÍ NH7 Weekender, a fun music festival, has served as a stage of opportunity for several upcoming musicians to connect with audiences and share their music with masses. The festival has also been the place where music lovers get introduced to new music and get to know the new and upcoming music artistes better. The festival, a melting pot of communities, cultures, music and creativity, is in its 13th year now and has helped independent music meet mainstream culture.
How has independent music in India evolved over the years?
More than a decade ago, bands such as Viva, Band of Boys, Agnee and Parikrama, and independent singers such as Lucky Ali and Rabbi Shergill (who also sang for movies) were some of the most popular names in the independent music scene. Years later, the independent music scene has been long-revived and thriving. Musicians such as Prateek Kuhad and Jasleen Royal have enchanted audiences with their unique voices, and new and upcoming bands have released music that is different, to say the least.
Sameeksha Uniyal, Brand Lead, BACARDÍ India & South East Asia, tells Travel + Leisure, "Independent music has grown by leaps and bounds in the past few decades. From pop to folk to acoustic, this space has evolved. With a multitude of talent emerging from all corners of the country, independent music today has a language and personality of its own with more and more music lovers keen to explore experimental music by new and upcoming artistes." Adds songwriter and composer Anuv Jain, "Indie music allows me to express myself, and everything I've written so far is taken from my life experiences." Thanks to the growing popularity of digital platforms, independent artistes now have ample means to share their music, and then get a chance to connect with their audience in the real world at events such as NH7 Weekender. "I am super excited to bring my solo album, Shakhsiyat to life at the BACARDÍ NH7 Weekender," vocalist, lyricist, and guitarist Raman Negi tells us. He highlights the fact that these platforms serve as a means for these artistes to release new music, and be their raw, organic selves with their fans.
BACARDÍ NH7 Weekender: Bringing together indie music artistes and music lovers
The festival began back in 2010, and since then, has had a loyal host of fans who drop by every year to listen to the best of new music. "The festival has evolved into a cultural phenomenon that has carved a niche for itself in bringing together exceptionally talented Indian and international artistes from multiple genres and backgrounds to an equally passionate and rapidly growing audience of indie music lovers," Sameeksha tells us. This year, the festival is not only open for all (pets included!), the organisers are working with communities across genres to make BACARDÍ NH7 Weekender the event of inclusivity. From partners onboard for the differently abled to inclusivity partners for the LGBTQIA+ community and sustainability partners providing reusable glasses made with rice husk (and recycling all the waste generated at the festival), the festival is set to be the happiest in all senses, Sameeksha adds.
Talking about how the fest has played an important part in his life (and continues to do so), Rapper Yashraj Mehra tells us, "It is absolutely surreal to be getting this opportunity to perform at the BACARDÍ NH7 Weekender. Live performances allow artistes to draw energy from the audience and for independent artistes like me, it's a motivating fuel that pushes us forward, builds confidence, and helps us strengthen our style." Yashraj will also introduce his latest tracks such as Musafir, Doob Raha, and Bura/Bhala at the festival. Anuv adds, "While digital platforms and social media have been monumental in setting the foundation for my music career, it is festivals like this one that gives me and many more independent artistes a stage to bring our music to our fans and connect with them live."
So, this weekend, head to Pune for the time of your lives as you enjoy your favourite artistes performing live and groove to the music!
Event details
What: BACARDÍ NH7 Weekender
When: November 25-27, 2022
Where: Mahalaxmi Lawns, Pune
Get your tickets on Paytm Insider here.
Hero and Featured Image: Courtesy of Aishwarya Kulkarni/Unsplash
Related: Cocktails To Concerts: Exciting Events In India That Will Make Your November Lit
Written By